Arby's Grilled Chicken & Pecan Salad (Copycat) tastes just like the stuff you get at the popular fast food chain, without the sodium because you can control the salt!!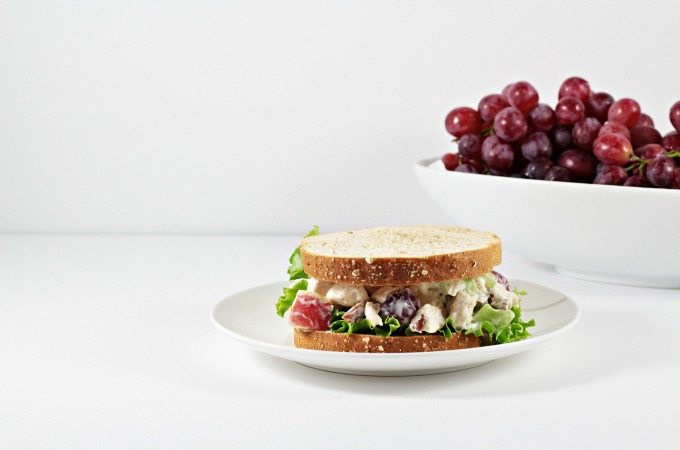 For this recipe I actually didn't grill the chicken. I baked it in the oven.
It was four boneless, skinless chicken breasts that were slathered with olive oil, sprinkled with salt and pepper, and baked for about 40 minutes in a 350° oven.
I had taken the chicken out for dinner, ended up eating something else that night, and needed to cook the chicken so it wouldn't go to waste. So I decided to make this Chicken & Pecan Salad.
I did, however, come up with the idea for this after I ate it at Arby's. To me it tastes just like the stuff I get there.
When I eat their version I can't taste that the chicken was grilled.
In an effort to make this as healthy as possible I also used half mayo and half plain lowfat yogurt. I try to do that whenever possible and a lot of times I find the tanginess of the yogurt to be a nice addition.
The crunch of the celery and apple, the sweetness of the grapes, the tender and tasty chicken, and the tangy sauce make this delicious and refreshing.
These Potato Wedges or Ina Garten's Baked Sweet Potato Fries would go great with this!
Arby's Grilled Chicken & Pecan Salad (Copycat)
Ingredients
4 cups chicken breast, cooked and cut into chunks
1 cup red grapes, halved or quartered, depending on size
1 cup red apple, chopped
1 cup celery, chopped
1/2 cup pecans, chopped
1/2 cup mayonnaise
1/2 cup plain lowfat yogurt
salt, to taste
pepper, to taste
Instructions
Mix the mayonnaise and yogurt in a small bowl. Put the first five ingredients into a large bowl, add mayonnaise mixture, dash of salt and pepper, toss to coat. Add more salt and pepper if necessary. Serve on a bed of lettuce or bread with lettuce, if desired.
http://www.mindyscookingobsession.com/arbys-grilled-chicken-pecan-salad-copycat/