Easy Marinated Pork Tenderloin is, like the name implies, easy! It is flavorful and pretty quick, making it the perfect main dish for any night of the week.
This Easy Marinated Pork Tenderloin is a great way to give pork tenderloin delicious flavor in a short amount of time. It also makes the pork tender and juicy. I modified this recipe from Rachael Ray. It doesn't require too many ingredients, in fact,  I had everything to make the marinade in my kitchen.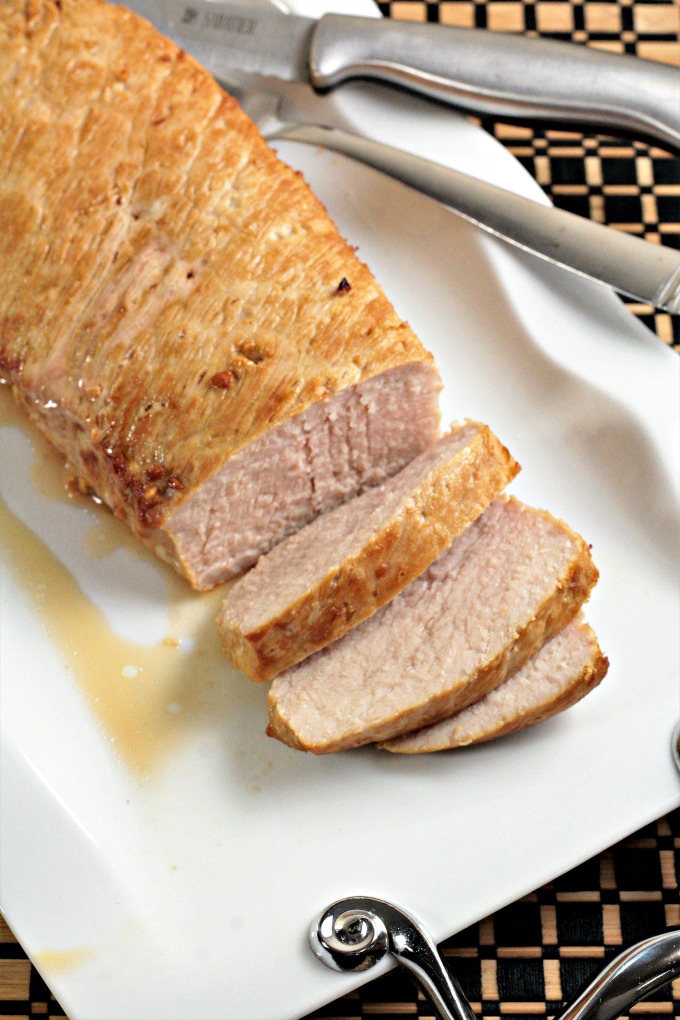 Even though I plan our meals weekly, I really like 3o-minute marinades. I like to get the meat ready, and then put it in the fridge to marinate while I am getting the rest of the meal prepped for cooking.
Most of the time, we eat some kind of potato and a vegetable with this Easy Marinated Pork Tenderloin. It doesn't take me 30 minutes, usually, to prepare the potatoes and veggie, so I can leisurely chop and prep them. Then, when it has been about 30 minutes I will start everything, depending on how long everything is going to take.
One of the trickiest parts of cooking is having all of the dishes ready around the same time. This is especially difficult when I am developing new recipes. I try to guess-timate how long something is going to take to cook, but sometimes my guess is way off. There have been a few times that we ate our meal in courses, because one of the dishes took a lot longer to cook than I anticipated. Luckily, my family is understanding.
Some side dish ideas to go with this Easy Marinated Pork Tenderloin are mashed potatoes and these Super Easy Pan Fried Fresh Green Beans.
Check out the Side Dishes section of this blog for other ideas. I also have some yummy dessert ideas in the Desserts & Treats section. So check those out!
Marinated Pork Tenderloin is quick and easy. Get the recipe at Mindy's Cooking Obsession!
Click To Tweet
Easy Marinated Pork Tenderloin
Ingredients
1/4 cup olive oil + 1 tablespoon
1/4 cup soy sauce
1 tablespoon Worcestershire sauce
1 tablespoon brown sugar
1 tablespoon Dijon mustard
2 cloves garlic, minced
1 pork tenderloin, about 2 pounds
Instructions
Trim any excess fat from tenderloin. Pierce all over with a fork.
In a small bowl mix 1/4 cup olive oil, soy sauce, Worcestershire sauce, brown sugar, mustard, and garlic.
Place pork tenderloin in a large zip top bag, add marinade and massage into meat. Let marinade in the refrigerator for 20-30 minutes.
Preheat oven to 375°. Heat an oven proof skillet over medium-high heat. Add 1 tablespoon olive oil, brown tenderloin on all sides, this will take 1-2 minutes per side. Transfer to oven and cook for 25-30 minutes, or until a meat thermometer reads between 145° and 160°. Let rest for 10 minutes before serving.
Notes
If you don't have an oven proof skillet then transfer the tenderloin to a rimmed sheet pan sprayed with cooking spray.
http://www.mindyscookingobsession.com/easy-marinated-pork-tenderloin/
Pin it for later!