Pumpkin Spice Sugar Cookies are perfect for cutting into your favorite shapes. The dough is tasty and very easy to work with.
While some people are tired of pumpkin everything, I am not. I love pumpkin, so I get as much of it as I can this time of year. We love making cut-out cookies for the holidays, so when I found this recipe for Pumpkin Spice Sugar Cookies I knew I had to make them. This recipe comes from The Pioneer Woman, but I don't like things too spicy (even cookies) so I cut the spices down quite a bit.
Next time I make them, and I will be making them again, I will probably only put cinnamon in them. Or, maybe cut the other spices even more.
The dough does require about 30 minutes of refrigeration, but that's  not too bad. It made the dough really easy to roll out and cut.
From this recipe I got 45 pumpkins and 1 round cookie. These pumpkins are about 3 inches across and 2 inches tall.
Some of my cookies were thicker than others. They all came out really good, and they were all relatively the same doneness. Even though some were thicker than others. So, if you are like me, and don't take the time to roll all of your dough to the exact same thickness, it is no big deal!
I decided to top these Pumpkin Spice Sugar Cookies with a classic cream cheese frosting. The combo of pumpkin and cream cheese is delicious!
The frosting recipe comes from Dessert Now Dinner Later. With only 4 ingredients, I didn't see where any change was necessary.
The method is where I made a change. I tried to make it without softening the butter, but it just didn't mix up like I thought it should. So, I let it get to room temperature before I proceeded.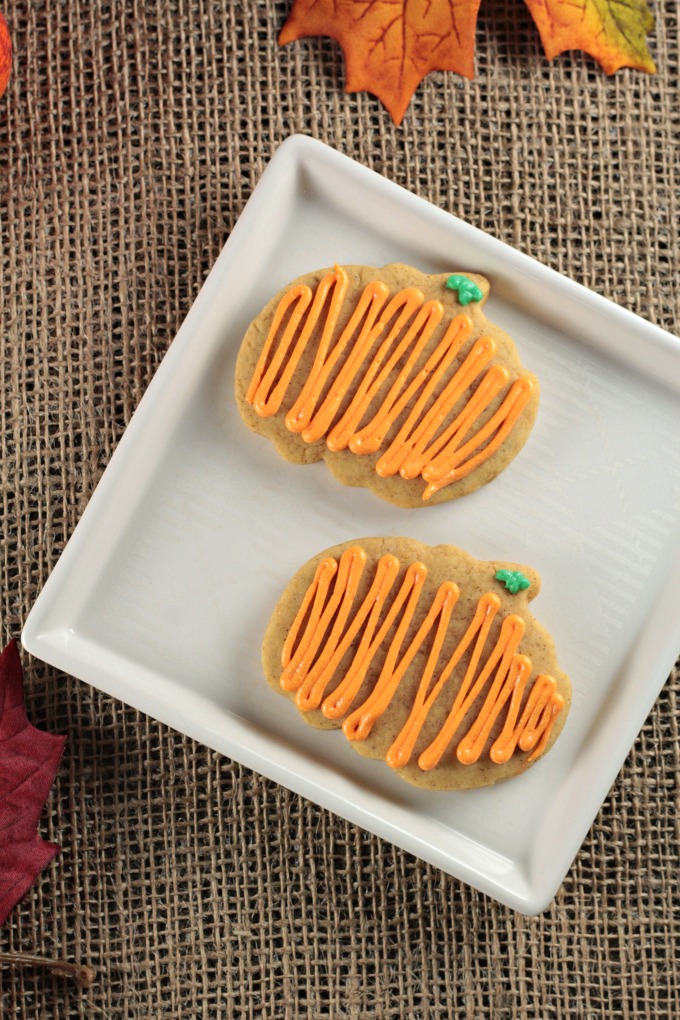 Want a yummy Pumpkin Spice Cut-Out Sugar Cookie recipe? Get it here!
Click To Tweet
Looking for other pumpkin recipes? Check out this Libby's Pumpkin Roll, this Pumpkin Sheet Cake or this Pumpkin Layered Cheesecake. They are yummy!
Pumpkin Spice Sugar Cookies
Ingredients
For the cookies:

3 cups flour
2 teaspoons baking powder
1 1/2 teaspoons cinnamon
1/4 teaspoon ground ginger
1/4 teaspoon ground nutmeg
1/4 teaspoon allspice
3/4 cups butter, softened
1/2 cup sugar
1/2 cup brown sugar
1 egg
1/2 cup pumpkin puree
For the frosting:

8 ounces cream cheese, softened
1/2 cup butter, softened (1 stick)
1 cup powdered sugar, sifted
1 teaspoon vanilla
Instructions
For the cookies:

Mix the flour, baking powder, cinnamon, ginger, nutmeg and allspice in a medium bowl, set aside.
Cream together the butter and sugars with an electric mixer. Add the egg and pumpkin puree and mix well, scraping the sides of the bowl as needed.
Mix in the flour on low speed, in three increments, until just combined. Scrape down the bowl as needed.
Refrigerate the dough for 30 minutes.
Preheat oven to 350°. Line cookie sheets with parchment paper or spray with cooking spray.
Roll out dough, on a lightly floured surface, to 1/4 inch thickness. Cut into shapes and place on prepared pans. Place pans in the freezer for 10 minutes.
Bake for 10-12 minutes or until cookies are set. Leave on the cookie sheet for 2 minutes, then move to a wire rack. Cool completely.
For the frosting:

Mix cream cheese and butter until well combined with an electric mixer. Add powdered sugar and vanilla and beat until smooth and creamy. Frost cookies with a knife or place frosting in a piping bag and pipe frosting onto cookies.
Notes
http://www.mindyscookingobsession.com/pumpkin-spice-sugar-cookies/
Follow us on social media!!
Pin this image for later!!