This post is sponsored by CAULIPOWER but the content and opinions expressed here are my own.
CAULIPOWER Chicken Tenders help me get dinner on the table fast!
We are all about getting dinner on the table quick most nights. CAULIPOWER Chicken Tenders helps me do that without compromising my desire to eat better, because they are baked and not fried.
Lee and I have been eating better lately! Changing how we eat on a day-to-day basis. We are not on a diet, we are just learning to make better food choices daily.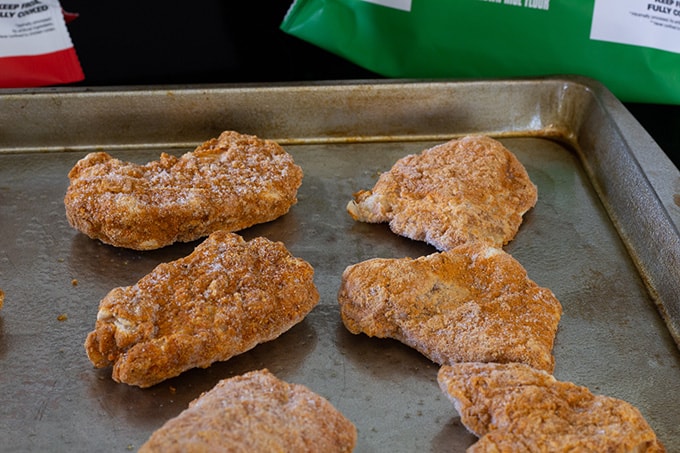 There are a few ways that we have been accomplishing our food goals. One of those is swapping out foods we love for healthier versions.
We like chicken tenders that we can pop in the oven but we weren't too thrilled with our choices, until now! CAULIPOWER Chicken Tenders aren't fried, they are baked.
These chicken tenders have 86% less fat than other chicken tenders or nuggets. We are not compromising because these babies are juicy and tasty!
Made with premium chicken that are all-natural, raised with no antibiotics ever, and cage-free. The coating is packed with caulifower and happens to be gluten free.
We are also able to keep our calorie intake low because we can eat a whole serving for only 120 calories. Heck, we can eat the whole darn bag and only eat 490 calories. No cluckin' way!
I can have this meal on the table in about 20 minutes! So, I can have the chicken ready to go before the oven finishes preheating.
While the chicken tenders are baking in the oven I prepare a vegetable, usually steamed. Then I throw a salad together and voila! A healthier and yummy meal in no time flat!
Eating right is hard sometimes! Finding ways that make it more doable is the only way we have found to be succesful, especially long term.
Making a few changes here and there can really add up in the long run.
We found our CAULIPOWER Chicken Tenders at Sprouts, in the freezer section. Which variety will you like best, Original or Spicy(ish)? Click this linke for a $2 OFF coupon!
Follow us on social media!!
Pin this image for later!!