This shop has been compensated by Collective Bias, Inc. and its advertiser. All opinions are mine alone. #BaronessPatches #CollectiveBias
Broccoli Salad with Creamy Feta Dressing is an easy and delicious side salad.
Life is busy and many nights mealtime is hurried. Broccoli Salad with Creamy Feta Dressing paired with Red Baron® Classic Crust Pizza helps me rock our dinner routine, leaving us more time to do what we want.
I'm a theater mom. My 16 year-old daughter is involved in her high school drama department, the local community theater, and a dinner theater that is new in our city.
Rehearsals, readings, photo shoots, and wardrobe fittings keep us busy.
We have no idea where she gets the acting bug from, because I couldn't act if my life depended on it.
I mean, seriously.
I have discovered that theater people speak a whole different language.
They often use terms I am unfamiliar with.
For example, blocking means they work on the actions of a scene, not the words.
Who knew? My husband and I are slowly learning.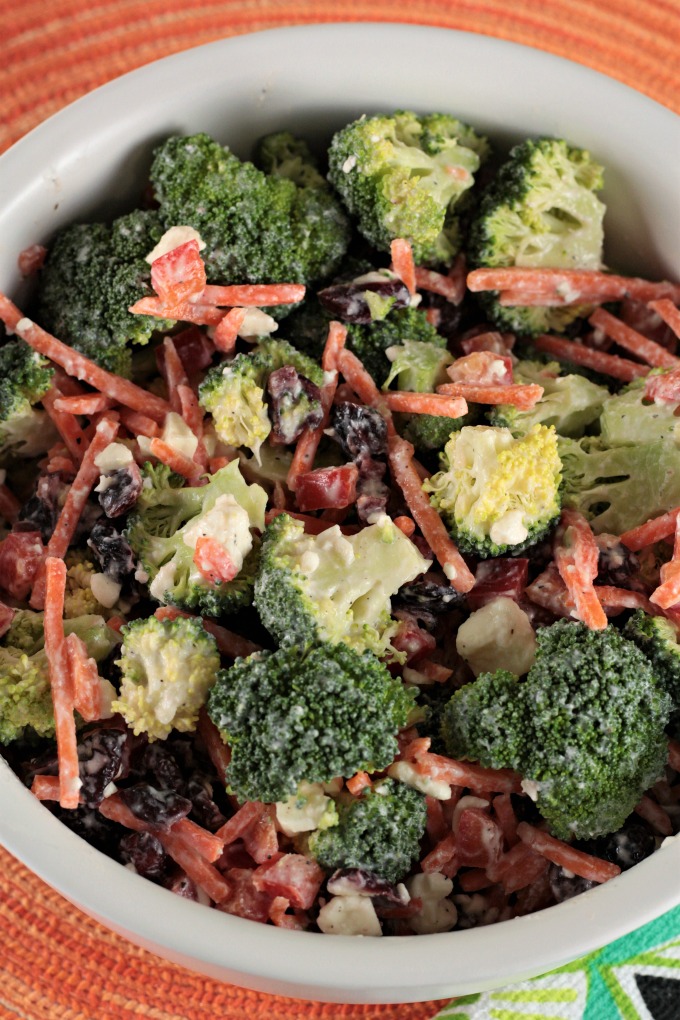 At this point, when it comes to preparing for a show, I am not much help.
Making sure she gets everywhere she needs to be, and making sure she is well-fed, is the best support I can offer.
Now that doesn't mean I have to be in the kitchen for long periods of time, and sometimes (okay, a lot of times) there is just no time for that.
I don't have to be in the kitchen for hours on end preparing the meal to be a good mom.
And yes, I said 'good'. While I would like to be a great mom all of the time, some days I will settle for good.
I am happy to let Red Baron Pizza and Walmart help me earn my Baroness Patches.
And, when asked the age-old question, "what's for dinner?", I always get a "yay" when my reply is Red Baron pizza.
Another thing I do to be a good mom is have the cast over for an after rehearsal snack of Red Baron Pizza and Broccoli Salad with Creamy Feta Dressing.
My daughter's friends know that good food can be had at our house.
I may not be a perfect parent, but I take great pride in our house being the place kids like to gather.
We don't have the largest, or the fanciest house, but it is a house where kids are welcomed.
I love having a large group of kids around.
Parenting is a tough gig and it is rewarding to hear my daughter agree with her friends when they tell her how cool her parents are.
We love Broccoli Salad with Creamy Feta Dressing!
It combines fresh broccoli, red bell pepper, carrots and craisins with a simple dressing made of feta cheese, plain yogurt, fresh lemon juice, and black pepper.
That's it, 4 ingredients for the salad, and 4 ingredients for the dressing.
I just pop my pizzas in the oven and make the salad while they are baking. It is perfect!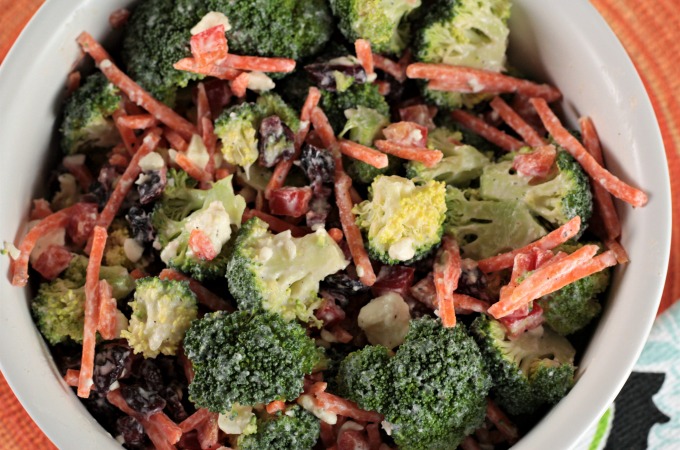 Red Baron and Mindy's Cooking Obsession have you covered for an easy and delicious dinner! #AD
Click To Tweet
Blackberry Sweet Iced Tea would go great with this meal.
Broccoli Salad with Creamy Feta Dressing
Broccoli Salad with Creamy Feta Dressing combines fresh broccoli, bell pepper, carrots, craisins, yogurt, lemon juice and pepper to make an easy side dish.
Ingredients
For the salad:
3

cups

broccoli florets

1

cup

shredded carrots

1/2

cup

red bell pepper

diced

1/2

cup

craisins
For the dressing:
1/2

cup

plain yogurt

1/3

cup

feta cheese crumbles

2

tablespoons

fresh lemon juice

1/8

teaspoon

black pepper
I earn a small commission from Instacart for qualifying purchases.
Instructions
In a large bowl mix broccoli, carrots, bell pepper, and craisins.

In a small bowl combine yogurt, feta, lemon juice, and pepper. Add to vegetable mixture, toss to coat.
Notes
This can be stored, covered in the refrigerator, but it loses its creaminess and becomes dry. So for that reason it is better eaten the same day.
Recipe adapted from Eating Well.
Walmart has a great selection of Red Baron varieties, such as brick oven baked pizza, classic and thin crust pizza, and French bread pizza. With many topping combinations, I am sure they have your family's favorite. One of our favorites is the Red Baron® Classic Crust Mexican Style Pizza, and Red Baron® Classic Crust Pepperoni and Red Baron® Classic Crust 4 Cheese are always a winner with the kids.
Like Red Baron on Facebook or follow them on Twitter!
Follow us on social media!!
Pin this image for later!!