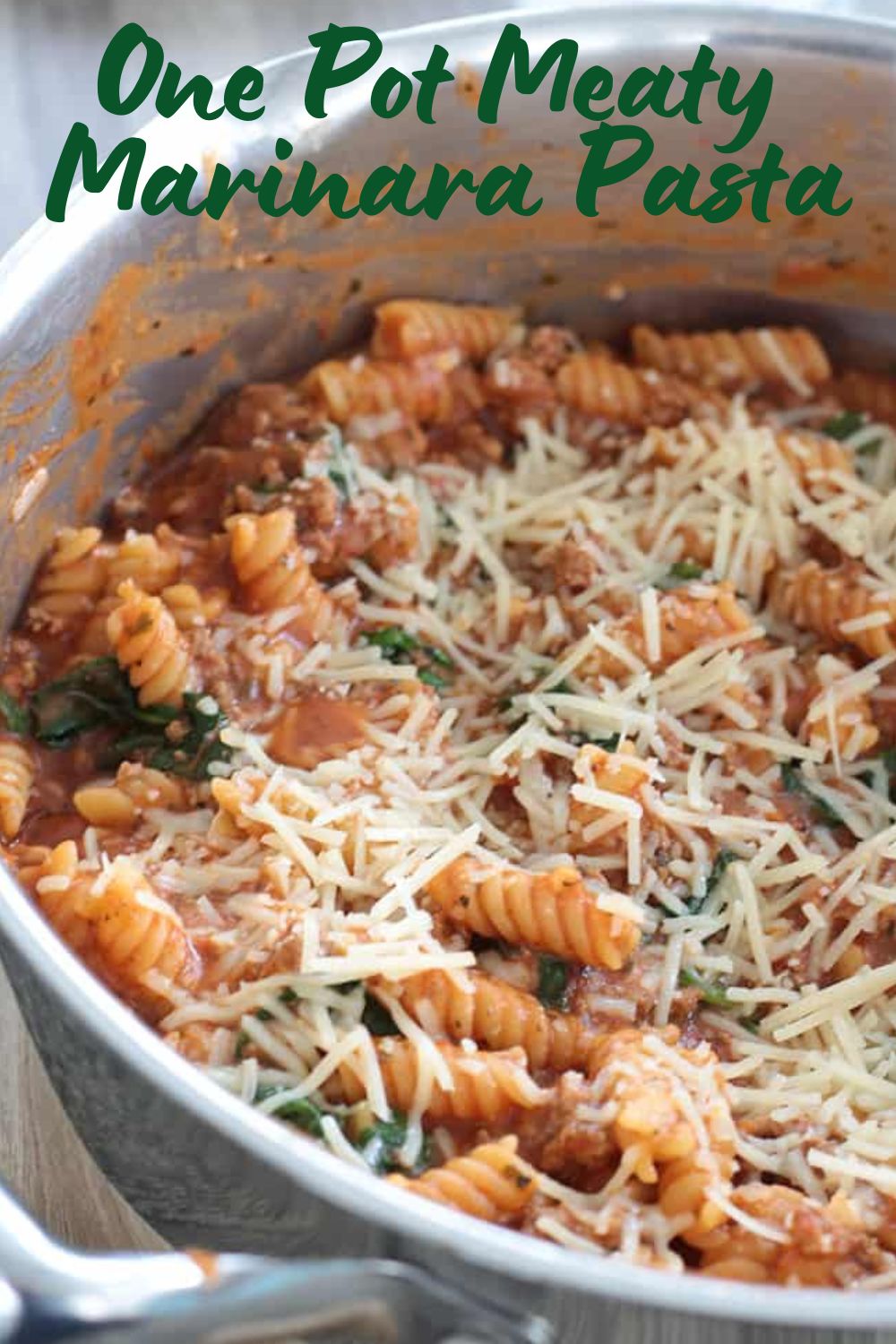 One Pot Meaty Marinara Pasta is the perfect comfort food. Pasta dishes are a family favorite at our house and I love coming up with new one-pot pasta dishes. The cooking method is similar to the boxed dinners you can buy in stores. Brown ground beef, add spices, liquids and dry pasta and cook covered, stirring occasionally until the pasta is tender and the right consistency is achieved. All in one skillet and in about 30 minutes.
When I was a new cook I would occasionally make the boxed dinners. The kids seemed to love them. Lee and I? Not so much.
I have learned to make similar versions of several of these type of dishes. Once you have the cooking method down then changing the dish up is easy, you just swap like ingredients and voila! a different dish is born.
I also slipped some extra nutrition into this One Pot Meaty Marinara Pasta by adding 2 cups of fresh spinach. According to the Vegetarian Times when you eat spinach that has been heated, you will absorb higher levels of vitamins A and E, protein, fiber, zinc, thiamin, calcium, and iron. Important carotenoids, such as beta-carotene, lutein, and zeaxanthin, also become more absorbable.
This is one of the only vegetables that has the best nutritional value when cooked. I love the taste of the spinach so eating it is easy for me. My daughter liked it in this dish and that is awesome.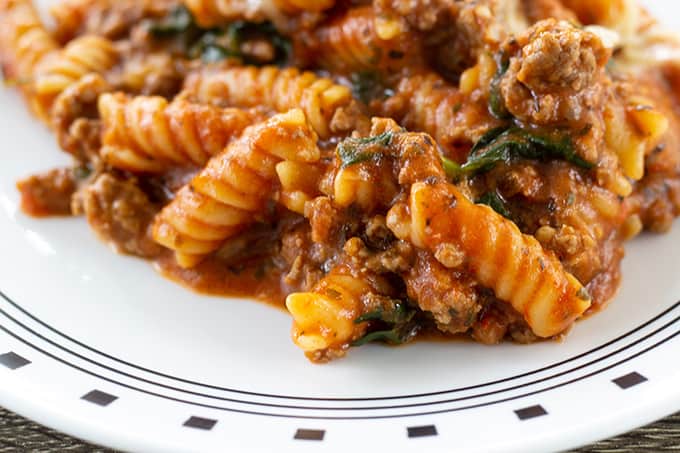 Ingredient Notes:
Exact measurements can be found in the recipe card below.
Marinara Sauce – we have a favorite jar sauce we use. You can use your favorite or homemade spaghetti sauce.
Ground Beef – I buy lean ground beef, usually 93/7 or 94/6.
Garlic – we use the kind in a jar because it is so convenient. You can certainly use fresh garlic cloves.
Rotini Pasta – our favorite type for this dish. Use your favorite pasta but you may need to adjust the cooking time.
Fresh Spinach – adds nutrition to this dish but can be left out.
Parmesan Cheese – we use the type that can be found in the refrigerated section of the grocery store.
How to Make This Meaty Marinara Pasta Recipe:
In a very large skillet or Dutch oven cook ground beef in olive oil over medium-high heat until brown, about 7-10 minutes. Drain fat if not using lean meat.
Add garlic and cook about 1 minute.
Pour in marinara sauce, water, and Italian seasoning. Bring to boil then reduce heat to a simmer and cook for 12-15 minutes or until the pasta is tender, stirring often to prevent the pasta from sticking to the bottom of the pot as the water is absorbed.
Stir in fresh spinach and 1/2 cup Parmesan cheese. Continue stirring gently until spinach wilts and cheese melts.
Top with remaining 1/4 cup Parmesan cheese.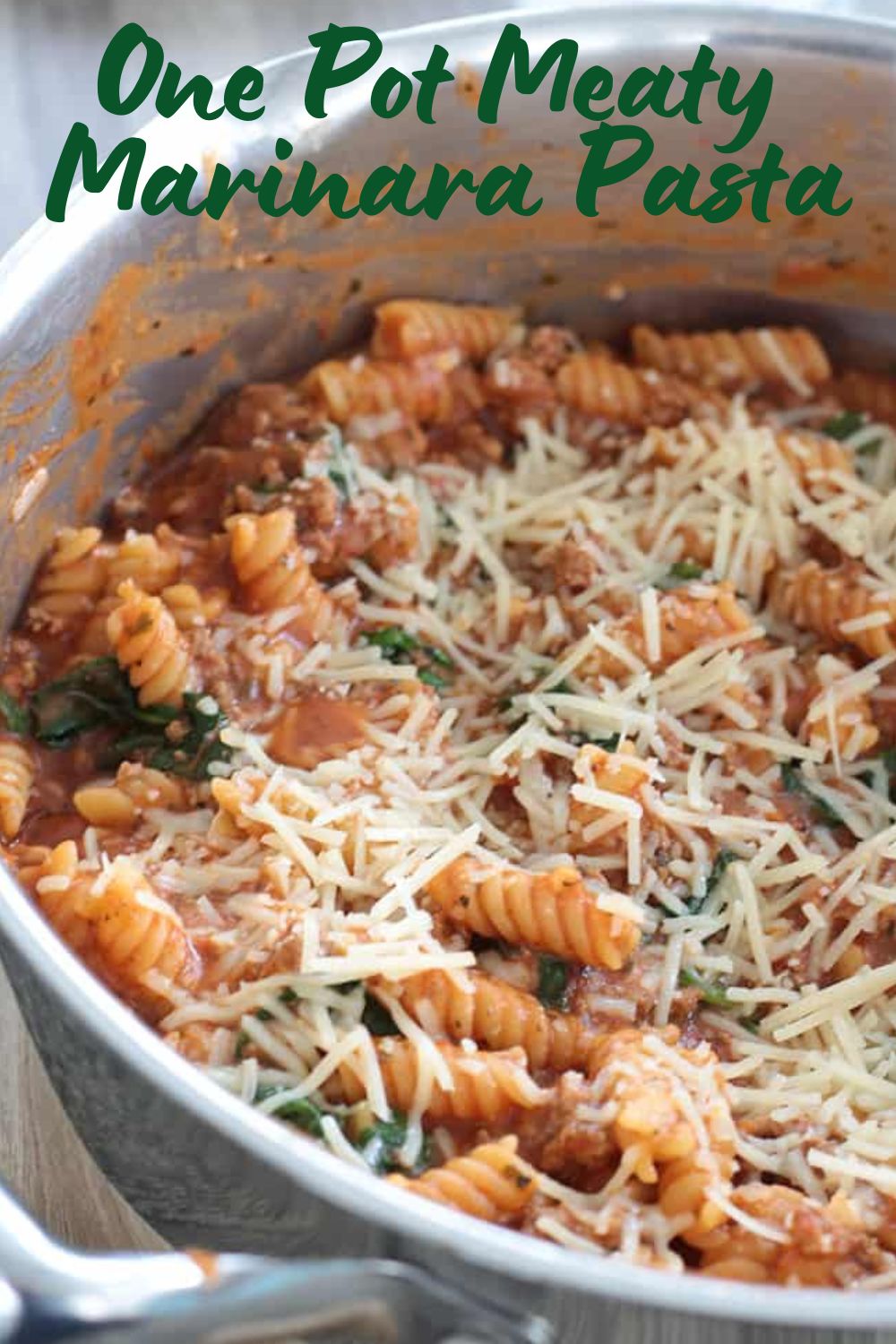 Substitutions & Additions:
Swap the marinara sauce for Alfredo sauce and use a different ground meat such as ground turkey or chicken for a completely different dish.
Use whole wheat pasta, other short-cut pasta or even spaghetti noodles. You will still need one pound of pasta.
Add in some red pepper flakes to give this dish a little kick.
Swap some of the water for beef stock to give this dish more flavor. Chicken broth if using Alfredo sauce and chicken or turkey. For some reason I prefer to use a tomato sauce with beef and pork and a white sauce with poultry. Are you the same way? Leave me a comment and let me know if you have any rules like this.
Add a little fresh basil in when you add the spinach.
Recipe Note: I have not tried this recipe with gluten free pasta yet.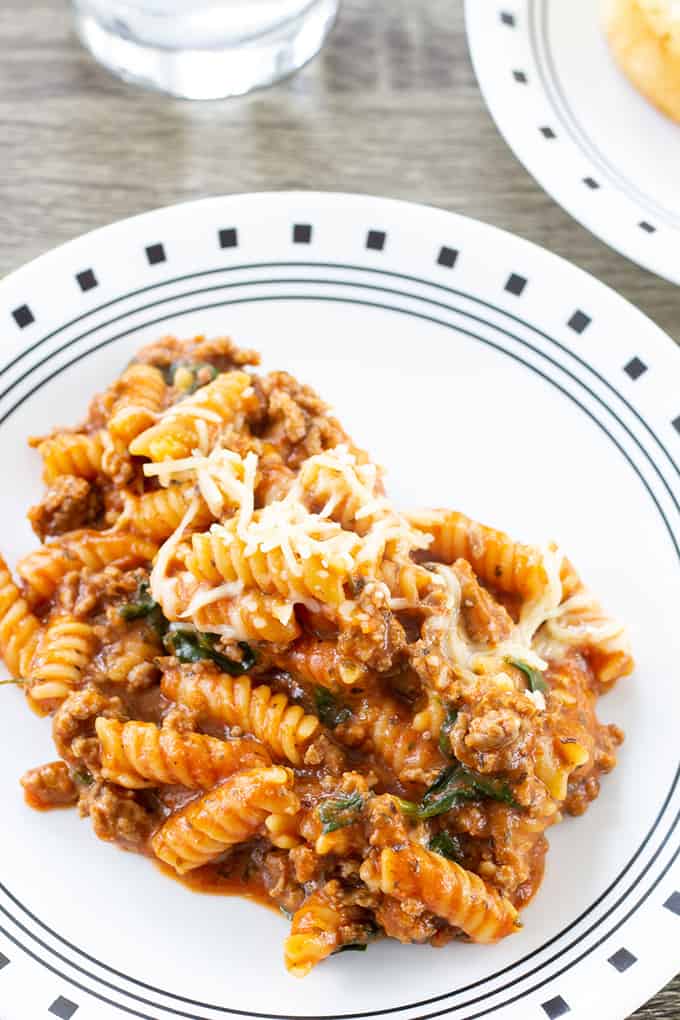 Tips & Tricks:
Cooking with different pans and on different stoves can make a huge difference in how fast a dish cooks. You want the pasta to simmer in the sauce long enough that the pasta gets done and the right amount of liquid is absorbed. This can be a little tricky and may take trial and error to get exactly right. Try to keep the simmer where it is bubbling slightly, this is usually medium-low heat. When cooking the pasta this way it takes a longer to cook than the package indicates. Try to be mindful of that and if the liquid is being absorbed too fast then turn down the heat. If it is too soupy when the pasta gets done then turn up the heat and cook the liquid out.
Stir this dish frequently as it cooks so the pasta doesn't stick to the bottom of the pan.
If you are not using lean ground beef then you will need to drain the fat off of it after it browns. Then proceed with the rest of the recipe.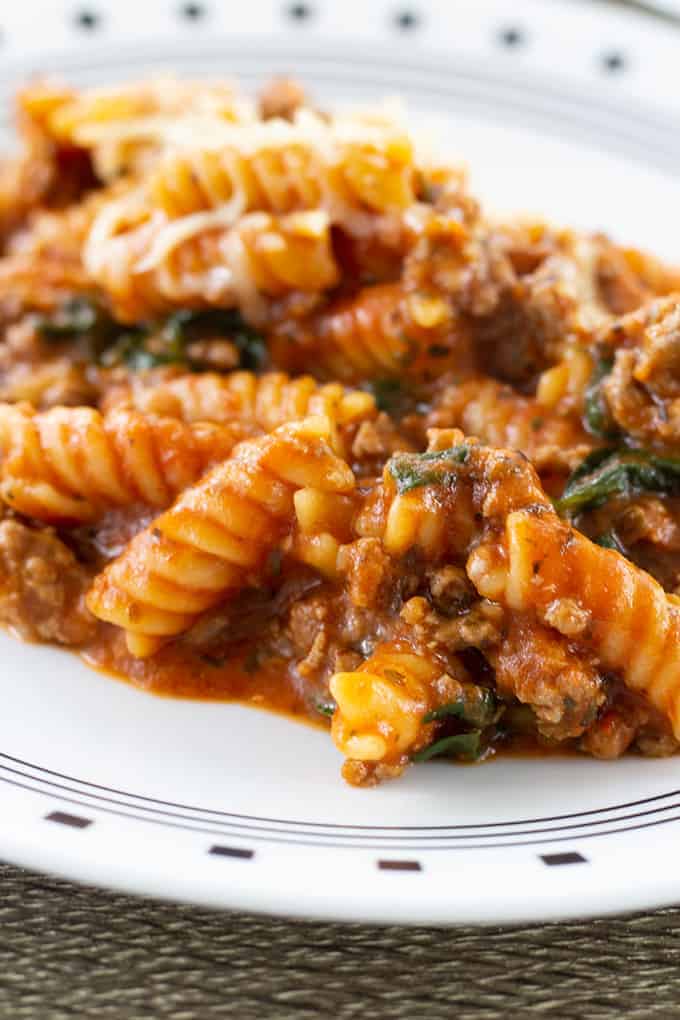 Storage & Reheating:
Store leftover pasta in an airtight container in the fridge for up to 3 days.
We reheat our pasta in the microwave. I have a plastic cover that I use to cover the dish. This helps steam to form so the pasta doesn't get too dry while reheating. I also stir my plate of food at least once about midway through the reheating process. You can also use a damp paper towel to cover the plate of pasta to help it retain some of its moisture.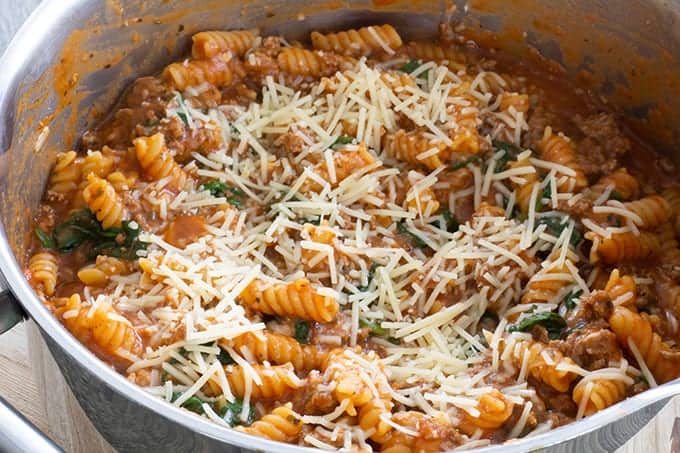 These One Pot Meals Use A Jar of Sauce:
Alfredo Chicken Pasta & Broccoli – this is one of my most popular recipes.
Stovetop Italian Pork Ziti – we use seasoned pork tenderloin for this dish.
These One Pot Pasta Meals Have Homemade Sauce:
Cheesy Chicken & Broccoli Orzo – this is such an easy recipe and can be on the table in less than 20 minutes.
Tortellini alla Panna – this is a rich and delicious recipe that can be on the table in about 15 minutes!
Beef Stroganoff – this dish is sophisticated enough to make for company but easy enough for a weeknight meal.
Helper Type of One Pot Dinners:
These dishes were inspired by the popular boxed one pot meal. We happen to think our versions taste better and actually take little effort.
We like to serve our One Pot Meaty Marinara Pasta with a salad and garlic bread for a complete meal.
Follow us on social media!!
One Pot Meaty Marinara Pasta
One Pot Meaty Marinara Pasta features ground beef, jar sauce and fresh spinach. It is a fast and easy one pot pasta recipe the whole family will love!
Ingredients
1

tablespoon

olive oil

1

pound

lean ground beef

1

teaspoon

garlic

1

tablespoon

Italian seasoning

1

jar

marinara sauce

24 ounces

1

jar

water

1

pound

rotini

or other short cut pasta

2

cups

fresh spinach

3/4

cup

Parmesan cheese

divided
Instructions
Heat olive oil in a large pot over medium-high, add ground beef and cook until browned, about 7-10 minutes.

Add garlic and cook for 1 minute.

Add Italian seasoning and marinara sauce, fill sauce jar with water put the lid back on it and shake it, pour in pot. Bring to a boil; reduce heat to simmer and cook, covered for 12-15 minutes or until pasta is tender, stirring often to prevent the pasta from sticking.

Gently stir in spinach and 1/2 cup of Parmesan cheese. Stir until spinach is wilted and cheese is melted. Top with remaining 1/4 cup Parmesan cheese.
Notes
I use 93/7 lean ground beef so I don't have to drain the ground beef (I use it because it is better for us, not having to drain it is definitely a plus). If you use ground beef that isn't lean I suggest draining it before you add the pasta sauce and water then proceed with the rest of the recipe. 
See in post notes above for valuable information that may help you make this recipe successfully.
Nutrition Facts
Calories:
365
kcal
|
Carbohydrates:
48
g
|
Protein:
24
g
|
Fat:
8
g
|
Saturated Fat:
3
g
|
Polyunsaturated Fat:
1
g
|
Monounsaturated Fat:
3
g
|
Trans Fat:
0.2
g
|
Cholesterol:
42
mg
|
Sodium:
600
mg
|
Potassium:
635
mg
|
Fiber:
4
g
|
Sugar:
5
g
|
Vitamin A:
1155
IU
|
Vitamin C:
8
mg
|
Calcium:
158
mg
|
Iron:
3
mg
Pin this image for later!!
Some other one pot recipes you might like: