Pasta with Peas and Ricotta is a quick and delicious meal.
I have teamed up with some fellow Instagrammers for this post. The theme is pea recipes for spring. So, in light of that I decided to make Pasta with Peas and Ricotta.
After deciding what I wanted to make I got on the internet to get some ideas and found a ton of recipes for dishes like this. The recipe that inspired me the most was Rachael Ray's.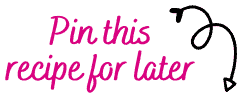 The original recipe also calls for you to reserve 1/2 cup of the cooking liquid from the pasta and add it into the dish at the end. Mine ended up having plenty of sauce, so I skipped that step.
I left all of the fresh herbs out because I don't have those on hand. I have to buy them at my local grocery store and they are about $2 for each package.
Then I end up having some leftover and end up spending more for groceries, trying to come up with ways to use the rest of the fresh herbs.
So for me, I only make recipes with fresh herbs occasionally. I also find that many recipes are just fine without them.
That got me thinking that other people would be like this too. I just thought that this recipe would be easier and more affordable without them.
That also means that the shelf life of these ingredients is pretty long, so this dish is a good one to make towards the end of your grocery cycle.
Meaning you can make this dish say, the day before you go grocery shopping.
Grocery shopping tip:
Make your menu based on using the freshest ingredients on the days following your shopping trip, and use the ingredients that are canned or frozen on the days right before you are going to be shopping again.
I also try to keep the ingredients for a pantry or freezer type meal on hand, in case we are busy and can't get to the grocery store on the normal day.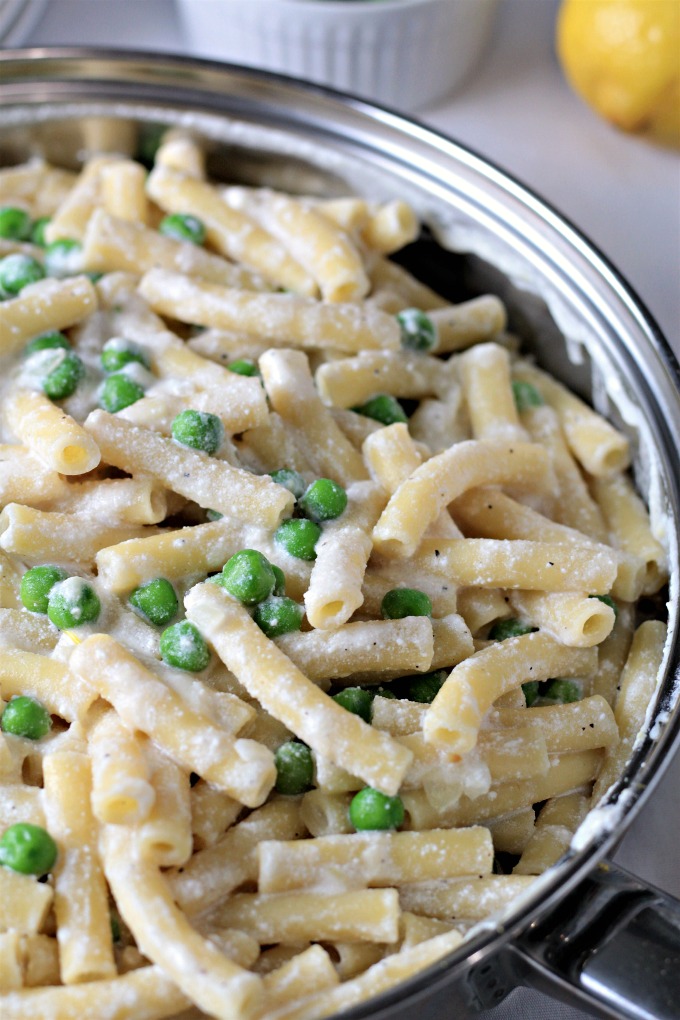 Pasta with Peas and Ricotta is quick and easy. Ge the recipe!
Click To Tweet
Some other easy pasta dishes you might like:
Chicken Spinach Tortellini Alfredo
Alfredo Chicken Pasta & Broccoli
Homemade Tuna Helper Creamy Pasta
Spaghetti with Zucchini & Tomatoes
Pasta with Peas and Ricotta
Pasta with Peas and Ricotta features olive oil, butter, ziti, chicken broth, Ricotta, Parmesan, frozen peas, lemon, shallots and garlic.
Ingredients
1

pound

short cut pasta

I used ziti

1

tablespoon

olive oil

1

tablespoon

butter

1/4

cup

shallots

chopped

3

cloves

garlic

minced

1/4

teaspoon

salt

1/4

teaspoon

pepper

1

cup

chicken broth

2

cups

frozen peas

1

container Ricotta cheese

15 ounces

1

tablespoon

lemon juice

zest of 1 lemon

1

cup

Parmesan cheese

grated
Instructions
Cook pasta 1 minutes less than package directions.

While the pasta cooks heat olive oil in a skillet over medium heat, add butter, shallots, garlic, salt, and pepper; cook for 3 minutes. Add broth and reduce heat to medium-low, add peas and cook for 3 minutes. Sitr in Ricotta and mix until well incorporated, Add lemon juice and zest.

Mix sauce with pasta and Parmesan cheese, (I did this in the pan I cooked the pasta in because everything would not fit in the skillet).
These are the bloggers that participated in #easypeasyforspring:
http://www.foodjournalmagazine.com/
https://smartinthekitchen.com/
https://www.thewholeelchilada.com/
http://www.gobblethecook.com/
https://itsavegworldafterall.com/
http://www.whatannieseating.com/
https://www.blossomtostem.net/
http://www.squaremealroundtable.com/
https://somethingnewfordinner.com/
Follow us on social media!!