These Drop Sugar Cookies are super soft and fluffy!
These Drop Sugar Cookies are my favorite cookie, ever! They are so easy to make and they taste wonderful.
They are not too sweet, and I love how fluffy they are.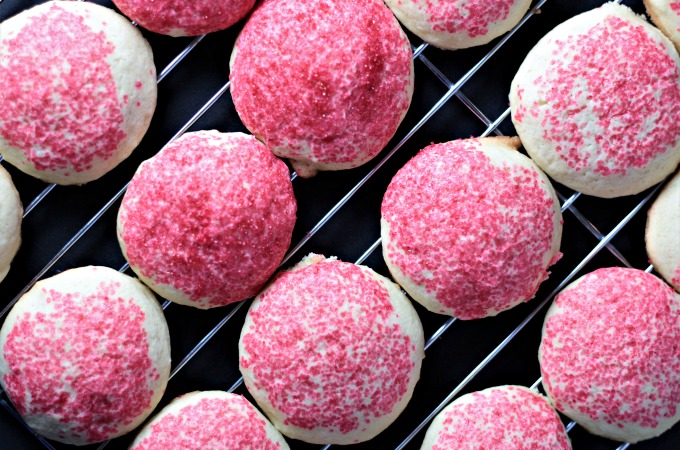 This is another recipe that I have in a three ring binder that I keep in my kitchen.
It came from my daughter's school, in a packet that they sent home with her when she participated in the Old Sedgwick County Fair that is held annually at Cowtown, in Wichita.
There is no source listed on the recipe so I am not sure exactly where it came from.
I would gladly give them credit for this awesome recipe.
We made these Drop Sugar Cookies, entered them in the contest and she won second place!
They have been our favorite cookie since the first time we made them.
I have made these with all different colored sugar.
Red and green for Christmas, black and orange for Halloween, Pink for Valentine's Day, and blue to give to my husband's bosses on Boss's Day.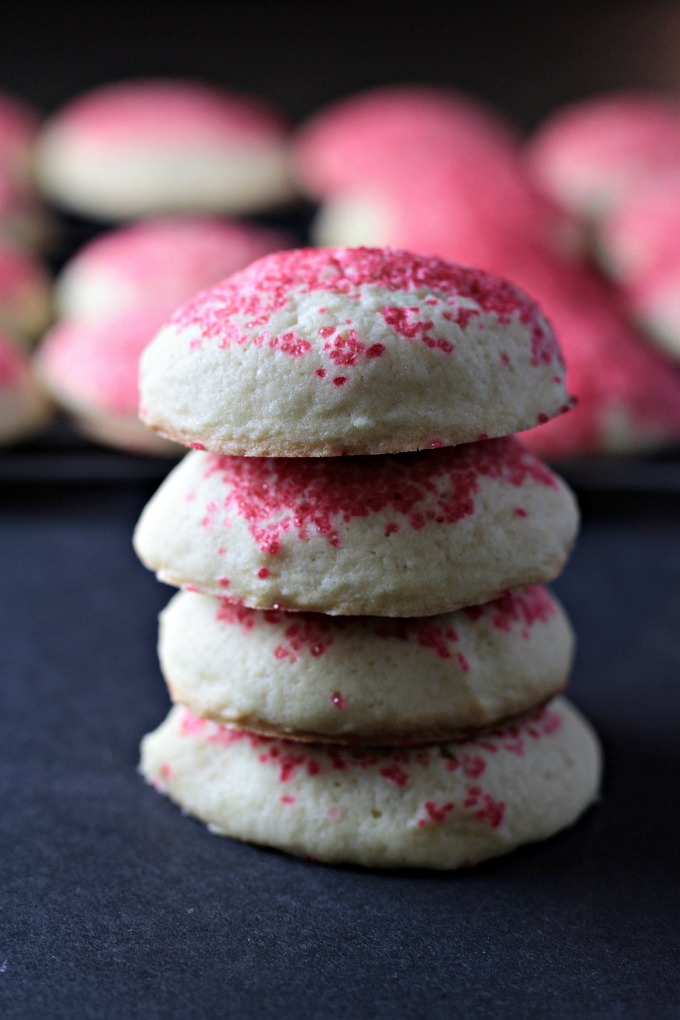 Another great thing about these cookies is how well they travel.
I love cookies that you can pile up in a zip-top bag and send them to school or work or wherever, and not have to worry about them being a heap of crumbs by the time you get them to their destination.
I have sent these to school in a backpack and the were still just as beautiful when they got there as they were when I put them in the bag.
These Peanut Butter Cookies are another cookie that travels really well. If you want a cookie with frosting try these Zucchini Cookies.
Drop Sugar Cookies
Drop Sugar Cookies are soft and fluffy. They are so easy to make and can be made for different holidays and occasions by changing the colored sugar.
Ingredients
2 1/2

cups

flour

1/2

teaspoon

baking soda

1/4

teaspoon

salt

1

cup

butter

1

cup

sugar

1

egg

1 1/4

teaspoons

vanilla

2

tablespoons

milk

sugar crystals

any color
Instructions
Preheat oven to 400°. Coat sheet pan with cooking spray, shortening, or line with parchment paper.

Sift together flour, baking soda, and salt into a small bowl; set aside.

In a large bowl, with an electric mixer, cream butter and sugar until fluffy. Beat in egg and vanilla. Add flour mixture and beat until combined, beat in milk.

Drop by rounded teaspoonfuls onto prepared sheet pan. Gently flatten each cookie with the bottom of a glass dipped in sugar crystals. Bake 8-10 minutes or until edges are lightly browned. Cool on wire rack.
Notes
I used a cookie scoop (it looks like a miniature ice cream scoop). I spray the bottom of the glass with a tiny bit of cooking spray the first time, so the sugar will stick.
Follow us on social media!!
Pin this image for later!!