This post is sponsored by Reese Specialty Foods but the opinions expressed here are my own.
Roasted Hearts of Palm and Artichoke is a delicious and healthy vegan side dish that is bursting with flavor!
We are always looking for new and healthy side dishes that are easy to prepare. I am so happy with the way this Roasted Hearts of Palm and Artichoke recipe turned out.
It is healthy, flavorful and definitely not your everyday, boring veggie side dish.
We can feel like we are eating a delicacy right in our own dining room, any day of the week.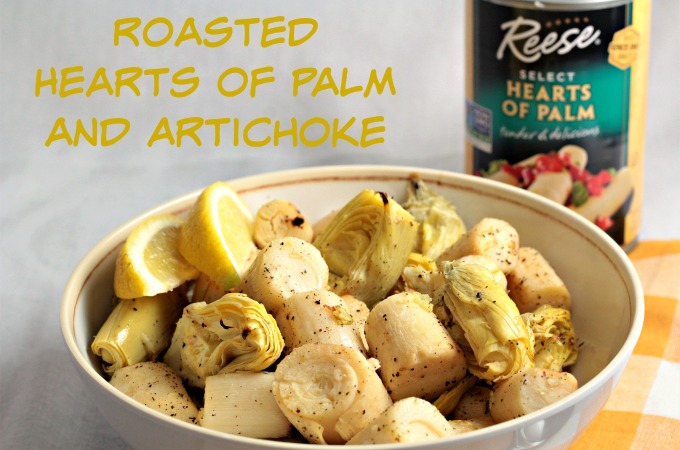 Reese Specialty Foods travels the globe to bring us a wide variety of high quality specialty foods.
They have a myriad of products – too many to list them all here – but I will list a few.
They have hearts of palm, artichokes, capers, anchovies and water chestnuts, plus various oils, dips and sauces.
The wide variety of products they offer is impressive! You should check it out. These products also come prepared and ready to use, and I love that.
As you can see on the package, hearts of palm (and artichoke hearts) are Non-GMO Project Verified, so if that is a concern you have, well, you don't have to worry about it with Reese products!
Hearts of palm are also great in other dishes. Head on over to the Reese website for some great recipe ideas.
They are a great way to add flavor and nutrition to dishes you already make, such as:
Salads
Stir-fries
Risottos
Soups
Pizzas
Purees, such as hummus
According to Food Network, hearts of palm can also be made into an appetizer.
Just slice them into coins, dredge in bread crumbs and deep fry until golden.
Serve with marinara or tartar sauce for dipping.
Your friends will be so impressed with your culinary diversity!
Hearts of palm were an ingredient used on Iron Chef America, and in Florida they are an ingredient used in what is called Millionaire's Salad.
So hey, I can call myself an accomplished chef or elite because I use this ingredient (and you can too!).
Now, for more about this recipe.
There are only 7 ingredients, and that counts the salt and pepper!
You just drain and rinse the hearts of palm and artichoke, pat them dry, cut them into bite-sized pieces, toss in olive oil, place them on a rimmed baking sheet, roast 'em for a little while and viola!, a delicious and nutritious side dish.
A few tips on preparing Roasted Hearts of Palm and Artichoke:
Drain the hearts of palm and artichoke in a strainer, rinse well and pat dry with a paper towel.
Be gentle while drying (and tossing) these beauties, so as not to mangle them.
Cut the hearts of palm into thirds.
Cut the artichoke hearts in half. Keep a paper towel handy to absorb any liquid that may come out of the artichoke heart when you cut into it.
Use your sharpest knife when cutting the artichoke hearts, as they can be difficult to cut with a dull knife – I learned this the hard way, of course.
I use a small grater to "chop" the garlic. I like that it is quick and all the pieces are the same size.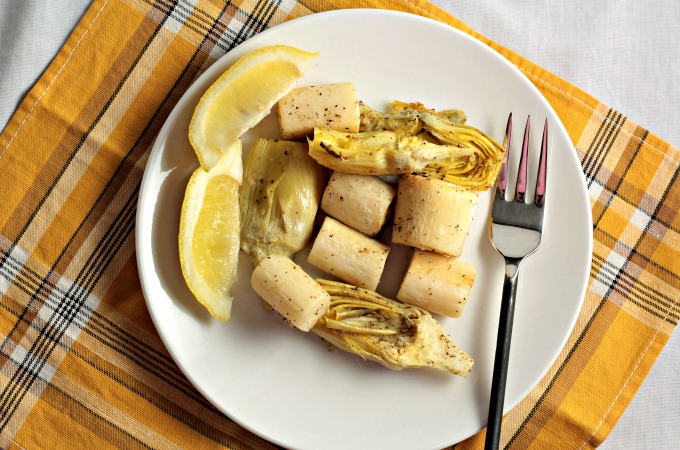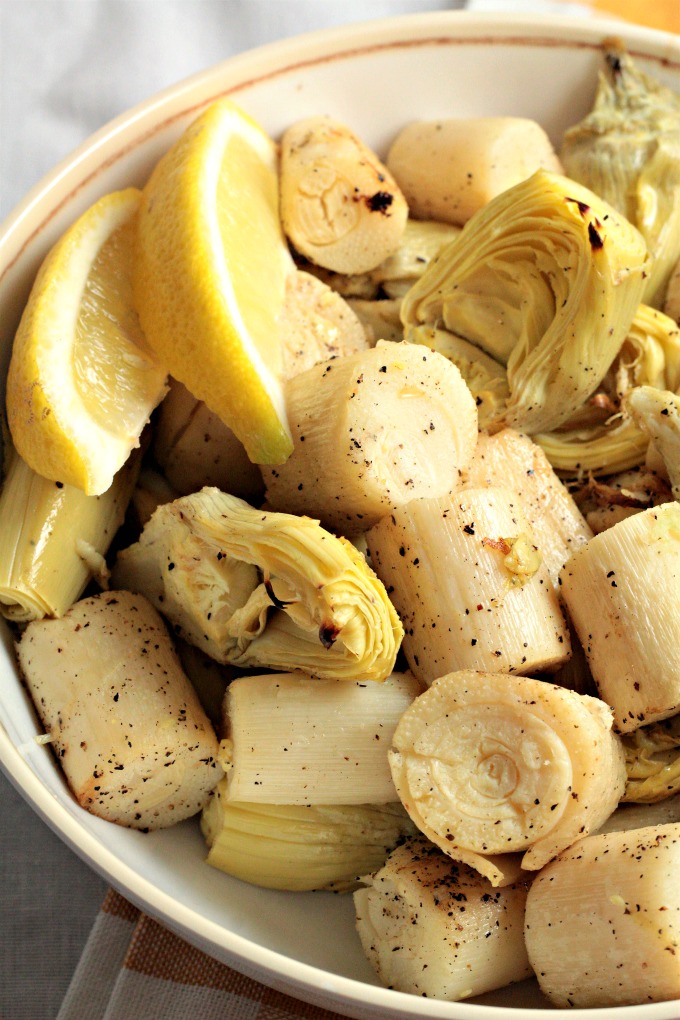 Roasted Hearts of Palm and Artichoke
Roasted Hearts of Palm and Artichoke combines hearts of palm and artichoke with olive oil, garlic, lemon juice, salt and pepper. An easy vegan side dish.
Ingredients
Cooking spray

2

cans Reese Hearts of Palm

14 ounces

2

cans Reese Large Artichoke Hearts

14 ounces

2

tablespoon

olive oil

1

clove

garlic

chopped

¼

teaspoon

pepper

1/8

teaspoon

salt

1

lemon

cut into sixths
I earn a small commission from Instacart for qualifying purchases.
Instructions
Preheat oven to 425°. Coat a rimmed baking sheet with cooking spray.

Drain and rinse hearts of palm and artichoke, pat dry with paper towel. Cut hearts of palm into thirds and artichoke hearts in half. Wipe any liquid off the artichoke hearts that oozes out while cutting.

In a large bowl mix the olive oil and garlic, add heart and gently toss to coat.

Place on prepared baking sheet in a single layer, sprinkle with salt and pepper. Roast until heated through and edges start to brown a little, 25-30 minutes.

Drizzle with fresh lemon juice. (I serve with a lemon wedge and let everyone drizzle to their liking)
Have you ever used the ibotta grocery rebate app? If not head over to your app store and download it. You can save money on products you buy at various retailers. So check it out.
Follow us on social media!!
Pin this image for later!!