Almond Joy Cookies: Light and airy chocolate cookie topped with ooey gooey coconut candy and then drizzled with chocolate. Oh, so yummy!
TheseAlmond Joy Cookies! I love Almond Joy candy bars, they are one of my favorites. The only problem with them is they are so small, and they only come two in a package.
If I eat more than one package at a time I feel a little guilty. But I can eat three, or four, or five of these cookies and not feel any guilt at all.
Weird, huh?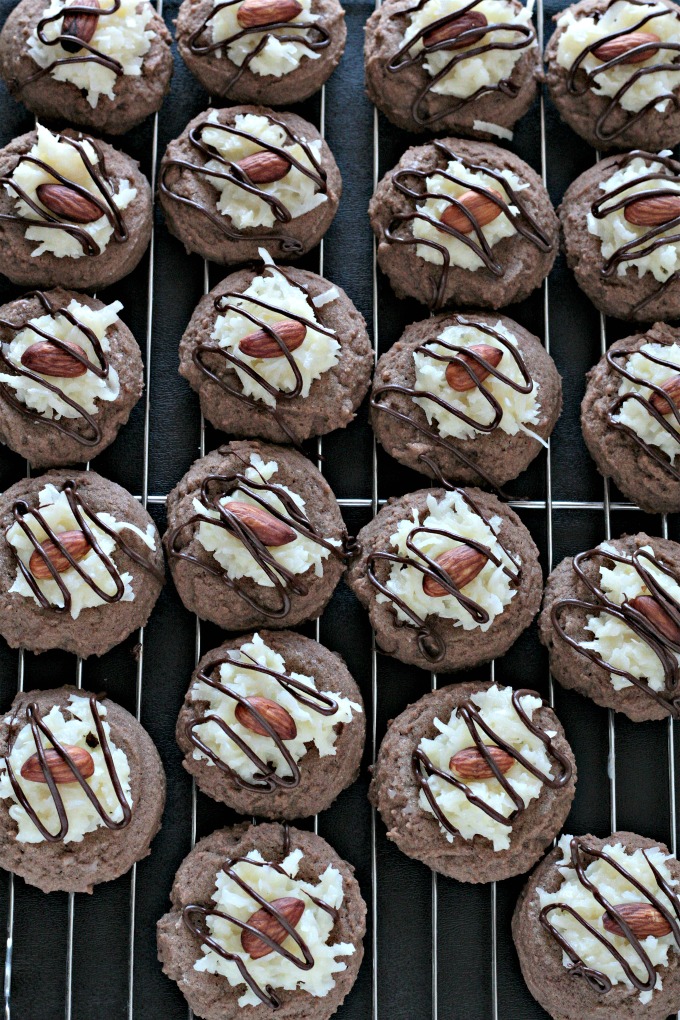 Finally! It took me two tries to get these cookies right. The first batch didn't turn out like I wanted them to.
The cookie part tasted gritty, and would not have held up to the coconut-y topping.
I used a popular cookbooks chocolate thumbprint cookie recipe and I was very disappointed.
She has only let me down a couple of times, and this was one of those times.
Sometimes, I am not sure how certain recipes get into cookbooks.
I mean, didn't they test it? And, if they did, how did they think that cookie tasted good?
And, how would it hold up to having a filling on it? Baffling!
So back to the drawing board I went. The second time I came up with these light, fluffy cookies.
I actually used my Drop Sugar Cookie recipe as a base.
We know we like them, and they have come out great every single time I have made them.
The changes I made were; I swapped half of the granulated sugar with brown sugar, cut the vanilla by 1/4 teaspoon, and added 1/3 cup cocoa.
They turned out great. I wasn't quite sure if the indentation would stay, since they are so fluffy.
It wasn't too important that they have an indentation, just that they would be flat enough to be able to put this ooey gooey coconut candy on top.
The indentation stayed a little bit on some, and the others were just flat enough.
So anyway, I'm sitting here writing this post, drinking a cup of coffee, and snacking on these yummy Almond Joy Cookies.
My kind of Saturday night! Is that sad? At my age, I don't think so.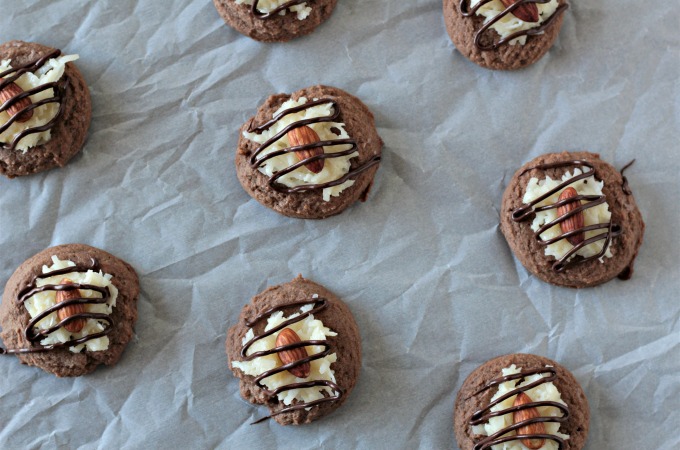 Almond Joy Cookies recipe!!
Click To Tweet
Almond Joy Cookies
Almond Joy Cookies feature a light and fluffy chocolate cookie baked to perfection, topped with sweet gooey coconut candy then drizzled with chocolate.
Ingredients
2 1/2

cups

flour

1/3

cup

cocoa

1/2

teaspoon

baking soda

1/4

teaspoon

salt

1

cup

butter

1/2

cup

sugar

1/2

cup

brown sugar

1

egg

1

teaspoons

vanilla

2

tablespoons

milk

2 1/4

cups

sweetened coconut

3/4

cup

sweetened condensed milk

45

almonds

1/2

cup

semisweet chocolate chips
I earn a small commission from Instacart for qualifying purchases.
Instructions
Preheat oven to 400°. Coat sheet pan with cooking spray, shortening, or line with parchment paper.

Sift together flour, cocoa, baking soda, and salt into a small bowl; set aside.

In a large bowl, with an electric mixer, cream butter and sugar until fluffy. Beat in egg and vanilla. Add flour mixture and beat until combined, beat in milk.

Drop by rounded teaspoonfuls onto prepared sheet pan. Gently make an indentation into each cookie with your thumb or finger. Bake 8-10 minutes until set. Let cool completely on wire rack.

in a small bowl mix coconut and milk. Top each cookie with a spoonful of the coconut mixture. Top with an almond.

In a small bowl melt chocolate in microwave for thirty seconds, stir and return for 15-30 seconds longer, stir until completely melted. Put into a zip top bag, cut off one corner, drizzle chocolate onto cookies.
Notes
I used a small cookie scoop and was able to make 45 cookies. These cookies are usually fluffy, so making the thumbprint keeps them from puffing up too much. I used a rounded measuring spoon to make the indentation in the cookie dough. The cookies are pretty much flat with a very small indentation when they come out of the oven. I used the large end of a melon baller to put the coconut on the cookies. It is a very sticky, messy job.
Follow us on social media!!
Pin this image for later!!