Chocolate Crinkle Cookies: a brownie like cookie rolled in powdered sugar before baking resulting in an impressive looking cookie that is easy to make.
I have been making these Chocolate Crinkle Cookies since my oldest daughter was about 3 years old. That is over 20 years!
The first time I made them we were really surprised with the way they looked. You see, when I started cooking and baking it was before google.
Cooking and baking nowadays is so much easier because we can search the internet for one recipe and many different versions come up.
This allows us to choose the one we like the best, with the ingredients we like. I must say that I do love the internet and google!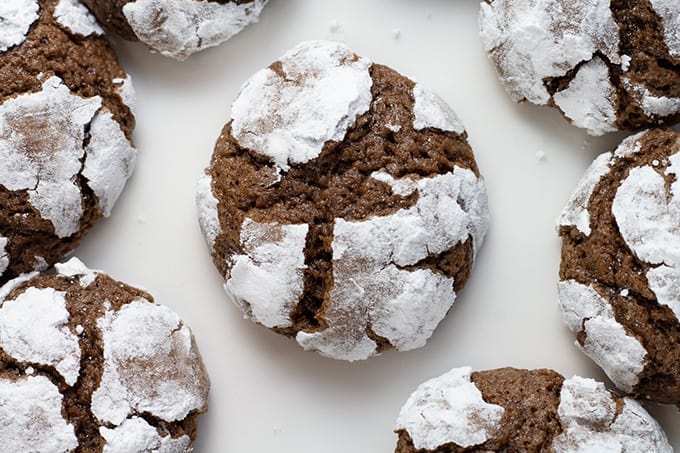 So anyway, I got the recipe out of my Betty Crocker cookbook and there wasn't even a picture. So when they came out of the oven they were all cracked and had such a neat pattern.
My husband was super impressed because they looked so cool, Oh, and because they were covered in powdered sugar and he loves almost anything covered in powdered sugar.
This particular version of Chocolate Crinkle Cookies comes from Hershey's website. I wanted a version of these cookies that uses cocoa powder and not baking chocolate.
I always have cocoa powder on hand, so I was figuring most of you would too. When deciding what recipes to make for this blog I usually try to make recipes that are made with common ingredients most people have on hand.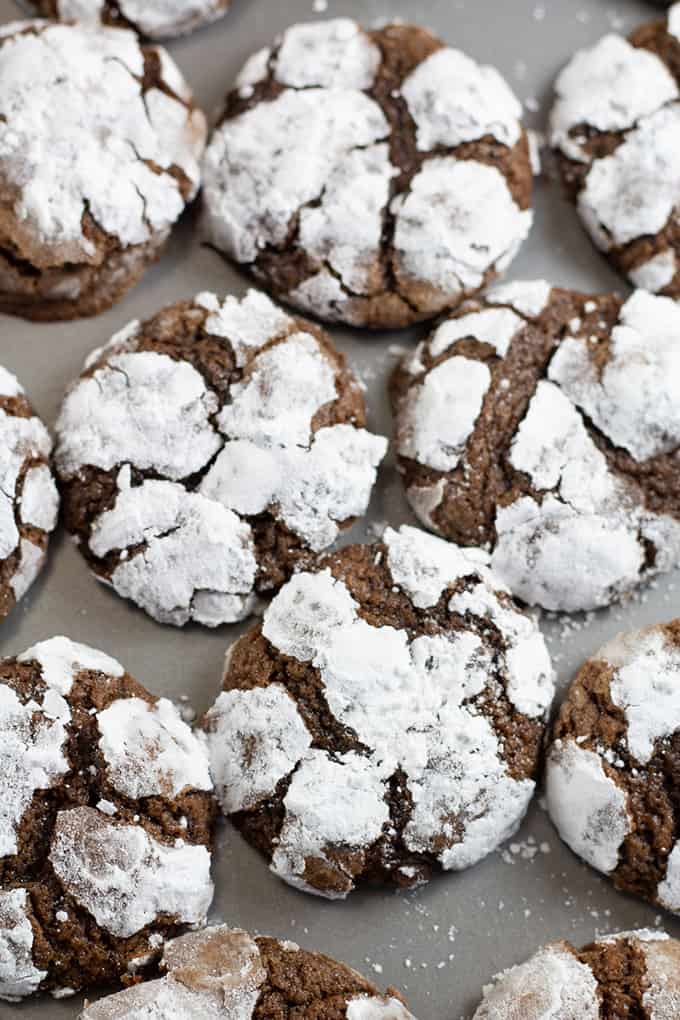 I made these Chocolate Crinkle Cookies and put them in goody bags with these Big Oatmeal Chocolate Chip Cookies, these M & M's Hershey Hugs Pretzel Bites and these Rolo Pretzel Turtle Bites. All of these treats were a huge hit with my coworkers!
Chocolate Crinkle Cookies
Chocolate Crinkle Cookies have a brownie like texture, are made with cocoa powder and powdered sugar. They look very impressive and are so easy to make!
Ingredients
2 1/3

cups

flour

2

teaspoons

baking powder

1/2

teaspoon

salt

3/4

cup

oil

canola or vegetable (I use canola)

2

cups

granulated sugar

3/4

cup

cocoa powder

2

teaspoons

vanilla extract

4

eggs

1/3-1/2

cup

powdered sugar
I earn a small commission from Instacart for qualifying purchases.
Instructions
In a small bowl combine the flour, baking powder and salt; set aside.

Beat the oil and sugar together in a large bowl, add the cocoa and mix until well blended. Beat in the eggs and sugar. Gradually add the flour mixture and mix until completely combined.

Cover and refrigerate until firm, 4-6 hours or overnight.

Heat oven to 350°. Spray cookie sheets with cooking spray or line with parchement paper.

Place powdered sugar in a small bowl. Shape dough into 1 inch balls and roll in powdered sugar until well coated. Place 2 inches apart on prepared cookie sheets.

Bake 11-13 minutes until tops are cracked and almost no indentation remains when touched. Cool on cookie sheets for 2 minutes before cooling on wire rack.
Recipe from Hershey's Kitchen's.
Follow us on social media!!
Pin this image for later!!
More cookie recipes you might like: