BIG Oatmeal Chocolate Chip Cookies are nearly 4 inches across and thick enough to actually stay together when you pick them up!
I can't take credit for this recipe for BIG Oatmeal Chocolate Chip Cookies, I adapted it from The Pinning Mama.
I can, however, take credit for making them with chocolate chips instead of raisins (I also omitted the cinnamon).
Raisins are not one of my favorite foods, in fact, I only like them warm, in bread or muffins.
I have never liked them cold. I think it is a texture thing.
Aaaanyway, we love cookies at our house.
Thick cookies, thin cookies, big cookies, small cookies, fluffy cookies, chewy cookies, crispy cookies, we love them all!
Being able to make them in all the ways we love to eat them is awesome.
There is not much better than a warm fresh baked cookie. Or two, or three…. I actually only eat one of these gigantic cookies in one sitting.
So a little more about these cookies, they are totally awesome!
I have made big cookies before and they just never turn out that great.
But you can pick these cookies up and they don't fall apart.
You do have to let them cool, and that is sometimes hard.
But I try to control myself, haha!
The other thing I really love about these BIG Oatmeal Chocolate Chip Cookies (beside the fact that they are so big) is that they are a light golden color on the bottom.
I have mentioned many times that I really like my baked goods to be lightly browned, and these are perfect!
If you want your cookies to look as beautiful as these you will have to put some of the chocolate chips on the tops of the cookies before you put them in the oven.
That's the trick, don't mix them all into the batter, reserve some and place them on the top by hand.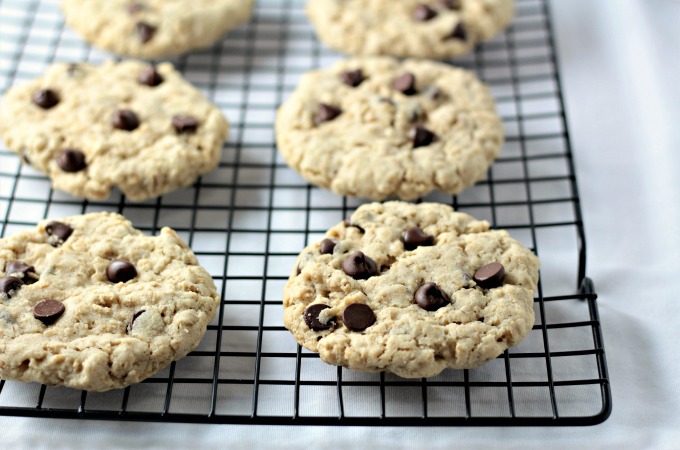 Get the recipe for these BIG Oatmeal Chocolate Chip Cookies!
Click To Tweet
Other cookie recipes you have to try are these Perfect Chocolate Chip Cookies, they are fluffy!
And, these Almond Joy Cookies are reminiscent of the Almond Joy candy bar and will not disappoint!
BIG Oatmeal Chocolate Chip Cookies
BIG Oatmeal Chocolate Chip Cookies are nearly 4 inches around! They are thick, yummy and stay together very well when you pick them up. So easy to make.
Ingredients
2 3/4

cups

oats

old-fashioned or quick cooking

1 3/4

cups

flour

1

teaspoon

baking powder

1

teaspoon

baking soda

1/2

teaspoon

salt

1/2

cup

butter

softened

1/4

cup

shortening

3/4

cup

sugar

3/4

cup

brown sugar

2

eggs

2

teaspoons

vanilla

1 1/4

cups

semi-sweet chocolate chips
Instructions
Preheat oven to 350°. Line baking sheets with parchment paper or coat with cooking spray.

In a medium bowl mix oats, flour, baking powder, baking soda and salt until combined, set aside.

In a large bowl mix cream the butter and shortening with a hand mixer or with the paddle attachment on a stand mixer. Add eggs, one at a time, add vanilla.

Add dry ingredients to wet ingredients slowly, mixing after each addition. Stir in chocolate chips by hand.

Roll 1/4 cup dough into a ball, place onto cookie sheet and flatten to 3/4"-1". Bake for 9-12 minutes or until center is set.

Let cool 2 minutes and move to a cooling rack.
Recipe adapted from The Pinning Mama.
Follow us on social media!!
Pin this image for later!!