Rolo Pretzel Turtle Bites: Miniature pretzels, Rolos and pecan halves.
Rolo Pretzel Turtle Bites are made with one of my favorite candies – Rolo Chewy Caramels in Milk Chocolate!
I must say that I love all of the components of this little treat. Put them together and you get a delicious and easy treat that mixes salty and sweet.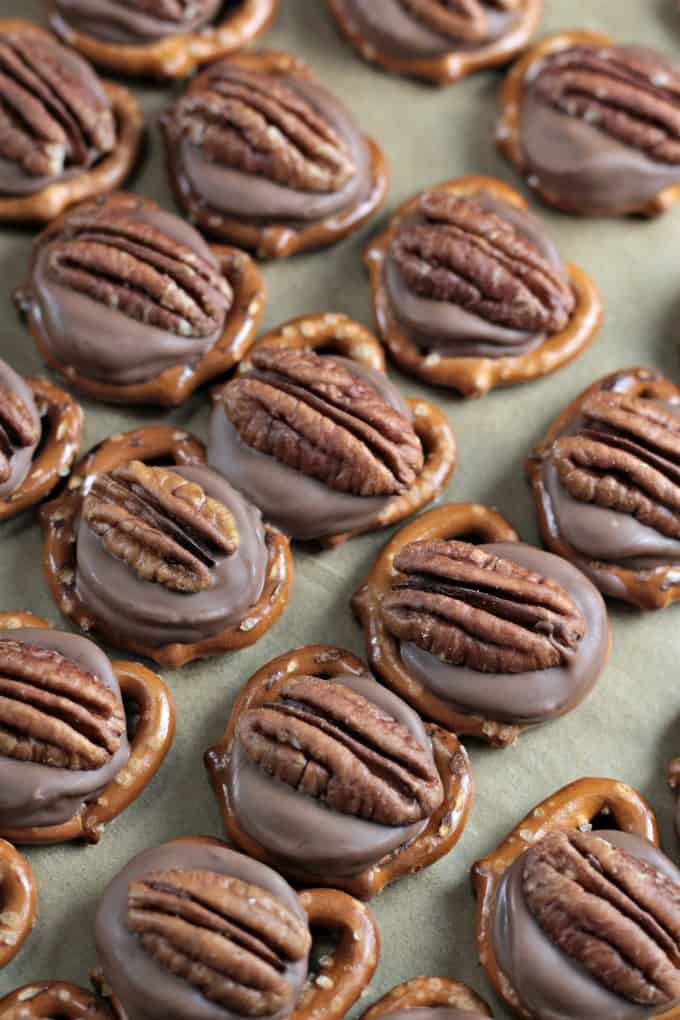 My co-workers were the lucky recipients of these Rolo Pretzel Turtle Bites, along with these BIG Oatmeal Chocolate Chip Cookies, Chocolate Crinkle Cookies and M & M Hershey Hugs Pretzel Bites. Recipes for the Chocolate Crinkles and M & M Hershey Hug Pretzel Bites to come!
It took less than 30 minutes to make over fifty of these beauties. That makes these a great option to send to school with the kids or take to co-workers for special events.
I decided to use the traditional pretzel shape, but the round or square shapes work well also. Lining your sheet pan with parchment paper is highly recommended so they don't stick.
Leaving space between each one on the pan is not really necessary. My sheet pans were packed closely. A couple of them melted onto each other a little, but not many. I just waited for them to cool and they came apart just fine.
I really wanted to make a bunch in a short amount of time, so it worked really well for me. When you are making two different treats like this and two different cookie recipes at one time you do what you can to speed up the process.
I really love making yummy things to eat using candy. Check out this Twix Poke Cake or these Chocolate Hershey's Gold Cookies.
Or, if you want to make candy inspired recipes you have to try these Milky Way Brownies or these Almond Joy Cookies.
Rolo Pretzel Turtle Bites
You can whip up a large batch of Rolo Pretzel Turtle Bites in just a few minutes. All you need are small pretzels, Rolo candy and pecans. This three ingredient snack would be great for parties, sleep-overs, watching the big game or for a delicious on the go snack.
Ingredients
1

package

Rolo Chewy Caramels in Milk Chocolate

12 ounces

56

mini pretzels

56

pecan halves
I earn a small commission from Instacart for qualifying purchases.
Instructions
Preheat oven to 350°. Line a rimmed sheet pan with parchment paper.

Place pretzels on prepared rimmed sheet pan, place a Rolo in the center of each pretzel.

Bake for 3-5 minutes or until candy is softened.

Place one pecan half on top of each Rolo, pushing down gently. Let cool.
Notes
Rolo should be soft, not melted. You can use any shape mini pretzel you like.
Follow us on social media!!
Pin this image for later!!