I am so excited to share these Milky Way Brownies with you all!
I only eat a few different kind of candy bars, and Milky Way bars have been a favorite since I was a child.
They are also a favorite of my kids. So I thought, why not put the components of a Milky Way on the top of brownies.
Brilliant!
I must warn you – these are highly addicting.
Also, these are the type of brownies that must be eaten with a fork. My daughter ate one with her hands, and she ended up standing over the sink.
These got all gooey and melt-y while I was taking pictures.
I didn't mind though, because gooey caramel on top of brownies is one of my new favorite things.
The caramel did set back up when I put them back in the fridge.
If I think about it before I want to eat one then I will cut a piece and let it get room temperature before I eat it.
Other times I just eat it straight out of the fridge. They are a little easier to eat after they are nice and soft.
Sometimes though, I don't have that kind of patience.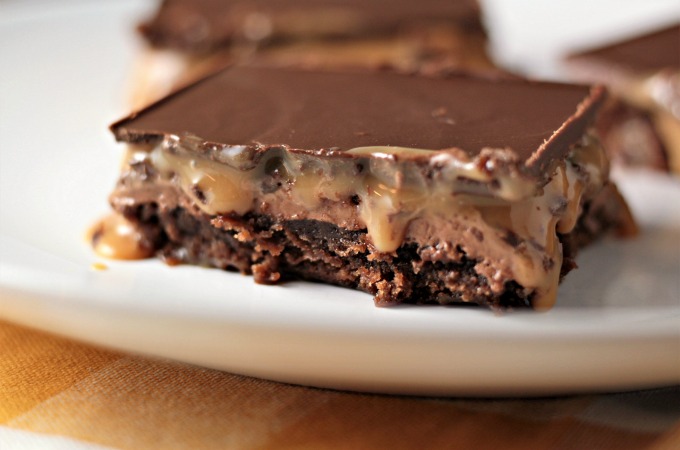 I use the kind of chocolate spread that comes in a plastic jar, and is found on the aisle with the peanut butter.
You could use Nutella, if you would like.
Another tip for these Milky Way Brownies is to use a sharp knife to cut them.
As you can see in the photos, the chocolate is kinda thick, so a sharp knife makes cutting them easier.
The chocolate layer cracks sometimes when I cut it, but that's okay because it's not staying in one piece where it's going anyway.
Eat your Milky Way on top of brownies! Get the recipe at Mindy's Cooking Obsession.
Click To Tweet
Some other candy bar inspired recipes I have come up with are these Almond Joy Cookies and this Twix Poke Cake. They are both very yummy!
Milky Way Brownies
Milky Way Brownies feature boxed brownies topped with a layer of homemade nougat, a layer of caramel, and a layer of chocolate. A truly decadent treat!
Ingredients
For the brownies:
1

box

brownie mix

18.4 ounces

1/2

cup

canola or vegetable oil

3

eggs

3

tablespoons

water
For the nougat layer:
1

container

marshmallow fluff

7 ounces

2/3

cup

chocolate spread
For the caramel layer:
1

package

caramels

11 ounces

6

tablespoons

milk
For the chocolate layer:
1

package

milk chocolate chips

11.5 ounces

2

tablespoons

shortening
I earn a small commission from Instacart for qualifying purchases.
Instructions
Preheat oven to 350°. Spray a 9" X 13" pan with cooking spray.

In a large bowl combine brownie mix, oil, eggs and water. Pour into prepared pan and bake for 23-27 minutes or until a toothpick inserted in the middle comes out almost clean. Edges will appear dry and the center will still look a little moist. Let cool completely.

In a medium bowl mix marshmallow fluff and chocolate spread. Microwave for 30 seconds, stir and microwave another 30 seconds until the mixture is a spreadable consistency. Spread over cooled brownies, working quickly. Refrigerate while you make the caramel mixture.

Put caramels and milk in a medium bowl and microwave in one minute intervals, stirring each time, for 2 minutes, then 30 second intervals until caramels are melted. (Mine took a total of 3 minutes.) Spread over nougat mixture. Refrigerate for 30 minutes.

Place chocolate chips and shortening in a bowl and microwave in 30 second intervals, stirring after each, unitl melted. (Mine took 1 minute.) Poor over caramel layer. Refrigerate for a couple of hours before cutting and serving.

Store tightly covered in the refrigerator.
Notes
Make sure to use microwave safe bowls for this, and be careful because the bowls could get hot. You can also do this in a double boiler.
You can substitute Nutella for the chocolate spread if you would like.
Cooling and resting time is an estimate.
Follow us on social media!!
Pin it for later!