Mediterranean Fish Stew is a hearty, flavorful and healthy dish.
Looking for a way to use the odd sized pieces of cod I had in the freezer led me to this Mediterranean Fish Stew.
It is from the New York Times website.
I bought some frozen cod, the kind that comes in a bag, and you really can't see what the pieces look like through the package.
So, I take some of the fillets out to defrost them, and I can't find four pieces that are even remotely close in size. Bummer!
The dish I wanted to use this cod in requires that the pieces be approximately the same size, so they cook at the same rate.
I ended up just using swai fillets for the Pan Fried Fish with Oranges & Pecans that I was planning on making.
And I am actually very glad it worked out that way. Swai has a kind of mild fish flavor, and I really like that.
Cod is not mild. As soon as I opened the package I knew that it was a much fishier fish than others I have tried.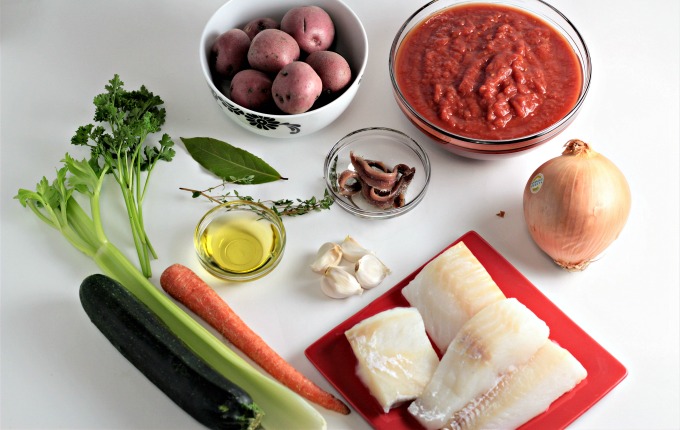 Out of all the fish I have cooked so far, Swai is my favorite. It is fairly sturdy, the fillets are roughly the same size, and the flavor is mild.
This fish stew has a strong fish flavor. Maybe I am not all that big on fish?
We are supposed to eat it once or twice a week for better health.
Finding dishes I like has been challenging, to say the least.
These Fish Tacos are, by far, my favorite way to eat fish.
Finally, it occurred to me that I needed to find a way to use the cod in chunks.
This Mediterranean Fish Stew fit the bill.
The recipe below is very much like the recipe from The NY Times. I only made a couple of minor changes.
The changes I made were; I don't have a mortar and pestle, so I mashed the garlic, salt and anchovies in a small, flat dish.
Since I had a can of crushed tomatoes I used them instead of chopped. I also cut the salt from 3/4 teaspoon total, to 1/2 teaspoon total.
Cutting the salt in recipes is a must because Lee needs to limit his salt intake. (I also think we get way too much of it, so I try to control it when and where I can.)
Then I added a zucchini for extra nutrition.
My Easy Cheesy Drop Biscuits (pictured above) make a great accompaniment to this Mediterranean Fish Stew.
Mediterranean Fish Stew
Mediterranean Fish Stew features cod, potatoes, tomatoes, carrots, celery, onions, garlic, anchovies, and fresh herbs. It is a flavorful and healthy dish.
Ingredients
4

cloves

garlic

1/2

teaspoon

salt

divided

4

anchovies

4

sprigs parsley

1

sprig thyme

1

bay leaf

2

tablespoons

olive oil

1

medium carrot

chopped

1

stalk celery

chopped

1

large onion

chopped

1

can tomatoes

diced or crushed, 28 ounces

1

quart

water

1

pound

red potatoes

quartered

1

small zucchini

sliced into medallions

1/4

teaspoon

pepper

1 - 1 1/2

pounds

cod

cut into chunks
I earn a small commission from Instacart for qualifying purchases.
Instructions
Grate garlic with a microplane, or finely chop. In a small, flat dish mash garlic and 1/4 teaspoon salt into a paste with a fork or the back of a spoon, mash anchovies into garlic paste; set aside.

Tie parsley, thyme and bay leaf together with kitchen string; set aside.

In a large heavy soup pot or Dutch oven heat olive oil over medium heat, add carrot, celery, onion and remaining 1/4 teaspoon salt and cook, stirring often, until onion is tender, about 5 minutes. Add garlic and anchovy mixture and cook 1 minute. Add tomatoes and cook until tomatoes are hot, about 5 minutes,

Add water, potatoes, zucchini, herbs and pepper; cook until potatoes and zucchini are tender, 25-30 minutes. With the soup at a simmer (not boiling) add fish and cook 5-10 minutes or until fish is cooked through. Remove herbs and serve.
Recipe adapted from NY Times.
Follow us on social media!!
Pin this image for later!!