Sponsored post written by me on behalf of DaVinci Pasta. The opinions and text are all mine.
Garden Fresh Spaghetti Salad features authentic Italian spaghetti and lots of fresh vegetables topped with tangy Italian dressing and zesty Parmesan cheese.
We love this Garden-Fresh Spaghetti Salad! The crunchy veggies combined with the delicious pasta, tangy dressing and zesty cheese make it a party in your mouth.
We tend to eat a lot of pasta salad in the summer to go with grilled meats, (not that we don't eat them all year around, because we do).
I usually serve pasta salad as a side dish with dinner, and as the main course for lunch.
It is also a delicious and filling snack.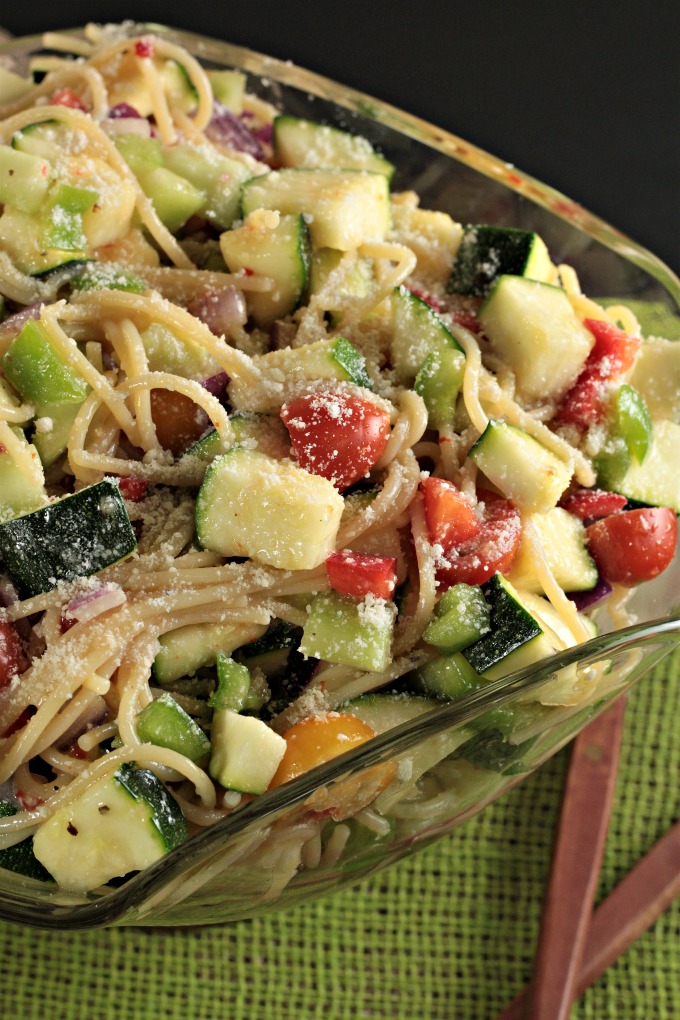 We love using DaVinci Pasta in our pasta dishes. Did you know that DaVinci Pasta is made in Italy with only the finest ingredients?
This makes it the perfect starting point to create many wonderful dishes.
We are huge pasta fans, who isn't right?!
Baked, boiled, hot, cold, red sauce, white sauce, easy dishes, complicated dishes – we like them all!
Now, about this recipe… It makes a large amount of spaghetti salad (12-16 servings), so it is perfect to make if you are feeding a crowd.
And, it is such an easy recipe that you can't really mess it up. I just love those kinds of recipes!
We take this Garden-Fresh Spaghetti Salad to various functions such as:
Potlucks
Family get-togethers
School functions
Work get-togethers
Picnics
Anytime we need to feed a crowd
There are only three of us left at home now, so we like to make a big batch on the weekend and eat it for dinner, lunches and snacks all week long, it's fabulous.
I chose to use cherry tomatoes, zucchini, red and green bell peppers, cucumbers and red onions.
They are some of our favorite veggies and go great with pasta.
The grocery store where I shop had sweet yellow cherry tomatoes, so I chose to use half red and half yellow.
You could certainly use all red if you can't find the yellow variety.
There is definitely a difference in taste between the red and yellow types.
A tip I learned since the internet became a thing (how did we ever get along without it?) is that if your red onion is too strong and you want to mellow it a little bit you have a couple of options.
A) Slice it and then soak it in ice water for at least 10 minutes, swirling it around a couple of times.
B) Place sliced onion in a bowl of water, add 2 tablespoons of fine salt and let stand 5 minutes. Rinse with fresh water.
With both methods, you pat them dry and use sliced or chop as desired.
We don't mind the onion flavor, and we really like red onions, but this is especially good if you are making this for kids that don't care for onions.
Another tip for this recipe – you will most likely need the biggest bowl in your kitchen to mix this in.
My large glass mixing bowl was not big enough, so I used my largest plastic mixing bowl.
Not only does DaVinci make many different cuts of pasta, they also make Italian olive oil and other Italian specialty items such as pesto, roasted red peppers and sun dried tomatoes.
Make sure to look for DaVinci Pasta products in your local grocery store, or check out this website to locate a retailer near you. You can also check out their Facebook page.
This goes great with Lemon Pepper Chicken or Honey Lime Chicken.
Garden-Fresh Spaghetti Salad
Garden-Fresh Spaghetti Salad: Spaghetti, zucchini, cucumber, red and green bell pepper, cherry tomatoes, red onion, Italian dressing and Parmesan cheese.
Ingredients
1

package

DaVinci Spaghetti

16 ounces

1

large zucchini

diced

1

cucumber

peeled, seeded and diced

1

green bell pepper

seeded and diced

1

red bell pepper

seeded and diced

1/2

medium red onion

diced

15

red cherry tomatoes

halved

15

yellow cherry tomatoes

halved

1

bottle Italian dressing

14-16 ounces

1/4

cup

Parmesan cheese
Instructions
Cook pasta according to package directions (11-13 minutes). Drain and rinse with cold water.

Toss all ingredients, except Parmesan cheese, together in a large bowl.

Top with Parmesan cheese.
Notes
I use the type of Parmesan cheese that comes in a shaker and can be found on the pasta aisle. You can use all red cherry tomatoes or any other tomato you would like.
Recipe adapted from Six Sisters' Stuff.
Follow us on social media!!
Pin this image for later!!