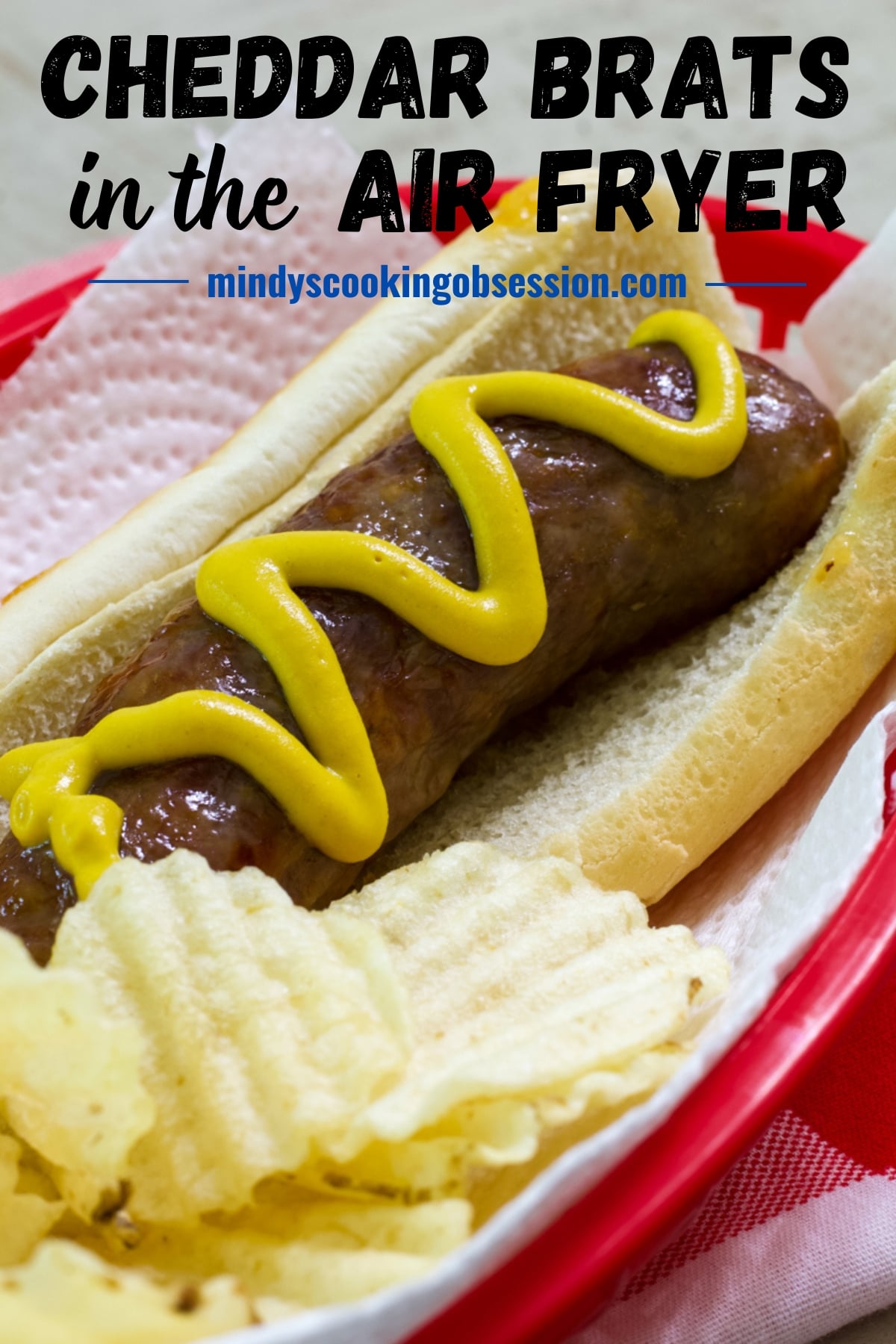 In this post I will show you how to cook Johnsonville Cheddar Brats in the air fryer. It is so quick and easy!
We are finding that the air fryer is the new best way to cook many foods. The result is juicy brats that are perfectly golden brown in about 12 minutes cooking time and literally no prep time. You can gather the hot dog buns, favorite toppings and prepared side dishes while they are cooking.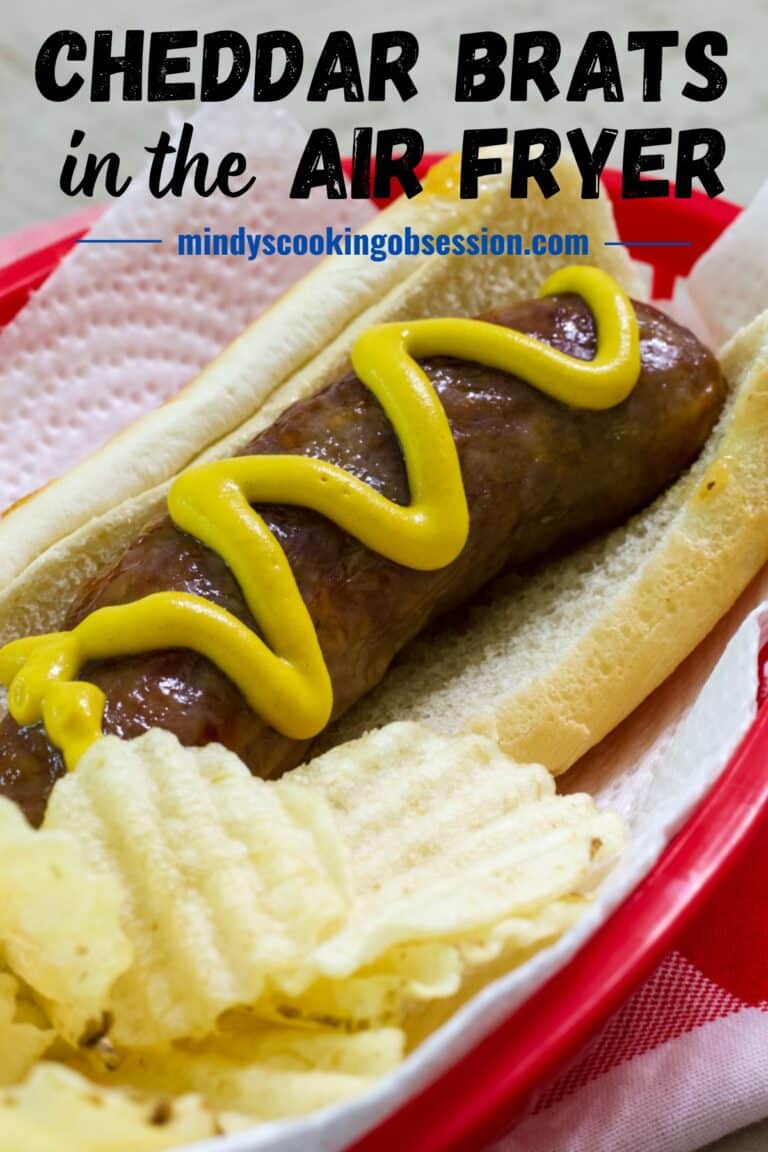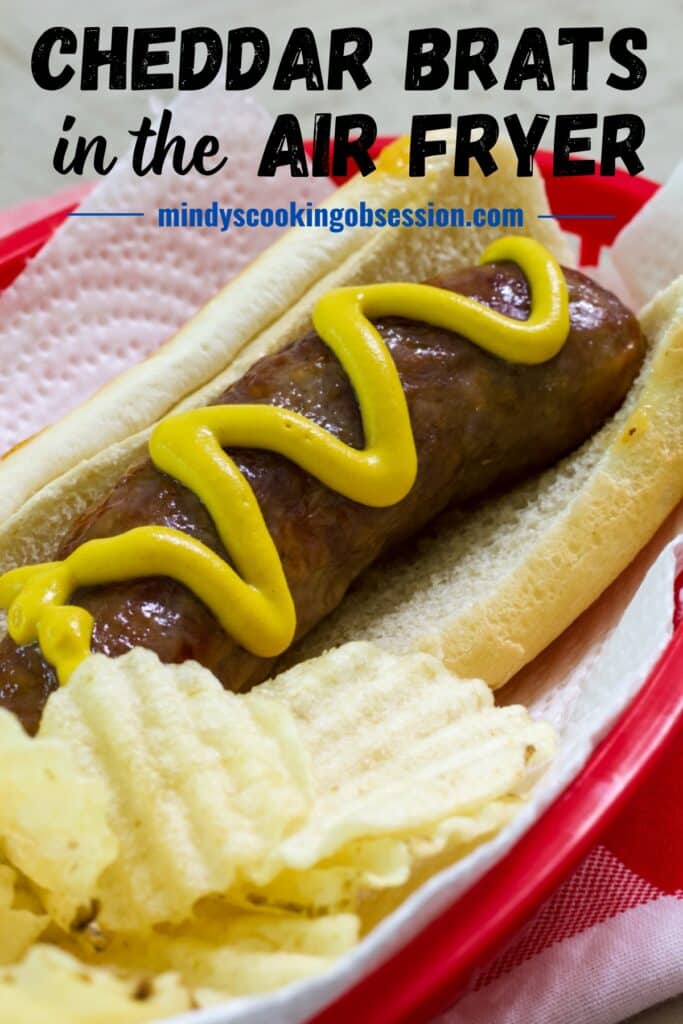 Brats are a food we eat on occasion and we buy Johnsonville brats because they are our favorite brand of brats. We serve them with potato chips and either potato salad or macaroni salad for the perfect summertime quick meal. It is carb overload and while we don't necessarily follow a low carb diet we do limit this type of meal.
Ingredients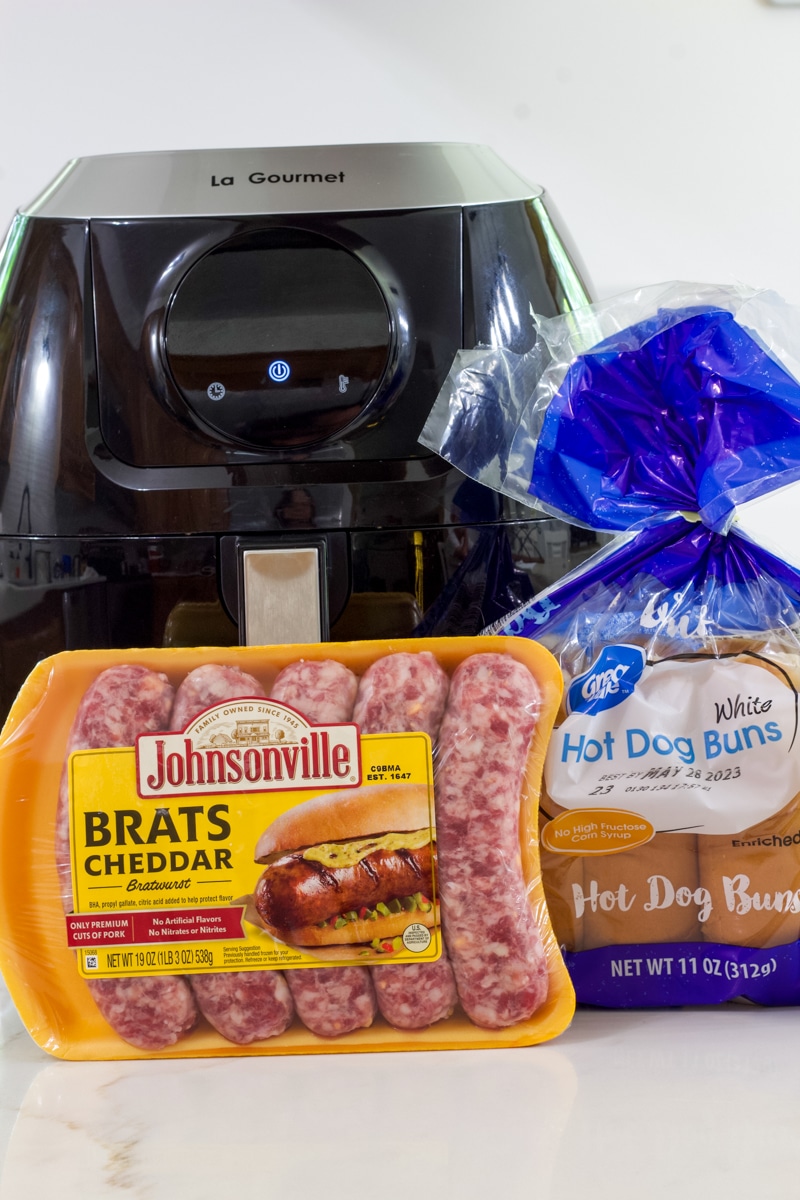 Ingredient Notes
Cheese Brats – one package of brats has 5 sausages and that is exactly how many fit into our air fryer basket. That is not how many hot dog buns or hoagie rolls comes in a package so it is one of those things where you can virtually never end up with the same amount of each. So annoying!
Buns – we like good ol' cheap hot dog buns for this. You can decide the best rolls or buns based on what you like best.
Mustard – this is the only topping we put on our brats, this is personal preference.
Special Note – Brats come in many flavor varieties and the cook time is the same. You can use regular brats, beer brats, Italian brats or your favorite brats that I have't mentioned. I looked on the Johnsonville website and was surprised at just how many different flavors they come in. My local grocery store only carries maybe three different kinds of brats so I had no idea there were so many!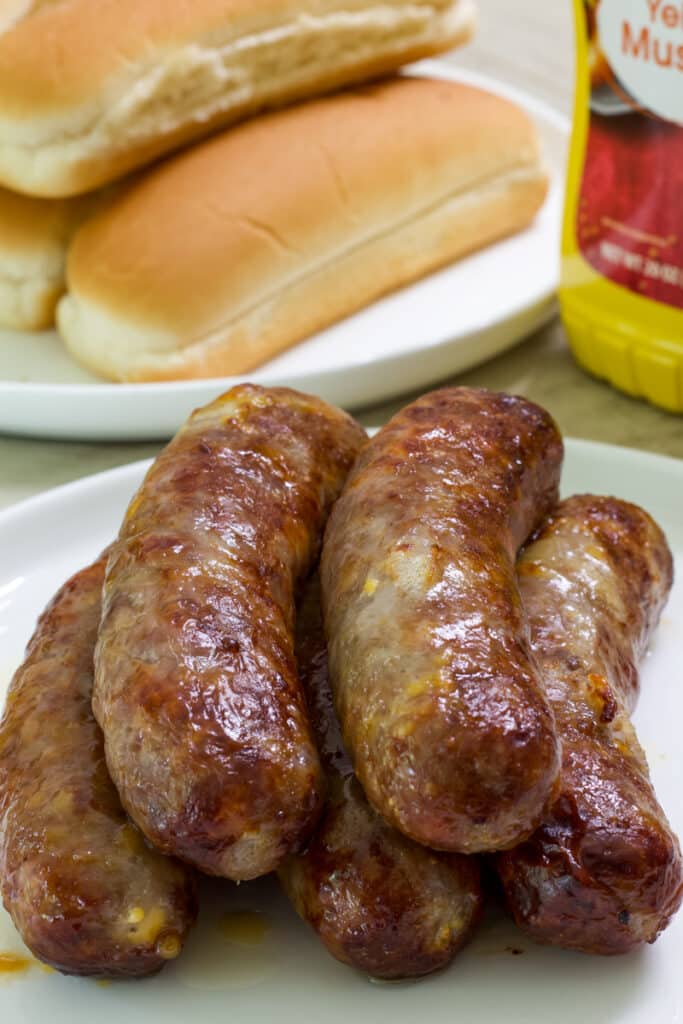 How to Make This Air Fryer Brats Recipe
Give your air fryer a quick spray with cooking spray. While there is a high fat content in brats the natural casing they are in may stick to the bottom of the air fryer basket.
Place uncooked brats in a single layer in the air fryer basket. Air fry brats at 380° for 6 minutes, flip and cook for 6 minutes more.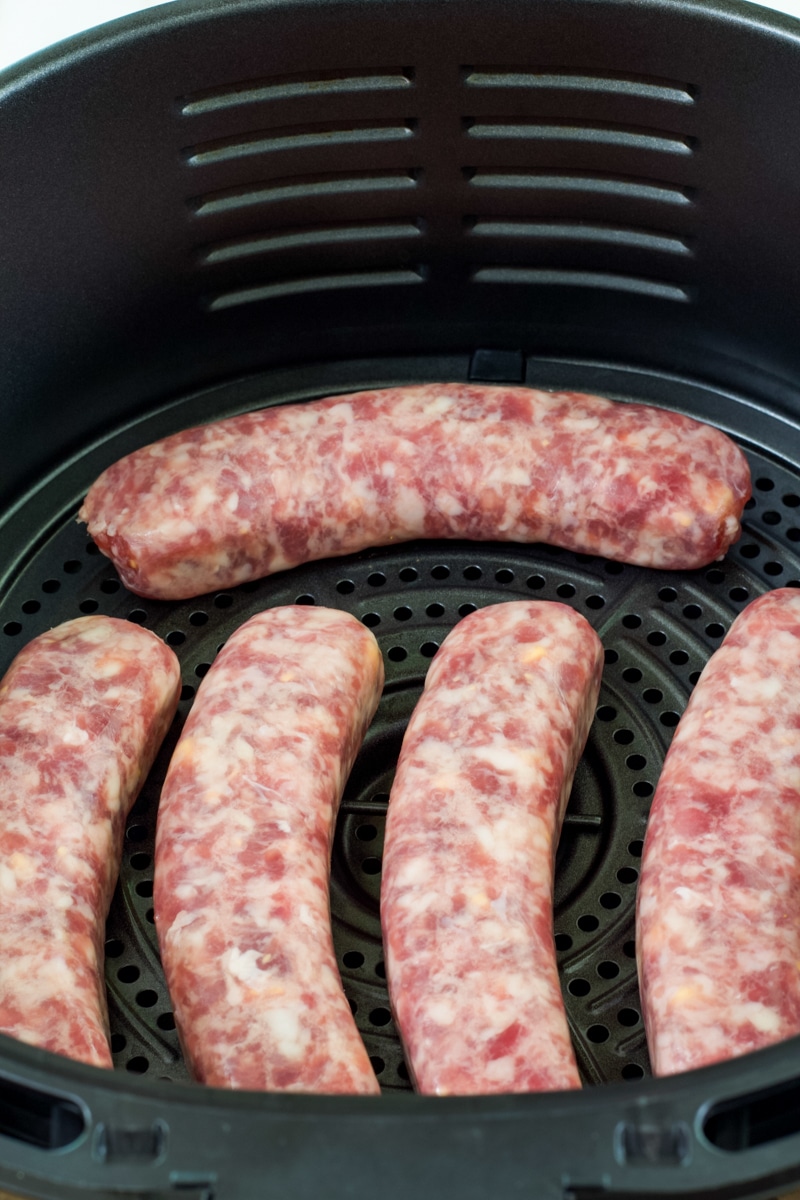 Note: According to Johnsonville's website the internal temperature of the brats should be 160°. I do have a digital meat thermometer but never think to pull it out when I make these. I am confident that they have reached the correct temperature without checking. Feel free to check if you have a meat thermometer. Brats will be very hot so you will want them to cool down a bit, especially if you are serving them to kids.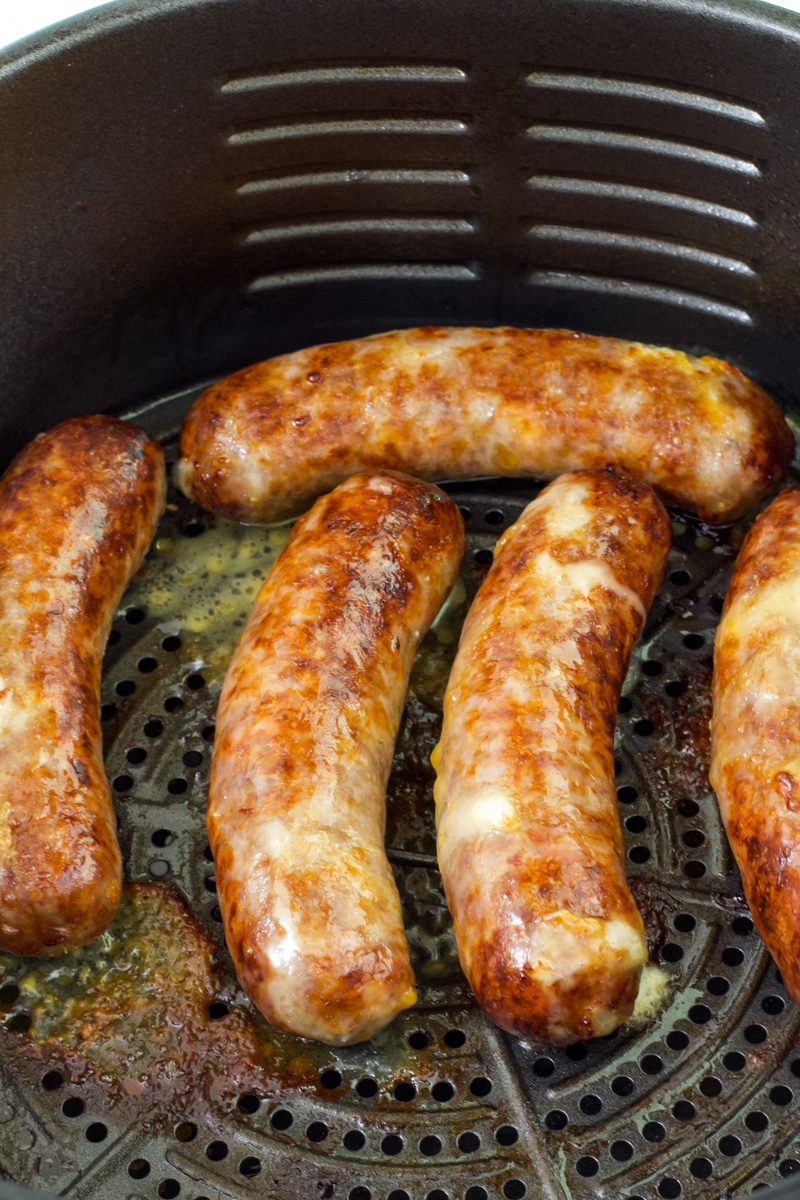 How long do you cook brats in the air Fryer?
At 380° they have a cook time of 12 minutes. We turn them over halfway through the cooking process.
Do you poke holes in brats before air frying?
No, there is no need to poke holes in bratwurst sausage before cooking them.
Are air fryer brats good?
Absolutely! Air frying results in moist and delicious brats that are piping hot. I think this is one of the best cooking methods because you don't have to wait on the grill to get hot (or my least favorite part, clean it) or heat up your kitchen.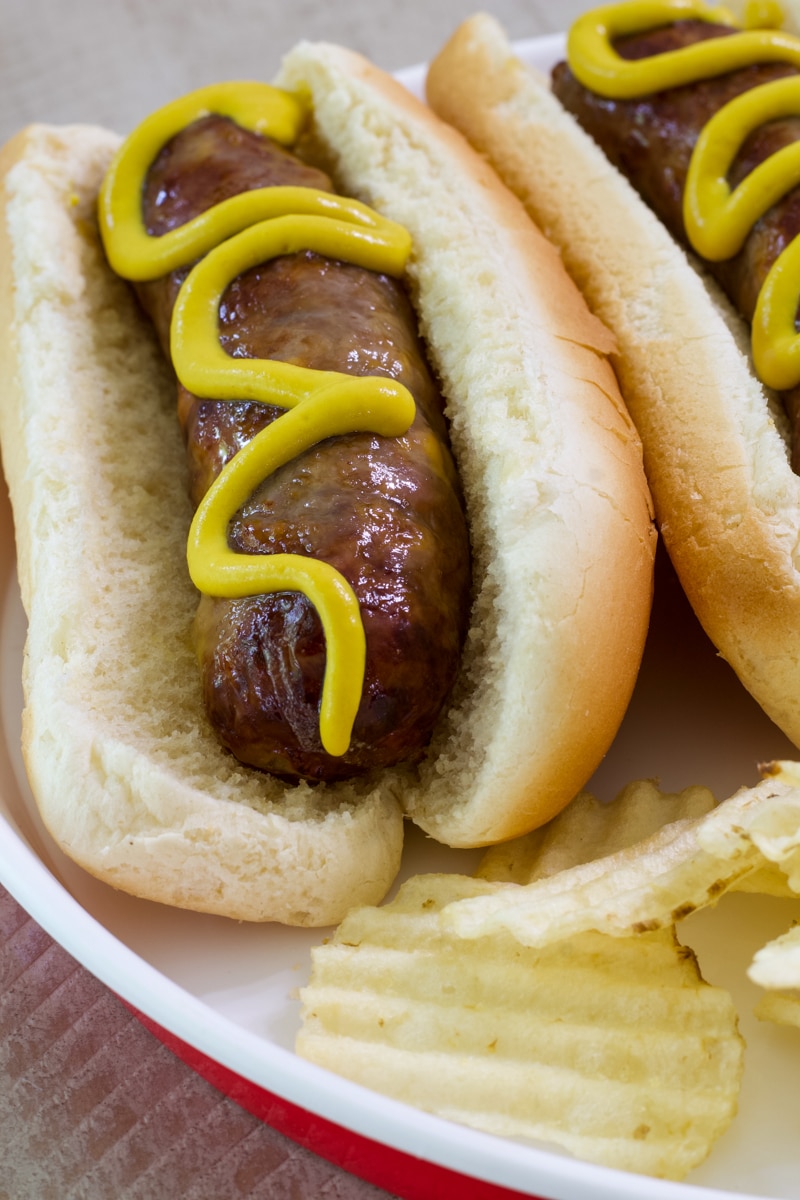 What to serve with cheddar brats for a quick and easy meal.
You can buy these in the deli of your local grocery store or make them ahead.
Potato Salad
Pasta Salad
Macaroni Salad
Tomato & Cucumber Salad
Cole Slaw
Fruit Salad
BBQ Baked Beans
Taste of Home has a great list of 70 Sides to Serve with Brats.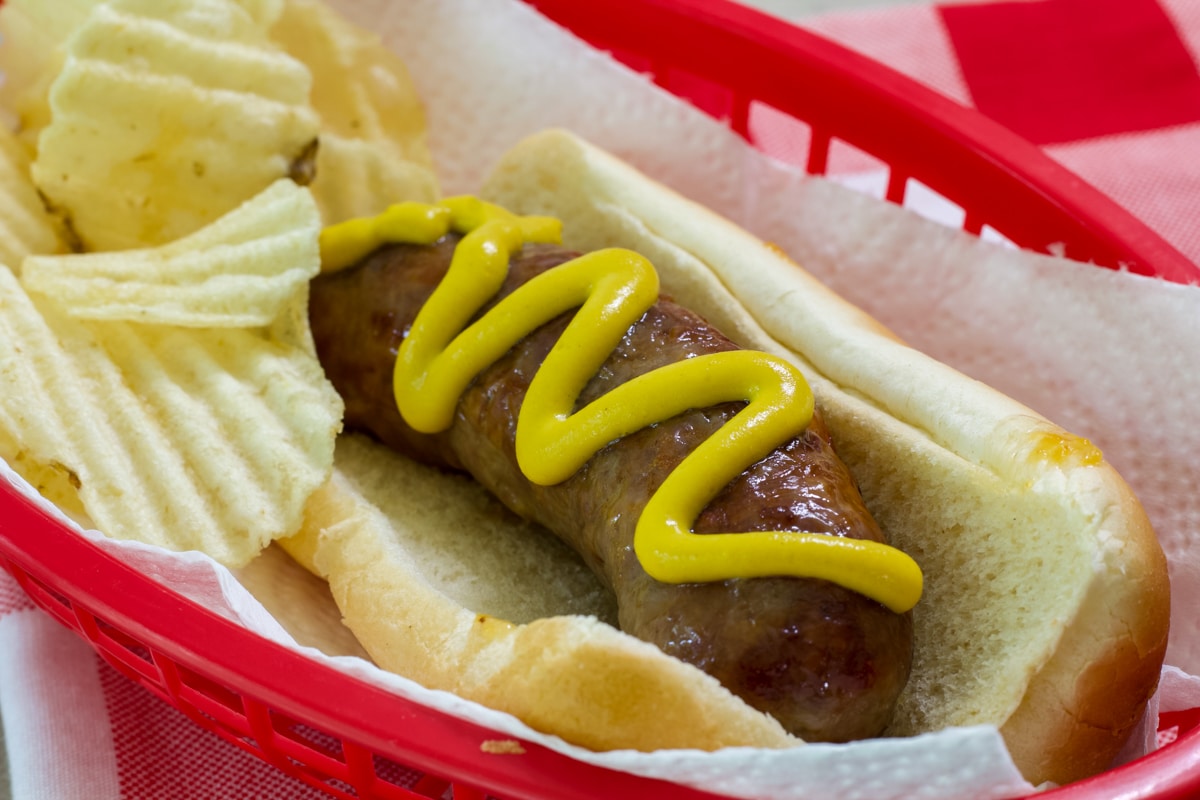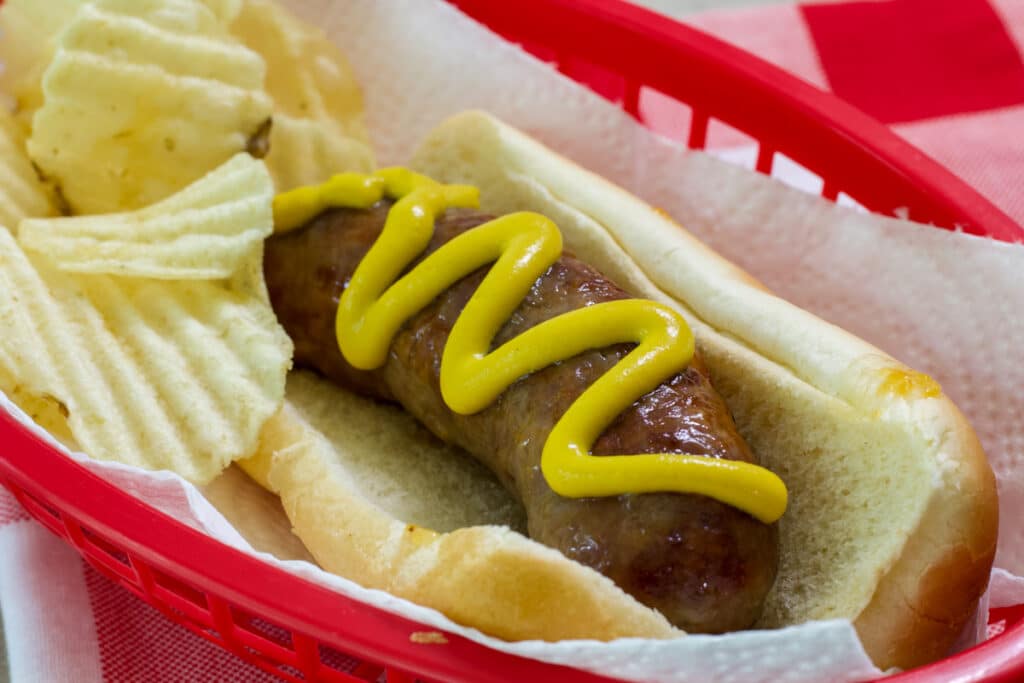 What we love about this air fryer bratwurst recipe
Cooking bratwurst in the air fryer is an easy way to get dinner on the table quickly.
You only need a few ingredients and we can buy side dishes that go perfectly with them so we can spend less time in the kitchen and more time doing other things.
Cheddar brats have an irresistible burst of cheese flavor that we love.
Other Easy Air Fryer Recipes
Follow us on social media!
Bookmark this page so you can find it easily when you are ready to make this recipe!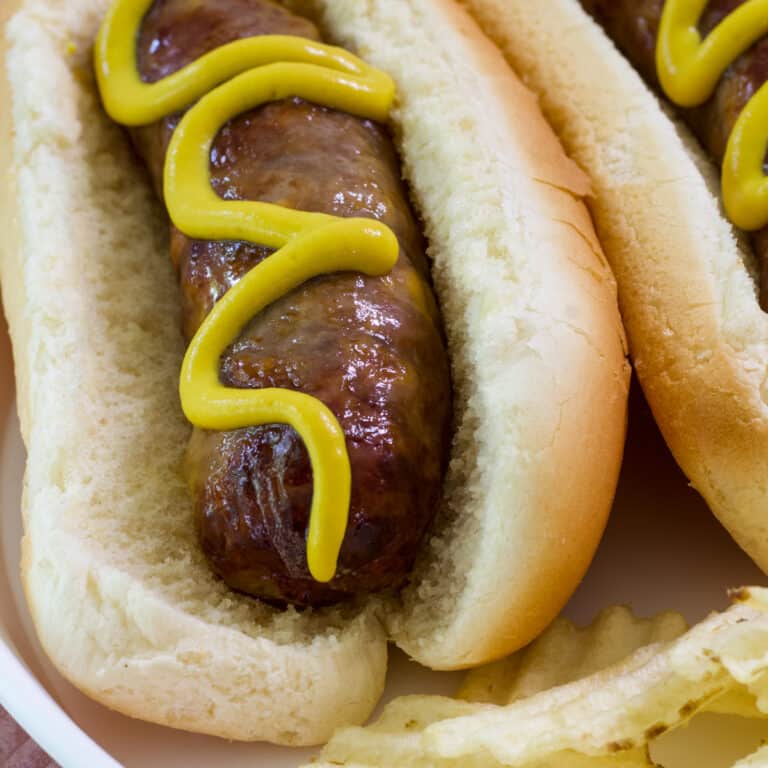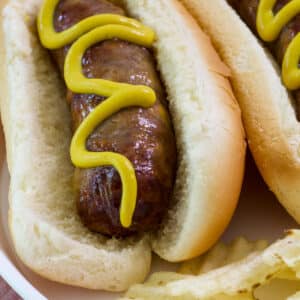 How to Cook Johnsonville Cheddar Brats in the Air Fryer
Air Fried bratwurst come out moist, brown and delicious and this is such an easy recipe.
Ingredients
5

cheddar brats

5

hot dog buns

Toppings of choice
I earn a small commission from Instacart for qualifying purchases.
Instructions
Give your air fryer a quick spray with cooking spray.

Place uncooked brats in a single layer in the air fryer basket. Air fry brats at 380° for 6 minutes, flip and cook for 6 minutes more.

Serve on your favorite type of bun with your favorite toppings.
Notes
Nutritional information is approximate.
Bookmark this page to find it quickly when you are ready to make this recipe!
Nutrition Facts
Calories:
379
kcal
|
Carbohydrates:
24
g
|
Protein:
18
g
|
Fat:
23
g
|
Saturated Fat:
8
g
|
Polyunsaturated Fat:
2
g
|
Monounsaturated Fat:
10
g
|
Cholesterol:
60
mg
|
Sodium:
910
mg
|
Potassium:
282
mg
|
Fiber:
1
g
|
Sugar:
3
g
|
Vitamin A:
4
IU
|
Vitamin C:
1
mg
|
Calcium:
80
mg
|
Iron:
2
mg