We are always looking for new side dishes and I keep seeing recipes for spaghetti squash. So, I got on the internet to find a recipe I could adapt to fit our taste (and the ingredients I had on-hand). I adapted a recipe from Healthy Recipes, and came up with this Italian Herbs and Cheese Spaghetti Squash.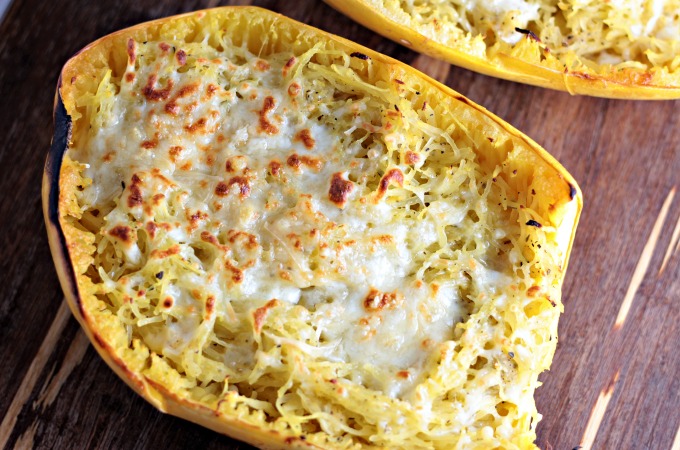 This is only the second time I have made spaghetti squash and I see many different recipes using this in my future. I think it is so cool that it looks a lot like pumpkin on the inside, and then you roast it and are able to shred it into this yumminess that looks like spaghetti. So neat!
We cut the top off so we could stand it on end to cut it in half. So far, I haven't had to cut one of these bad boys myself because my husband has been home both times I have made one. It is a little bit difficult to cut.
One of these days I am going to make a recipe using the spaghetti squash like pasta. I have seen many recipes like that, and they look tasty.
See how it looks when you shred it? Is that cool, or what?!
This recipe is a lot like twice baked potatoes, where you cook the spaghetti squash, take everything out of the shell, mix in some cheese and herbs, put it all back in, top it with more cheese, and bake it again.
Want to make spaghetti squash for dessert? Try this recipe for Spaghetti Squash & Apples, it is yummy and can be served as a dessert or a side dish.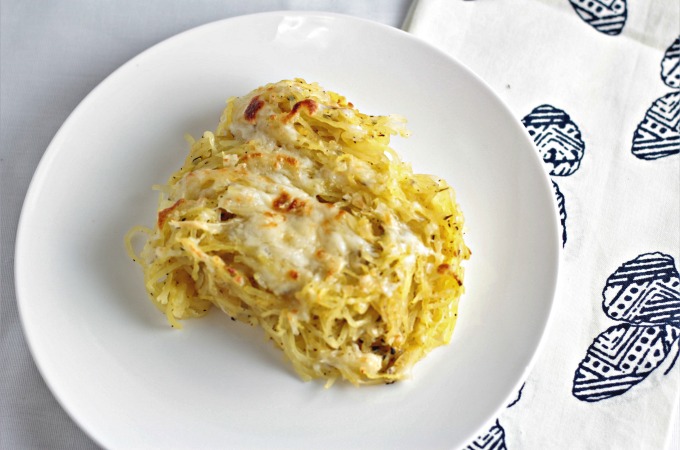 Italian Herbs and Cheese Spaghetti Squash
Italian Herbs and Cheese Spaghetti Squash is delicious and easy to prepare. It makes the perfect side dish, but could also be served as the main course.
Ingredients
1

spaghetti squash

2

tablespoons

olive oil + additional

to brush on the squash before you roast it

1/2

cup

grated mozzarella cheese

1/4

cup

grated cheddar cheese

2

tablespoons

grated Parmesan cheese

1

teaspoon

Italian seasoning

1/2

teaspoon

salt

1/2

teaspoon

pepper

1/4

teaspoon

garlic powder
Instructions
Preheat oven to 375°. Coat a rimmed baking sheet with cooking spray.

Place squash in microwave for 60 seconds.

Chop top off, stand on end and cut in half.

Remove seeds and pulp with a spoon.

Brush with olive oil, place face down on baking sheet and roast for 1 hour or until tender.

Let cool until able to handle.

Scrape insides out and put into a large bowl. Mix in olive oil, 1/4 cup mozzarella cheese, cheddar cheese, Italian seasoning, salt, pepper, and garlic powder.

Fill each shell with half of mixture. Top with remaining 1/4 cup mozzarella and Parmesan cheeses. Bake for 10 minutes, then broil for 3-5 minutes or until lightly browned.
Notes
This particular spaghetti squash was 3 1/2 pounds.
Adapted from Healthy Recipes.
Follow us on social media!!
Pin this image for later!!