Roasted Spaghetti Squash & Apples makes a healthy dessert or side dish!
This Spaghetti Squash & Apples recipe is so easy and only requires 6 ingredients. It makes a great side dish and an even better healthy dessert.
Apple, brown sugar, and cinnamon give it just the right amount of sweetness.
We really love dessert at our house. When we sit down in the evenings to watch television we always have coffee or tea to help us unwind.
And with that coffee or tea we love to have a little something sweet. I am always on the lookout for desserts that are as healthy as possible.
Spaghetti Squash & Apples was a big hit with my husband (and I liked it too!).
This was the first time I have ever made one, and I must confess that I was a little intimidated by it. But not anymore. I did have trouble cutting it, so I had my husband do it.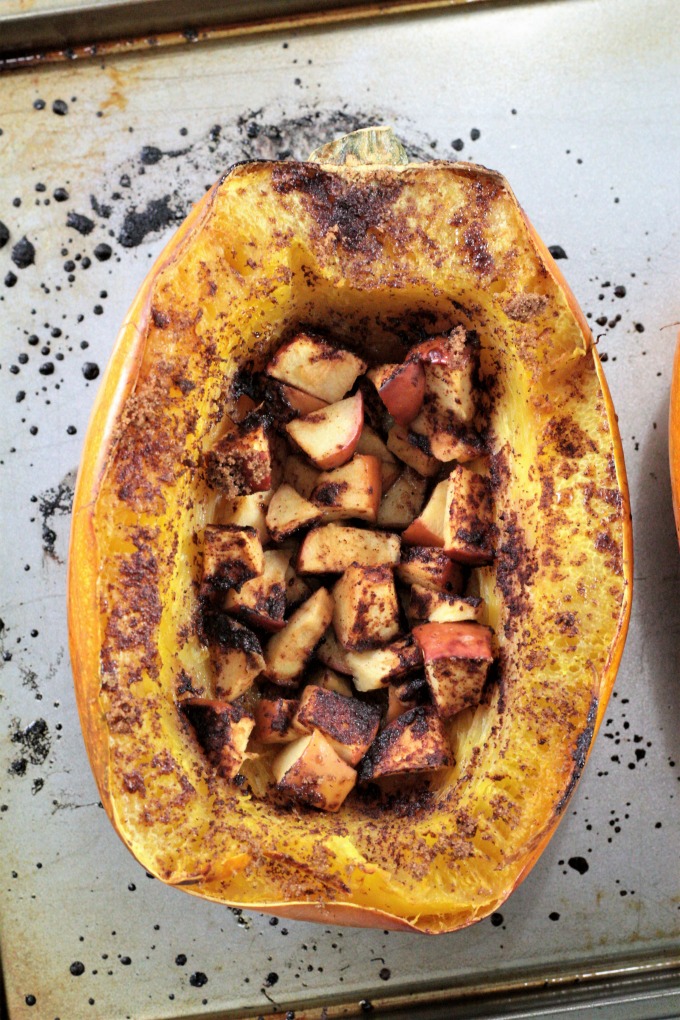 I can't wait to make savory versions of spaghetti squash for a healthy entree or side dish. The internet has some recipes that I thought looked really good, and I can't wait to come up with some of my own.
We really liked the texture and flavor, and any time I can swap out something healthy for something not so healthy, I'm in.
Since I had never made this dish before I looked for a recipe to give me an idea of how to cook this thing. The recipe I found on AllRecipes looked like a good place to start, so I adapted it.
I almost never use as much sugar as is called for in these types of recipes. My philosophy is to add as little sugar as possible to make something taste good.
I find that most ingredients such as this don't need a lot of sugar in order to taste good. Less is more!
Spaghetti Squash & Apples
Roasted Spaghetti Squash & Apples has a touch of olive oil, brown sugar, cinnamon, and butter to make it the perfect side dish or dessert.
Ingredients
1

spaghetti squash

olive oil

1

apple

cubed

1

tbsp

brown sugar

1/2

teaspoon

cinnamon

2

tablespoons

butter
Instructions
Preheat oven to 375° and spray sheet pan with cooking spray.

Put squash in microwave for 60 seconds. Cut squash in half lengthwise and scoop out seeds.

Brush inside lightly with olive oil.

Place face down on sheet pan and roast for 30 minutes.

Carefully turn over with tongs.

Fill each side with half of apple and sprinkle with half of brown sugar and cinnamon.

Return to oven for an additional 30-40 minutes until apple is tender and squash is cooked.

Cool slightly, shred with fork and add 1 tablespoon butter to each half, serve warm.
Follow us on social media!!
Pin this image for later!!