This post for Mini Ice Cream Sandwiches is sponsored by Hiland Dairy but the content and opinions expressed here are my own.
So you take two soft chocolate cookies and put a scoop of Hiland Outlaw Run Ice Cream in between them and you have the best Mini Ice Cream Sandwiches you've ever eaten.
These are the perfect summertime treat!
Not that I wouldn't eat these any time of the year, because I sure would!
While we do eat more ice cream in the summer we actually eat it all year around.
Even when it is freezing outside.
We live in Wichita, Kansas and Hiland Dairy makes our favorite dairy products.
They have everything from butter to sour cream to ice cream to flavored dips.
Some of our most favorite ice cream flavors are made by Hiland.
Like this Outlaw Run Ice Cream, it is vanilla ice cream with chunks of chocolate and swirls of sea salt caramel.
And it is fantastic!
It is named after a roller coaster at Silver Dollar City in Branson, Missouri.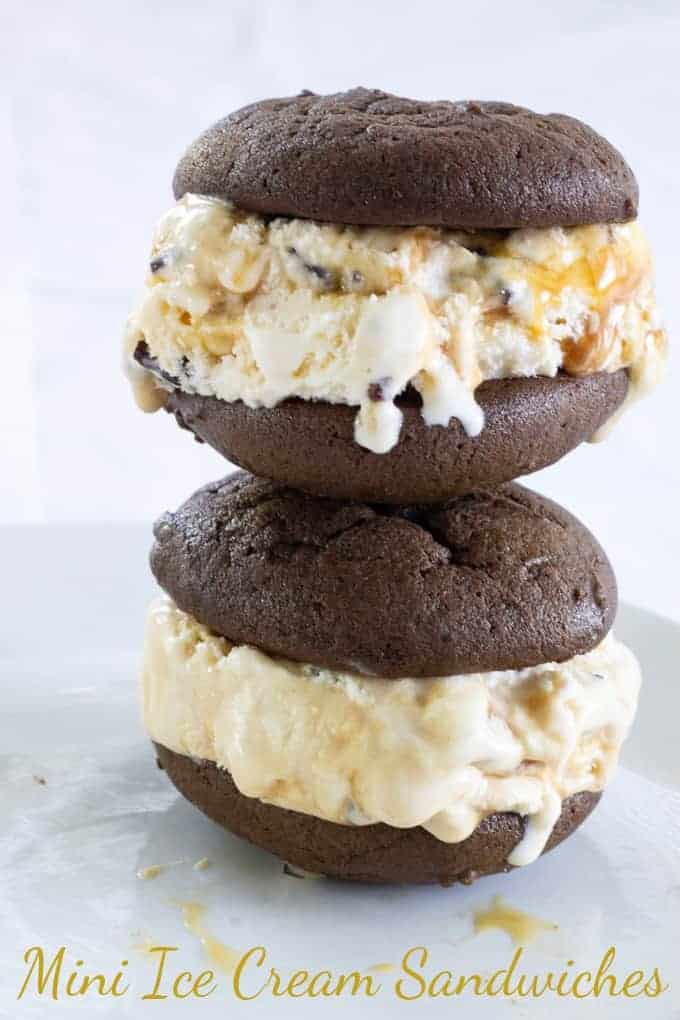 Fun fact: our first ever family vacation was to Branson and Silver Dollar City.
We also spent our 25th wedding anniversary in Branson.
It is a very fun place to vacation.
Hiland also has a flavor named after the Time Traveler roller coaster, also at Silver Dollar City.
It features French silk ice cream with marshmallow bonbons, chocolate flakes and thick fudge sauce.
It is also delightful!
I chose to use the Outlaw Run Ice Cream for my Mini Ice Cream Sandwiches because I thought it would go super well with chocolate cookies.
Boy was I right!
(4) Multiple Admission Front-of-the-Line Trailblazer Passes
(4) Show Lover's Passes
Hotel accommodations with shuttle service to the park
$150 prepaid gas card
$50 coupon pack for Hiland Dairy products
Cooler to keep Hiland snacks cool on the drive
How awesome would that be? So head on over to their website and find out how to enter!
Hiland Dairy uses milk from local dairy farms, so it is a way for us to do our part supporting local farmers.
They also supply many of our schools with milk for lunches and that is also important.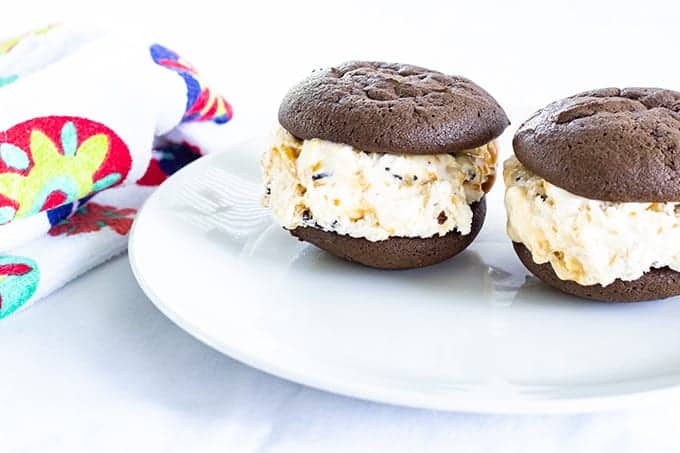 My cookie recipe is awesome. The major things that make it stand out is Hiland unsalted butter, Hiland sour cream and hot brewed coffee.
I also use cocoa powder and that helps this recipe to be easy to make.
Using hot coffee in chocolate recipes is a great way to take the chocolate flavor to the next level.
If you don't have it on hand or want to leave it out then just replace it with hot water.
I use a cookie scoop to ensure that my cookies are all the same size and shape.
This helps to match them up when putting two together to make the sandwiches.
I line my baking sheets with parchment paper so my cookies don't stick.
I keep the parchment on hand, but have used cooking spray many times in the past and it works great too.
This cookie recipe was adapted from another website.
She used them for whoopie pies, but they work great for Mini Ice Cream Sandwiches too.
I will say that the cookie isn't the smoothest cookie I have ever made, but they taste delicious.
They are [evidently] made right because mine look pretty much just like hers.
Mini Ice Cream Sandwiches
Mini Ice Cream Sandwiches are soft chocolate cookies filled with ice cream that has chocolate chunks and swirls of sea salt caramel to make a yummy dessert!
Ingredients
2

cups

flour

1

teaspoon

baking soda

1/4

teaspoon

salt

1/2

cup

cocoa

1/2

cup

Hiland unsalted butter

softened

1

cup

sugar

1

egg

1

teaspoon

vanilla

1/2

cup

Hiland sour cream

1/2

cup

hot coffee

Hiland Outlaw Run Ice Cream
Instructions
Preheat oven to 350°. Line rimmed baking sheets with parchment paper or spray with cooking spray.

Combine flour, cocoa, baking soda, and salt in a small bowl; set aside.

Cream Hiland butter and sugar with an electric mixer until light and fluffy.

Add egg and vanilla and mix until combined.

Add 1/3 flour mixture, 1/2 Hiland sour cream and 1/2 coffee. Add another 1/3 flour mixture, then remaining Hiland sour cream and coffee, then add the last of the flour mixture, mix until combined after each addition.

Drop by rounded tablespoons onto prepared baking pans and bake for 10-12 minutes or until cookies are set. Cool on cookie sheet for a couple of minutes and move to a wire rack to cool completely.

Let ice cream sit out for about 10 minutes. Put a scoop of Hiland Outlaw Run Ice Cream on the bottom of one cookie and top with another cookie.
Notes
If you don't have brewed coffee on hand or want to leave it out then just replace it with hot water. Store Mini Ice Cream Sandwiches in an airtight container or wrapped in plastic wrap in the freezer.
Recipe adapted from Gather For Bread.
Follow us on social media!!
Pin this image for later!!
Other recipes you might like that feature Hiland Dairy products: