TGIF! I am so excited that tonight after dinner we are going to go shop for a new camera! I have a light box coming on Saturday and my pictures will soon be much better.
But now it's time for cake! Well, I am not eating it right now because it is 9:45 am and I have to have some sort of self-control, but I had it last night.
While I try to eat a healthy, nutritious diet on a regular basis, I find that if I don't indulge myself occasionally then I will end binging, and that is never good. So I usually have dessert once or twice a week. I keep telling myself, "everything in moderation".
Many years ago, before the internet was so popular, I ran across a recipe for something very similar to this. I am guessing that it was probably on the back of the box of cake mix, but I can't remember.
Anyway, I searched for a recipe like this after I got internet and I couldn't find exactly what I wanted, so I came up with this. I named it Peachy Keen Cake with Cool Whip Frosting because I thought it fit well.
My husband really loves this Peachy Keen Cake with Cool Whip Frosting. Next time I am going to modify the recipe and make it a little better for us. I will use low-fat yogurt and Cool Whip, applesauce instead of canola oil and egg whites instead of whole eggs.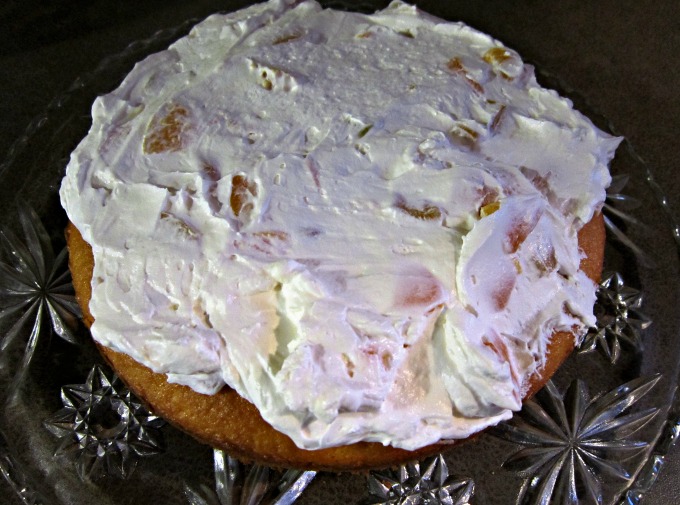 I am interested to see how that changes the fat and calories. I will post it on this blog.
Peachy Keen Cake with Cool Whip Frosting
Peachy Keen Cake with Cool Whip Frosting requires a boxed cake mix, canned peaches, peach yogurt and Cool Whip. It makes a boxed cake mix taste homemade.
Ingredients
1

white cake mix

1

can

peaches in heavy syrup,

15.25 ounces

1 1/4

cup

peach juice and water mixture

3

eggs

1/3

cup

canola oil

1

container Cool Whip,

8 ounces

1

container peach yogurt,

6 ounces
Instructions
Preheat oven to 350°.

Prepare pans. If you want to leave the cake in the pan then you can use a 9″ X 13″. Spray the bottom with cooking spray. If you want to make a layer cake then use either 8″ or 9″ rounds and line the bottom with waxed paper and spray the sides with cooking spray.

Drain peaches, reserving juice. Pour the peach juice into a measuring cup and fill the rest of the way (to 1/ 1/4 cups) with water. In a large bowl combine cake mix, eggs and canola oil; mix and bake according to package directions.

If using rounds, let cake cool in the pans for 10 minutes. Run a knife between the cake and the edge of the pan, remove from pans onto wire rack, peel off waxed paper. Cool on wire rack until completely cool. If you are using a 9″ X 13″ let cake cool completely in the pan.

For the frosting: Cut peaches into small chunks, mix with yogurt then fold in Cool Whip. Frost top of bottom layer, put the second layer on top of the first layer, frost sides then the top. Refrigerate for at least 1 hour before serving.
Follow us on social media!!
Pin this image for later!!