Pineapple Upside Down Cake is a fun and easy dessert!
My Pineapple Upside Down Cake recipe features pineapple and maraschino cherries and transforms boxed cake mix into an easy and special treat!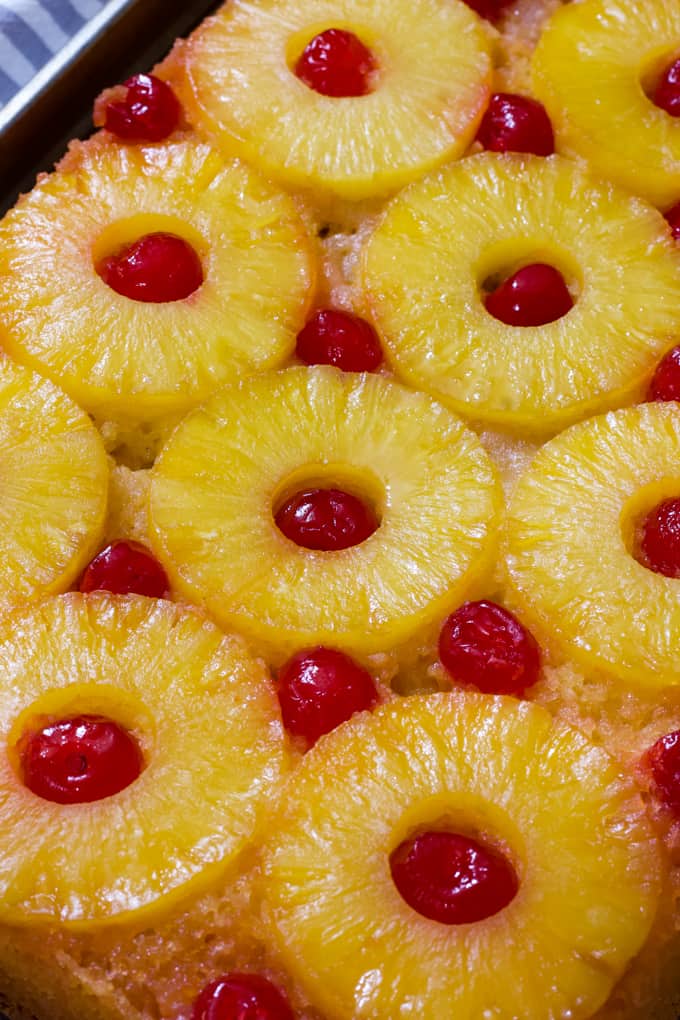 Cake is one of my favorite foods!
I just love the texture and flavor.
Believe it or not, I like cake way more than frosting.
I am always looking for ways to top cakes that isn't frosting.
I do like frosting, but some of it is just too sweet for me.
So that is what makes Pineapple Upside Down Cake so nice – no frosting!
Better than that, it is topped with butter, sugar and fruit.
Some of the same ingredients as frosting, but way different.
Perhaps one of the drawbacks to frosting is that you have to let the cake cool completely.
I mean, who has that kind of discipline?!
A cake that you make the topping as you are making the cake is really the best, in my opinion.
And there is fruit.
So doesn't that make it healthier?!
Follow us on social media!!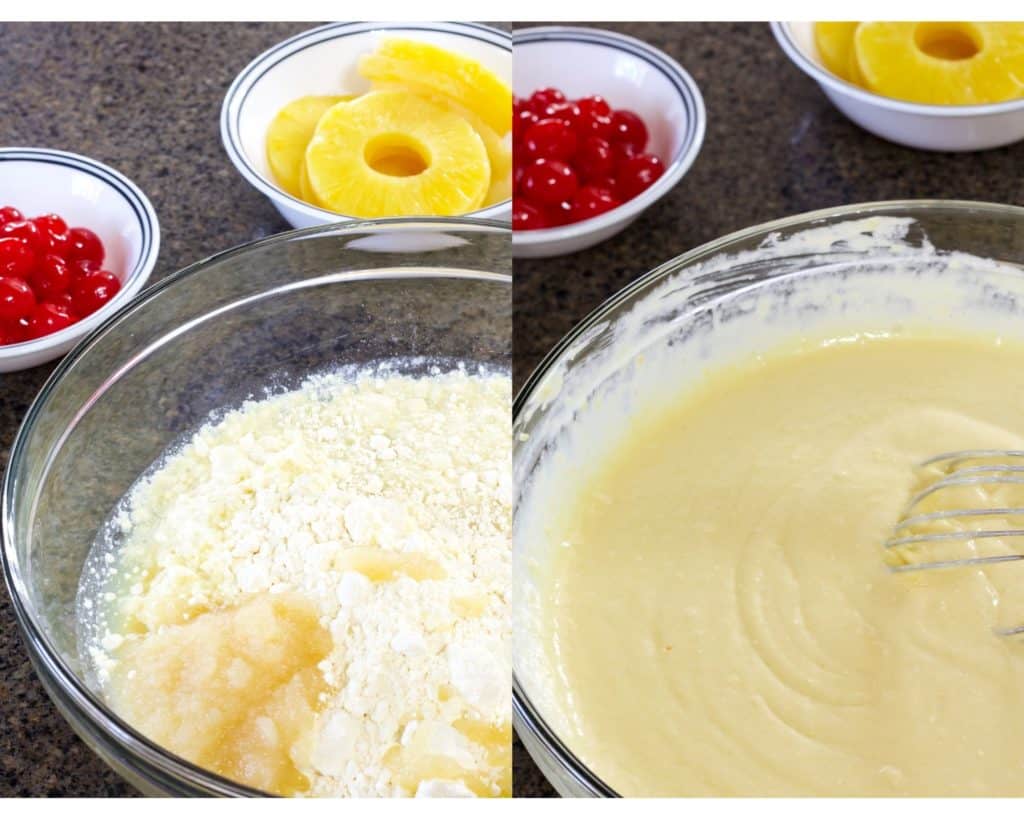 This Pineapple Upside Down Cake is easy to make.
Do not be intimidated by the thought of flipping it over.
It couldn't be easier!
Make sure you line up the dish you are putting it on with the cake pan and grab it in a way that is easy to flip over, and flip it.
As long as you loosen the sides of the cake from the pan with a knife then it should be good to go.
The butter, brown sugar and fruit will not allow what is going to be the top of the cake to stick.
There really is nothing to it. Just do it!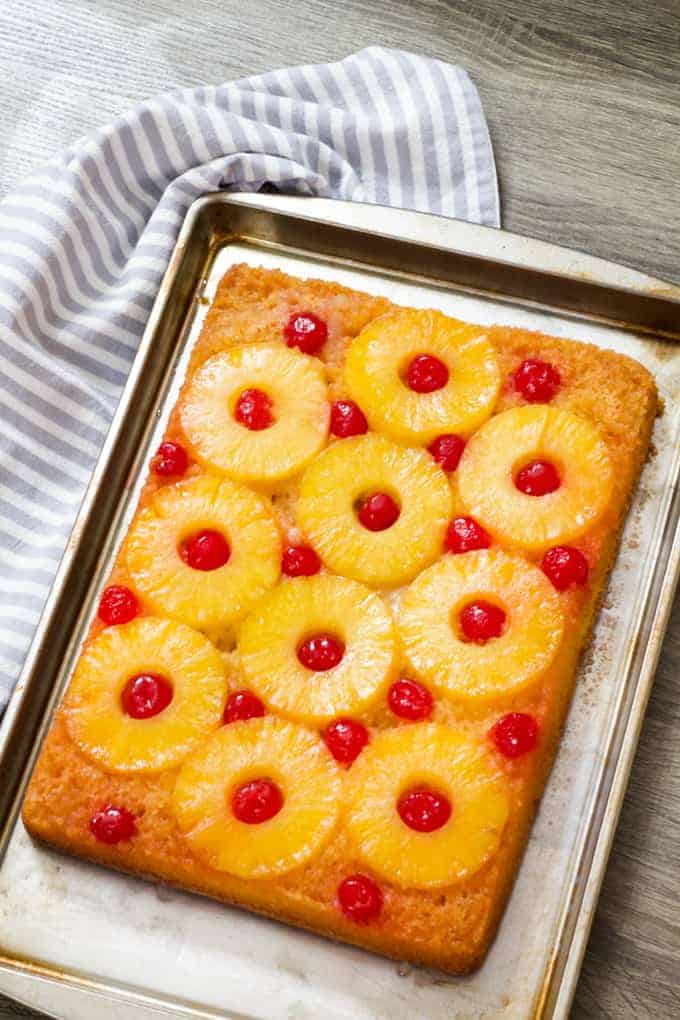 I don't have a large rectangular platter so I use a sheet pan.
It is easy to cover with a piece of aluminum foil too.
One of these days I am going to buy a large platter for cakes such as this.
But this works for now.
Some other recipes you might like that transform boxed cake mix into something special:
Banana Chocolate Chip Cupcakes
The Easiest Pumpkin Pie Cake Ever
Follow us on social media!!
Pineapple Upside Down Cake
Pineapple Upside Down Cake recipe features pineapple and maraschino cherries and transforms boxed cake mix into an easy and special treat!
Ingredients
1/4

cup

butter

1

cup

brown sugar

1

can

pineapple rings, juice reserved

20 ounces

1

jar

maraschino cherries

at least 6 ounces

1

box

yellow cake mix

15.25 ounces

3

eggs

1/3

cup

unsweetened applesauce

water
I earn a small commission from Instacart for qualifying purchases.
Instructions
Melt butter in a 13" X 9" X 2" in the oven, sprinkle brown sugar evenly over butter. Arrange pineapples over brown sugar, place cherries in and around pineapple rings.

Measure reserved pineapple juice and add enough water to make one cup. Whisk cake mix, eggs, applesauce and pineapple juice-water mixture in a large bowl until well combined. Pour into pan over pineapple rings and cherries.

Bake until cake is golden and a toothpick inserted into the center comes out clean, 40 - 46 minutes.

Run a knife around side of pan to loosen the edges. Turn cake out onto a serving platter, or sheet pan. Let pan sit over cake for 5 minutes. Cool about 30 minutes before serving.
Notes
My local store only had a 16 ounce jar of maraschino cherries but I didn't use the entire jar.
Nutrition Facts
Calories:
331
kcal
|
Carbohydrates:
67
g
|
Protein:
3
g
|
Fat:
6
g
|
Saturated Fat:
3
g
|
Polyunsaturated Fat:
0.5
g
|
Monounsaturated Fat:
2
g
|
Trans Fat:
0.3
g
|
Cholesterol:
51
mg
|
Sodium:
366
mg
|
Potassium:
127
mg
|
Fiber:
2
g
|
Sugar:
49
g
|
Vitamin A:
209
IU
|
Vitamin C:
5
mg
|
Calcium:
128
mg
|
Iron:
1
mg
Recipe minimally adapted from Betty Crocker.