These Potato Wedges are crispy on the outside, fluffy on the inside, with just the right amount of spices to give them great flavor.
I am a meat and potatoes kinda girl and so I prepare potatoes in just about every way possible. When I was a young cook we ate them mashed probably two or three nights a week.
I must say that I do enjoy finding new ways to make them.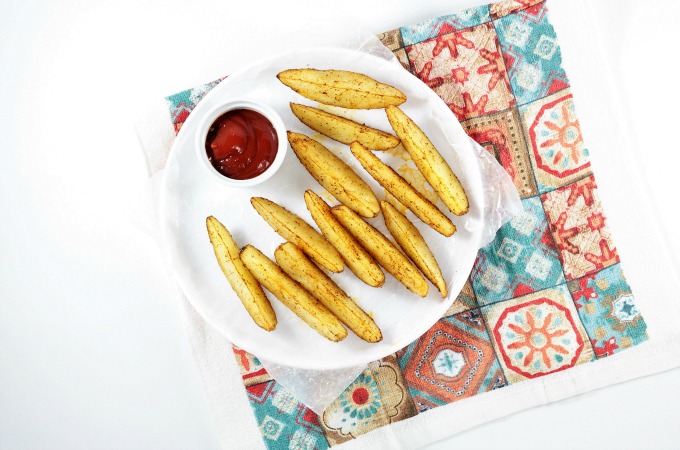 As we get older we are eating less potatoes than we used to, but I still eat them once or twice a week (or more). We are preparing them with the skin on more than we used to.
Potatoes are packed with nutrients, being especially high in potassium and vitamin C. They are also a great source of dietary fiber, and are virtually fat, sodium, and cholesterol free. For more nutritional information look here.
Potato Wedges
Potato Wedges are seasoned, drizzled with olive oil and then baked to perfection. They are easy to prepare and go great with beef, chicken, pork, or fish.
Ingredients
6

medium Russet potatoes, scrubbed and cut lengthwise into eigths

1 1/12

tablespoon

olive or canola oil

1

teaspoon

paprika

1

teaspoon

salt

1/2

teaspoon

pepper
I earn a small commission from Instacart for qualifying purchases.
Instructions
Preheat oven to 450°. Line a 17" X 11" sheet pan with aluminum foil or spray with cooking spray.

Put potato wedges on pan and drizzle with oil, sprinkle with paprika, salt, and pepper. Toss to coat. Arrange wedges in a single layer, leaving space between each.

Bake for 50-60 minutes or until potatoes are tender when pierced with a fork.
This recipe serves eight, you could easily cut it in half or thirds or whatever, the cooking time remains the same.
Follow us on social media!!
Pin this image for later!!