Roasted Chicken, Potatoes, & Carrots is a one pan meal. It is healthy and delicious!
Preparing the whole meal and tossing it in a pan to cook is right up my alley! And this Roasted Chicken, Potatoes, & Carrots is that kind of meal.
I modified a recipe from Taste of Home and this is what I came up with. We try to eat healthy foods most of the time, so if I find a recipe that I really like I tweek it and make it as healthy as possible.
The original recipe called for butter, so I swapped it with olive oil. I had a container of fresh thyme in the fridge, so I used it instead of the rosemary the recipe called for, you could use sage also. I also used a little less than the recipe called for so the taste of the chicken and veggies took center stage.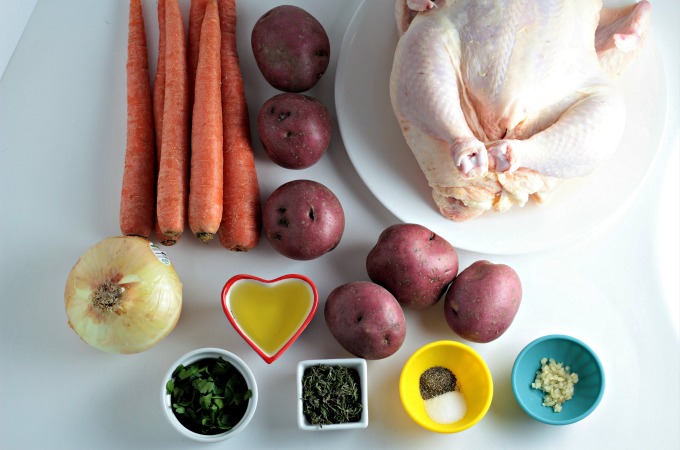 Taste of Home's version called for the chicken to be basted every 30 minutes. But I figured since it was being roasted with the lid on, and chickens now-a-days are injected with salt water, basting wasn't necessary. And who wants to babysit this meal by basting it every 30 minutes?
This Roasted Chicken, Potatoes, & Carrots turned out moist and delicious. This recipe made enough for 4 adults. Two of us had a breast and the other two had a leg and a thigh. We each had 1 1/2 potatoes and 1 1/2 carrots. I think it would be enough for 2 adults and 2-4 kids, depending on how much the kiddos eat.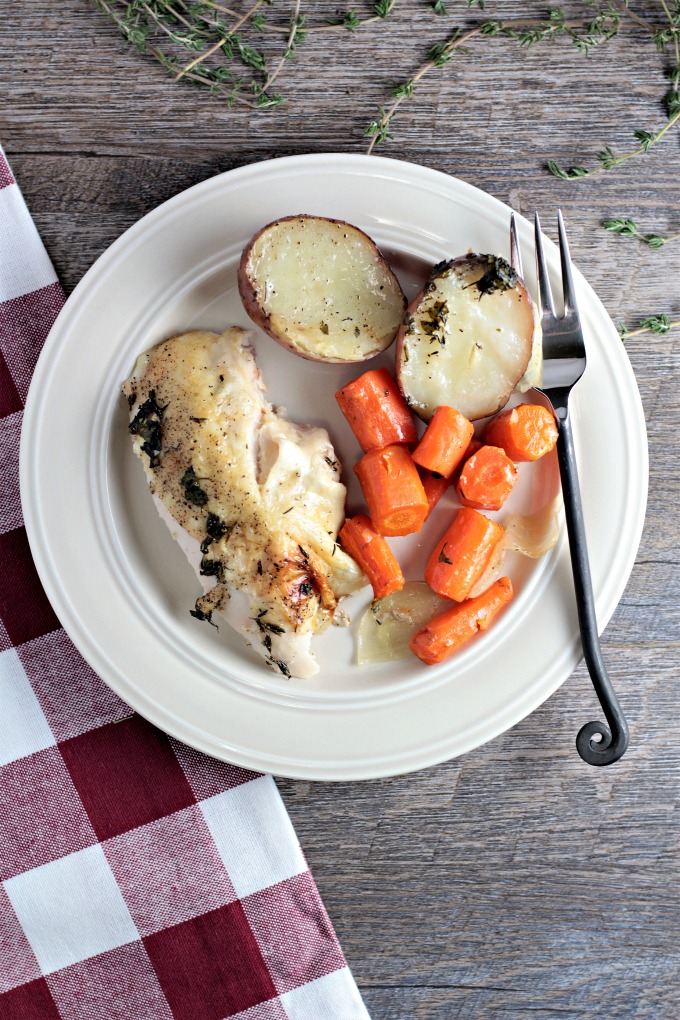 This Roasted Chicken, Potatoes, and Carrots can be made in the slow cooker (4-4 1/2 hours on high, 6 1/2 – 8 hours on low), but the skin will not be crispy.
Want a roasted chicken with lemon? Try this Lemon-Herb Raosted Chicken. For a slow cooker recipe try this Crockpot Whole Chicken.
Roasted Chicken, Potatoes, & Carrots
Roasted Chicken, Potatoes, & Carrots: Whole chicken, red potatoes, carrots, onion, olive oil, thyme, and parsley is all you need to make this meal in a pan!
Ingredients
1

whole roasting chicken

5-6 pounds

1/2

cup

olive oil

3

tablespoon

fresh parsley

chopped

2

tablespoons

fresh thyme

rosemary, or sage, chopped

2

cloves

garlic

minced

6

medium red potatoes

halved

6

carrots

cut into 1-2 inch pieces (depending on their thickness)

1

onion

cut into eighths

1

teaspoon

salt

1/2

teaspoon

black pepper
I earn a small commission from Instacart for qualifying purchases.
Instructions
Preheat oven to 350°. Coat a large, shallow roasting pan with cooking spray.

In a small bowl mix the olive oil, fresh herbs, and garlic; set aside.

Sprinkle inside of chicken with about one fourth of the salt and pepper and place in roasting pan breast side up. Tie legs together with kitchen string.

Arrange the potatoes, carrots, and onions around chicken.

Rub half of olive oil mixture over chicken and pour the other half over the vegetables, sprinkle the chicken and vegetables with remaining salt and pepper.

Cover and roast for 1 1/2 hours. Uncover and roast 1 hour longer.

Let rest, covered for 10-15 minutes before serving.
Notes
Chicken is done when a meat thermometer inserted into the thickest part of the thigh reads 170°-175°. I don't have a thermometer so I usually roast the chicken 20 minutes per pound plus an additional 15-30 minutes. I would rather cook it a little longer than called for than have a chicken that is pink near the bone. I use a roasting pan that has a lid.
Follow us on social media!!
Pin this image for later!!