JSL Foods provided the product used in this post, all opinions are 100% my own.
Baked Cheeseburger Egg Rolls (with dipping sauce) are a unique and tasty treat. Loved by kids and adults alike, they are perfect for parties or a fun dinner.
This is the first time I have made egg rolls. I love having this blog because while trying to come up with recipes to make and post I end up making lots of new (to us) dishes. These Baked Cheeseburger Egg Rolls definitely fall into that category.
I am going to be making some fried dessert type of egg rolls, so keep a watch out for those. Peaches or cherries and cheesecake filling (or dip?!) are coming to mind, so I am so excited for that!
I must admit, I was a little intimidated by the thought of rolling egg rolls. But I watched Rachael Ray's video and it looked easy enough. I only changed her recipe a tiny bit. The dipping sauce is only four ingredients, so I didn't change it at all.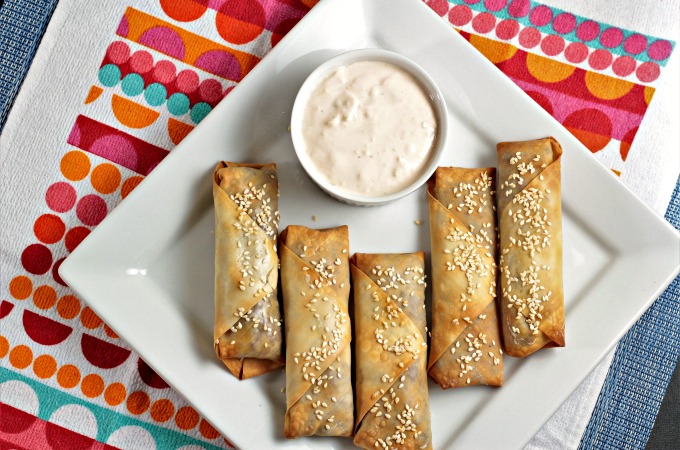 The Twin Dragon egg roll wrappers I used were sent to me by JSL Foods. This company is based in Los Angeles and they have a variety of noodles, specialty noodles, rice, wrappers and even some Asian Cookies.
So go check them out! I am going to do a post later this week where I review the Almond Cookies (yummy!) and do a product giveaway, so be looking for that.
Their egg roll wrappers are made with 100% natural ingredients, they are vegan, and GMO free. They are a great lower calorie and low carb option, instead of a hamburger bun. Such a great idea if you are trying to cut down on carbs!
Do not over-bake these Baked Cheeseburger Egg Rolls or they will become tough. They take on a lovely brown color, and it is better for them to be a little lighter than fried egg rolls, so they are still easy to eat.
Round out this meal with these Potato Wedges.
Baked Cheeseburger Egg Rolls
Baked Cheeseburger Egg Rolls are an American twist on this Asian classic. Ground beef, onion, cheese Worcestershire sauce, and mustard in a wonton wrapper.
Ingredients
For the egg rolls:
Cooking spray

1

pound

lean ground beef

1/3

cup

chopped red onion

1/2

tablespoon

Worcestershire sauce

1/2

tablespoon

Dijon mustard

1/8

teaspoon

salt

1/8

teaspoon

pepper

1

cup

cheddar cheese

11

egg roll wrappers

Water

Sesame seeds
For the dipping sauce:
1

cup

sour cream

1/4

cup

ketchup

2

tablespoons

sweet pickle relish

salt

to taste

pepper

to taste
I earn a small commission from Instacart for qualifying purchases.
Instructions
For the egg rolls:
Coat a medium to large skillet with cooking spray. Over medium high heat cook ground beef and onions until ground beef is browned and onions are softened, about 8-10 minutes. Let cool for 10-15 minutes or until cool enough to handle.

Stir in Worcestershire sauce and mustard.

Preheat oven to 375°. Place a wire cooling rack on a rimmed sheet pan.
To fill and roll:
Place egg roll wrapper with a point in front of you (it will be in the shape of a diamond) place 1/3 cup of filling on the wrapper (see photo above) top with a couple of tablespoons of cheese. Brush water around the edges of the wrapper, fold two corners in and then roll. Place on wire rack on baking sheet.

Spray with cooking spray and sprinkle with sesame seeds, bake for 20-25 minutes or until golden.
For the sauce:
Mix sour cream, ketchup, relish and dash of salt and pepper in a medium bowl.
Notes
When I cook the ground beef water seems to come out of the beef, make sure to cook all the water out before allowing the mixture to cool. You can use regular ground beef, just drain it well. I use my finger to put the water around the edge of the egg roll wrapper.
Do not overbake or they will become tough.
Egg roll recipe minimally adapted from Rachael Ray. Dipping sauce recipe also from Racheal Ray.
Follow us on social media!!
Pin this image for later!!