This post is sponsored by Montchevre but the content and opinions expressed here are my own.
Marinara Goat Cheese Penne: a delicious dish that can be prepared in about 20 minutes. Perfect for nights when it's hard to fit dinner into your busy schedule.
We love pasta, especially my teenage daughter. She also prefers her pasta dishes without meat so I am always trying to sneak a little added nutrition into them. So for this Marinara Goat Cheese Penne I decided to add some Montchevre Goat Cheese!
Montchevre Goat Cheese is a great option because it is high in protein, calcium and vitamin D. Oh, and did I mention that it gives the pasta dish such wonderful flavor?
This particular recipe comes together very quickly.
Another thing I love about this Marinara Goat Cheese Penne is that I can keep all of the ingredients for this recipe on-hand, making it an awesome go-to dinner on those busy nights when dinner hardly seems to fit in.
Or, for those evenings when I get home from work late only to remember that I don't have anything planned for dinner.
It happens to the best of us, doesn't it?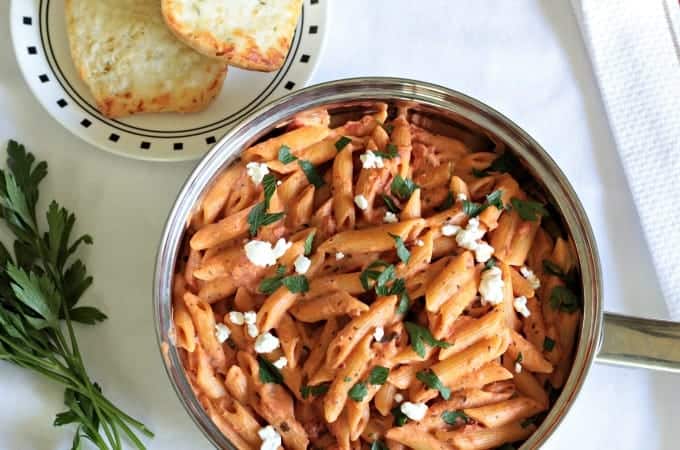 Did you know that Montchevre Goat Cheese is made from high quality goat's milk that is obtained from local, family farms?
You can use goat cheese in your favorite breakfast, lunch, dinner, or even dessert recipes.
A few of the foods I top with goat cheese are:
toast (it is much healthier than butter!)
virtually any salad
pizza
pears
crostini
beets (my all time favorite-goat cheese and beets are a match made in heaven)
Now my daughter won't touch beets with a ten-foot pole, so I have to pair the goat cheese with other foods a teenager likes.
She likes the idea of eating healthy so I make sure she knows how good it is for her.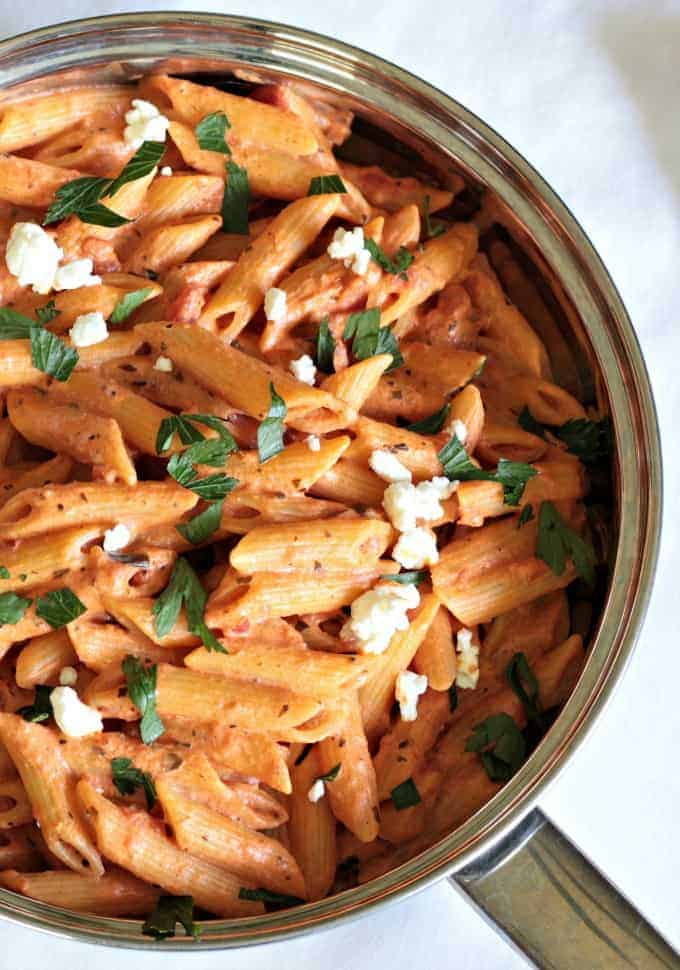 Both of the major grocery chains in Wichita carry my favorite flavors and varieties of Montchevre cheeses.
If you are wondering where you can buy Montchevre cheeses then check out the store locator here.
Marinara Goat Cheese Penne
Marinara Goat Cheese Penne combines jar marinara sauce, creamy goat cheese and penne for a quick and easy 30 minute pasta dinner.
Ingredients
1

pound

penne

1

jar marinara sauce

24 ounces

4

ounces

Montchevre Goat Cheese log

Parsley and Montchevre Goat Cheese Crumbles for garnish

if desired
Instructions
Cook penne according to package directions.

Warm marinara sauce in a large pot (I used a Dutch Oven) until hot, remove from heat. Cut Montchevre Goat Cheese into slices and stir into sauce. Add cooked, draind pasta and stir to combine.

Garnish with chopped parsley and Montchevre Goat Cheese Crumbles.
Follow us on social media!!
Pin this image for later!!