Peach Pie Thumbprint Cookies feature a shortbread type cookie with peach pie filling, drizzled with a yummy cinnamon glaze. A miniature peach pie, so delicious!
I hit a home run with these Peach Pie Thumbprint Cookies. They are pretty easy and quick, and the results are so delicious. They were a huge hit!
I found this recipe on the internet at Lucky Leaf. I was a little reluctant to try them because they had some unfavorable reviews. Some of the comments stated that they were dry and that the dough was hard to work with.
The fact that there are no eggs in the recipe seemed to have some people up in arms, saying that the recipe needed to be edited.
So, reluctantly I tried them. The picture made them look so good, I just had to. They came out great and I found the dough easy to work with. I love it when that happens!
To make the indentations in the cookie dough I used a rounded measuring spoon. Then I made sure the indentation was deep enough by finishing it with my thumb, making sure it was the same depth all the way around.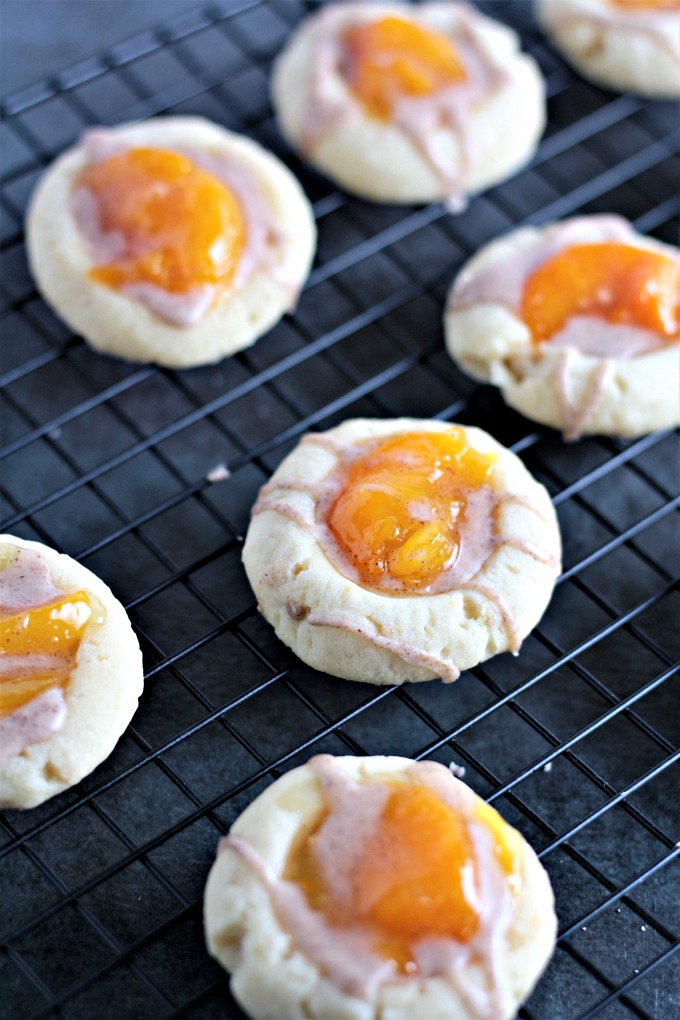 I was making these when Lee called to tell me he was on his way home, and I told him I was making something he would love (if they turned out).
Some other cookie recipes you might like:
BIG Oatmeal Chocolate Chip Cookies
Double White Chocolate Chip Cookies
They were cooling on the cooling racks when he got home and he was very intrigued. He pretty much hovered around the kitchen until they were glazed.
I had to stop and pick out the ones I wanted to take pictures of so he could eat some. I had some too, and I even impressed myself. They were that good!
Peach Pie Thumbprint Cookies
Peach Pie Thumbprint Cookies feature a shortbread type cookie topped with peach pie filling and drizzled with a cinnamon glaze. Mini peach pie in a cookie!
Ingredients
For the cookies;
1

stick butter

1

stick margarine

3/4

cup

powdered sugar

2

cups

flour

1

teaspoon

vanilla

1/2

of a 21 ounce can peach pie filling
For the glaze:
3/4

cup

powdered sugar

2 1/2

tablespoons

milk

1/2

teaspoon

cinnamon

1/4

teaspoon

vanilla
Instructions
For the cookies:
Preheat oven to 325°. Coat 2 cookie sheets with cooking spray.

In a large bowl, cream butter and margarine with a hand-held electric mixer until fluffy. With a spoon, stir in powdered sugar, flour, and vanilla and mix until combined.

Roll into 2" balls and place onto cookie sheets.

Make an indentation in the center of each cookie. Fill with pie filling.

Bake 12-15 minutes. Let cool on a wire rack.
For the glaze:
Sift powdered sugar into a small bowl. Add milk, cinnamon, and vanilla; mix until smooth.

Spoon into a plastic bag, snip off a corner and drizzle glaze over cooled cookies.
Notes
When you add in the flour, powdered sugar and vanilla the dough seems as though it will never get mixed. Just keep mixing with a spoon and after a [little] while it will be the perfect consistency to roll into balls. If the peaches in the filling are too big just cut them into smaller pieces so they fit into the indentation of the cookies.
Butter and margarine are not the same things. Butter comes either salted or unsalted and is called butter. (I used unsalted). Popular brands of margarine are Blue Bonnet or Imperial, and is usually called vegetable oil spread. Make sure you use 1 stick of each or they probably won't turn out right.
As you can see in the photos these cookies are very light.
Minimally adapted from Lucky Leaf.
Follow us on social media!!
Pin this image for later!!