This Perfect Party Cheese Board features Stella Cheeses (Fontina and Asiago), salami, crackers, mini toast, raspberries, blackberries, red grapes, and green grapes.
The holidays are a very busy time of year for us, and I am sure they are for you too. You can count on Mindy's Cooking Obsession and Stella Cheese to help you come up with great ideas for your holiday (or any) party.
Stella Cheese has a great selection of quality products that, if used on a cheese board, are sure to impress your guests. They are also a great way to take your favorite holiday recipes to the next level.
This Perfect Party Cheese Board is great for parties for several reasons. These reasons include, but are not limited to:
The possibilities are [nearly] endless
It is super easy
No cooking required
Everything you put on your board can be healthy (my favorite)
You can adjust the ingredients based on what is available
Everyone at your party should like at least a couple of selections
Takes literally minutes to assemble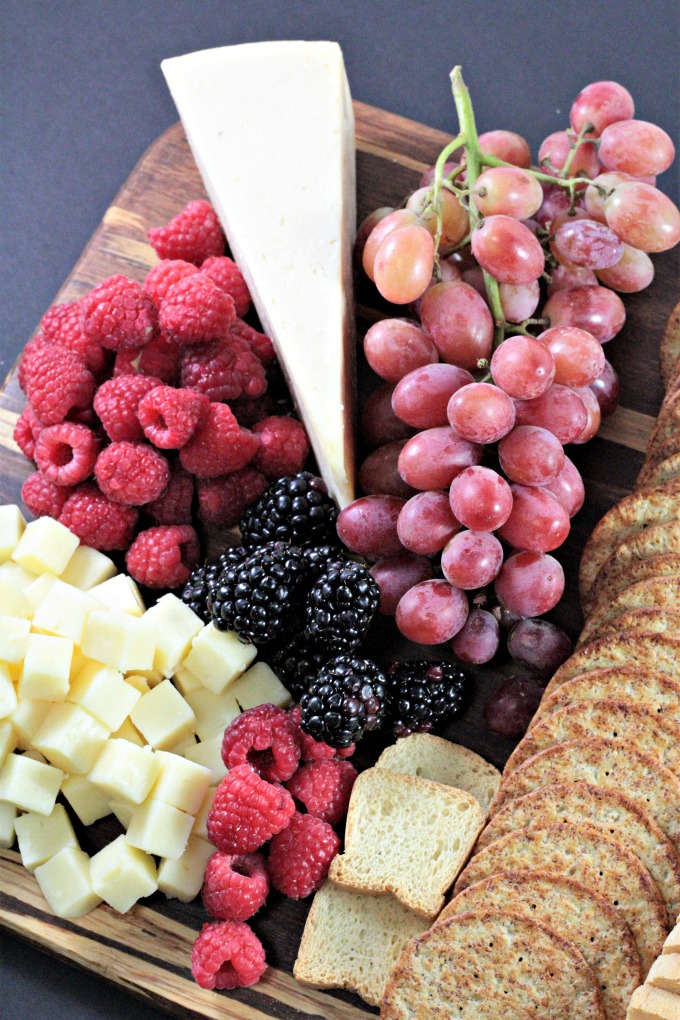 Whether you are having an adults only party, or a family gathering, a cheese board is such a great option. You can decide what beverage to serve with this cheese board based on your specific party.
Wine would go great with this, and so would sparkling grape or apple juice, making this great for party-goers of all ages.
Perfect Party Cheese Board
This Perfect Party Cheese Board features Stella Cheeses, Genoa Salami, crackers, mini toast, red and green grapes, raspberries and blackberries.
Ingredients
15

ounce

block Stella® Fontina cheese

8

ounces

wedge Stella® Asiago cheese

2 1/2

ounces

Genoa Salami slices

12

ounces

red greapes

12

ounces

green grapes

6

ounces

blackberries

6

ounces

raspberries

mini toast

sesame crackers
Instructions
Arrange all ingredients on a cutting board or tray.
I used is 18″ X 12″ board to make this Perfect Party Cheese Board.
Some other great ingredients you could include in your cheese board are jarred condiments (such as honey, chutney, or spicy mustard), bread sticks, dried fruits, nuts, and olives.
Check out this recipe for Asoago Garlic Mashed PotatoesAsiago Garlic Mashed Potatoes!
Follow us on social media!!
Pin this image for later!!