We don't eat bacon all that often, but Bacon Gravy is one of my most favorite ways to eat it. When I first got married I wasn't sure if you could make country gravy with bacon instead of sausage.
So I called my mother-in-law and asked her, she told me she liked it better than sausage gravy. I like them both!
This is classic, stick-to-your-ribs, comfort food. It makes such a great weekend breakfast, brunch or even dinner.
I usually serve it over Buttermilk Biscuits. But, this gravy would be great in one of those breakfast casseroles, or over hash browns or fried potatoes.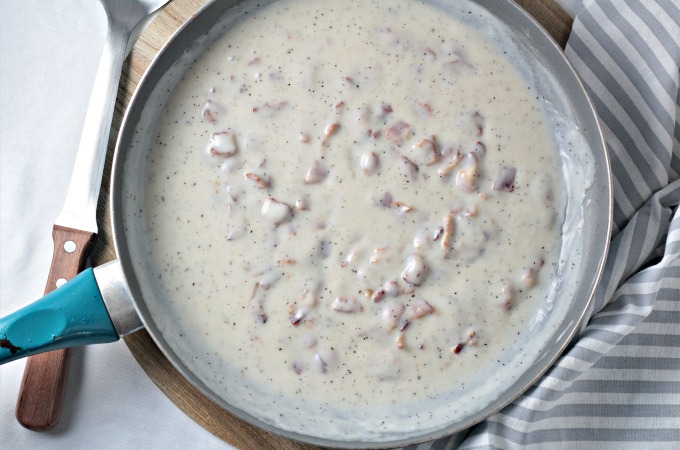 Another great thing about this dish is that it is very affordable. It would be very easy to make more gravy using the same amount of bacon, too.
Just remember that for every tablespoon of bacon grease you need one tablespoon of flour, and for every two tablespoons of grease and flour you need 1 cup of milk. This makes it super easy to make more gravy.
Plus, there is so much bacon in my version that you don't have to add any more. There is also way more than 4 tablespoons of grease rendered when you cook 1 pound of bacon.
This makes it super easy to make more, stretching your food dollar even further.
Bacon Gravy could also be served with many different dishes that have bacon. You could even use some of the cooked bacon for the dish and just use the bacon grease to make this gravy.
Yummy!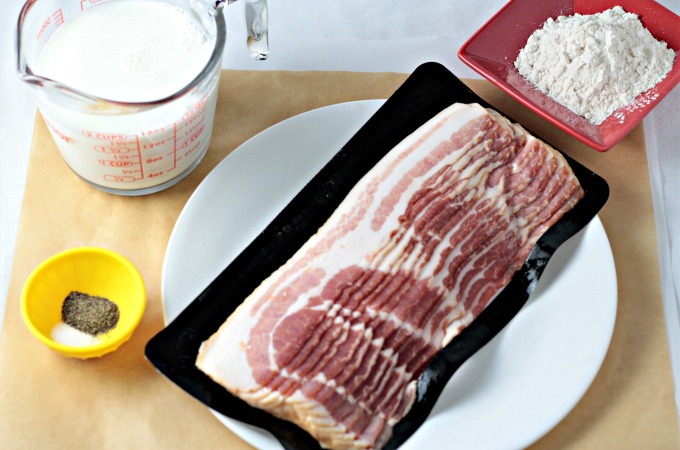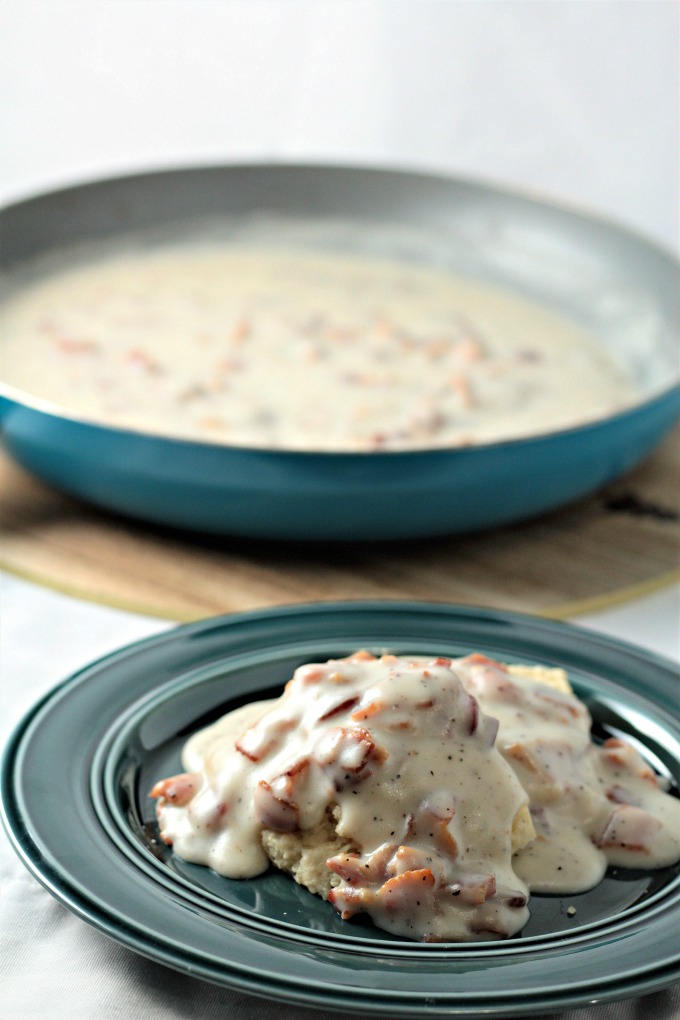 Bacon Country Gravy is classic stick-to-your-ribs comfort food!
Click To Tweet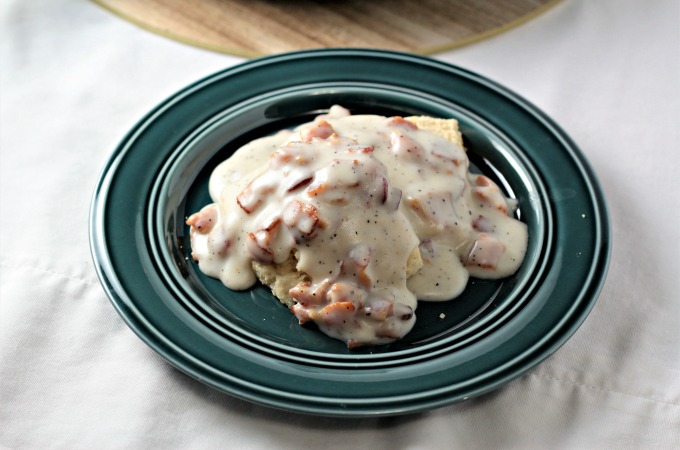 I also have a recipe for Sausage Gravy that is yummy, too.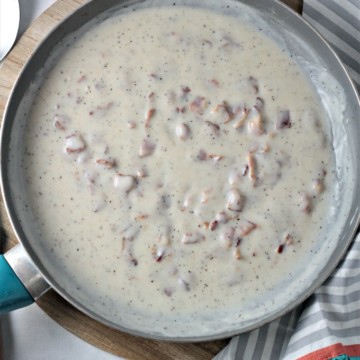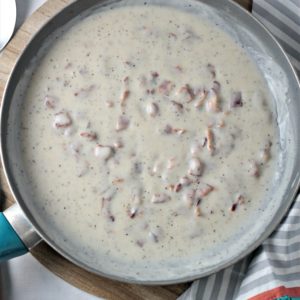 Bacon Gravy (Country Gravy)
Bacon Gravy (Country Gravy) only requires 5 ingredients. Bacon, fat, flour, milk, salt and pepper is all you need to make this classic comfort food!
Ingredients
1

pound

bacon

4

tablespoons

bacon fat

4

tablespoons

flour

2

cups

milk

1/2

teaspoon

pepper

salt to taste
Instructions
Cut bacon into 1/2 inch pieces.

Brown bacon in a large skillet over medium heat, about 15 minutes, remove with a slotted spoon and set aside.

Measure the grease leftover from the bacon and then add 4 tablespoons back into the skillet. (See note below)

Over medium-high heat whisk in the flour and let it cook until bubbly, about one minute. Add the milk and let the mixture thicken, whisking constantly, about 5 minutes. Lower the heat to medium-low and add the bacon back in, add pepper and salt to taste. Serve immediately.
Notes
Be extremely careful when you are measuring hot oil. You can carefully pour the hot oil into a glass measuring cup on a heatproof surface and then measure your oil. The oil is hot so you need to use a heatproof measuring device or it will melt. I cook my bacon over medium heat because I don't want the grease splattering all over the kitchen. You may need to adjust the temperature accordingly, depending on your stove.
Follow us on social media!!
Pin it for later!