This post is sponsored by Milk. Love Whats Real, but the content and opinions expressed here are my own.
Chocolate Banana Nut Baked Oatmeal and a tall glass of milk make the perfect breakfast!
Have you ever had baked oatmeal? You've got to try this Chocolate Banana Nut Baked Oatmeal. We chose to use whole milk and chocolate milk in this recipe.
Whole milk pairs exceptionally well with oatmeal and chocolate milk gives it a wonderful chocolate-y flavor.
We are huge milk drinkers at our house. I can't think of a single breakfast where we don't use real milk. In fact, not only is milk a part of breakfast, it is usually the main part because dairy milk is wholesome, simple and minimally processed.
Whether we pour it over our cereal or use it in a recipe, it is always present. And, we almost always have a glass of milk with our meal.
Real milk has just three ingredients – milk, vitamin A and vitamin D and we use just about every kind of real milk the grocery store offers.
We prefer whole milk in our coffee. It makes our coffee the perfect creamy color and makes it taste delightful!
We drink 2% milk a lot. Not exclusively, Dillon's runs out of Kroger 2% milk from time to time and I have no problem buying another type or brand. As long as it is real milk, I'm pretty flexible.
I use skim milk occasionally if I am trying to lessen the calories in a particular recipe.
Then there are flavored milks. My favorite is chocolate and Lee's favorite is strawberry. We have a local dairy that has seasonal milks such as sugar cookie and orange cream. Those are delicious!
We have always gone to the store a couple of times a week to get fresh produce and milk.
I thought when we became empty-nesters several months ago that we would need to buy the smaller jug (1/2 gallon) of milk.
But no, we only buy slightly less milk than we used to.
Real milk is great for people of all ages! I remember when my kids were little the doctor made sure I knew that they needed whole milk starting at about one year.
She made sure I knew that the nutrients in whole milk are essential to brain growth in children. I made sure they always had milk available to them.
Real milk is the number one food source of three nutrients most likely to be missing from kids' diets – calcium, vitamin D and potassium.
To this day both of my kids drink milk regularly and my daughter gives it to her son many times throughout the day.
I like to drink a tall glass of milk right after I exercise. With 9 essential nutrients, including 8 grams of protein in every 8 ounce glass, real milk is an easy way to get nutrients.
And I always finish off an Italian meal with an ice cold glass. Milk is also a great choice when you are eating spicy foods.
Chocolate Banana Nut Baked Oatmeal could not be easier to make. It has a cake like texture. The edges are firm like cake and the center has this sort of creamy texture kinda like rice or bread pudding.
Some add-ins that would be great in baked oatmeal are:
nuts
fresh fruit
frozen fruit
canned fruit
chocolate chip
butterscotch chips
white chocolate chips
peanut butter
There are so many possibilities, I can't wait to try some of them.
Some other recipes you might like that use milk are this Cafe Mocha, this Banana Cream Pie Smoothie or these Creamed Peas.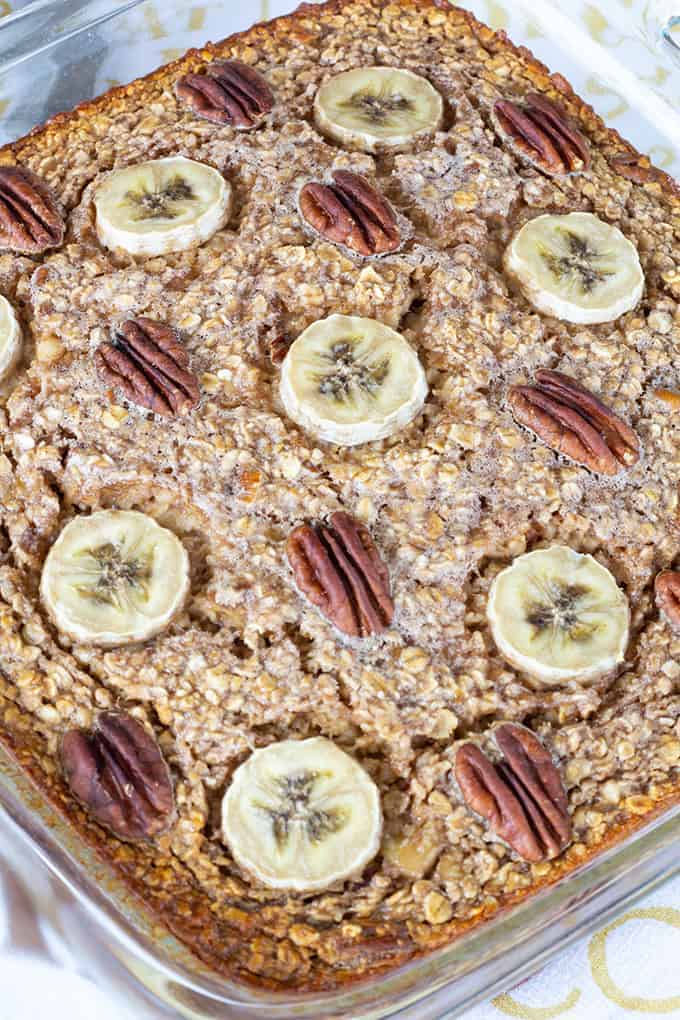 Visit MilkPEP to learn more about the different types of real milk for you and your family!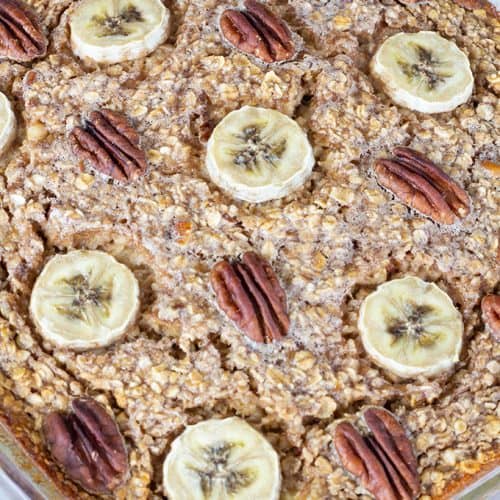 Chocolate Banana Nut Baked Oatmeal
Chocolate Banana Nut Baked Oatmeal is a creamy version of the popular breakfast cereal featuring chocolate milk, bananas, nuts, and other pantry staples.
Ingredients
1 1/2

cups

mashed bananas

plus additional for garnish

2

eggs

1/3

cup

sugar

1

teaspoon

vanilla

1/2

teaspoon

baking powder

1/2

teaspoon

baking soda

1/4

teaspoon

salt

1

cup

whole milk

1

cup

chocolate milk

2 1/2

cups

quick cooking oats

1/4

cup

chopped pecans

plus additional for garnish
Instructions
Preheat the oven to 350°. Spay an 8" X 8" pan with cooking spray.

In a medium bowl mix mashed banana, eggs, sugar, vanilla, baking powder, baking soda and salt until well combined. Add whole milk, chocolate milk, oatmeal and pecans and mix until combined. Top with banana slices and pecan halves, if desired.

Bake for 45 minutes or until edges begin to brown. Serve warm.
Recipe adapted from Budget Bytes.
Follow us on social media!!
Pin this image for later!!