Chocolate Peanut Butter Pretzels feature Hershey's Kisses and White Reese's Minis peanut butter cups on a miniature pretzel.
Take miniature pretzels, top them with a Hershey's Kiss, soften in the oven, then top with a Mini White Chocolate Peanut Butter Cup and you will have Chocolate Peanut Butter Pretzels.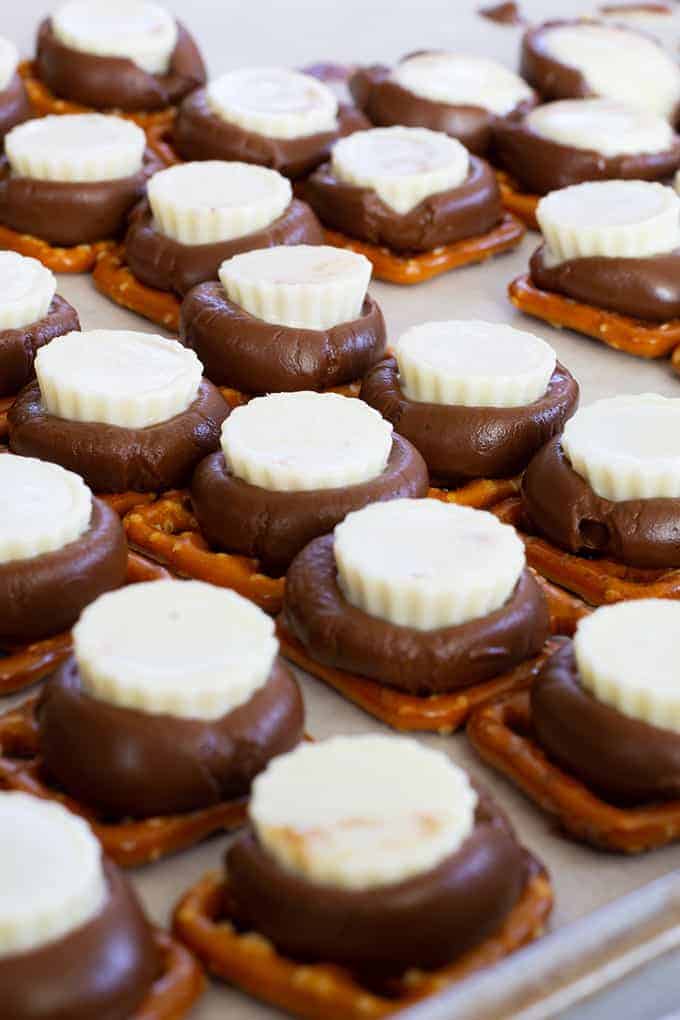 For Christmas this year I made M & M's Hershey Hugs Pretzel Bites and Rolo Pretzel Turtle Bites like I always do. But I decided to make something with peanut butter.
I knew I wanted to make a new treat that had peanut butter and chocolate. Naturally, peanut butter cups and Kisses came to my mind.
I wasn't sure exactly what candy to buy, but when I came across these Reese's White Minis peanut butter cups I knew that I must use them!
These little gems are so easy and quick to make. One 17.9 ounce bag of Hershey Kisses has 112 candies in it. So I bought two bags of the White Reese's Minis and one bag of Kisses.
I was able to make 112 and have some mini white chocolate peanut butter cups leftover to snack on.
Tips for making Hershey Kisses Reese's White Minis Pretzel Bites:
Line your rimmed baking sheet with parchment paper.
Leave the pretzels in a 350° oven just long enough to get soft, not melted. Usually 3 – 5 minutes.
Use any shape mini pretzel you like. I like the square ones (snaps), but all mini pretzels will work.
Use any Kisses you like, or Hugs!
Let your pretzels cool completely and then they can be packaged up any way you like. I have always put them in little treat bags and that works well.
These would also be a good snack to send to family or friends that live far away. I would not ship these in the heat of the summer, but other than that you should be good to go.
There are many different candies that you could use to make a snack like this. What would you use? What would you put on your pretzels?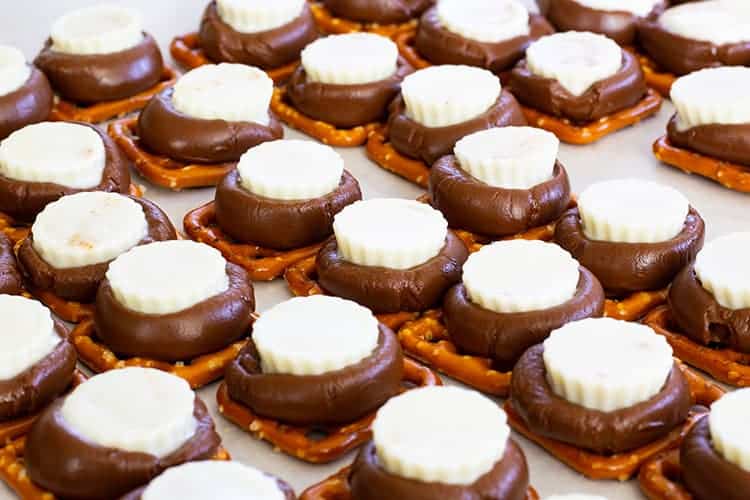 Chocolate Peanut Butter Pretzels
Chocolate Peanut Butter Pretzels feature Hershey's Kisses, Mini White Chocolate Peanut Butter Cups and miniature pretzels. They make a great party snack!
Ingredients
1

bag

Herhsey's Kisses

17.9 ounces

2

bag

Reese's White Minis peanut butter cups

7.6 ounces each

112

miniature pretzels
Instructions
Preheat oven to 350°. Line a rimmed sheet pan with parchment paper.

Place pretzels on prepared rimmed sheet pan, place Kisses in the center of each pretzel.

Bake for 3-5 minutes or until candy is softened.

Place one Reese's White Mini on top of each Kiss, pushing down gently. Let cool.
Follow us on social media!!
Pin this image for later!!