Easy Tropical Cafe Mocha Madness Smoothie Recipe is so easy you won't even believe it!
When I decided I wanted to make a copycat version of this tropical smoothie recipe I started looking around the internet. I found recipes that call for oat milk, almond milk, maple syrup, brown sugar, cacao powder, unsweetened cocoa powder, banana, and ice. It seems like the version at the restaurant has almost none of these things. But I chose the one that I thought might be close and it was very thin and honestly didn't taste like the version at the Tropical Smoothie Café at all. Maybe these versions are better for you but I was looking for something closer to what I get out. The restaurant version is thick and creamy, more like a shake.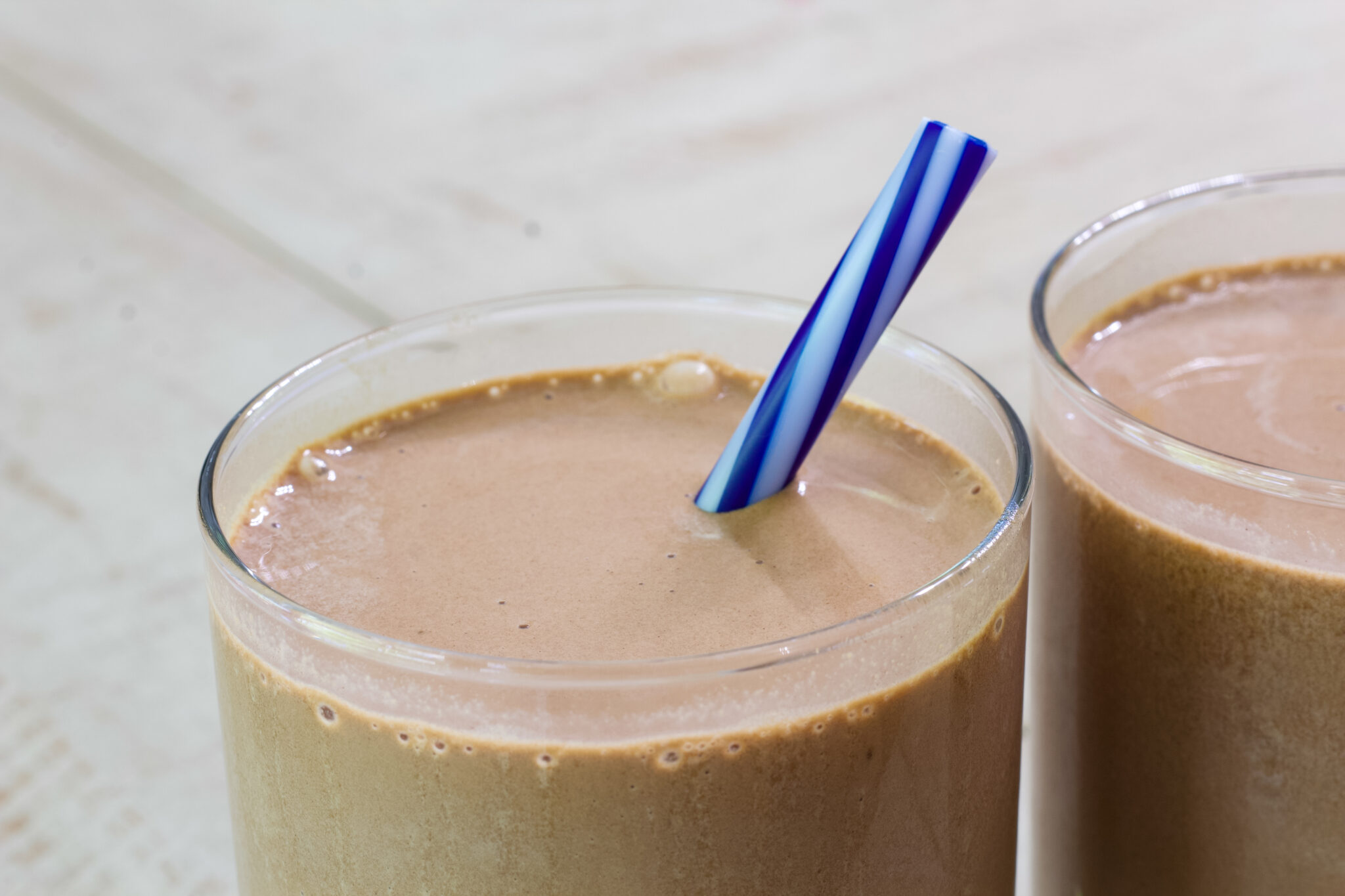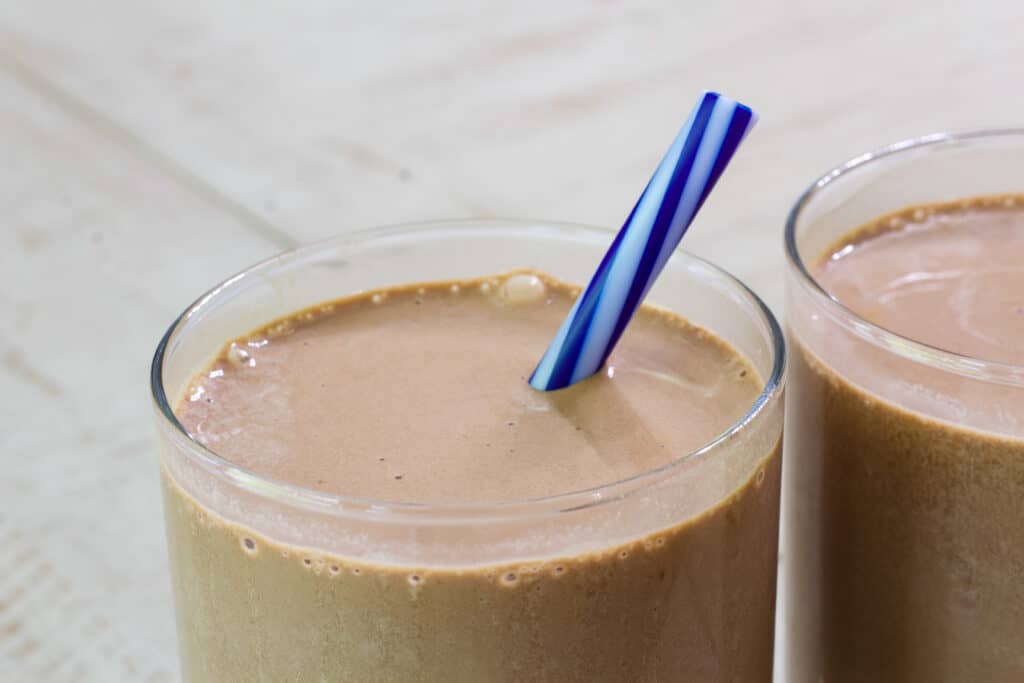 I know it says on the website and on the tropical smoothie menu at the store that the mocha madness smoothie has chocolate, coffee, cappuccino, and non-fat yogurt. I have watched them make mine and I just can't see what they are putting in it. So then I started to think of what I could use to get the flavor and texture I was looking for. I knew I needed something that was ice cold, thick, and creamy. Plus there needs to be chocolate. I wanted it to require as few ingredients as possible so I decided that frozen yogurt would be a great way to get the creamy texture I was looking for. Then it came to me that if I used chocolate frozen yogurt it would give me the rich chocolate flavor I was looking for without adding another ingredient. Okay, so I have the cold, the creamy, and the chocolate flavor covered, now I need the coffee flavor. I didn't want to wait for brewed coffee to cool down so I thought the best option would be instant coffee. Instant is definitely a quick and easy way to add coffee flavor.
I always have them add protein powder so I decided that I wanted some in mine too. Then to thin the frozen yogurt down to a drinkable consistency I add a little milk. I mean how easy is that?! Just 4 simple ingredients that are fairly inexpensive. The protein powder is kinda pricey so if you don't already have it you could certainly leave it out.
Ingredients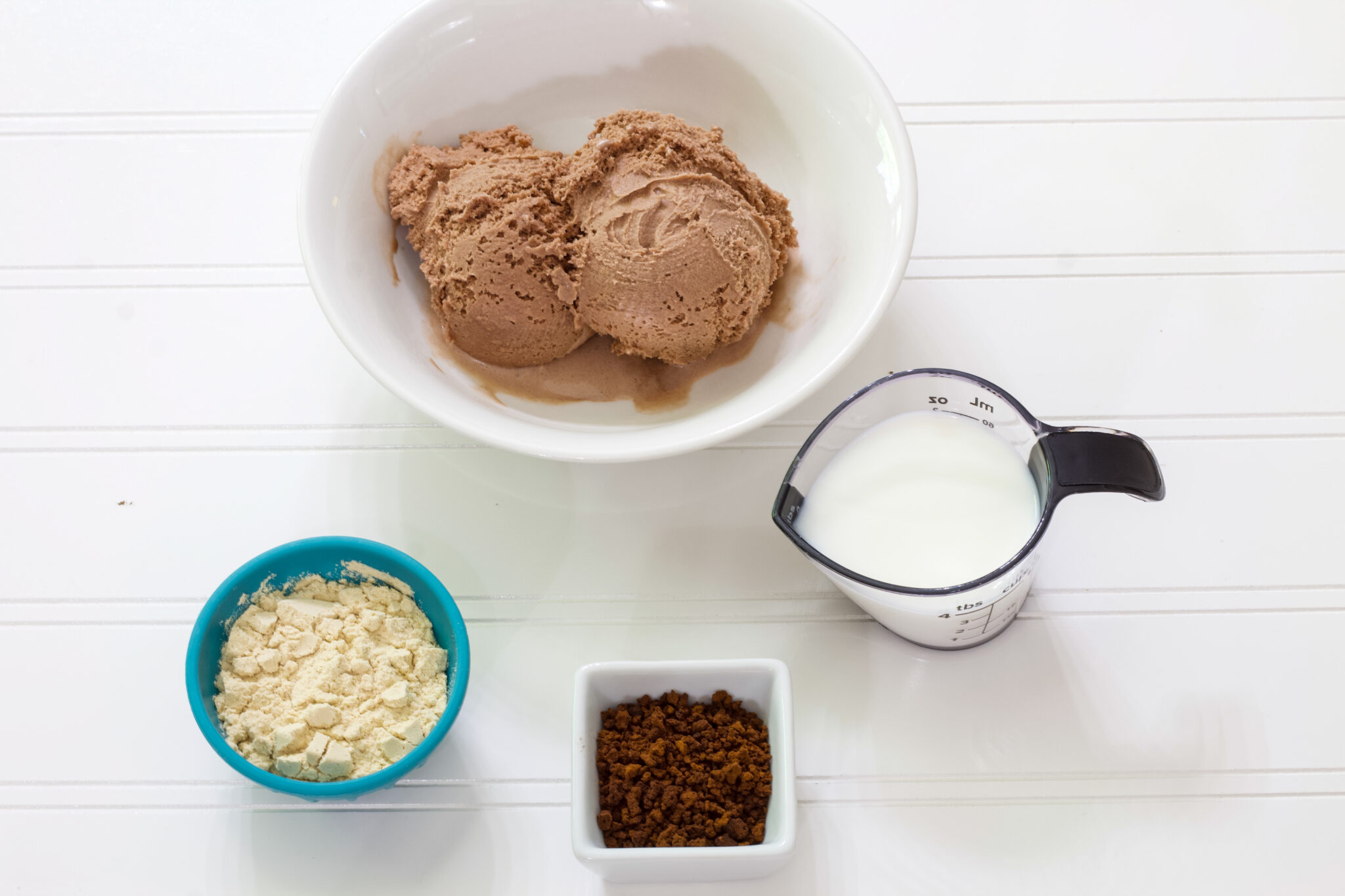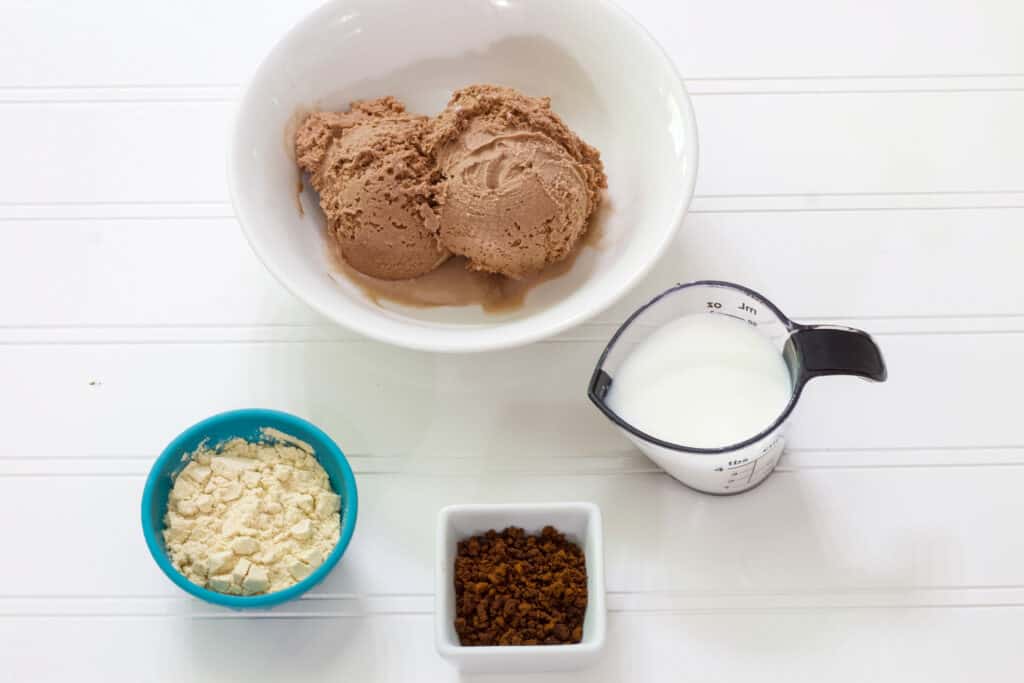 Ingredient Notes
Chocolate Frozen Yogurt – this is the main ingredient and we have a favorite brand we use that uses dairy from local farms. You could certainly use regular chocolate ice cream but frozen yogurt doesn't have as much sugar or carbs.
Instant Coffee – I like the dark roast. You can use your favorite brand.
Milk – I use regular whole milk because that is what we have on hand. Feel free to substitute dairy-free milk if you like.
Protein Powder – we use vanilla and so does the quick-service restaurant. The kind we use adds about 10 grams of protein to each smoothie. You can leave it out but we like the flavor and the extra protein it gives us.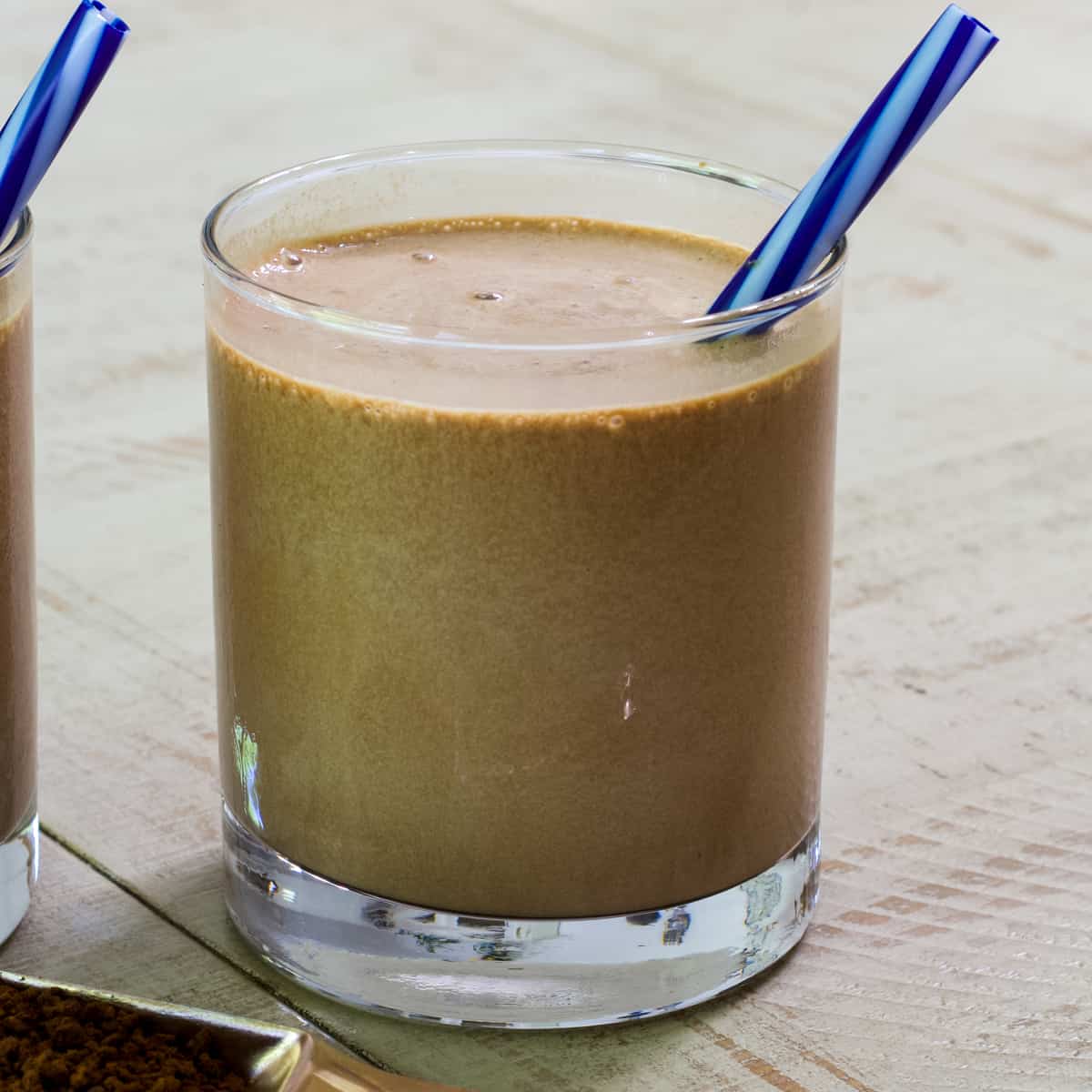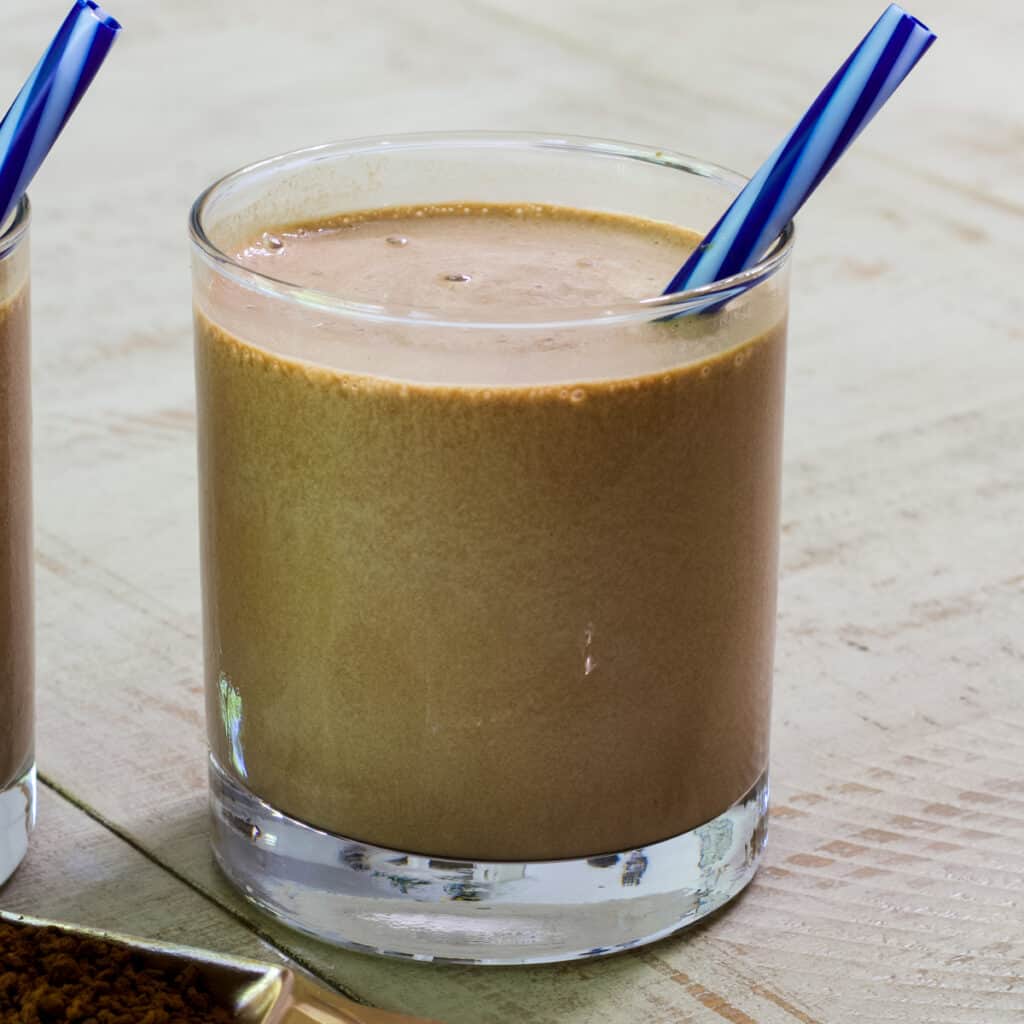 How to Make Our Homemade Version of This Delicious Smoothie
Put frozen yogurt, instant coffee, vanilla protein powder and milk into a blender and blend until smooth.
Pour into a glass and enjoy.
Make This Mocha Smoothie Just How Like It
This recipe is more of a guideline than a recipe. You can make this as thick or thin as you like. Put all the ingredients in a blender and see how it looks. If you want it thinner then add more milk. If you want it thicker then add a little more frozen yogurt. The thickness of the milk you use may make a difference so that is something to keep in mind.
You can also make the coffee flavor as strong, or as weak, as you like. Play with it a little to make it just the way you like it.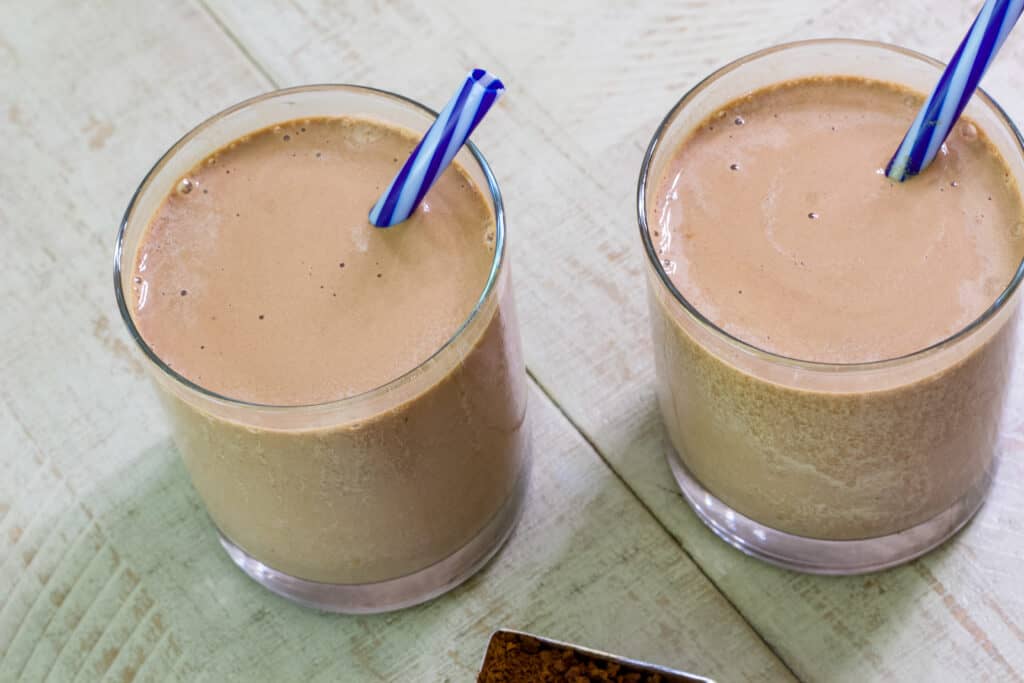 Alternative Method
Don't have a high-speed blender? No problem! We used to make smoothies and shakes by hand. Just add all the ingredients into a large pitcher, a bowl, or even a large plastic glass, and mix it with a spoon. I don't recommend mixing it in a glass glass because Lee has broken one doing this. You can also use an immersion blender if you have one.
Substitutions
Use regular or low carb ice cream instead of frozen yogurt. You can also use sugar free frozen yogurt or ice cream if you are concerned about your sugar intake.
Regular of decaffeinated instant coffee will work.
Use your favorite milk.
You can use plant based protein or whey protein, or leave it out altogether.
What We Like About This Coffee & Chocolate Smoothie
Because we use frozen yogurt it is a healthy option when compared to a regular smoothie.
It doesn't cost near as much money to make it at home as it does to buy it out.
We can use our favorite decaf coffee if we want it later in the day.
It is a delicious drink with chocolate and coffee in it!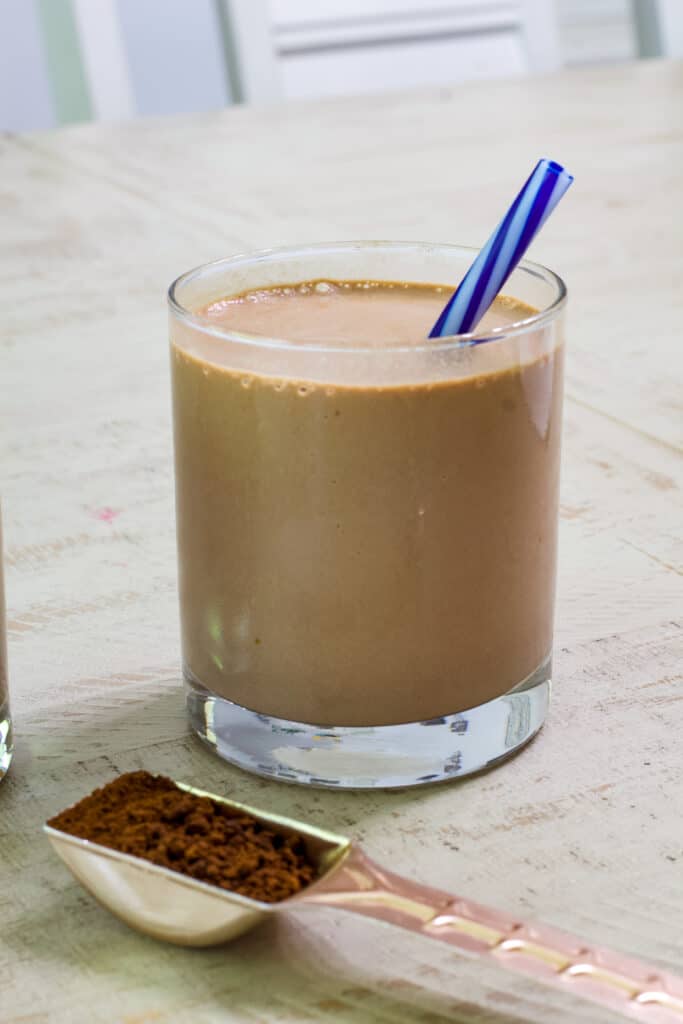 More Healthy Smoothie & Shake Recipes
Peach Strawberry Oatmeal Smoothie
Follow us on social media!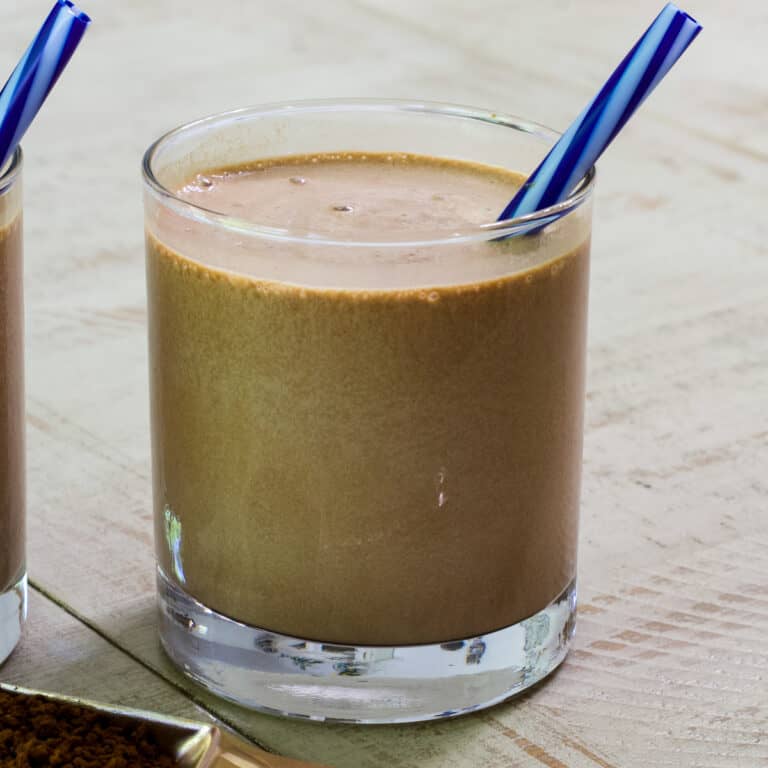 Tropical Cafe Mocha Madness Smoothie
Tropical Smoothie Cafe Mocha Madness Smoothie only requires 4 ingredients and can be made in the blender or by hand.
Ingredients
2

large scoops chocolate frozen yogurt

1

tablespoon

instant coffee

1

scoop

vanilla protein powder

1/4

cup

milk
I earn a small commission from Instacart for qualifying purchases.
Instructions
Pour ingredients into a blender and blend until smooth.

Pour into a glass and enjoy!
Notes
I use about 1 1/2 cups of frozen yogurt per smoothie.
Nutritional information is approximate.
Bookmark this page to find it quickly when you are ready to make this recipe!
Nutrition Facts
Calories:
510
kcal
|
Carbohydrates:
65
g
|
Protein:
28
g
|
Fat:
16
g
|
Saturated Fat:
8
g
|
Polyunsaturated Fat:
0.1
g
|
Monounsaturated Fat:
0.4
g
|
Cholesterol:
169
mg
|
Sodium:
272
mg
|
Potassium:
686
mg
|
Sugar:
48
g
|
Vitamin A:
99
IU
|
Calcium:
434
mg
|
Iron:
0.5
mg