Grilled Turkey Avocado Ranch Cream Cheese Sandwich features turkey, avocado, Ranch flavored cream cheese, and mayo on toasty sourdough bread. Delicious!
I was inspired to make this Grilled Turkey Avocado Ranch Cream Cheese Sandwich (that's a mouthful, isn't it?) after I went to a local deli and had their version of this sandwich.
The name is long because I wanted to get all of the elements of this sandwich in the title.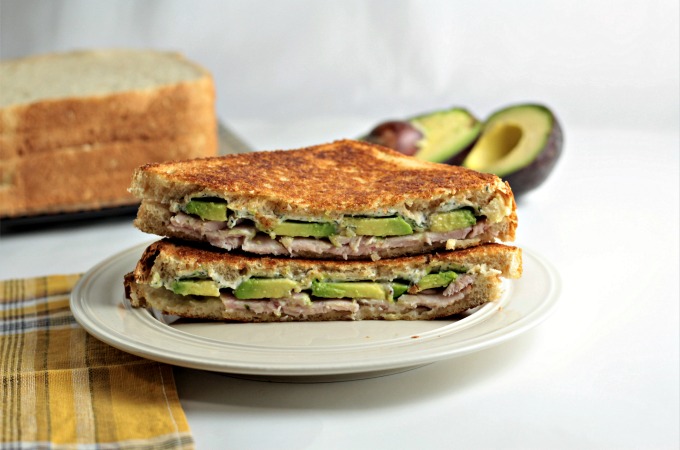 When I saw the commercial on TV and they said their sandwich had turkey, avocado, and cream cheese on it I just had to go try it.
It was good, but tasted a little bland to us.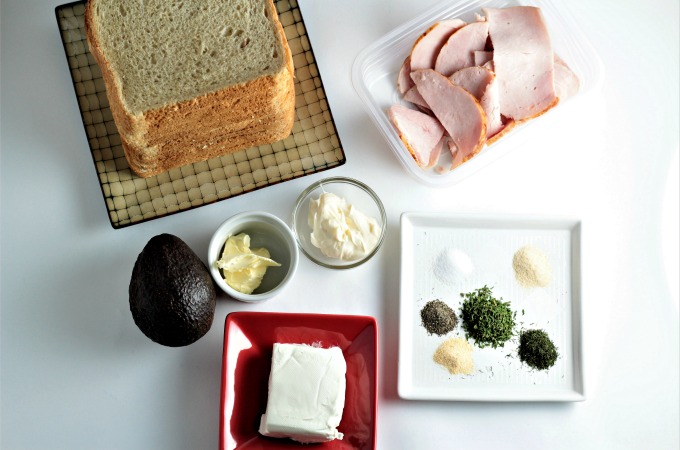 I told Lee I would have to come up with my own version of this sandwich that had a little more flavor.
I decided to put the same herbs and spices that you put in Ranch Dressing into the cream cheese.
So, all of the spices for Ranch Dressing are in there, but there is no buttermilk.
I contemplated about how to get buttermilk flavor in there and didn't like any of the options, so I left it out.
The cream cheese smelled just like Ranch Dressing while I was mixing the herbs and spices into it.
And we were happy that the sandwich wasn't bland.
I love the avocados on this Grilled Turkey Avocado Ranch Cream Cheese Sandwich!
My grandparents had a huge avocado tree in their backyard, so I have been eating them as long as I can remember.
They are a superfood!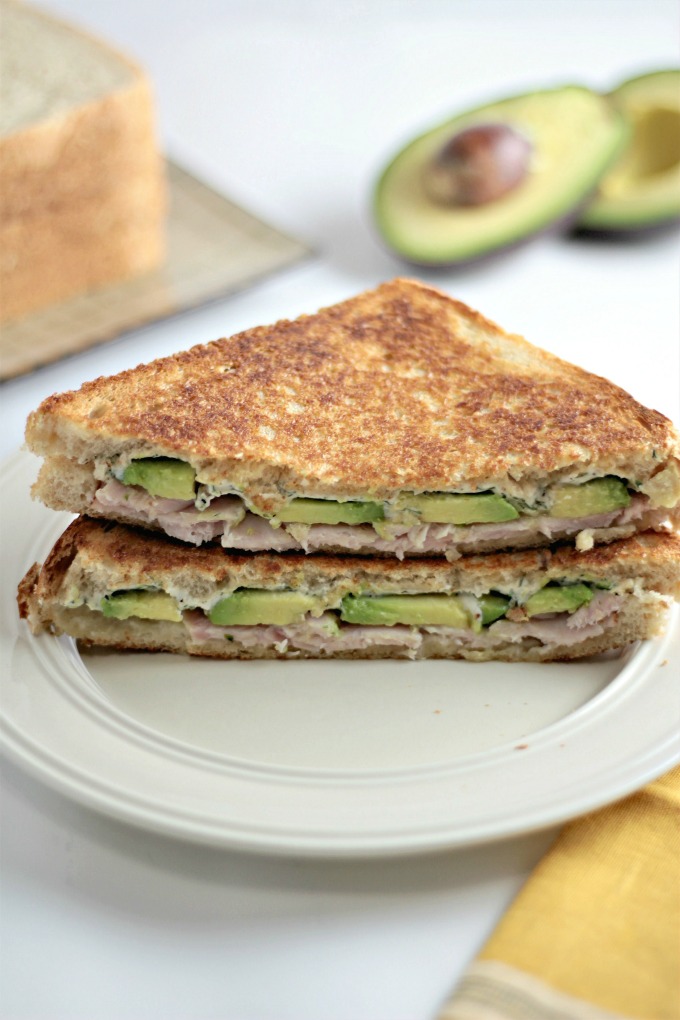 The sandwich in the pictures has 1/4 of the package of turkey on it. I used Great Value sourdough bread and the slices are a little wider than a normal loaf of bread.
So if you used regular sized bread there would be a little more meat on it than this.
"One cannot think well, love well, sleep well, if one has not dined well." -Virginia Woolf
Click To Tweet
Macaroni & Cheese Salad or Asparagus Strawberry Mixed Green Salad would go great with this sandwich.
Grilled Turkey Avocado Ranch Cream Cheese Sandwich
Grilled Turkey Avocado Ranch Cream Cheese Sandwich makes a quick, healthy and tasty lunch or dinner. Why go to the deli when you can make this at home?
Ingredients
For the sandwiches:
8

slices

sourdough bread

1

package thick cut roasted turkey

7.5 ounces

2

avocados

Ranch Cream Cheese

mayonnaise

butter
For the Ranch Cream Cheese:
4

ounces

cream cheese

softened

1

teaspoon

dried parsley

1/2

teaspoon

dried dill

1/4

teaspoon

garlic powder

1/4

teaspoon

onion powder

1/4

teaspoon

salt

1/4

teaspoon

pepper
Instructions
To make Ranch Cream Cheese:
In a small bowl mix the cream cheese, parlsey, dill, garlic and onion powder, salt, and pepper until well combined.
To assemble sandwiches:
Spread mayo on slice of bread, top with turkey and avocado. Spread Ranch Cream Cheese on the second slice of bread and place on avocado face down.

Butter outside of bread and place, buttered side down on a hot griddle or nonstick skillet, butter bread that is face up. Grill until golden brown on each side.
Notes
If using a non stick skillet grill sandwiches over medium to medium-high heat. If using an electric griddle turm it up to 350°.
Follow us on social media!!
Pin this image for later!!