Asparagus Strawberry Mixed Green Salad features fresh strawberries, asparagus, and mixed greens topped with a balsamic vinaigrette.
Lee and I both loved this Asparagus Strawberry Mixed Green Salad.
We love asparagus at our house and I have made several warm side dishes using it. But, I have never used it in a cold salad until now.
There are several different ways I could have cooked the asparagus but I chose to steam it.
I wanted to keep as much nutritional value as possible and it was fork tender in about 5 minutes.
I was inspired to make this Asparagus Strawberry Mixed Green Salad after seeing similar recipes from Martha Stewart and My Recipes.
Their recipes use spinach only but I had mixed greens on hand and really like them, so I chose to make my recipe with that instead.
You could certainly use spinach if you prefer.
Trimming asaparagus:
The way I was taught to trim asparagus is to hold it in both hands and snap it. It will break in the right place on its own and then you discard the bottom piece.
Then I saw on Cook's Country that you just need to trim off the bottom inch.
How quick and easy is that?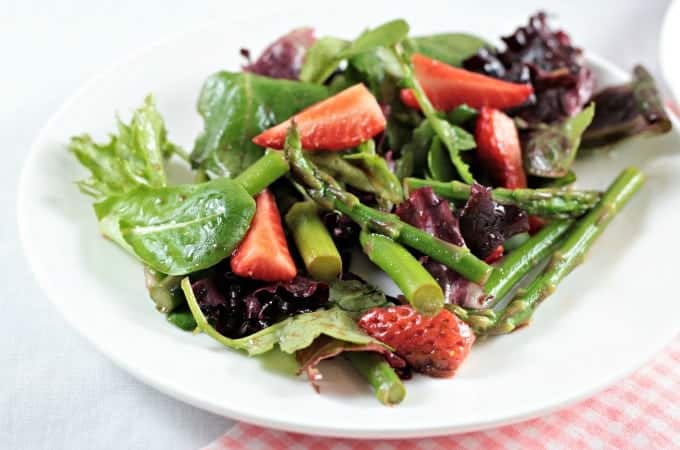 Cooking asparagus:
The asparagus I used was about medium thickness. I have seen them very thick and very thin.
If given the choice I like the medium-sized variety the best.
You may need to adjust the cooking time if your asparagus is really thin or really thick.
I am guessing the thin kind would cook in about 3 minutes and the thick kind might take about 10 minutes.
Just poke it with a fork and if it goes in easy then it is done. You could also look up on google to see how to cook it in the microwave, boil it or roast it.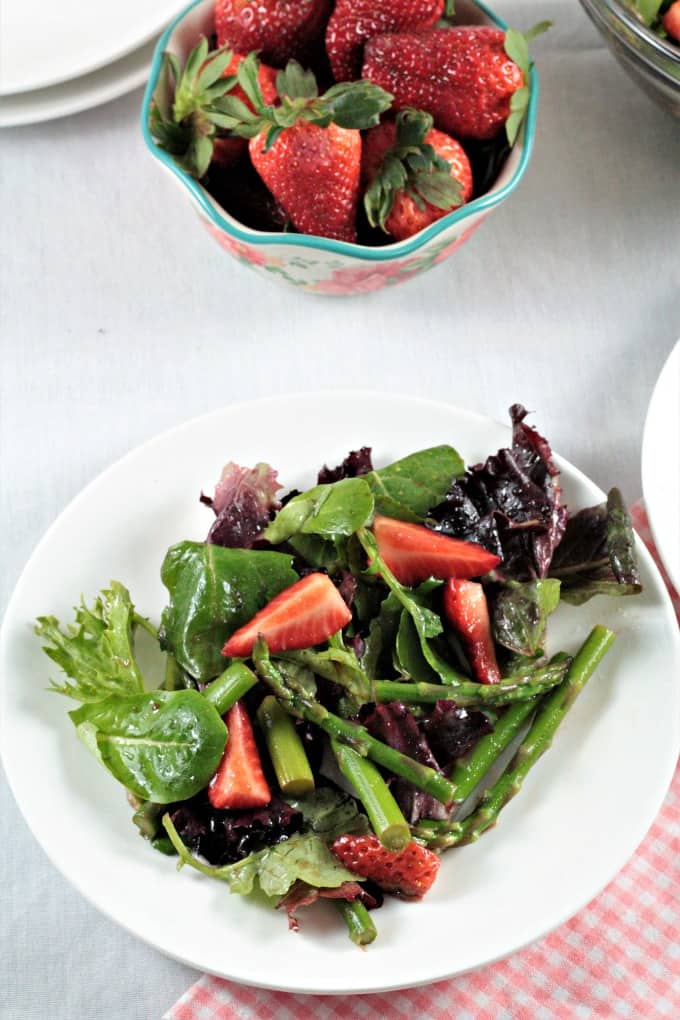 We ate this with dinner on Sunday night and then I took it to work in my lunch on Monday and Tuesday.
It was best the day I made it, pretty good but a little soggy on Monday, and good but soggier on Tuesday.
That is pretty normal for a dish of this nature though.
Most of the time fresh food is better eaten fresh.
This Asparagus Strawberry Mixed Green Salad would be a great make ahead accompaniment to this Honey Lime Chicken or this Spicy Orange Beef.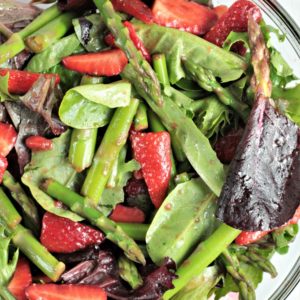 Asparagus Strawberry Mixed Green Salad
Asparagus Strawberry Mixed Green Salad features fresh asparagus, strawberries and mixed greens (red, green and romaine lettuce, spinach, arugula, and raddichio) and is topped with a simple viniagrette made from olive oil, balsamic vinegar and a little bit of salt. Fresh and delicious!
Ingredients
4

cups

mixed baby greens

could use baby spinach

1

pound

asparagus

1 1/2

cups

fresh strawberries

2

tablespoons

balsamic vinegar

2

tablespoons

olive oil

1/4

teaspoon

salt
I earn a small commission from Instacart for qualifying purchases.
Instructions
Trim bottoms off of asparagus and cut into thirds.

Place asparagus in a steam basket and bring to a boil, covered. Steam for 5 minutes or until fork tender, rinse with cold water and drain well.

While asparagus steams cut strawberries into fourths.

In a large bowl whisk together the balsamic vinegar, olive oil and salt. Add greens, asparagus and strawberries and toss to coat.
Notes
See post above for tips on trimming and cooking asparagus. This salad is best served at room temperature right after being made or after being refrigerated for a couple of hours. I ate mine the day after and two days after and it was a little soggy (but still very yummy!). You could also use spinach or other greens instead of mixed greens if you would like.
Nutrition Facts
Calories:
77
kcal
|
Carbohydrates:
7
g
|
Protein:
2
g
|
Fat:
5
g
|
Saturated Fat:
1
g
|
Polyunsaturated Fat:
1
g
|
Monounsaturated Fat:
3
g
|
Sodium:
107
mg
|
Potassium:
260
mg
|
Fiber:
2
g
|
Sugar:
4
g
|
Vitamin A:
879
IU
|
Vitamin C:
32
mg
|
Calcium:
29
mg
|
Iron:
2
mg
Follow us on social media!!
Pin this image for later!!