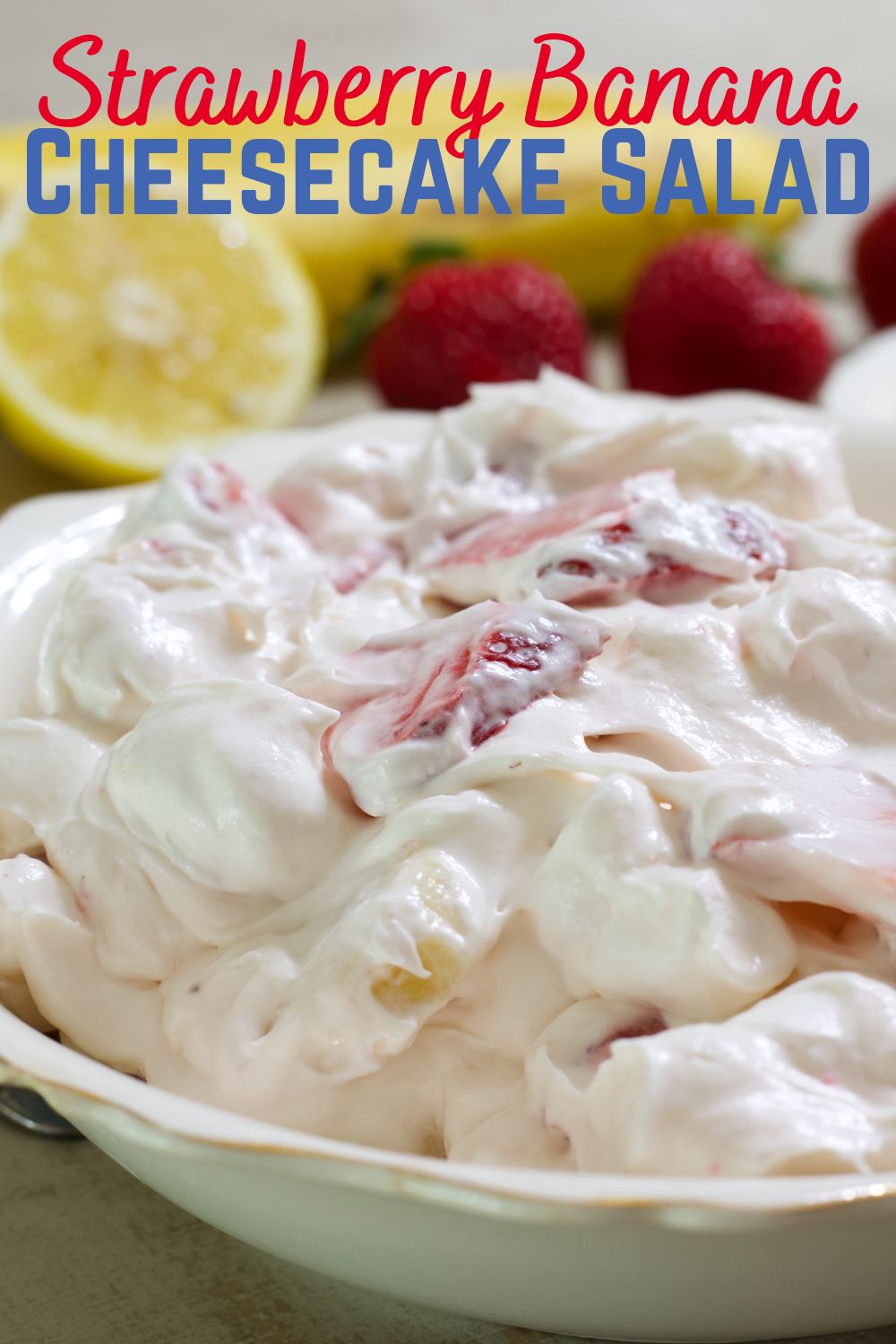 This truly is The Best Strawberry Banana Cheesecake Salad. Luscious strawberries and sweet bananas are combined with a mixture of cream cheese, Cool Whip, strawberry yogurt and mini marshmallows to make a delicious and creamy fruit salad that is sure to become a family favorite. I mean, any salad that has fresh fruit, Cool Whip and mini marshmallows in it is sure to be a huge hit, right?!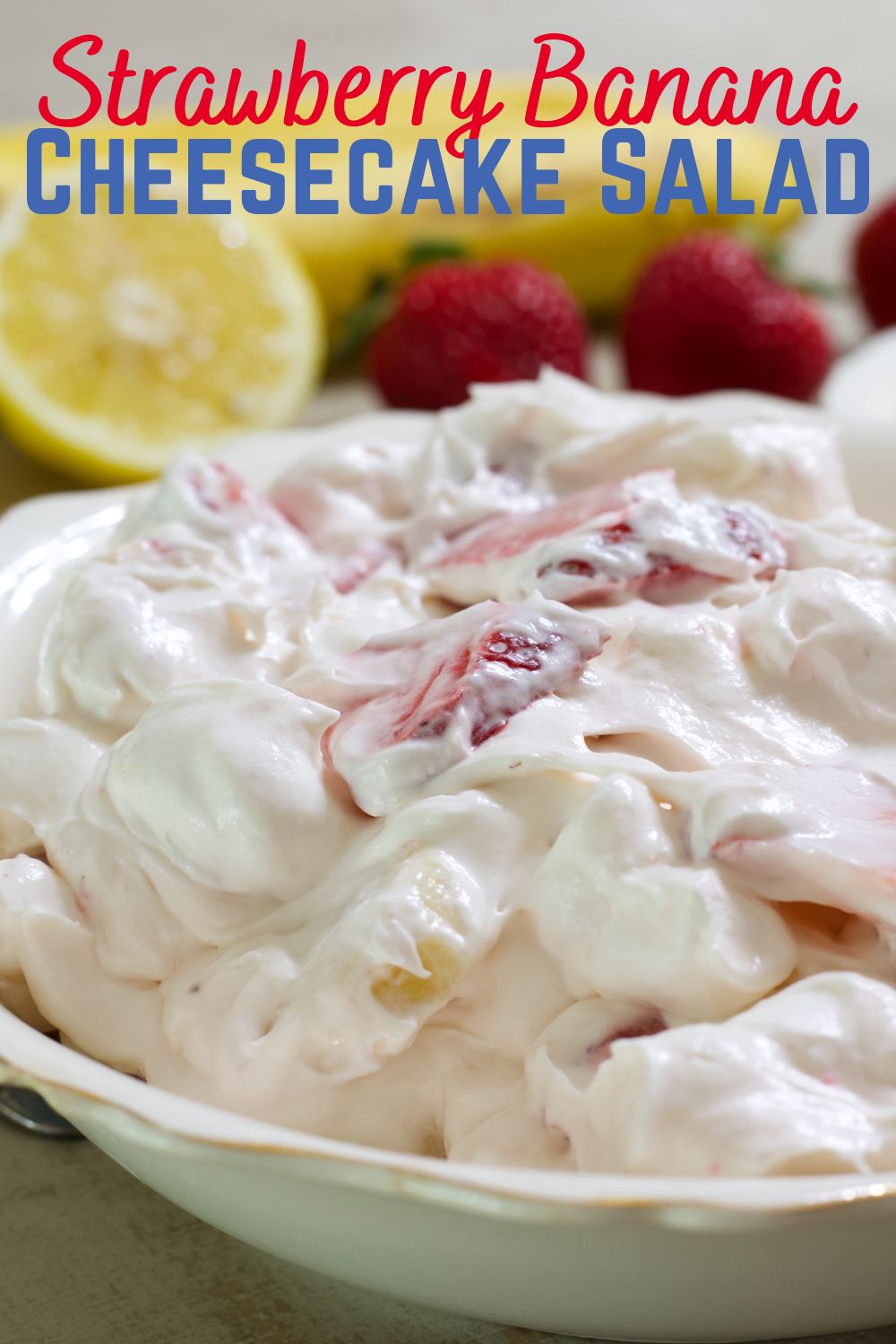 This is the perfect salad for a church potluck or summer bbqs. Just a warning though – be prepared to share the recipe because people are going to ask for it!
Ingredients: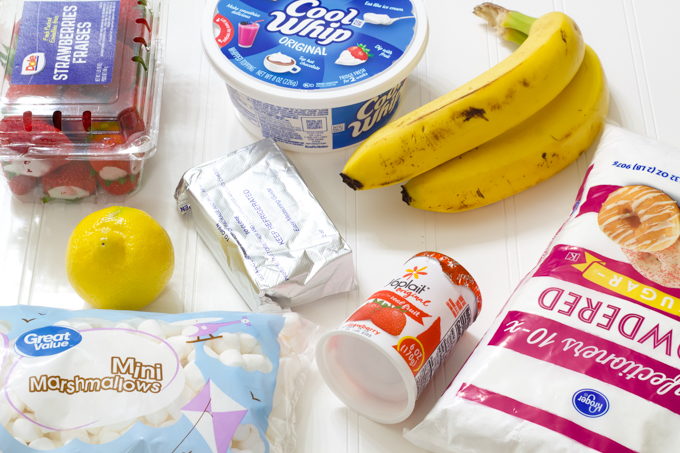 Ingredient Notes:
What is great about the ingredients in this strawberry-banana cheesecake salad is that you can swap some, or all, of the ingredients with low or no fat versions to make this dish if you or someone you know has dietary restrictions.
(See recipe card below for exact amounts.)
Fresh Strawberries – fresh is definitely best to make this a creamy strawberry banana salad, frozen berries would be too wet.
Bananas – we use ripe bananas, not over-ripe bananas. We want them to hold up well.
Whipped Topping – we use regular Cool Whip but any store brand would work perfectly. You could also use extra creamy, zero sugar, lite or fat free.
Cream Cheese – you can use the full fat, the 1/3 less fat or the no fat variety.
Strawberry Yogurt – we use one small container of regular yogurt, not Greek. We think Greek would work but have never tried it.
How to Make Strawberry Banana Cheesecake Salad recipe:
This is one of those easy recipes that doesn't require cooking so the total time to make it is about 15 minutes!
Whip cream cheese and powdered sugar together in a large bowl with an electric mixer until creamy, add strawberry yogurt and continue beating until combined. Fold in tub of Cool Whip.
Mix sliced strawberries and banana coins with fresh lemon juice in a medium bowl.
Fold fruit and mini marshmallows into cream cheese mixture.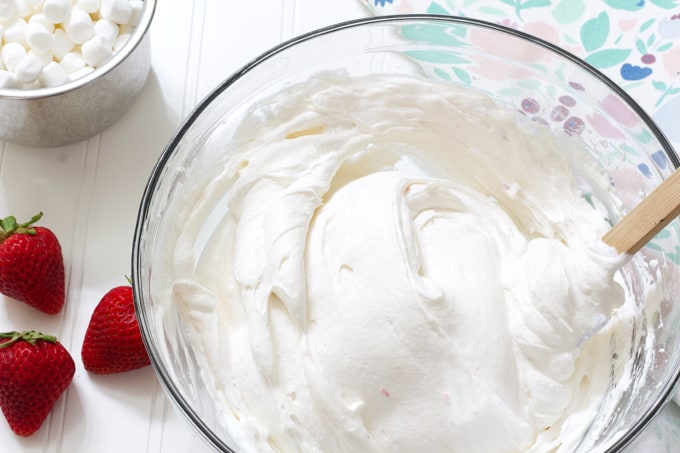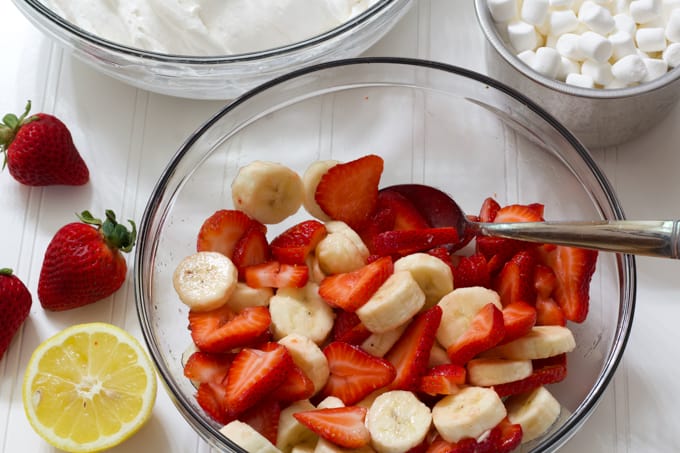 Tips & Tricks:
Take the cream cheese out of the fridge a couple of hours before you want to make the cheesecake salad.
Cut the bananas right before you toss them in the lemon juice and then immediately fold the fruit into the cream cheese mixture so the bananas don't brown.
Pull all the strings off of the bananas after you peel them. Be sure to take the brown end off, too.
Dry washed strawberries with paper towels so the salad doesn't get too wet.
Special Note:
This particular cheesecake fruit salad does not hold up well in the refrigerator and is best eaten shortly after making it. It becomes runny and just not as good by the next day.
Substitutions and Additions:
As stated above, you can swap some or all of the ingredients with low or no fat versions. Cream cheese, whipped topping and yogurt all come in lower fat or no fat versions and you can swap the sugar for a substitute such as Stevia.
You can use different fruits instead of the ones I have used here. This recipe calls for 4 cups of fruit but you don't have to use these exact measurements. You can use about one cup of four different fruits or about 4 cups of one fruit or any combinations you like, there are almost endless possibilities.
Use 6 oz of vanilla yogurt or other flavor instead of strawberry.
Don't have powdered sugar? You can use regular granulated sugar instead.
Add about a cup of chopped walnuts or pecans for a little crunch.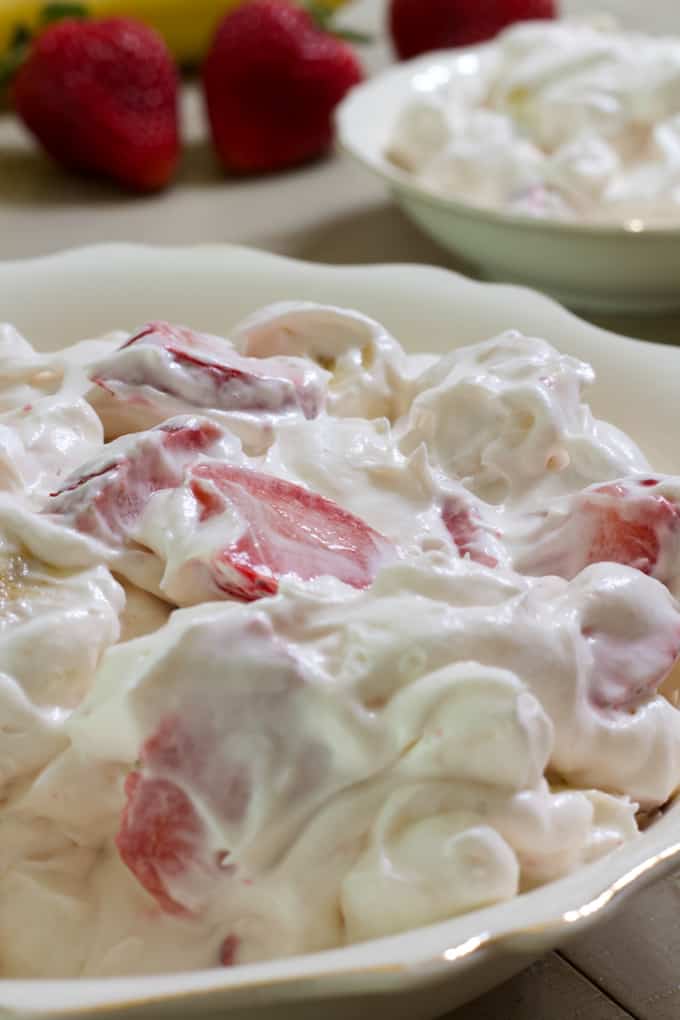 More Dessert Salads You Might Like:
We hope you like The Best Strawberry Banana Cheesecake Salad as much as we do. This glorious fruit salad makes a perfect delicious side for breakfast, brunch, lunch or dinner and can also make a great snack or dessert.
Follow us on social media!!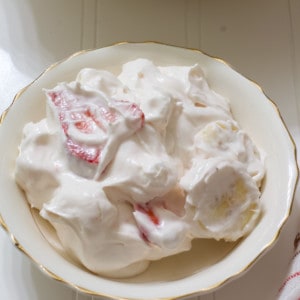 The Best Strawberry Banana Cheesecake Salad
The Best Strawberry Banana Cheesecake Salad is creamy and delicious and so easy to make. It is sure to become a family favorite!
Ingredients
1

package

cream cheese, softened

8 ounces

1/2

cup

powdered sugar

1

container

strawberry yogurt

6 ounces

1

tub

whipped topping

8 ounces

2

cups

sliced strawberries

2

cups

sliced bananas

1

tablespoon

fresh lemon juice

2

cups

mini marshmallows
I earn a small commission from Instacart for qualifying purchases.
Instructions
Mix cream cheese and sugar in a large bowl with a mixer until creamy, add yogurt and mix until combined. Fold in whipped topping.

Toss strawberries and bananas with lemon juice in a medium bowl.

Fold fruit and marshmallows into the cream cheese mixture until combined.
Notes
See post above for helpful information to make this recipe successfully.  
Nutrition Facts
Calories:
244
kcal
|
Carbohydrates:
34
g
|
Protein:
4
g
|
Fat:
11
g
|
Saturated Fat:
7
g
|
Polyunsaturated Fat:
0.5
g
|
Monounsaturated Fat:
2
g
|
Cholesterol:
25
mg
|
Sodium:
108
mg
|
Potassium:
246
mg
|
Fiber:
1
g
|
Sugar:
27
g
|
Vitamin A:
350
IU
|
Vitamin C:
20
mg
|
Calcium:
69
mg
|
Iron:
0.3
mg