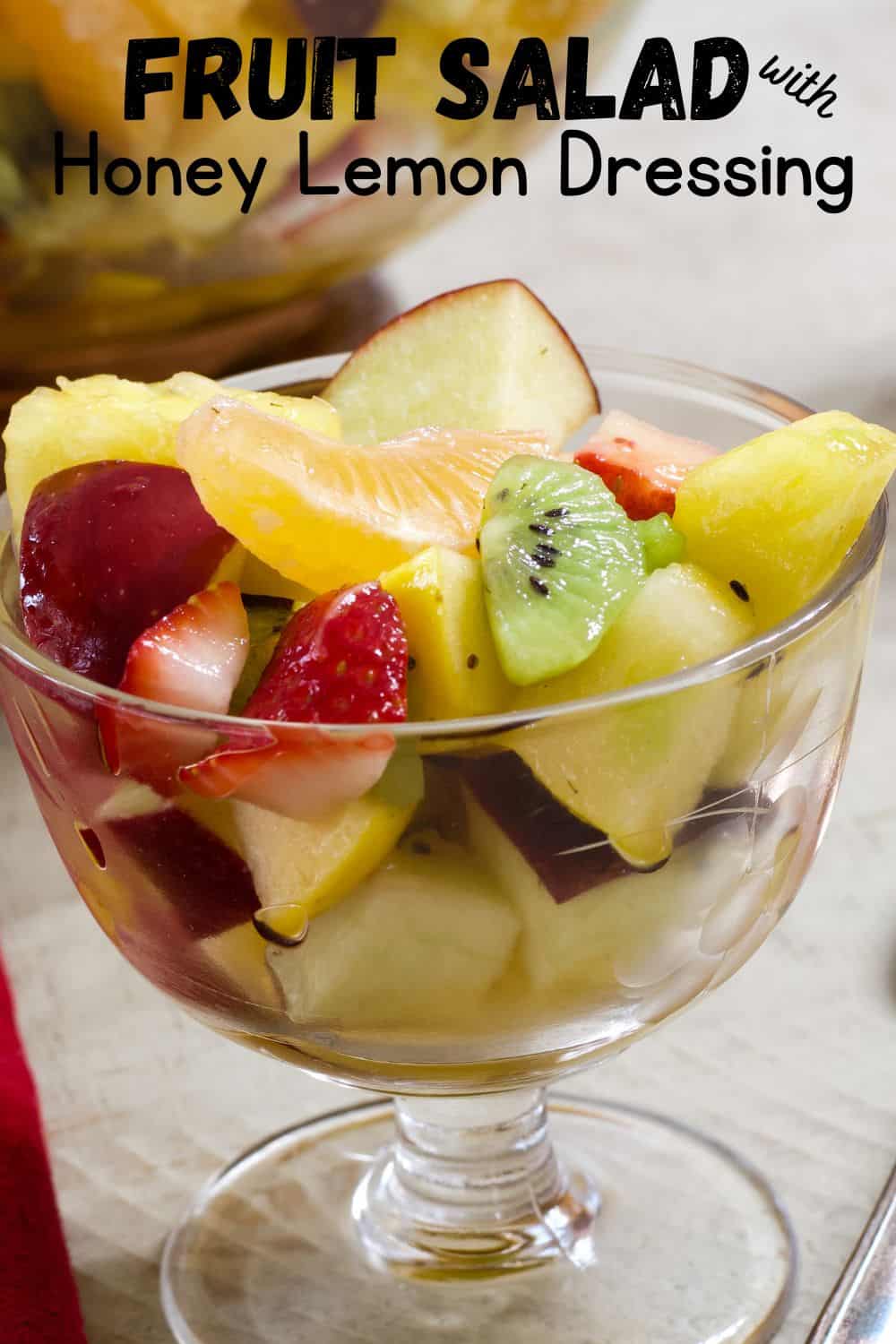 Fruit Salad with Honey Lemon Dressing is easy, healthy, and delicious! We love eating fruit all year long, and this easy fruit salad is one of our favorite ways to eat it. What we love most about this fresh fruit salad is that it is made with in-season fruit. So far I have been able to find these particular fruits all year round making this the perfect winter fruit salad.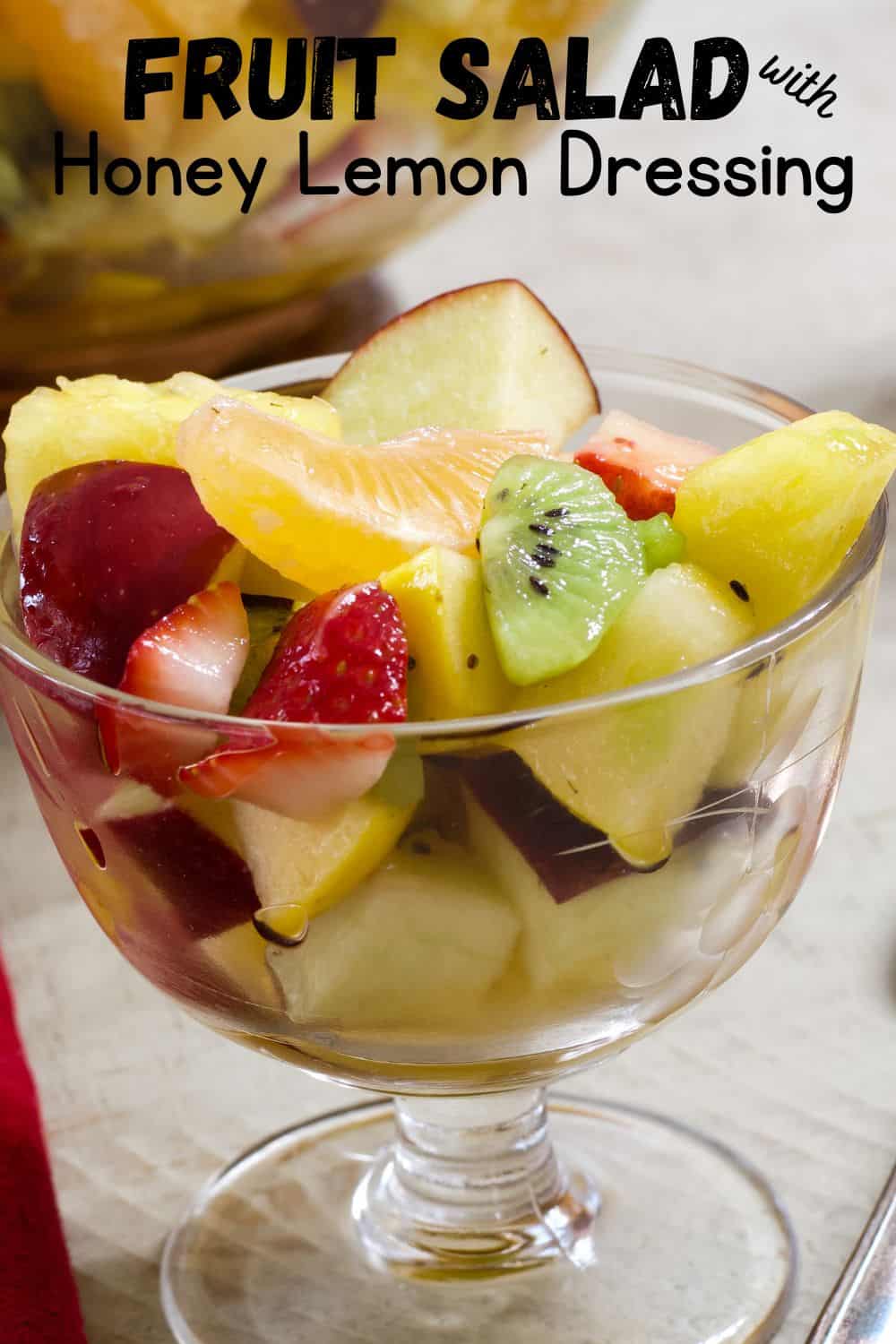 The fresh pineapple and mandarin oranges seem to be available even in the fall and winter, but if your store doesn't have them you could certainly use canned. Just be sure to drain them completely. Another thing about this simple fruit salad that I love is the fresh pineapple. Have you ever tried fresh pineapple? It is so juicy, sweet, and delicious! It is not quite as tart as the canned variety.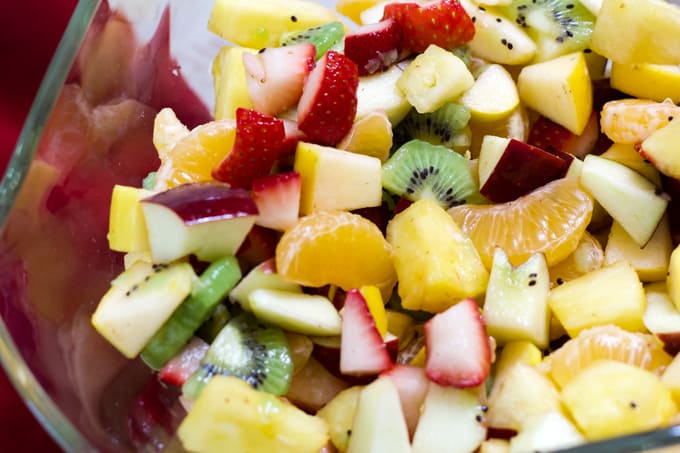 This easy fruit salad is the perfect side dish for a summer bbq because it can be made ahead of time. It is also perfect for hot days when grilling is popular. It would also be a great addition to any family gathering or pot luck because it is a crowd favorite. This salad is dressed with a super simple two-ingredient dressing consisting of lemon juice and honey. That's it! With so much flavor going on in there I wanted the dressing to enhance the flavor and not cover it up. And, how easy is that?!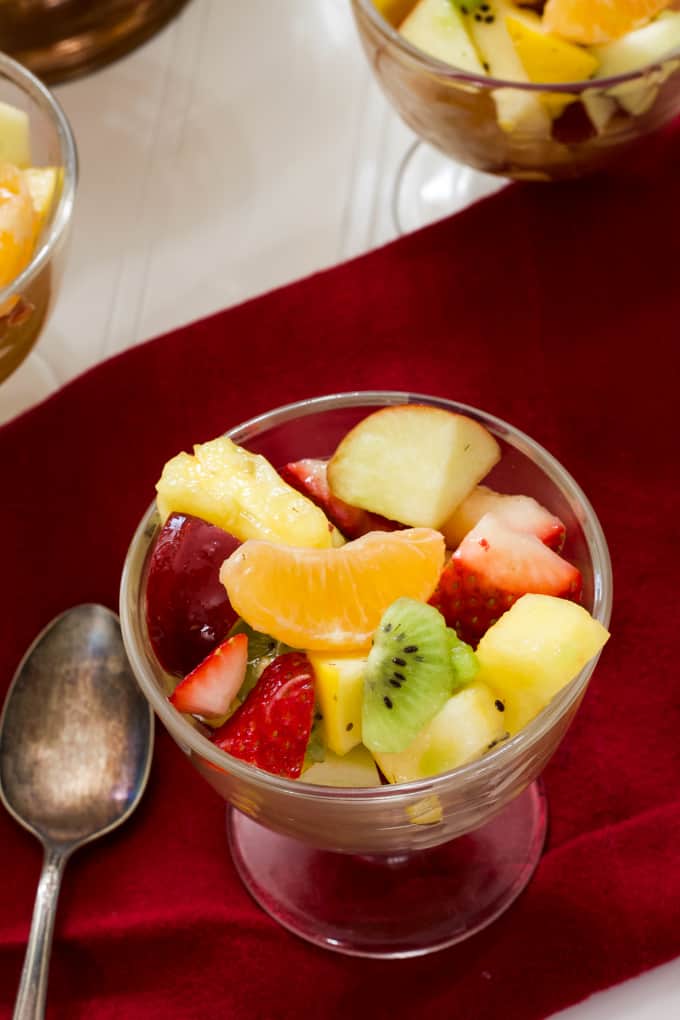 Ingredients:
See recipe card for exact amounts.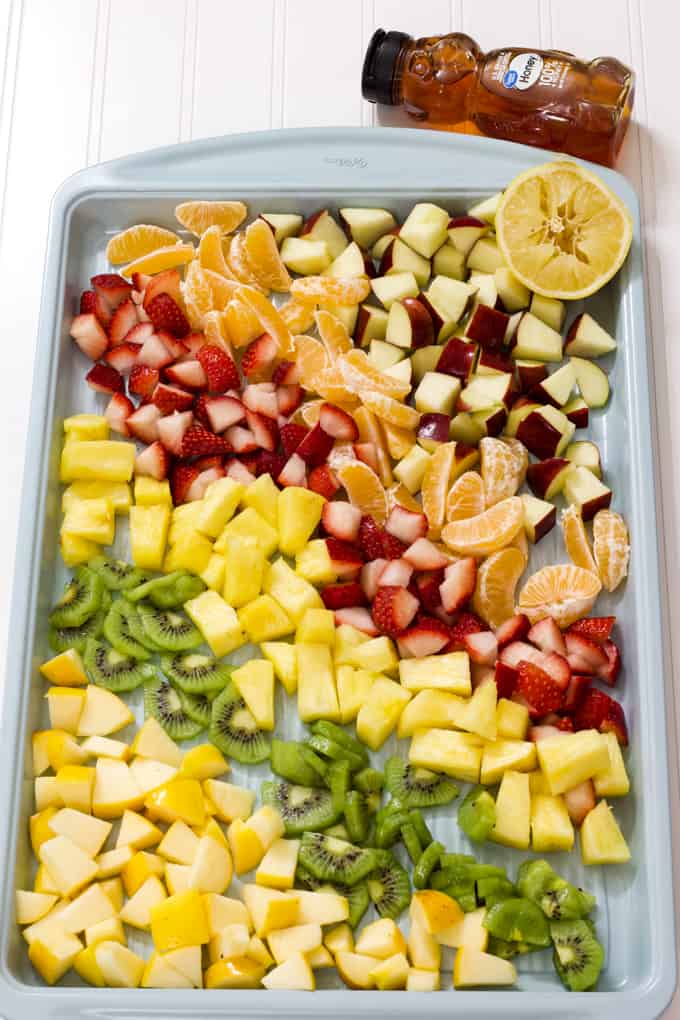 Fruit Salad Ingredients:
I have included some tips on how to pick the best fresh fruit.
Fresh Strawberries – choose strawberries that are bright red, have a natural shine, fresh green caps and no dark mushy spots.
Fresh Pineapple – select a pineapple that is firm but slightly soft. It should be a light yellow color, green means it isn't ripe and orange means it is too ripe. You should also be able to smell pineapple when you smell the bottom of it.
Kiwi – the fruit should feel slightly soft and be free or wrinkles and blemishes.
Mandarin Oranges – popular brands are Cuties and Halos.
Red Apple – there are many varieties of red apples, we chose Red Delicious because they are tasty and often the most affordable.
Yellow Apple – I usually use Golden Delicious but will occasionally use Opal if the Golden aren't available.
Fruit Salad Dressing
The dressing is made by whisking fresh lemon juice and honey together. A simple way to enhance the fantastic flavor of the fruit.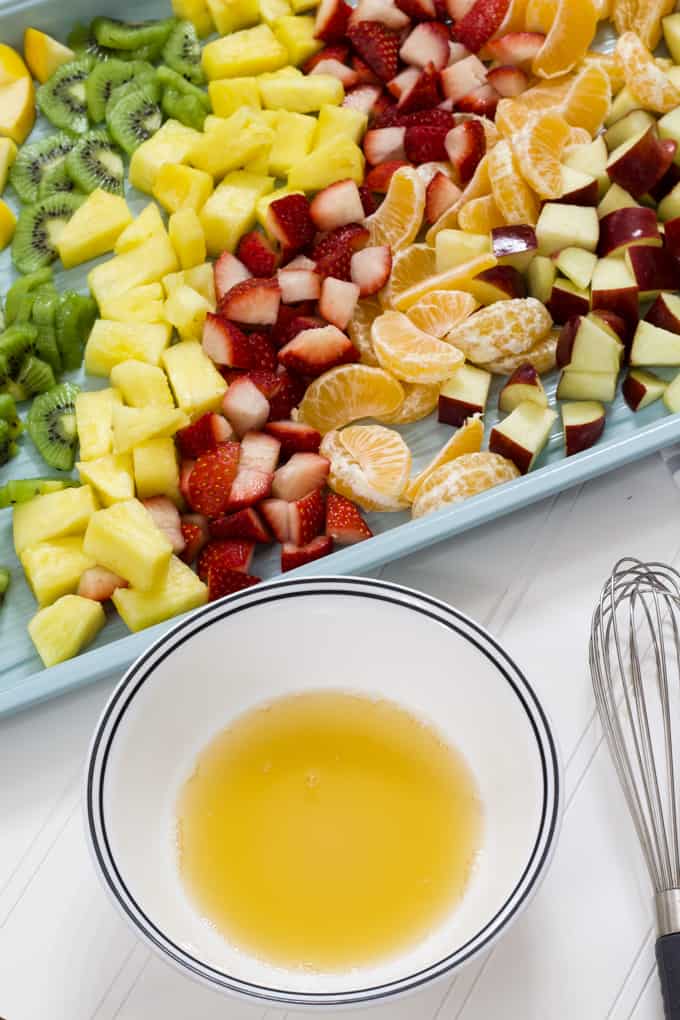 How to Make This Classic Fruit Salad Recipe:
In a small bowl whisk the honey and lemon juice until well combined.
Wash and dry the strawberries and apples. Core and chop the strawberries. Peel and separate the mandarin oranges into segments. Remove peel from kiwi and chop. Peel and core pineapple, then chop into chunks. Better Homes & Gardens has a great article on how to prepare pineapple. Core and chop the apples last.
Put fruit into a big bowl, whisk dressing together once again and pour over fruit, toss to coat.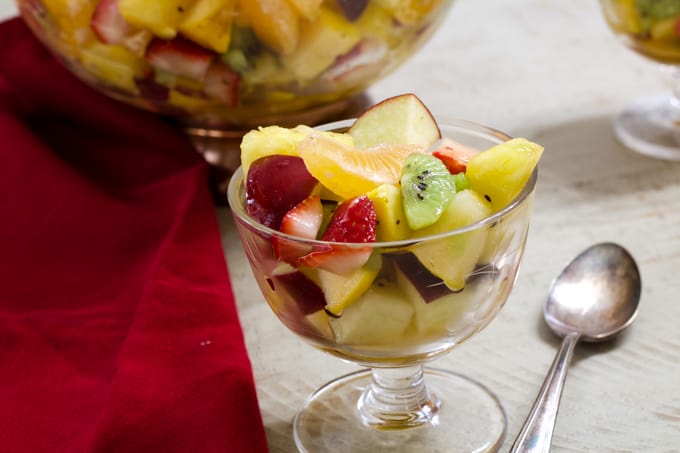 Make Ahead Options:
Wash and dry the fruit ahead of time. Separate the mandarin oranges and chop the kiwi, pineapple, and strawberries. I don't recommend chopping the apple ahead of time. Make the dressing and then mix it again right before pouring it onto the fruit.
Storage:
Store leftover fruit salad in an airtight container in the refrigerator for a day or two. The fruit starts to break down, the fruit softens and the juice will accumulate in the bottom of the bowl. It still taste great but doesn't look as good.
Substitutions:
Swap the lemon juice for lime juice for a delicious and bright honey lime dressing.
You can use your favorite variety of fruits, there really are no boundaries here. Fresh blackberries, blueberries, green or red grapes, and fresh cherries are all great options. Bananas will turn brown so you will want to add these to each serving.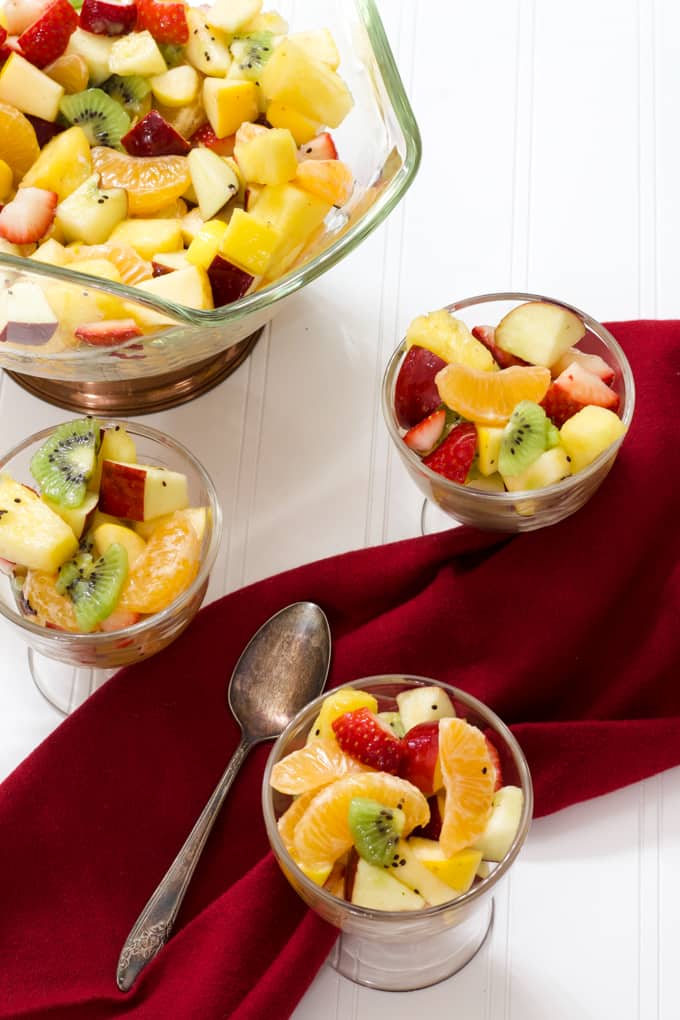 More Homemade Fruit Salads:
More Healthy Salads:
Asparagus Strawberry Mixed Greens Salad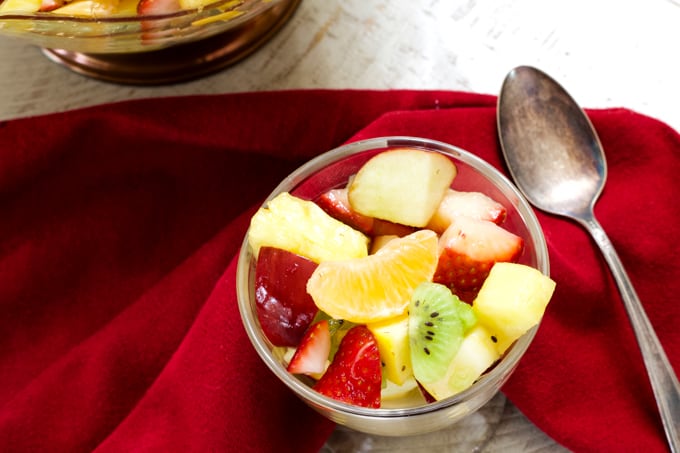 Follow us on social media!!
Bookmark this page to find it quickly when you are ready to make this recipe!
Fruit Salad with Honey Lemon Dressing
Fruit Salad with Honey Lemon Dressing is made with fresh fruit available all year round (even winter). Perfect for any potluck or gathering.
Ingredients
For the salad:
1

red apple

cored and chopped

1

golden delicious apple

cored and chopped

2

kiwi

peeled and chopped

4

mandarin oranges

peeled and split into sections

1/2

fresh pineapple

peeled, cored, and cubed

8

ounces

strawberries

cored and chopped
For the dressing:
2

tablespoons

fresh lemon juice

2

tablespoons

honey
Instructions
For the salad:
Toss fruit together in a large bowl.
For the dressing:
In a small bowl whisk honey and lemon juice together. Pour over salad and toss to coat.
Notes
This recipe makes approximately 7 cups of fruit salad. This depends on the size of your fruit, we use average size fruit. 
See in post notes above for valuable information that may help you make this recipe successfully.
Bookmark this page to find it quickly when you are ready to make this recipe!
Nutrition Facts
Calories:
103
kcal
|
Carbohydrates:
26
g
|
Protein:
1
g
|
Fat:
0.4
g
|
Saturated Fat:
0.04
g
|
Polyunsaturated Fat:
0.2
g
|
Monounsaturated Fat:
0.1
g
|
Sodium:
3
mg
|
Potassium:
246
mg
|
Fiber:
4
g
|
Sugar:
20
g
|
Vitamin A:
338
IU
|
Vitamin C:
67
mg
|
Calcium:
35
mg
|
Iron:
0.4
mg