Baby Greens Salad with Beets & Goat Cheese is the perfect winter salad, but also great any time of the year!
We love salad. Well, maybe I like it more than anyone else, so I try to make more than just a traditional tossed salad if I am serving it before our main course. That is what makes this Baby Greens Salad with Beets & Goat Cheese perfect.
My husband, Lee, really likes beets and cheese and doesn't care for tomatoes. So, this salad has many elements that he really loves. It is also a little fancier than a regular tossed salad, making it great to serve guests.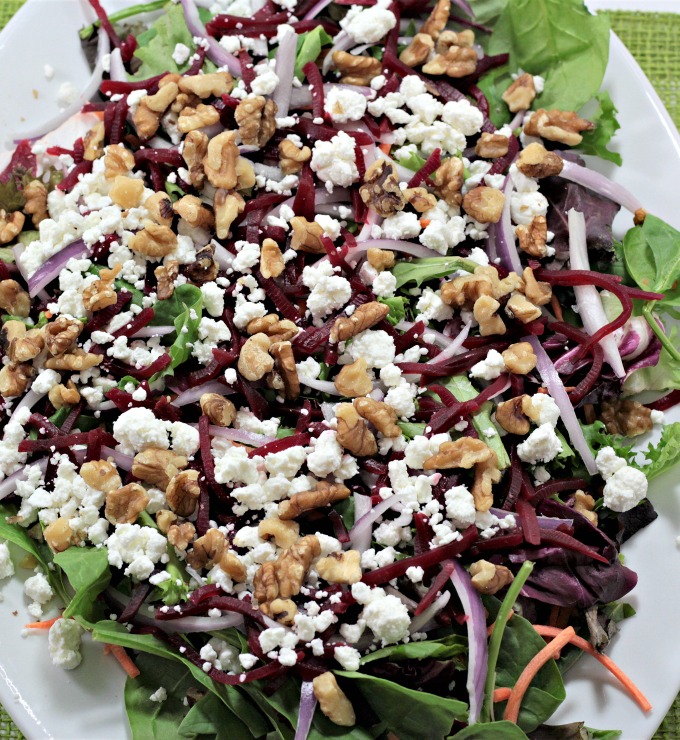 I really like the baby greens mixture for this recipe. The type I buy is a mixture of baby spinach and other baby lettuces (not sure exactly what "other lettuces") as well as endive, radicchio, and matchstick carrots. You could certainly use a bag of baby spinach or arugula.
I like to layer this salad on a big platter (this one is 11 inches wide by 15 1/2 inches long), because it looks nice. I dress this salad with a 3 Ingredient Orange Vinaigrette. I also found it on epicurious, and with only 3 ingredients I didn't change it at all.
You could use any vinaigrette you like. (Basically any dressisng that is vinegar and oil based.)I think the orange goes really well with all of these flavors, but other flavors would also be yummy. I personally wouldn't dress this salad with a creamy dressing, but the beauty of making food for yourself means there are no rules. So, if you prefer a creamy dressing on this, then go ahead.
Baby Greens Salad with Beets & Goat Cheese
Baby Greens Salad with Beets & Goat Cheese also features red onion and walnuts, topped with orange vinaigrette. Great for winter or any time of the year.
Ingredients
6

ounce

bag baby greens

1/2

cup

red onions

cut into long thin slices

1/2

cup

canned beets

well drained

2

ounces

goat cheese crumbles

1/2

cup

walnuts

chopped
I earn a small commission from Instacart for qualifying purchases.
Notes
The beets I bought were cut just like you see in the picture. You could buy them in chunks or cut them yourself, if your store doesn't carry the slivered variety. Also, I let my beets drain for 20-30 minutes so they don't make the salad soggy.
Recipe adapted from epicurious.
Follow us on social media!!
Pin this image for later!!