Skinny Baked Chicken Spaghetti is creamy, cheesy and delicious!
Skinny Baked Chicken Spaghetti is lightened up by using nonfat half & half, 1/3 less fat cream cheese and 2% milk cheddar cheese.
We use a rotisserie chicken to make this dish quick and easy.
Pasta is very popular in our house. In fact, we eat some type of pasta every week.
And, it can be part of a healthy diet!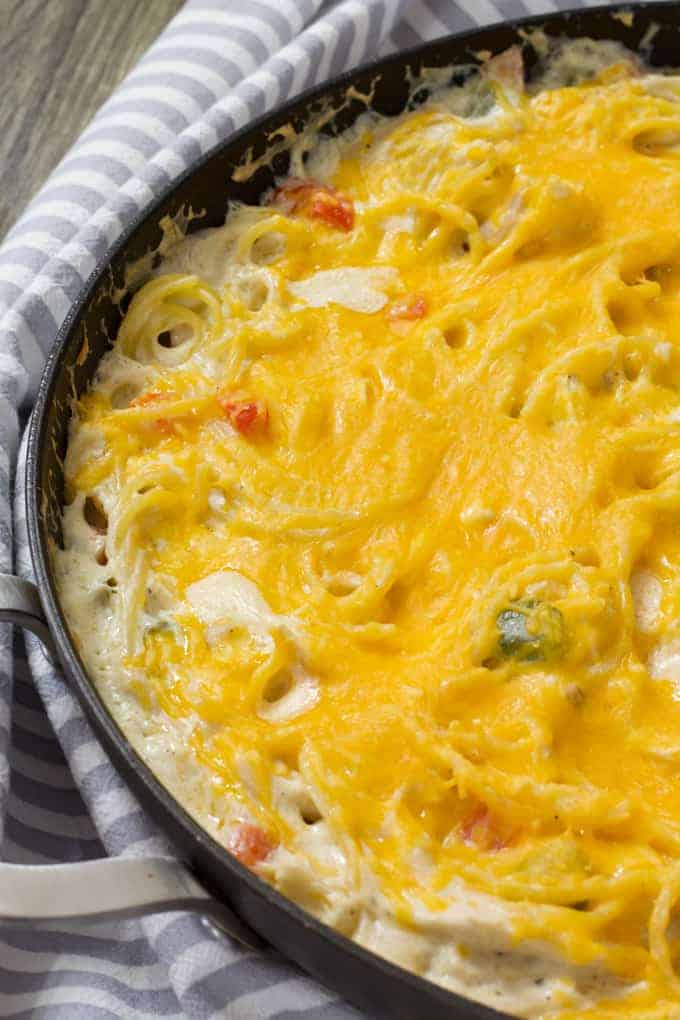 Follow us on social media!!
We are just about 2 years into this pandemic and grocery shopping every week has become some sort of scavenger hunt.
Are you having this problem, too?
At our neighborhood Walmart last Saturday the pasta section was totally decimated.
I mean nothing!
We had to go to our neighborhood Dillons where they had plenty of the Kroger brand pasta.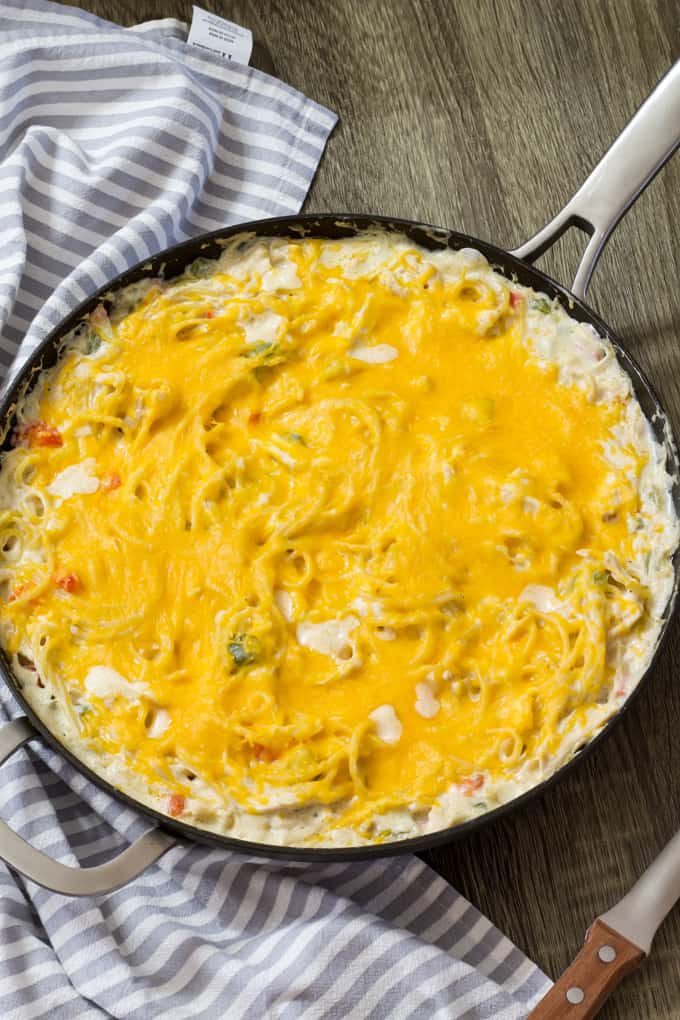 We are finding that we have to go to more than one store.
And we don't always get to buy the brands we normally would.
It's kinda take what you can get.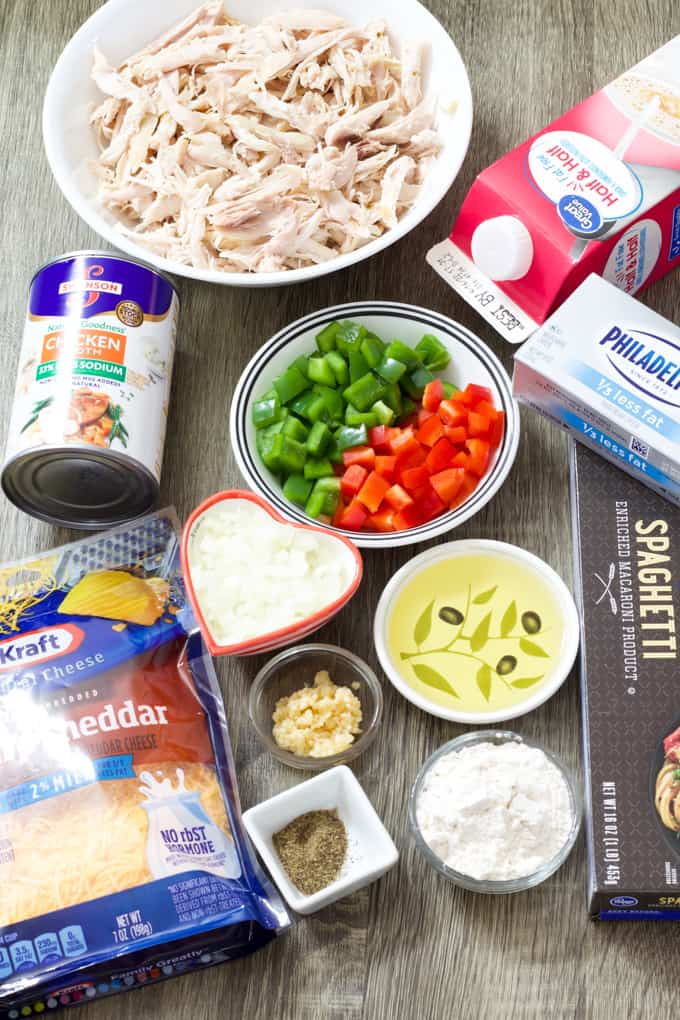 What does Skinny Baked Chicken Spaghetti even mean?
Well, I'll tell you what it doesn't mean first.
It doesn't mean that this recipe is necessarily healthy.
What it does mean is that I have taken the traditional baked chicken spaghetti recipe and tweaked it here and there to make it better for you than the original version of this recipe.
So, swapping the whole fat half and half for nonfat.
Using 1/3 less fat cream cheese instead of the whole fat version.
Replacing butter with olive oil. While olive oil has slightly more calories than butter, it has less fat and it is the healthy fat that is part of a healthy diet.
And finally, using 2% milk cheese because it has slightly fewer calories and less fat.
We still eat pasta once a week and have lost weight because we make low calorie versions of popular pasta dishes.
Also, we only eat dishes such as this occasionally, as a treat.
The pasta dishes we eat regularly have more vegetables and less cheese.
Some other yummy dishes you might like that are on the lighter side:
Healthier Slow Cooker Chicken Stew
Yes, two different recipes for beef stroganoff!
One has onions and one doesn't.
There is a one skillet version and one we put over cooked pasta.
They are different and we like them both.
Follow us on social media!!
Skinny Baked Chicken Spaghetti
Skinny Baked Chicken Spaghetti - tender chicken and spaghetti in a cream cheese sauce is topped with cheddar cheese and baked in the oven.
Ingredients
8

ounces

spaghetti

4

tablespoons

olive oil

1/2

cup

chopped onion

1/2

cup

chopped green bell pepper

1/2

cup

chopped red bell pepper

2

teaspoons

minced garlic

4

tablespoons

flour

1/2

teaspoon

pepper

1

can

low sodium chicken broth

14.5 ounce

1

cup

fat free half & half

4

ounces

1/3 less fat cream cheese cut into small pieces

1/2 package

3

cups

cooked chicken

1

cup

shredded cheddar cheese

2% milk
I earn a small commission from Instacart for qualifying purchases.
Instructions
In a large sauce pan cook pasta for the shortest time directed on the package, usually 9 minutes.

Heat olive oil in a large skillet over medium-heat, add onion and peppers and cook until tender, about 4 - 5 minutes. Add garlic and cook for 1 minute. Add flour and pepper; cook for 1 minute. Add chicken broth and whisk until combined, be sure to get all the lumps out. Add half & half and cream cheese and whisk until cream cheese is melted and the mixture is smooth. Heat until bubbly and thick, 2-3 minutes.

Stir in spaghetti and chicken, top with cheese and bake in the oven until bubbly and the cheese is melted, about 15 - 18 minutes. Let stand 5 minutes before serving.
Notes
Be sure the skillet you use has an oven safe handle. You can also cover the handle with aluminum foil. Or, transfer to a casserole dish before you put it in the oven.
Nutrition Facts
Calories:
779
kcal
|
Carbohydrates:
62
g
|
Protein:
48
g
|
Fat:
37
g
|
Saturated Fat:
13
g
|
Polyunsaturated Fat:
4
g
|
Monounsaturated Fat:
17
g
|
Cholesterol:
127
mg
|
Sodium:
483
mg
|
Potassium:
793
mg
|
Fiber:
3
g
|
Sugar:
9
g
|
Vitamin A:
1162
IU
|
Vitamin C:
41
mg
|
Calcium:
344
mg
|
Iron:
3
mg
Recipe adapted from 5 Boys Baker.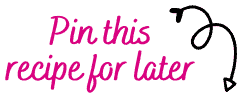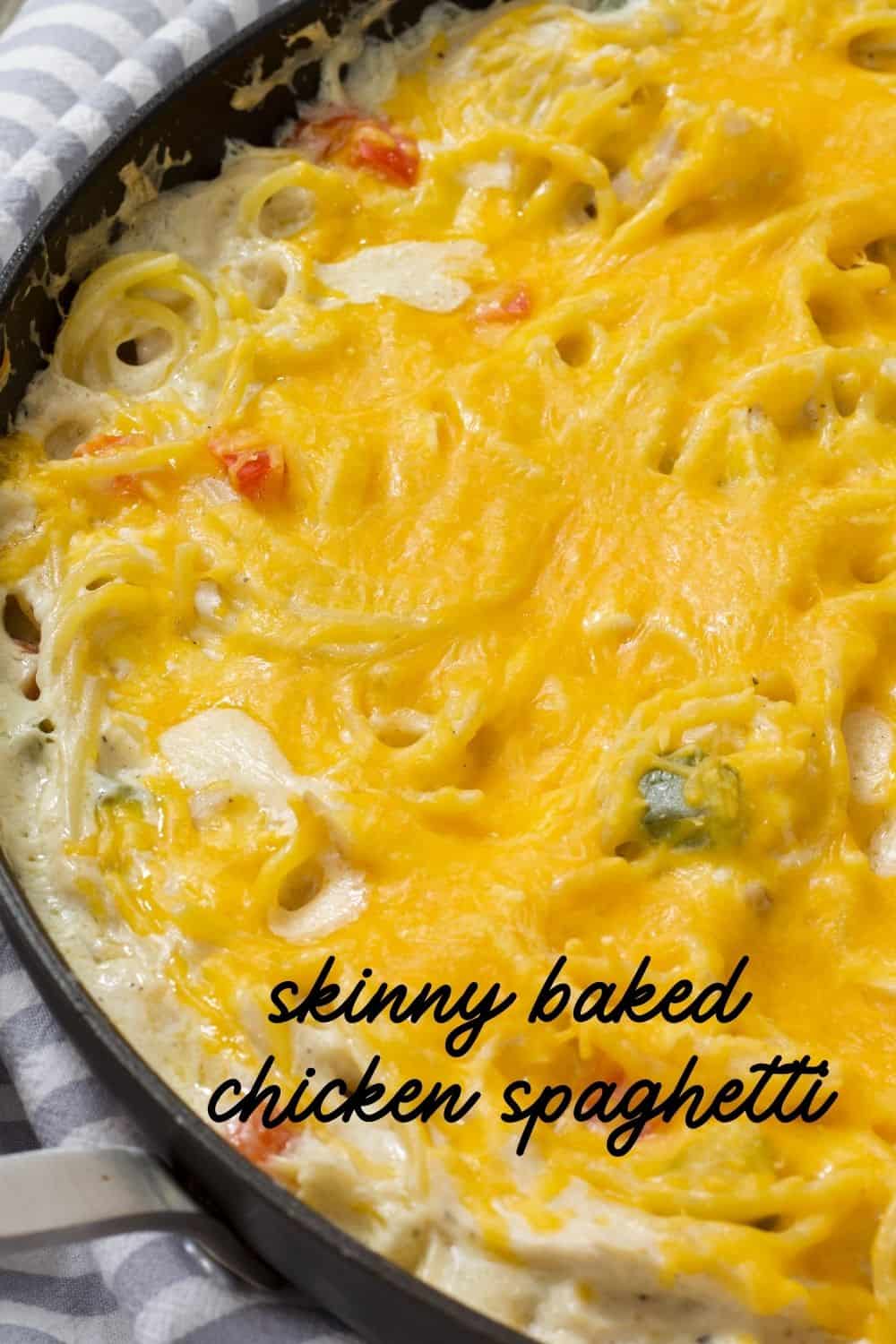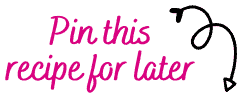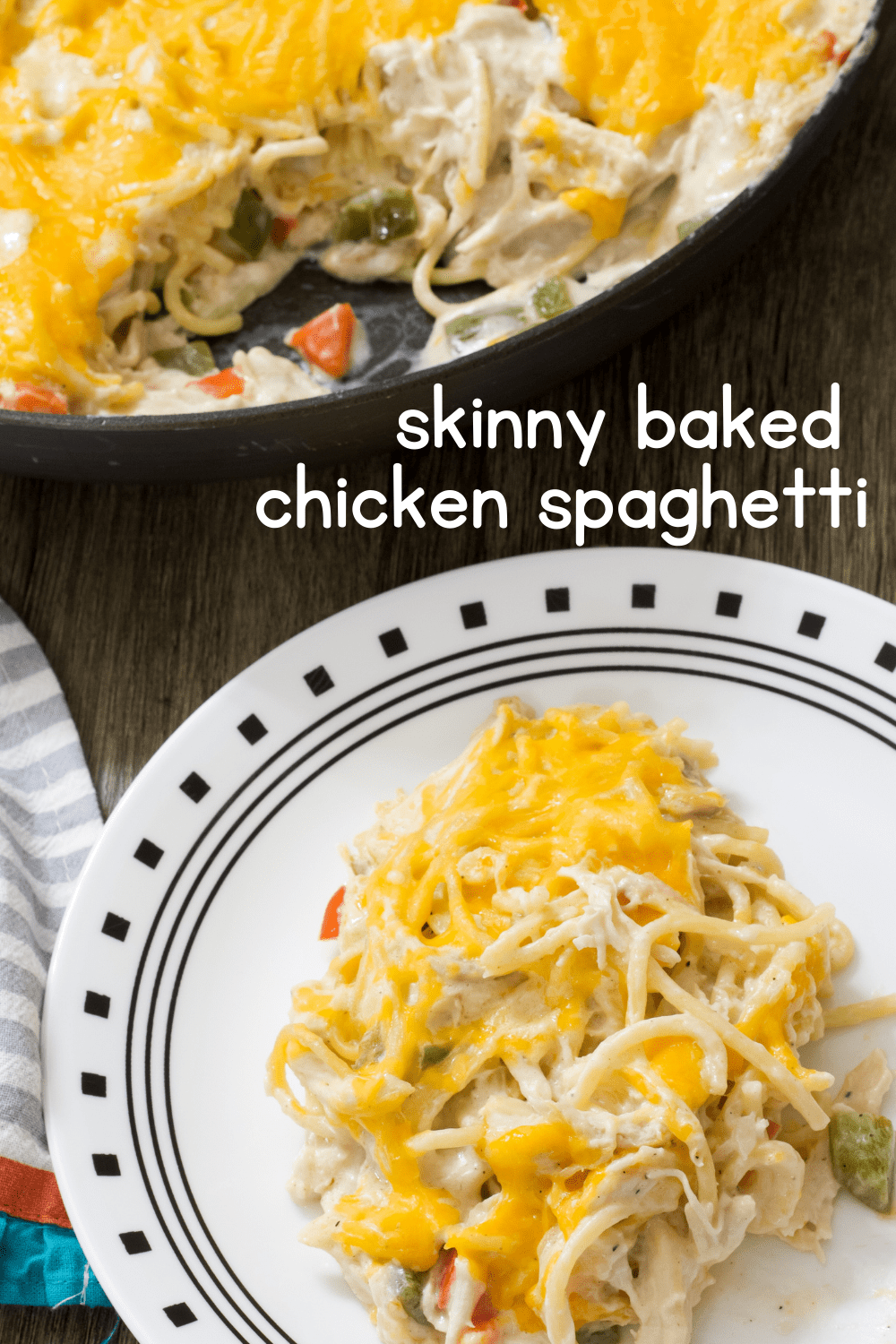 Follow us on social media!!