One Pan Beef Stroganoff is a delicious one pan dish that comes together quickly!
We absolutely love quick one pan meals like this Beef Stroganoff.
Lee and I work full time so getting dinner on the table quickly is our number one priority, especially during the week.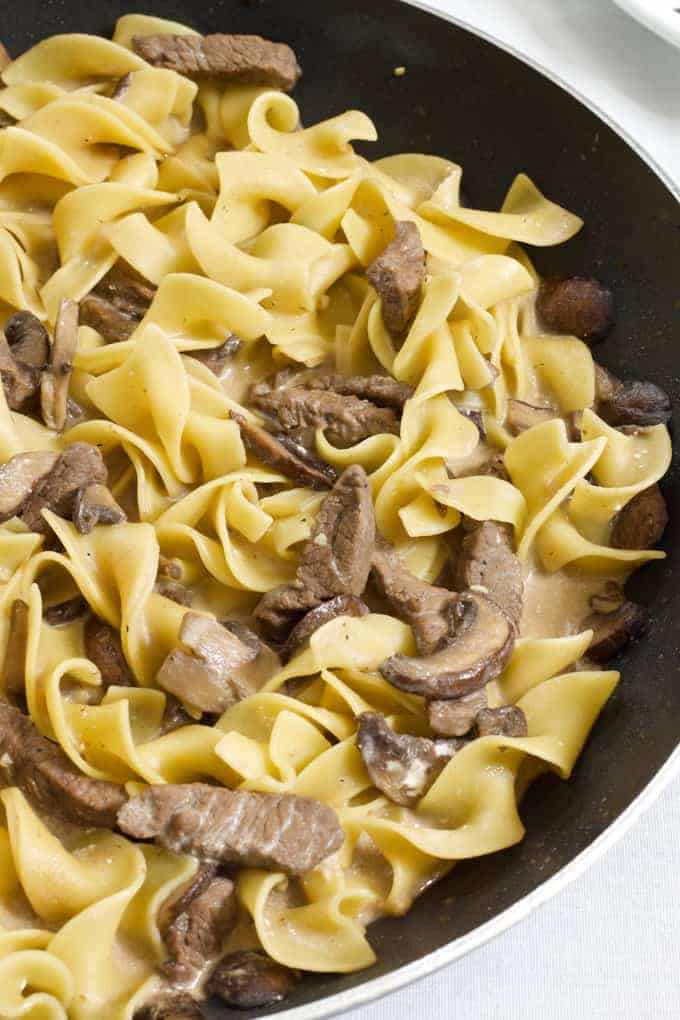 Some other one pot pasta dishes you might like!
Alfredo Chicken Pasta & Broccoli
Homemade Hamburger Helper Cheesy Italian Shells
Chicken Spinach Tortellini Alfredo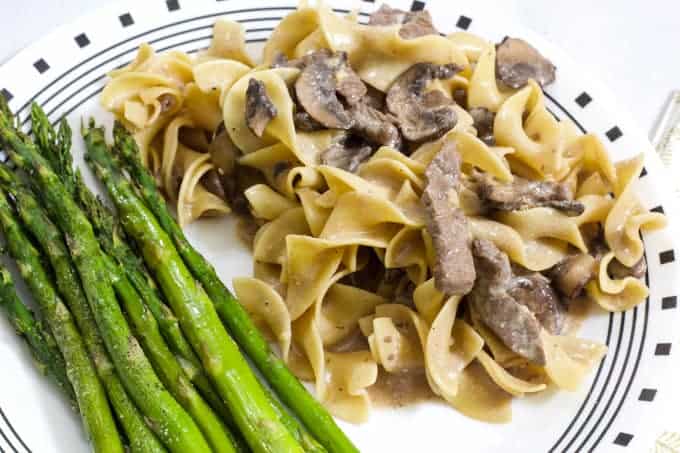 To make for easy menu planning I have five weeks of dinners written down on a list, separated by week. Five weeks in all.
When it comes time to make the weekly grocery list I use my master menu and make everything on the list for that week.
Occasionally we do change it up if I want to make something for the blog or try a new recipe.
I try to make at least one or two new recipes a month so we have more variety.
We also find some new dishes that we really love to add to our menu. Eventually I will add a sixth week to our menu rotation.
This has helped us to lose weight while still eating healthy and delicious meals.
This dish is on that rotation.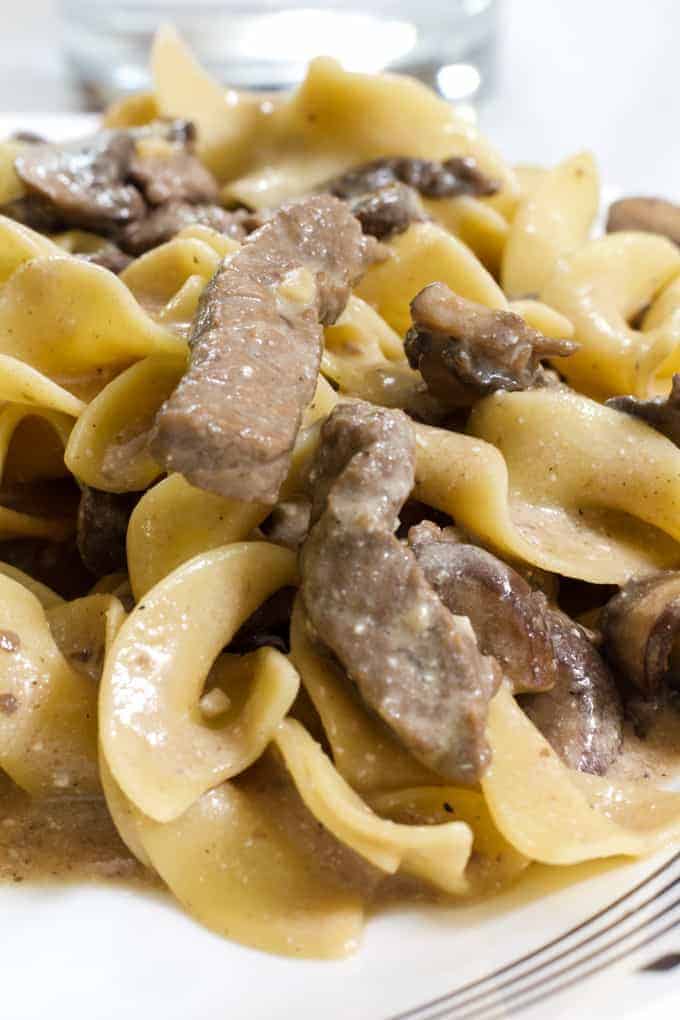 So I researched noodles to make this as healthy as possible.
Yes, we eat pasta once a week, potatoes a couple times a week, and rice once a week, most weeks, and have still lost weight!
And a significant amount of weight. About thirty-five pounds for me, and about twenty-five for Lee, since March of this year.
Everything in moderation works very well for us.
So the kind of noodles I found to be the best in this dish is Ronzoni Smart Taste Extra Wide Noodles.
We eat whole wheat noodles in many dishes but I didn't want to use those in this dish.
Not only that but the Smart Taste noodles have 20 fewer calories, the same amount of fiber and slightly less fat than whole what noodles.
I use different pasta in different dishes to get different flavors.
So we buy regular, wheat, and Smart pasta. There is pasta made out of vegetables but we eat plenty of vegetables and find that it isn't necessary. We like to eat a well-rounded diet.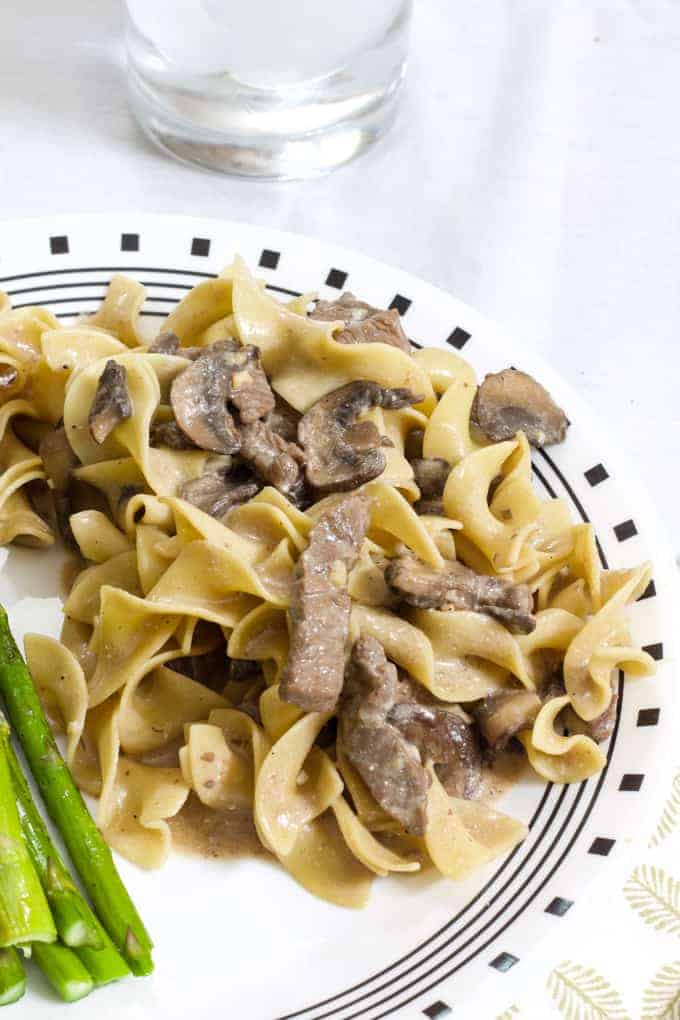 Did you know that the word Stroganoff means a dish in which the central ingredient, typically strips of beef, is cooked in a sauce containing sour cream?
We love sour cream! I buy the full fat and low fat varieties.
Lately we have been buying it in the handy dandy squeezable containers and I have't seen the low fat variety in those containers.
I have read that eating whole milk products is okay when trying to lose weight.
And I need the extra calcium and vitamin D because I am fifty-something, so most dairy we buy is made with whole milk.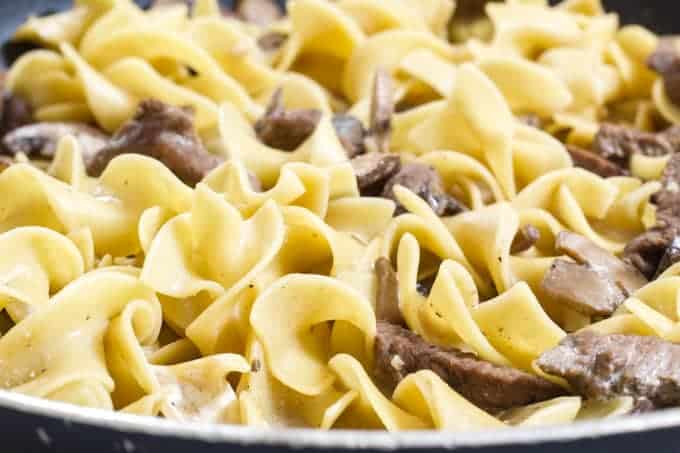 Follow us on social media!!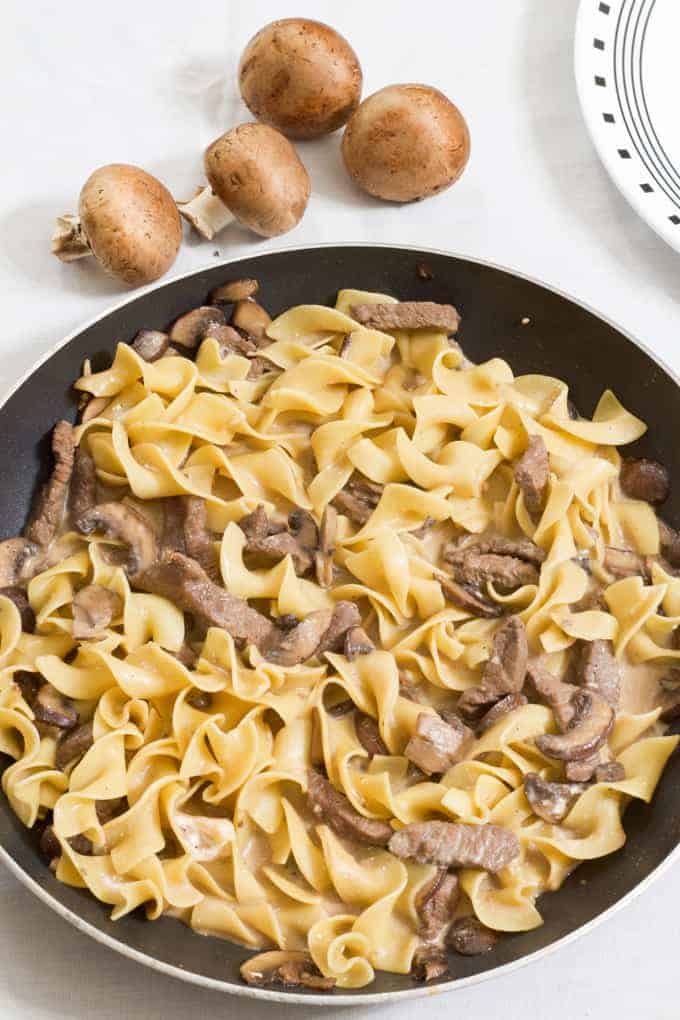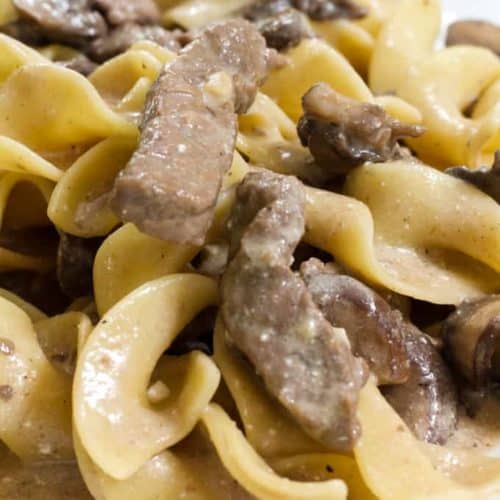 One Pan Beef Stroganoff
One Pan Beef Stroganoff features sirloin steak, egg noodles, beef broth and fresh mushrooms made in one skillet for quick and easy cleanup.
Ingredients
2

teaspoons

olive oil

1

pound

top sirloin

cut into bite-sized strips

1/2

teaspoon

salt

1/2

teaspoon

pepper

10

ounces

mushrooms

sliced

1

tablespoon

Dijon mustard

1

teaspoon

garlic

I use the kind in the jar

1/4

cup

white wine vinegar

or white wine

2

cans

beef broth

14.5 ounces each

8

ounces

wide egg noodles

about 4 cups

1/2

cup

sour cream
Instructions
Heat olive oil in a large skillet over medium-high heat.

Add beef, season with salt and pepper and cook until browned, stirring frequently, about 3 minutes.

Add mushrooms and cook for another 3 minutes. Add Dijon mustard and garlic and cook for 1 minute, stirring constantly. Add white wine vinegar and cook for 2 minutes.

Add beef broth and noodles, return to a boil, reduce heat to medium to medium low and simmer for 18 - 20 minutes, stirring occasionally, or until noodles are tender and the liquid is reduced

Reduce heat to low, add sour cream and cook until heated through.
Notes
We don't consume alcohol, but you can use white wine instead of white wine vinegar if you have it.
Nutrition Facts
Calories:
480
kcal
|
Carbohydrates:
46
g
|
Protein:
39
g
|
Fat:
15
g
|
Saturated Fat:
6
g
|
Polyunsaturated Fat:
2
g
|
Monounsaturated Fat:
5
g
|
Trans Fat:
0.04
g
|
Cholesterol:
131
mg
|
Sodium:
1242
mg
|
Potassium:
1006
mg
|
Fiber:
4
g
|
Sugar:
3
g
|
Vitamin A:
218
IU
|
Vitamin C:
1
mg
|
Calcium:
123
mg
|
Iron:
12
mg
This recipe is on the Good Housekeeping website.
I made it several times by pulling it up on the website and following the recipe. Apparently, there is a limit to how many times you can do that for free.
I went to pull it up again and couldn't access the website without paying for a subscription.
It is $20.00 for a year, which isn't too bad but I didn't want to do that so I had to recreate the recipe from memory and this is what I came up with.
Just know, the recipes on this blog will always be free!