Mashed Sweet Potatoes are healthful and tasty!
This recipe for Mashed Sweet Potatoes is super easy, and steaming them keeps their nutritional value. I just love potatoes of all kinds, sweet potatoes included.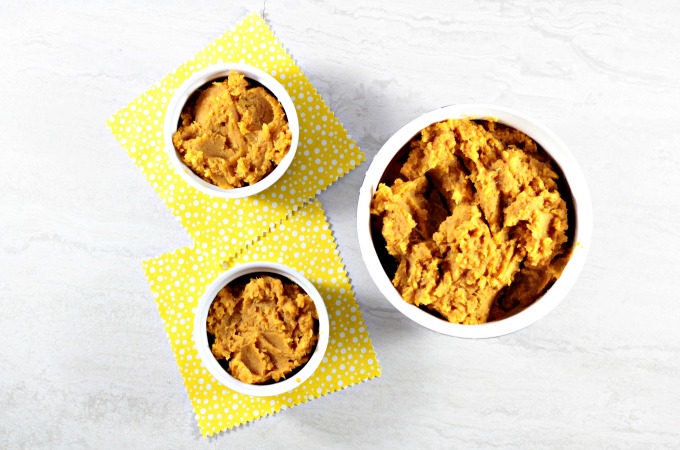 We used to only eat sweet potatoes over the holidays. When we started eating healthier I began making them to replace regular potatoes some of the time. I basically prepare them all the ways I prepare the white, red, and gold varieties; baked, twice baked, roasted, fried, and mashed.
If you are interested in learning about the health benefits of sweet potatoes there is a great article at World's Healthiest Foods.
I always mash the sweet potatoes by hand with a potato masher, instead of using the electric mixer. I just find that they have a little more body. And if there are little tiny chunks of sweet potatoes that don't get mashed all the way, that's fine.
Sweet potatoes are naturally sweet, but you can give them a different taste by using either sweet or savory ingredients. Some complimentary sweet ingredients include honey, brown sugar, cinnamon and marshmallows. Savory ingredients that pair well with sweet potatoes are garlic, chili powder, and cumin. Some dishes even combine the sweet and savory and they taste great.
Are you looking for other ways to prepare sweet potatoes? Try Ina Garten's Baked Sweet Potato Fries, Twice Baked Sweet Potatoes, or Fried Potatoes, Sweet Potatoes, and Beets.
Mashed Sweet Potatoes
Mashed Sweet Potatoes are flavored with honey, cinnamon, butter, milk, and salt. Just 6 ingredients. Great for Thanksgiving or any night of the week!
Ingredients
2

pounds

sweet potatoes

2

tablespoons

butter

1

tablespoon

milk

1

tablespoon

honey

1/2

teaspoon

cinnamon

1/2

teaspoon

salt
I earn a small commission from Instacart for qualifying purchases.
Instructions
Peel sweet potatoes, cut into 1" pieces.

In a medium saucepan with a steamer basket steam for 16-20 minutes or until tender.

Pour into a medium saucepan or bowl. Add butter, milk, honey, cinnamon, and salt; mash with a potato masher until smooth.
Notes
Sweet potatoes can be boiled instead of steamed. Put chopped sweet potatoes in a medium saucepan and cover with water about an inch over sweet potatoes. Boil until tender, approximately 12-15 minutes.
Follow us on social media!!
Pin this image for later!!