Spicy Grilled Pork Chops with Apple Salsa is a delicious and impressive dish!
I am super excited to finally post a pork chop recipe, and this Spicy Grilled Pork Chops with Apple Salsa will not disappoint!
And by spicy I mean flavorful, not hot.
My daughter loves pork chops, probably because she gets tired of always eating chicken.
We eat a ton of chicken, a little bit of beef, and little bit of pork.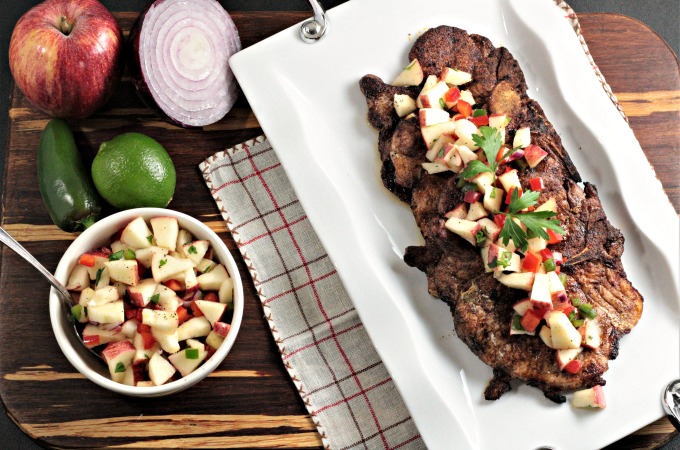 I adapted this recipe from Mel's Kitchen Cafe, where she uses this marinade on pork tenderloin.
She also has the apple salsa recipe that is from Cooking Light, that I found on myrecipes.
So, I thought I would credit them for the apple salsa.
Cooking Light has many healthy and delicious recipes, and they always come out really good.
Some of them are way better than I even expected them to be.
This is a beautiful dish and it tastes so good!
It is so flavorful and super quick, just a couple of minutes per side on the grill.
I make the marinade, score the fat on the chops, and marinade the meat while I make the salsa. It really comes together fast.
Speaking of scoring the fat on the chops; the picture below shows how to cut the fat on the edge of the pork chops.
You could cut the fat off completely, but I like the flavor it gives them.
So, you just use a very sharp knife and cut through the fat, just to the meat.
I'll admit, sometimes I cut into the meat a little, and that is okay.
When I was first learning to cook I made pork chops and I didn't know anything about scoring the fat.
Well, when the fat shrinks it makes the meat go into an odd shape, almost like a bowl.
Then all the surface doesn't touch the pan (or grill) and then it doesn't cook right, not to mention it isn't a pretty sight.
I was lucky enough to be at my sister-in-law's house when she was preparing pork chops and saw her do this.
Such an easy fix, but I am guessing I would have never figured this out on my own (thanks, Janet!).
Even scoring the fat, sometimes chops take on a weird shape when you cook them, so sometimes I use one of those cast iron weights to make sure they stay flat and cook right.
This marinade has cinnamon in it.
I have only used cinnamon in savory cooking a few times, but I find it gives the dish such depth of flavor.
To me, it really makes it seem like a gourmet dish.
For a different type of recipe using cinnamon in a savory way, check out this Skillet Beef Tagine with Spiralized Butternut Squash.
It is a quick and delicious dish that I found on myrecipes (also from Cooking Light) that I adapted to be quicker.
Spicy Grilled Pork Chops with Apple Salsa is delicious and impressive. Get the recipe!
Click To Tweet
These Super Easy Pan Fried Fresh Green Beans or Super Easy Pan Fried Fresh Brussels Sprouts would be a healthy, quick and easy vegetable to go with these Spicy Grilled Pork Chops with Apple Salsa.
Spicy Grilled Pork Chops with Apple Salsa
Spicy Grilled Pork Chops with Apple Salsa features marinated pork and an apple salsa made with fresh fruits and vegetables. Impressive and delicious!
Ingredients
For the pork chops:
2

tablespoons

olive oil

1

tablespoon

chili powder

1/2

teaspoon

cinnamon

1/2

teaspoon

salt

4

thin cut pork chops
For the salsa:
2

apples

I used Gala

1/2

cup

red bell pepper

1/8

cup

red onion

1

small jalapeno

1/2

cup

fresh cilantro or parsley

I prefer parsley over cilantro, but cilantro is popular in salsa

1/3

cup

freshly squeazed lime juice

1

tablespooon honey

1/4

teaspoon

salt

1/4

teaspoon

pepper
I earn a small commission from Instacart for qualifying purchases.
Instructions
Preheat grill to 350° - 400°.

Mix olive oil, chili powder, cinnamon and salt in a small bowl.

Score fat on pork chops. Place pork chops and marinade in a zip top bag, let marinade while you make the salsa.

Chop apples, bell pepper, onion, jalapeno, and cilantro and place in a medium bowl, stir in lime juice, honey, salt and pepper.

Remove chops from marinade and discard leftovers. Grill chops about 2 minutes per side. Serve with Apple Salsa.
Notes
Work the marinade around the pork chops in the bag by turning the bag over, and rubbing marinade onto the meat. This was just enough marinade to cover the chops. If for some reason you don't have enough marinade to cover all of the pork chops then add a little more olive oil. I cut the apple last and then immediately pour the lime juice over it so the apple doesn't brown.
Follow us on social media!!
Pin this image for later!!