A few special ingredients makes this The Best Turkey BLT you will ever eat!
The Best Turkey BLT is the king of all sandwiches! I usually don't get so hyped up about a sandwich, but it has three different kinds of cheese!
That reason alone would make this a great sammie, but there's more. There's bacon on there!
I was inspired to make this sandwich after I ate one very similar to this, at a bar in downtown Wichita.
Many locals go to this bar just for their sandwiches.
I think most people that live in the area, and some out-of-towners as well, know this bar is famous for the yummy selection of sandwiches they have on their menu.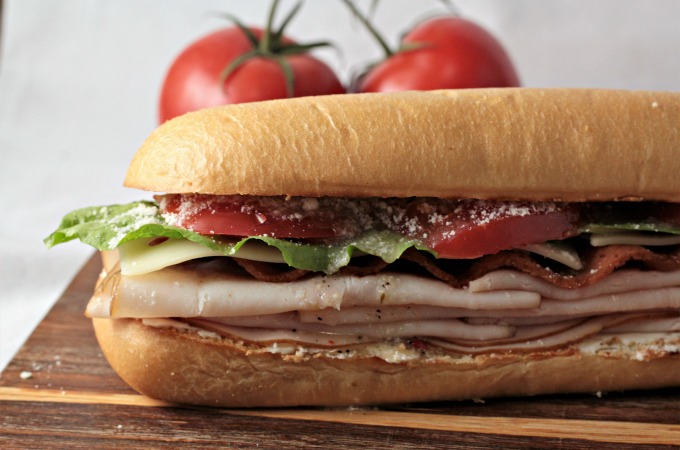 Is this not one of the most beautiful sandwiches you have ever seen?
Just wait until you eat one, then it will be one of the best you have ever eaten!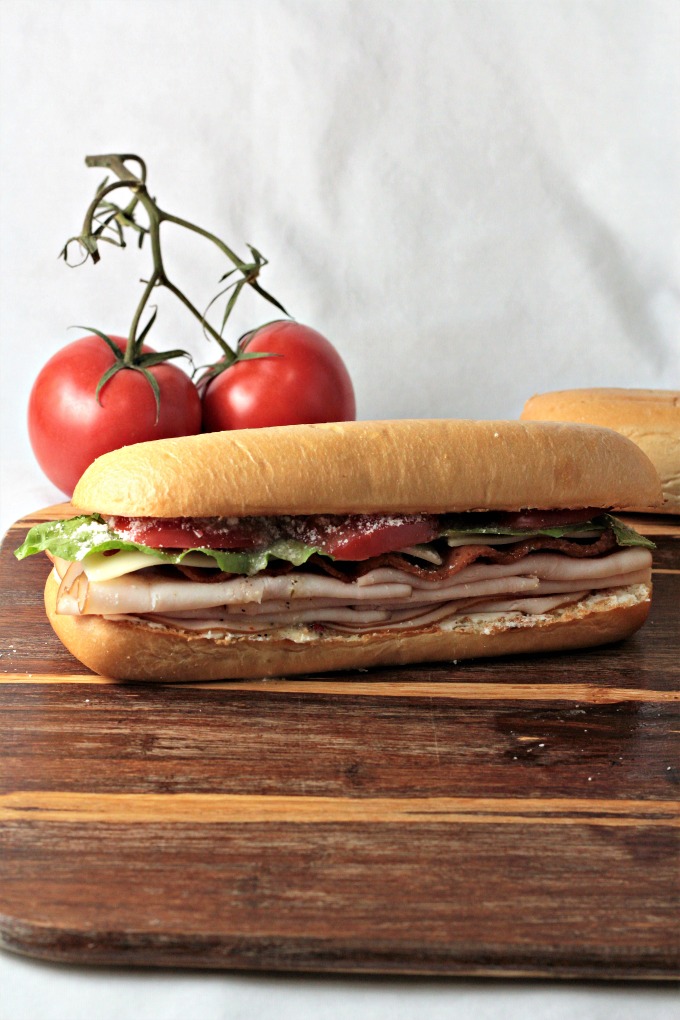 Now, I'm not usually a sandwich for dinner kinda girl, but The Best Turkey BLT is totally worthy of dinner.
It is also great for those nights when you are short on time and you can barely fit dinner in.
Or, if you just don't feel like cooking, or eating takeout. It would be great for lunch too, of course.
I sometimes just don't feel like cooking a whole big spread, and most nights I just want to get dinner done so I can get on with my evening.
At our house, we are all about not spending our evenings in the kitchen.
There are times when I like to be in the kitchen cooking for hours, and then there are times I am eager to just be done.
You get it, right?!
The recipe for The Best Turkey BLT you've ever eaten is right here!
Click To Tweet
Another dinner worthy sandwich is this Arby's Grilled Chicken & Pecan Salad (Copycat) or this Grilled Turkey Avocado Ranch Cream Cheese Sandwich.
The Best Turkey BLT
Turkey BLT features bacon, lettuce, tomato, Swiss cheese, cream cheese, Parmesan cheese, and Italian dressing on a hoagie bun. Simply the best Turkey BLT!
Ingredients
4

hoagie rolls

4

ounces

cream cheese

softened

32

pieces

thinly sliced deli turkey

8

strips bacon

cooked

4

slices

Swiss cheese

cut in half

4

leaves

Romaine lettuce

12

slices

tomato

4

tablespoons

Creamy Italian Dressing

2

tablespoons

grated Parmesan cheese
Instructions
Cut hoagie rolls in half. Warm a nonstick skillet or griddle over medium high heat. Spray with cooking spray, place rolls, cut side down, and cook until toasted, about 3-4 minutes.

For each sandwich; spread 1 ounce cream cheese on bottom roll, place 8 slices turkey, 2 strips bacon, 1 slice Swiss cheese, 1 lettuce leaf, 3 slices tomato, 1 tablespoon

Creamy Italian dressing

, and 1/2 tablespoon Parmesan cheese.
Notes
I use the kind of grated Parmesan cheese that comes in the shaker container that you buy on the pasta aisle. For the cream cheese; cut the brick in half and then cut the half into fourths and you will have one ounce for each sandwich.
Follow us on social media!!
Pin this image for later!!