Blueberry Almond Baked Oatmeal is a healthy breakfast casserole!
Blueberry Almond Baked Oatmeal is easy and full of healthful ingredients like oats, almonds, blueberries, unsweetened applesauce and eggs.
Follow us on social media!!
We love oats at our house and eat them several times a week.
They can be prepared in different ways, we have oats cooked on the stove top, baked oats, and overnight oats.
We use them in lots of baked goods, too!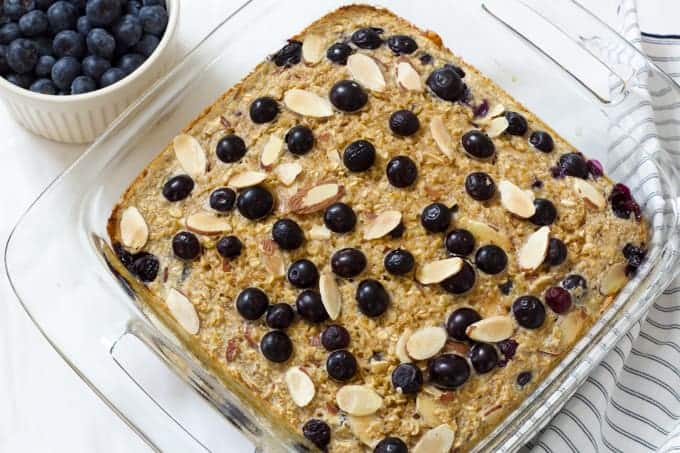 Oats are gluten free and very nutritional.
The soluble fiber in oats supports a healthy gut.
Now I don't know a whole lot about it, but I am always hearing about gut health.
Mostly from people trying to sell me supplements and other products, but gut health is important.
I am not big on taking stuff, so if I can get it in food then I'm in!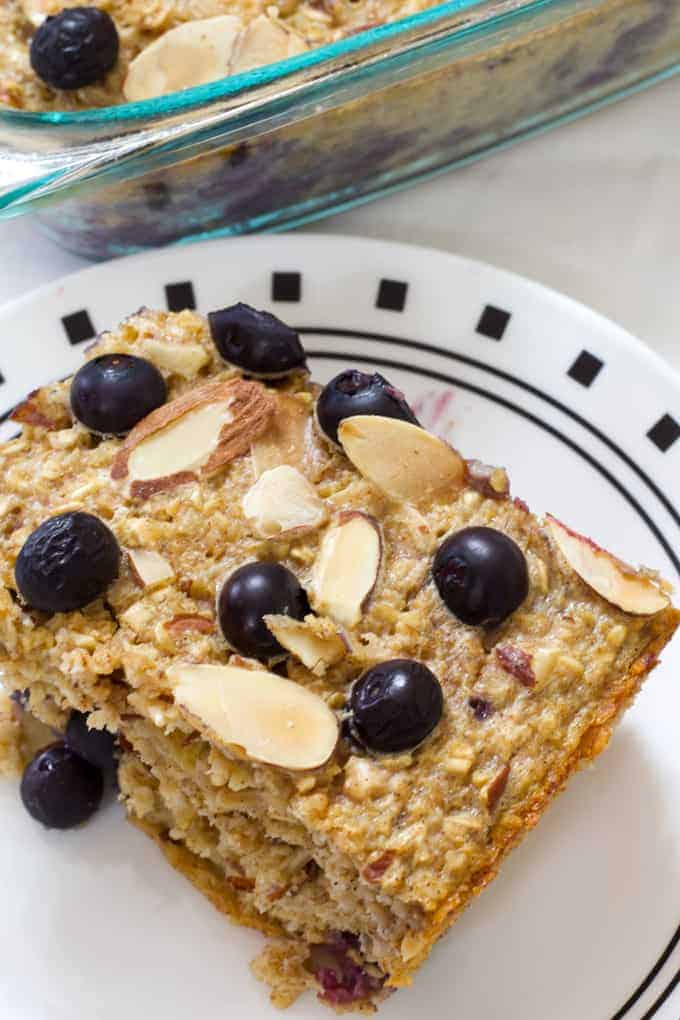 According to Nourish by WEbMD studies have shown that the beta-glucan in oats may be linked to lowering cholesterol.
Oats are also high in antioxidants called avenanthramides, these are antioxidants that reduce inflammation and relax arteries, improving heart health.
Avenanthramides are not found in any other cereal grains.
Certain oats can keep blood sugar from rising after a meal, not instant oats though, just the old-fashioned variety.
This is the kind we eat most often.
But I always keep both types in the pantry.
You can swap out the quick oats for old-fashioned oats in this recipe, if you like.
Fiber rich foods such as oatmeal will help you feel full longer and could lead to less eating overall.
We have been able to lose weight while eating oats regularly.
I put fruit in them a lot!
We like chopped apples, fresh blueberries, and frozen peaches, cherries, and mixed berries.
One of these days I will try a savory oatmeal recipe, but I haven't yet.
Tips for making a new recipe:
When I make a new recipe I write it out on paper first.
If I am using someone else's recipe then I read through the entire recipe, I don't want any surprises.
At this time I will preheat the oven, if necessary.
Then I gather all of the equipment needed, I will go ahead and prepare the pan if needed.
I set all the ingredients out on the counter.
Then I measure all of my ingredients so that when it is time to start preparing the dish everything is right there ready.
If the ingredients are refrigerated then I just get the amount I need for the recipe.
Follow us on social media!!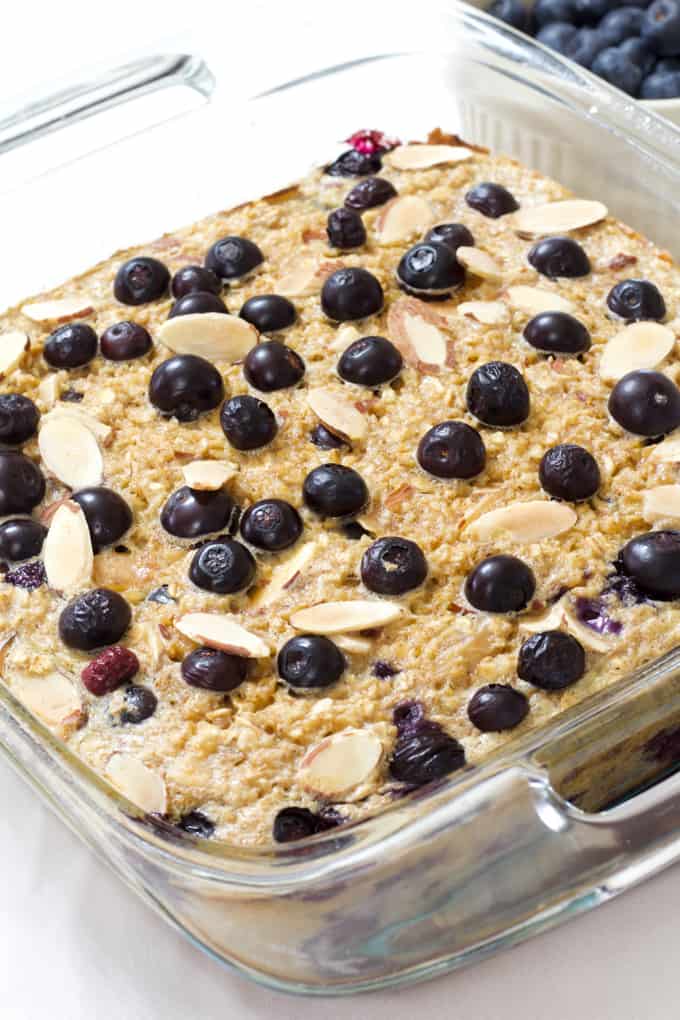 How to personalize this Blueberry Almond Baked Oatmeal recipe:
Make this recipe using your favorite fruit and nuts.
There are no rules, really.
Just about any fruit will cook in the amount of time it takes to cook the oats.
Use whatever type of milk you like, soy, almond, lowfat , 1% or even flavored milk such as chocolate or strawberry.
Another swap you can make is the sweetener. We use maple syrup, you can use granulated sugar, brown sugar, Stevia or Sweet N' Low.
Some baked good recipes that have oats that you might like:
Double Chocolate Banana Oatmeal Muffins
BIG Oatmeal Chocolate Chip Cookies
Chocolate Chocolate Chip Oatmeal Bars
Oatmeal Cake with Coconut Pecan Topping
Simple Peach Cranberry Crumble
Some other breakfast recipes featuring oats you might like:
Chocolate Banana Nut Baked Oatmeal
Peach Strawberry Oatmeal Smoothie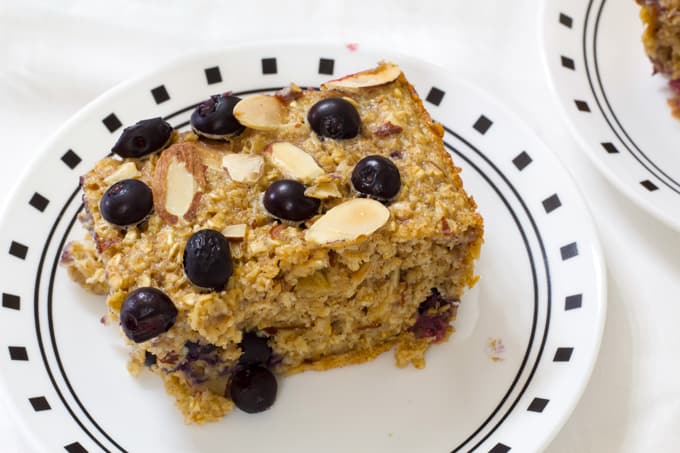 Follow us on social media!!
Blueberry Almond Baked Oatmeal
Blueberry Almond Baked Oatmeal is easy and full of healthful ingredients like oats, almonds, blueberries, unsweetened applesauce and eggs.
Ingredients
2 1/2

cups

quick cooking oats

1/2

cup

sliced almonds

plus additional

2

teaspoons

cinnamon

1

teaspoon

baking powder

1/4

teaspoon

salt

2

cups

milk

2

eggs

1/4

cup

maple syrup + additional for drizzling

not pancake syrup

1/4

cup

unsweetened applesauce

1

teaspoon

vanilla

1 1/2

cups

fresh blueberries

divided
Instructions
Preheat oven to 350. Spray an 8" X 8" pan with cooking spray.

In a large bowl combine oats, almonds, cinnamon, baking soda and salt. Add milk, eggs, 1/4 cup maple syrup, applesauce, and vanilla and mix until combined. Stir in 1 cup blueberries. Top with remaining blueberries and a tablespoon or two almonds.

Bake until edges begin to brown and a toothpick inserted into the center comes out clean. Cool slightly before serving. Drizzle with additional maple syrup, if desired.
Nutrition Facts
Calories:
373
kcal
|
Carbohydrates:
47
g
|
Protein:
13
g
|
Fat:
16
g
|
Saturated Fat:
3
g
|
Polyunsaturated Fat:
4
g
|
Monounsaturated Fat:
8
g
|
Trans Fat:
1
g
|
Cholesterol:
63
mg
|
Sodium:
226
mg
|
Potassium:
456
mg
|
Fiber:
7
g
|
Sugar:
18
g
|
Vitamin A:
236
IU
|
Vitamin C:
4
mg
|
Calcium:
231
mg
|
Iron:
3
mg
Recipe adapted from eatwell101.com.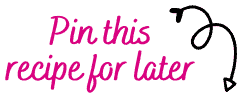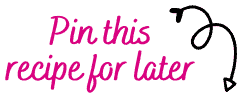 Follow us on social media!!