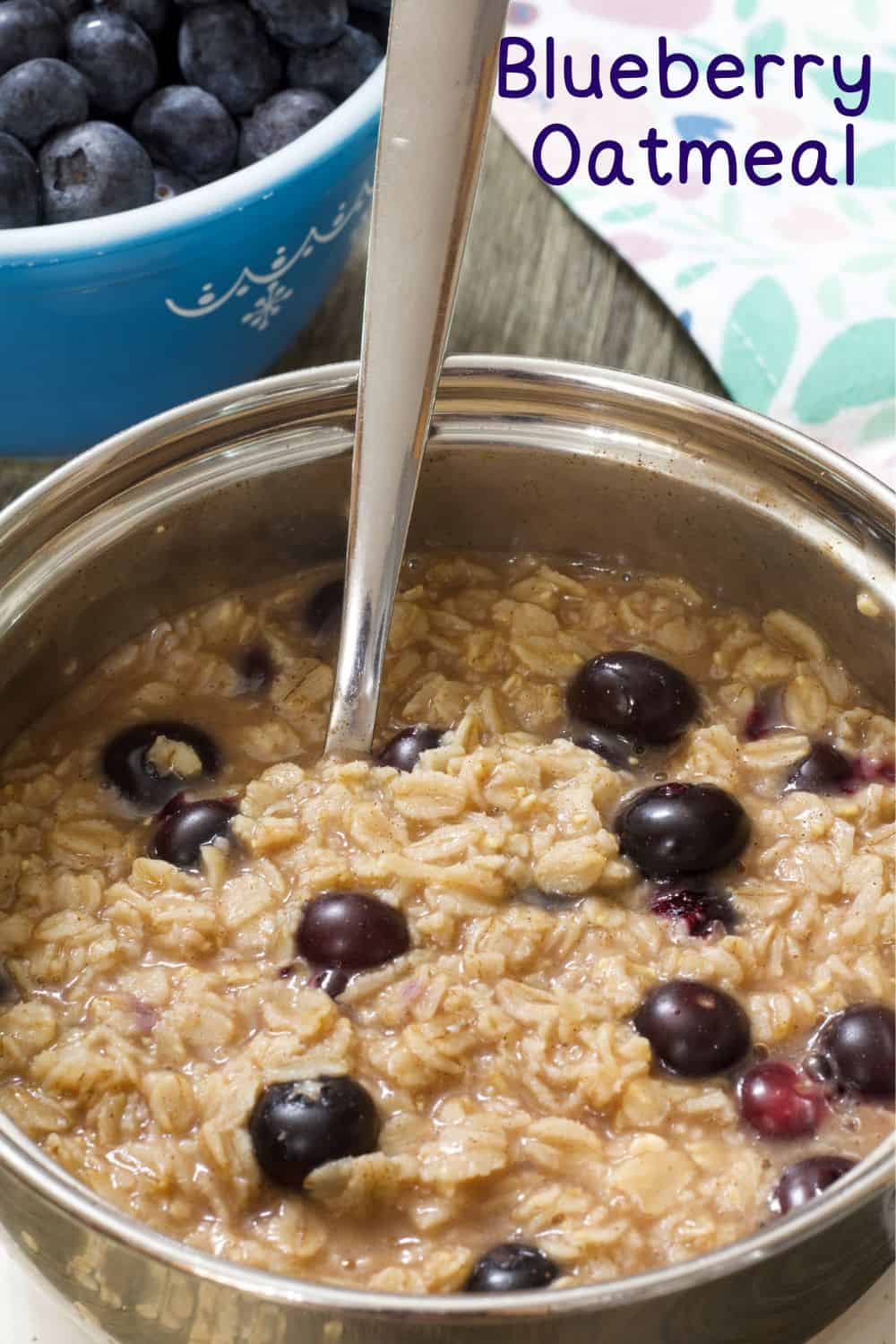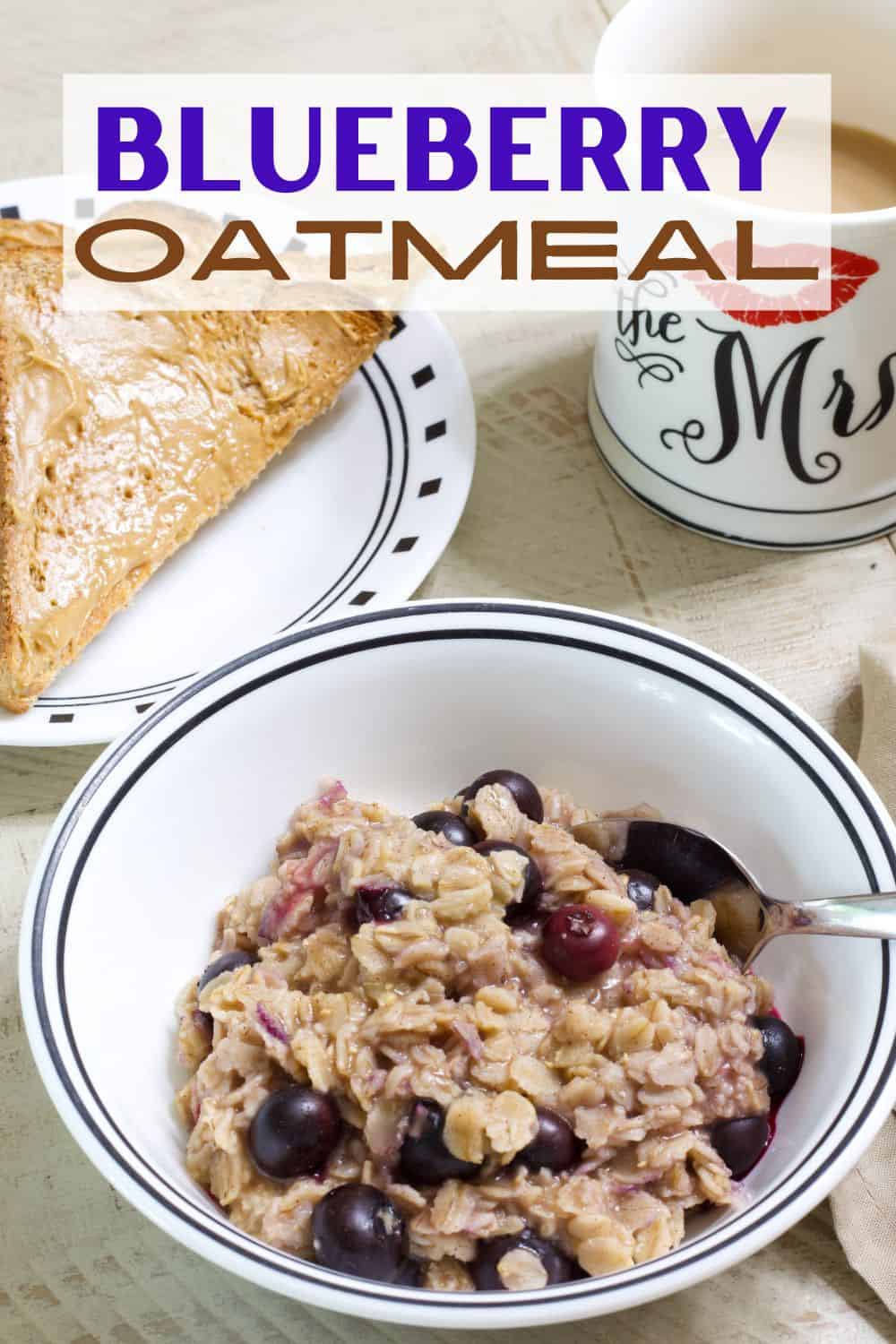 My easy Blueberry Oatmeal recipe is a quick, hearty and healthy breakfast. We eat a lot of oatmeal because it is so versatile. You can make stovetop oatmeal, baked oatmeal, overnight oats, or make them in the crock pot.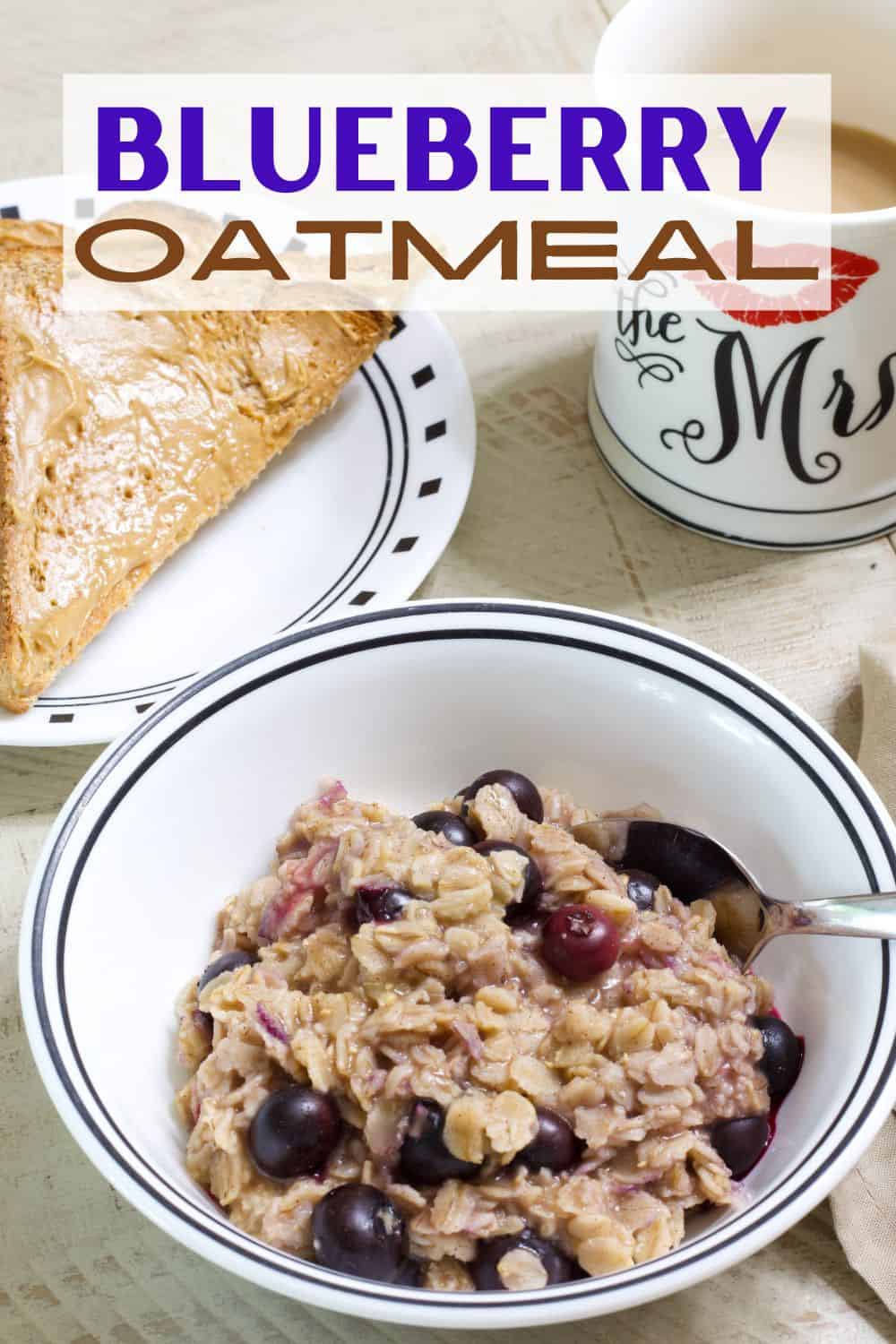 We always keep old-fashioned rolled oats and quick oats in the pantry. We eat them for breakfast a lot and we love using them in baked goods too.
For this particular recipe we use fresh blueberries. We have been lucky enough to easily find them at the store lately. There was a time a few months ago that we had to go to several stores to find them.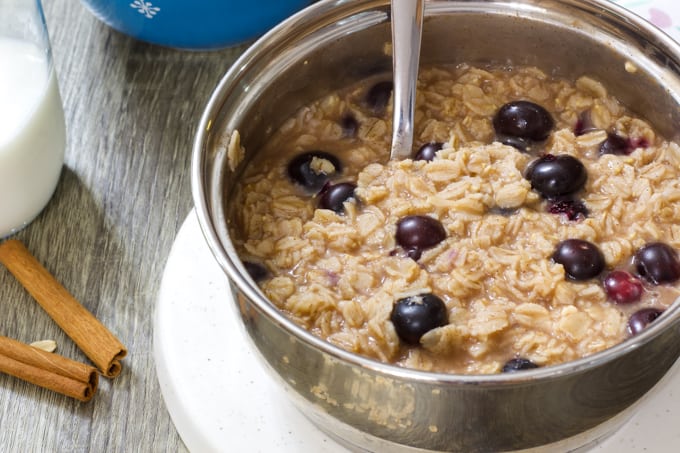 Ingredient List:
Old Fashioned Rolled Oats – you can use quick cooking oats for this. Just adjust the cooking time accordingly.
Blueberries
Maple Syrup – one tablespoon adds just the right amount of sweetness.
Cinnamon
Milk – for serving.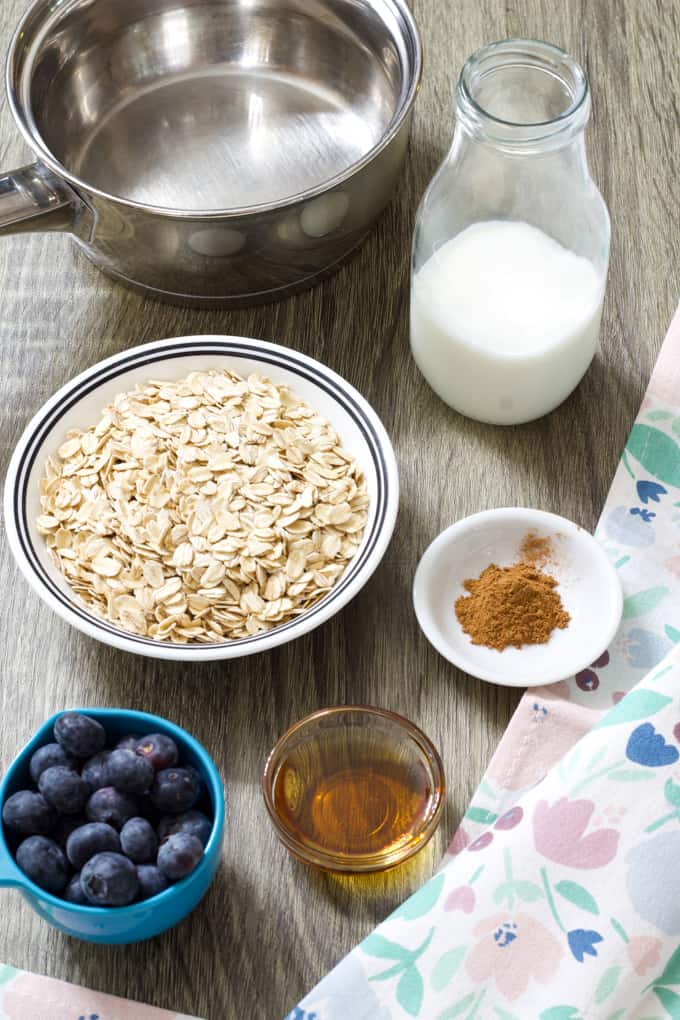 How to make:
Bring water to a boil in a small saucepan over high heat.
Add oats, maple syrup and cinnamon, reduce heat to medium – medium high. Cook 5 minutes, stirring occasionally, adding the blueberries in for the last 1-2 minutes.
Divide between two bowls and top with milk, if desired.

Why are oats so good for us?
They are 100% whole grain with minimal processing.
The health benefits of eating oats include lower blood sugar and cholesterol levels, protection against skin irritation, and reduced constipation.
They are very filling and have many properties that should make them a food helpful for weight loss.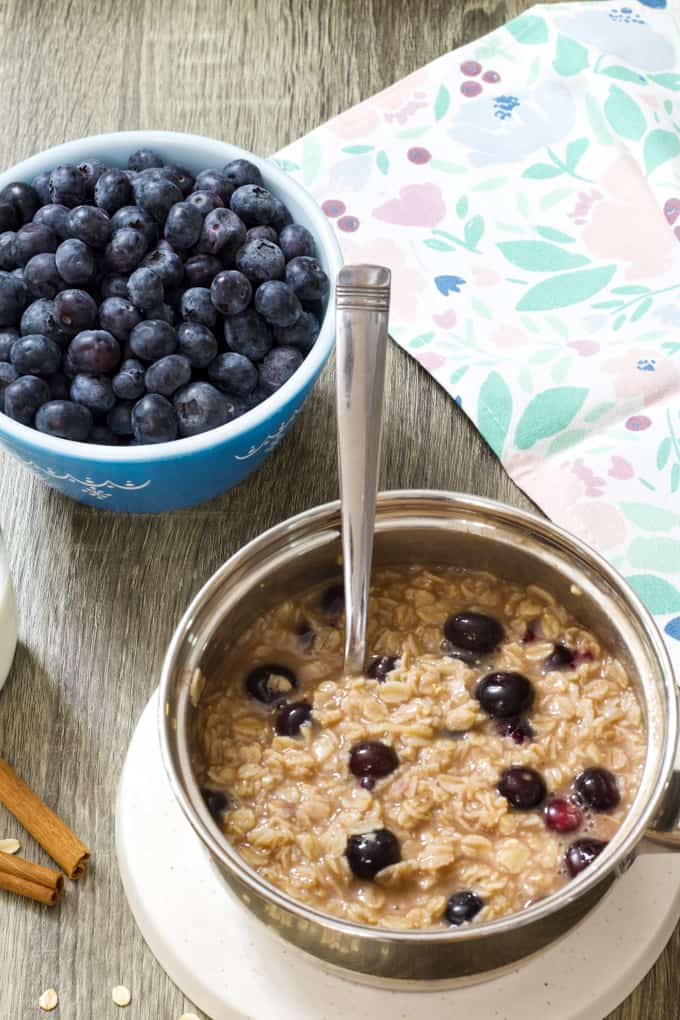 Tips & Tricks
Adding the blueberries in the last minute or two of cooking will allow them to stay plump and juicy. You can add them in with the cinnamon and maple syrup, this will cook the berries more and the juice will get into the oats more leaving you with purple oatmeal. We like it both ways!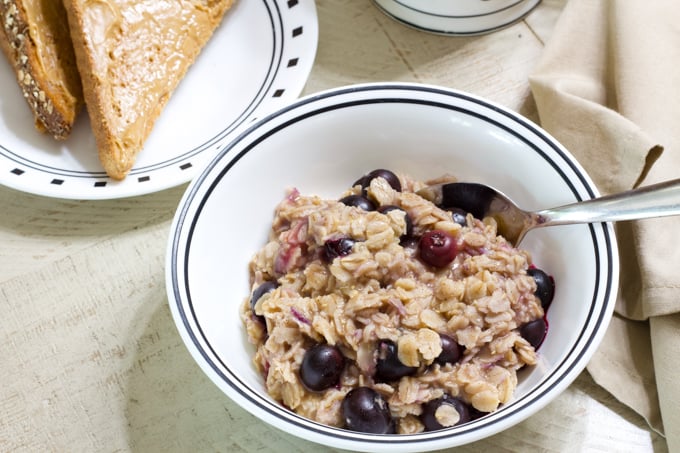 Substitutions & Additions
Instead of maple syrup:
a couple teaspoons sugar or brown sugar
a tablespoon of honey
a sugar substitute such as Stevia or Sweet N' Low
Substitute the blueberries for just about any other fresh berries or one mashed banana.
Use your favorite type of milk. Soy milk, almond milk, oat milk or lactose free milk are all great options.
Additions:
pinch of salt
a splash of vanilla extract
chia seeds, about a tablespoon or so
a couple of teaspoons of butter
a couple of tablespoons of almond butter or peanut butter
top the bowl with extra blueberries
add a drizzle of maple syrup or a little honey to each serving for a little extra sweetness
sliced almonds, walnuts or pecans would be a great addition to this dish and would add nutrition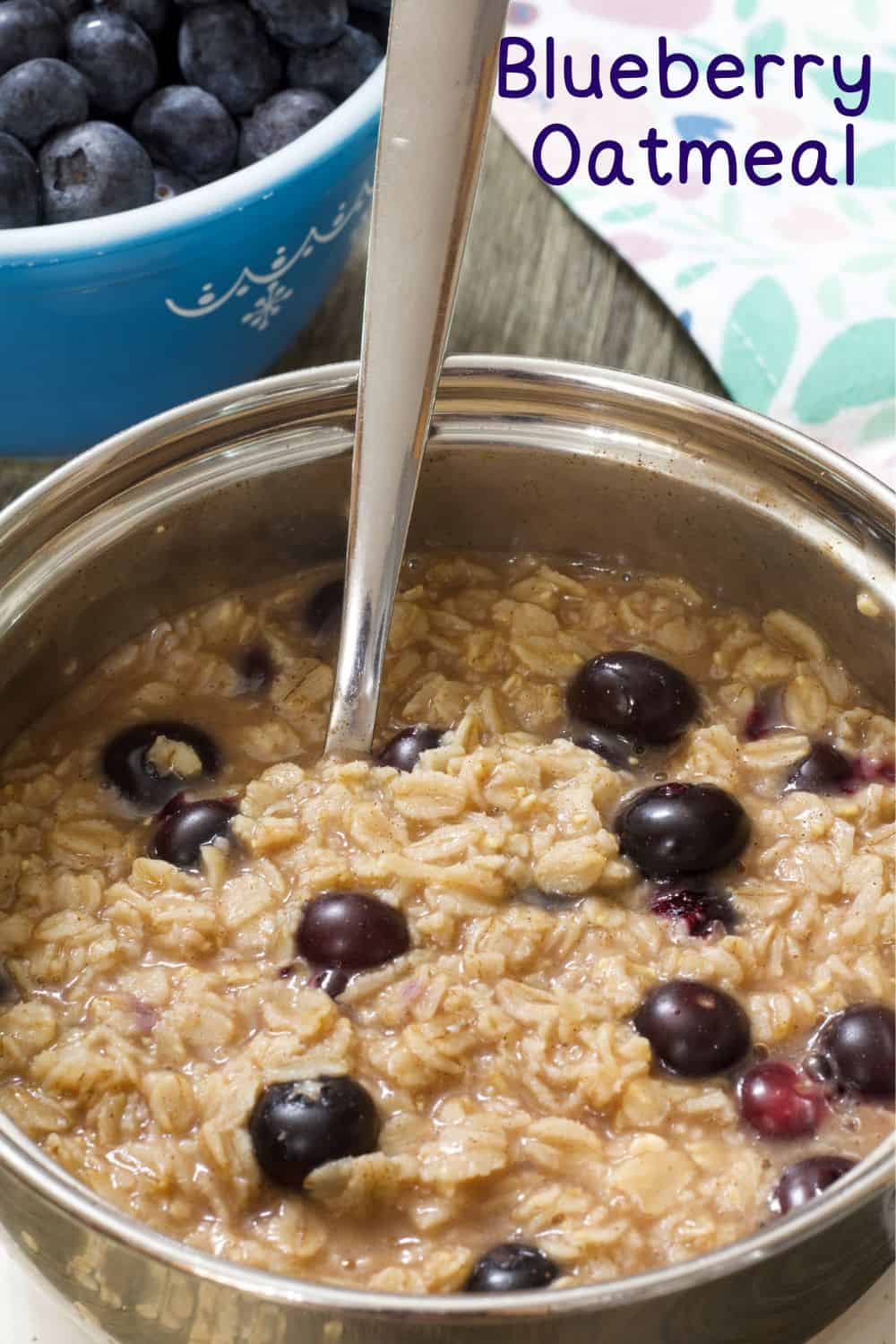 More easy recipes:
Simple Apple Cinnamon Oatmeal – this is very similar to this recipe because it is ready in less than 10 minutes too!
Almond Joy Overnight Oats – these are great if you like to meal prep.
Baked PB&J Oatmeal Cups – this is a delicious baked oatmeal recipe that is great for the kids.
Chocolate Banana Nut Baked Oatmeal -this makes a great breakfast but is a sweet treat so it can also be a healthy dessert.
Blueberry Almond Baked Oatmeal – this is one of my personal favorites!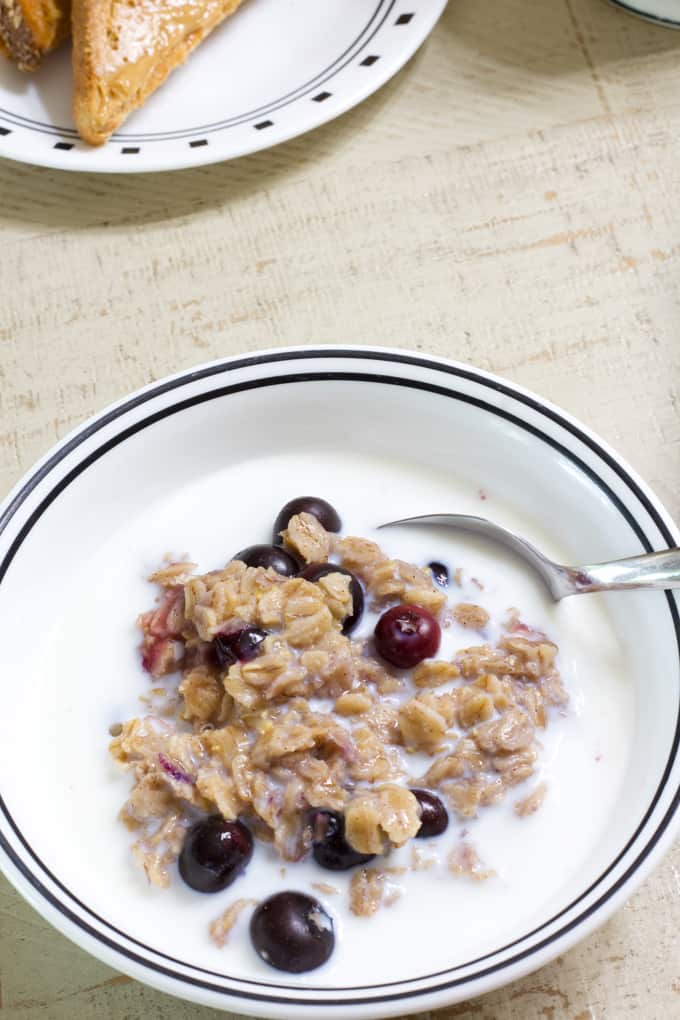 We hope you like this easy and delicious Blueberry Oatmeal recipe as much as we do. It makes a yummy and filling breakfast and the best part is that it can help contribute to healthy eating.
Follow us on social media!!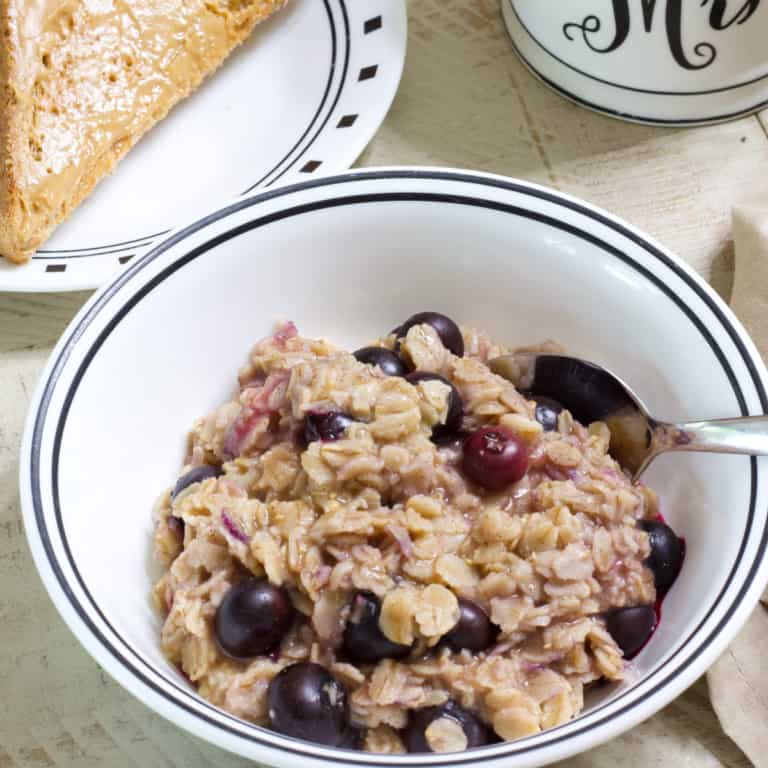 Easy Blueberry Oatmeal
Easy Blueberry Oatmeal Recipe is a healthy, quick, high nutrient, low calorie breakfast. Perfect for weight loss or a healthy meal plan.
Ingredients
1 3/4

cup

water

1

cup

oatmeal

old-fashioned

1

tablespoon

pure maple syrup

not pancake syrup

1/2

teaspoon

cinnamon

1/2

cup

fresh blueberries

milk

for serving
Instructions
Bring water to a boil in a small saucepan over high heat.

Add oats, maple syrup and cinnamon. Return to a boil then lower to medium to medium-high heat; cook 5 minutes stirring occasionally. Add blueberries for the last 1 minute.

Divide into 2 bowls and serve with milk, if desired.
Nutrition Facts
Calories:
199
kcal
|
Carbohydrates:
39
g
|
Protein:
5
g
|
Fat:
3
g
|
Saturated Fat:
1
g
|
Polyunsaturated Fat:
1
g
|
Monounsaturated Fat:
1
g
|
Sodium:
12
mg
|
Potassium:
193
mg
|
Fiber:
5
g
|
Sugar:
10
g
|
Vitamin A:
21
IU
|
Vitamin C:
4
mg
|
Calcium:
44
mg
|
Iron:
2
mg