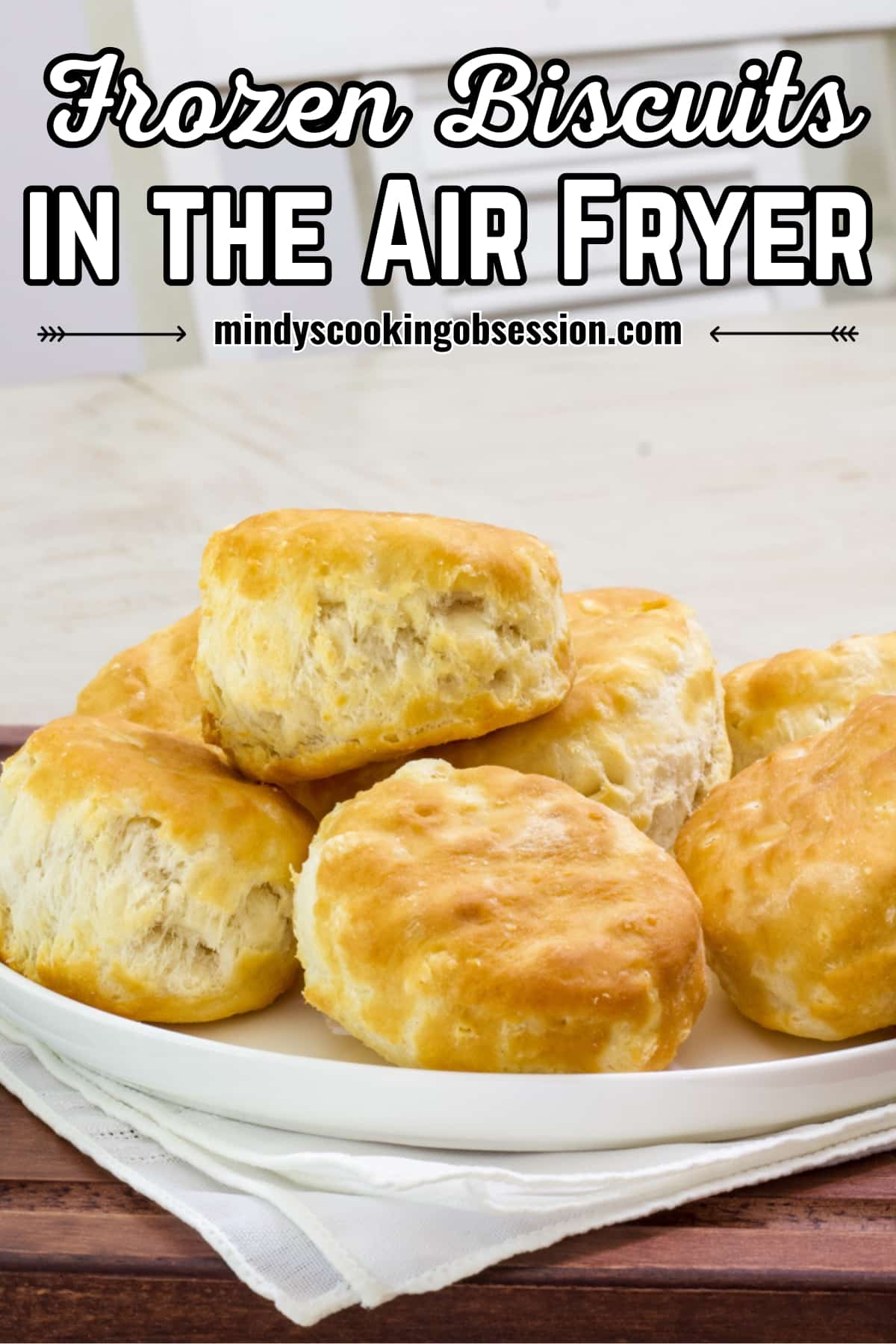 Cooking biscuits has never been easier! While we do love homemade biscuits there are some days we just don't have the time, or energy, to make them from scratch. Do you have those days too? Well you have come to the right place. It takes just a couple of simple steps and you too can have warm biscuits in just a few minutes.
There is absolutely nothing wrong with taking help from the grocery store to get a delicious and well rounded meal on the table in as little time as possible. If I didn't use ready made products like this we wouldn't eat near the variety of foods we do.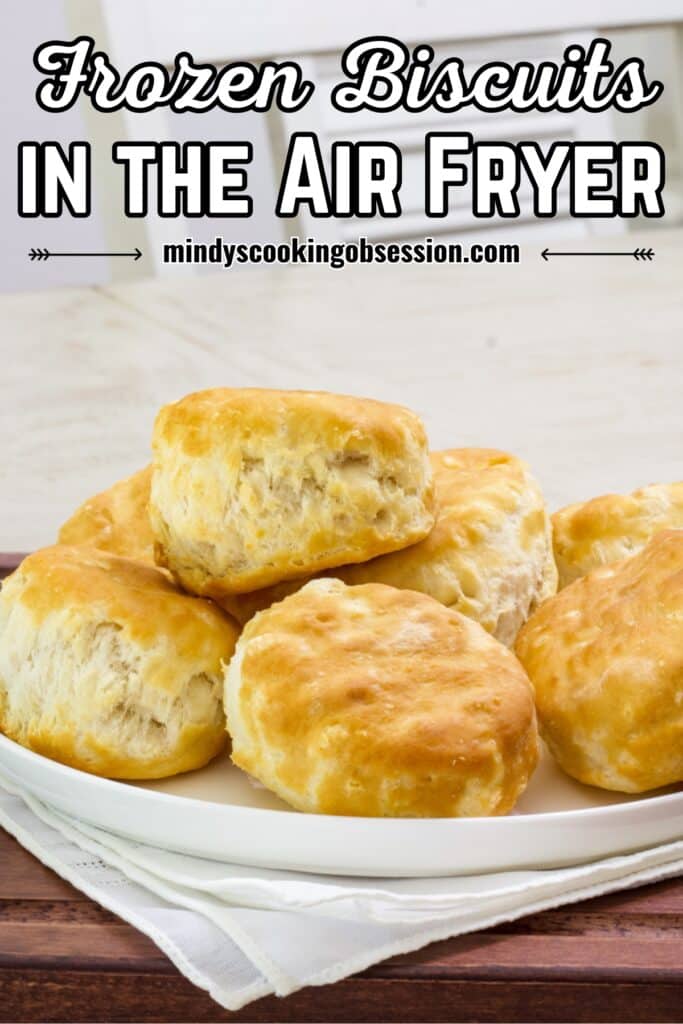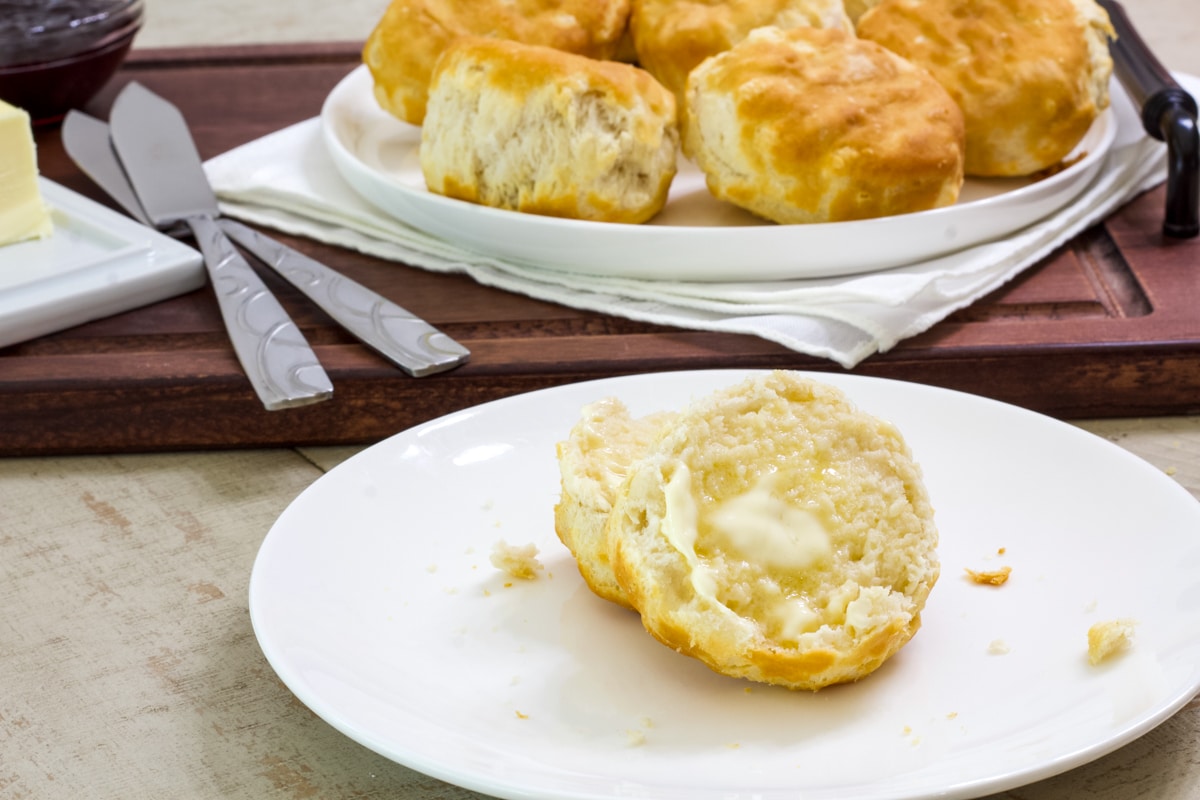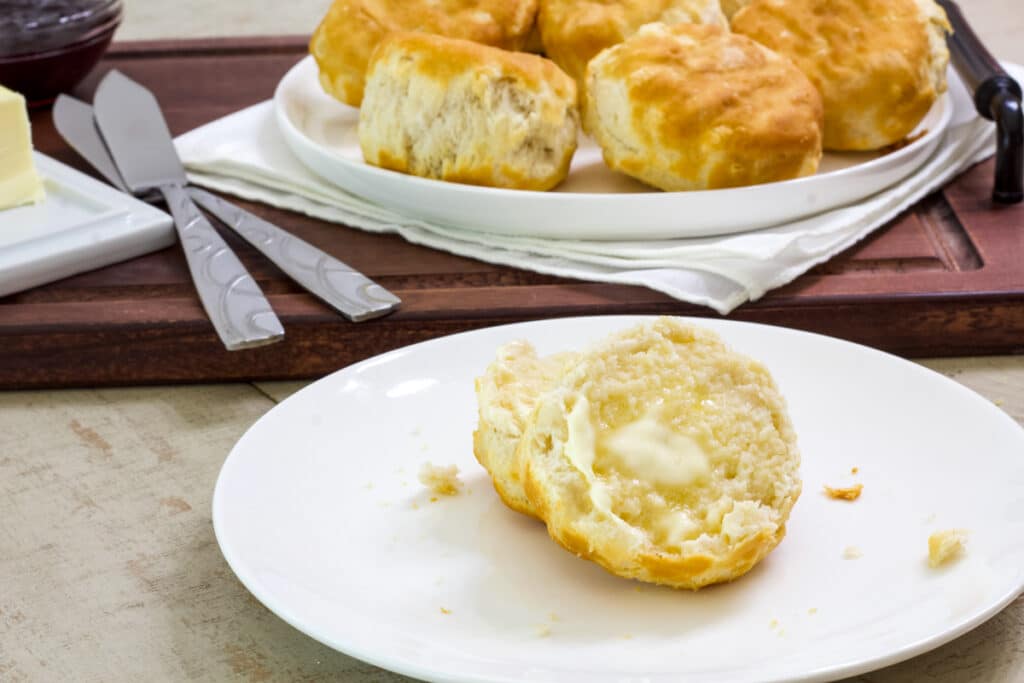 Why you'll love this air fryer biscuits recipe
Air frying frozen biscuits is quick and easy!
You can keep a bag of frozen Pillsbury Grands biscuits (or your favorite brand) in the freezer and make a large or small batch of biscuits any time you get a hankering for freshly cooked biscuits.
Biscuits make the perfect easy breakfast or easy side dish for any meal.
Can frozen biscuits be cooked in the air fryer?
Absolutely! Air-fried biscuits come out perfectly golden brown in less time than it takes in the regular oven. It is a great option too if you don't have enough space in the oven or are cooking something at a different temperature.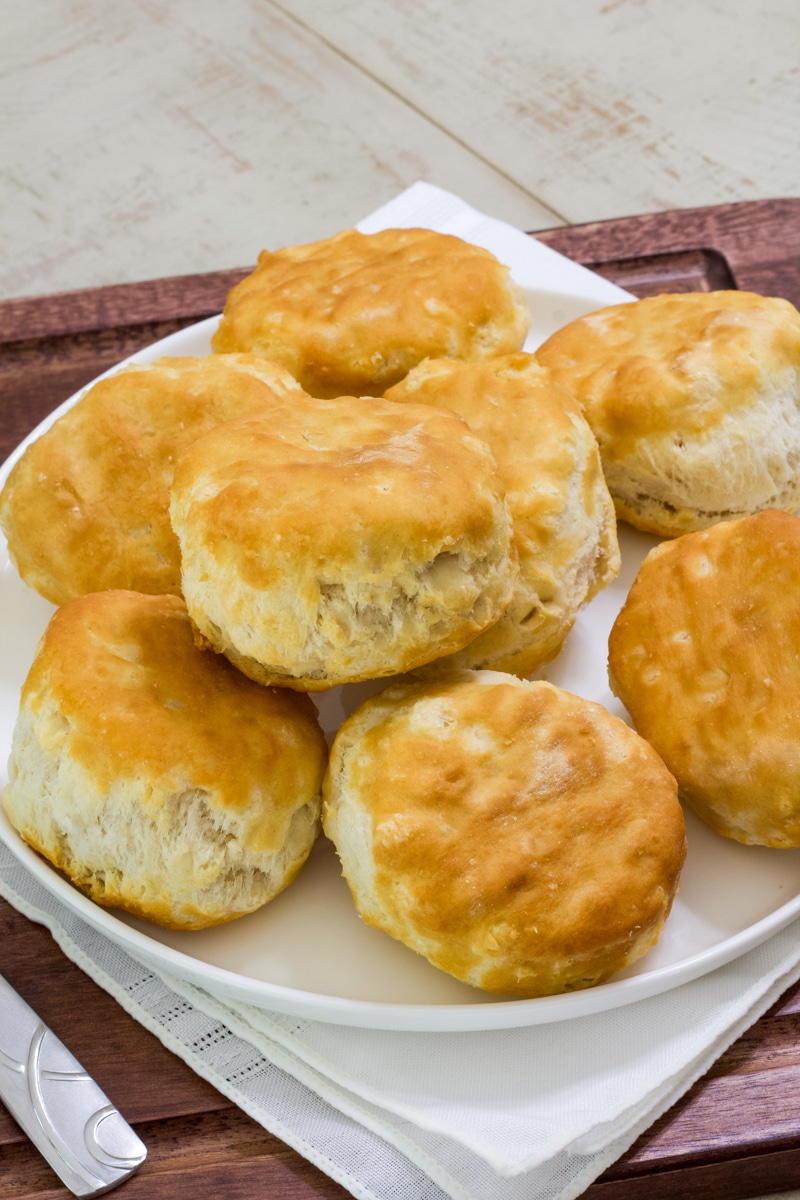 How long does it take to cook frozen biscuits in the air fryer?
It takes about 14 minutes of cook time to make 8 biscuits. We cook them 8 minutes on one side, flip them over and cook them another 6 minutes. This is much faster than the 22-30 minutes it takes in the oven. Plus you don't even have to wait for it to preheat!
What temperature do you cook frozen biscuits in the air fryer?
We like to cook them at 330 degrees f. In our air fryer this is the perfect temperature so that our biscuits are cooked on the inside while leaving the outside of the biscuits a nice golden brown.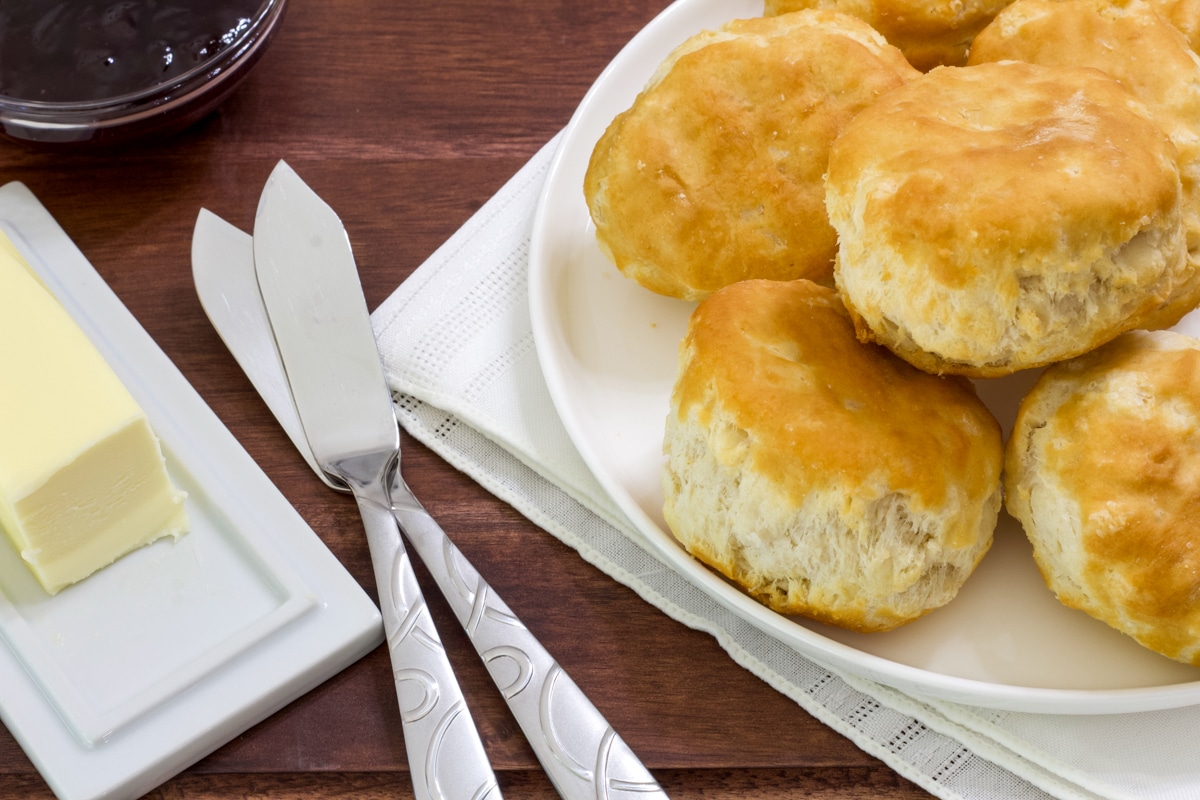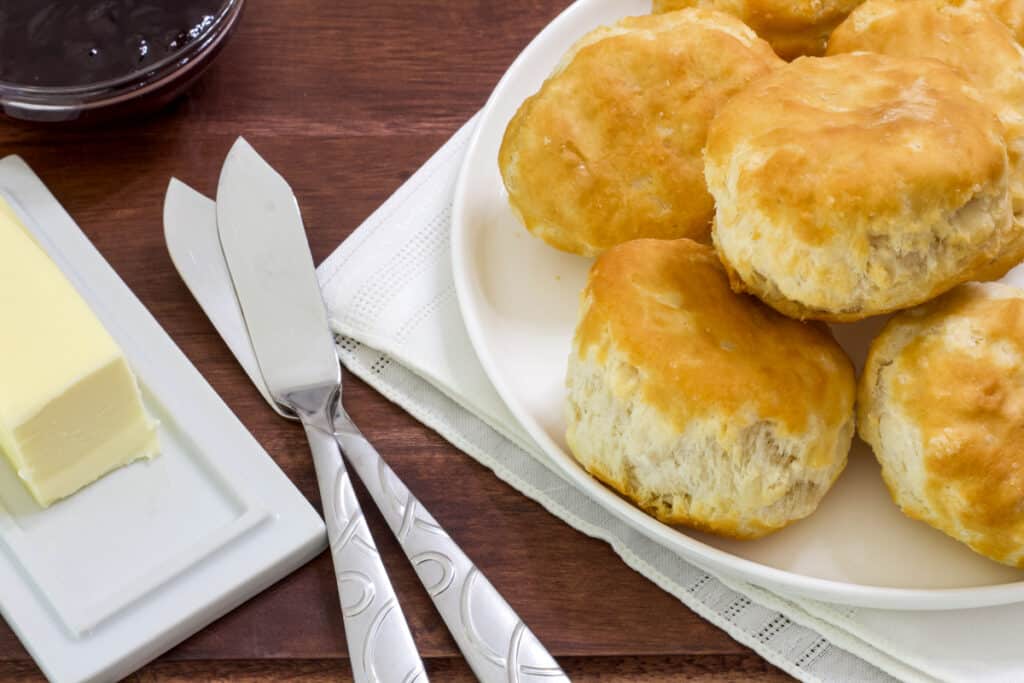 How to make air fryer buttermilk biscuits
Spray the air fryer basket liberally with nonstick cooking spray.
Add biscuits in a single layer, set temperature to 330° and set timer to 8 minutes, flip biscuits over and cook another 6 minutes.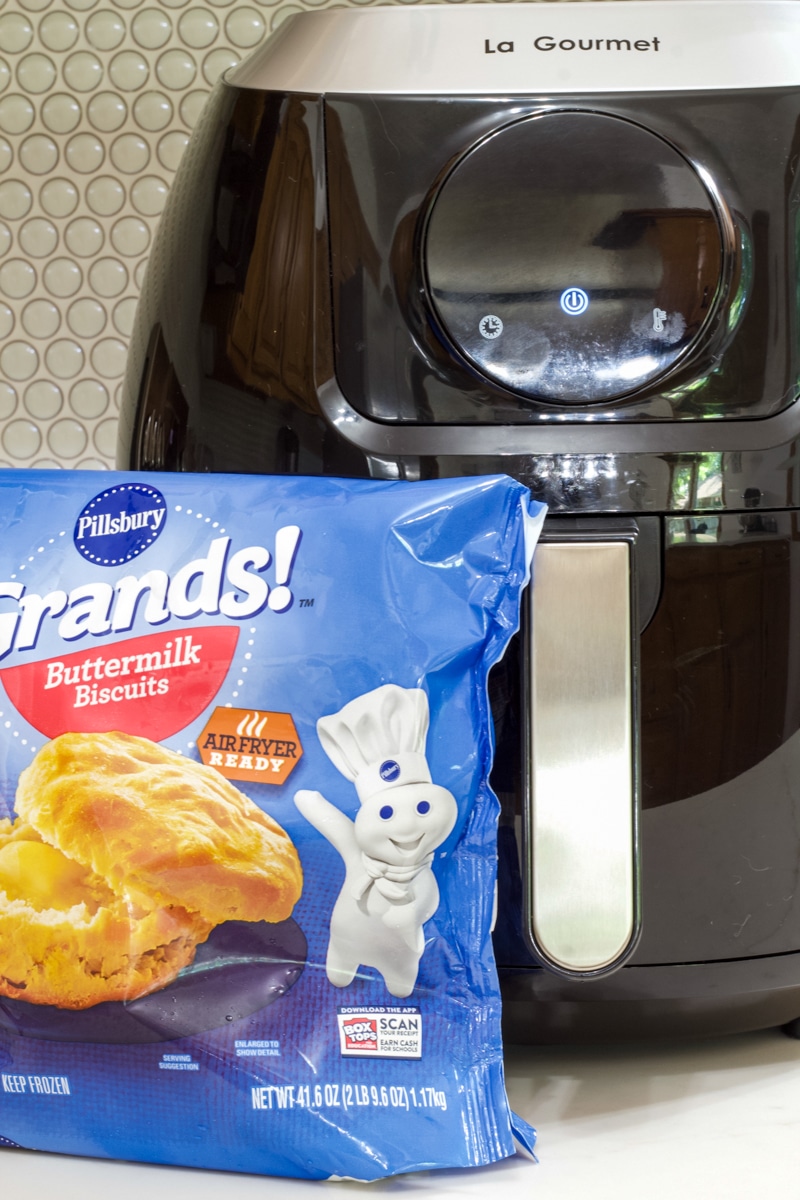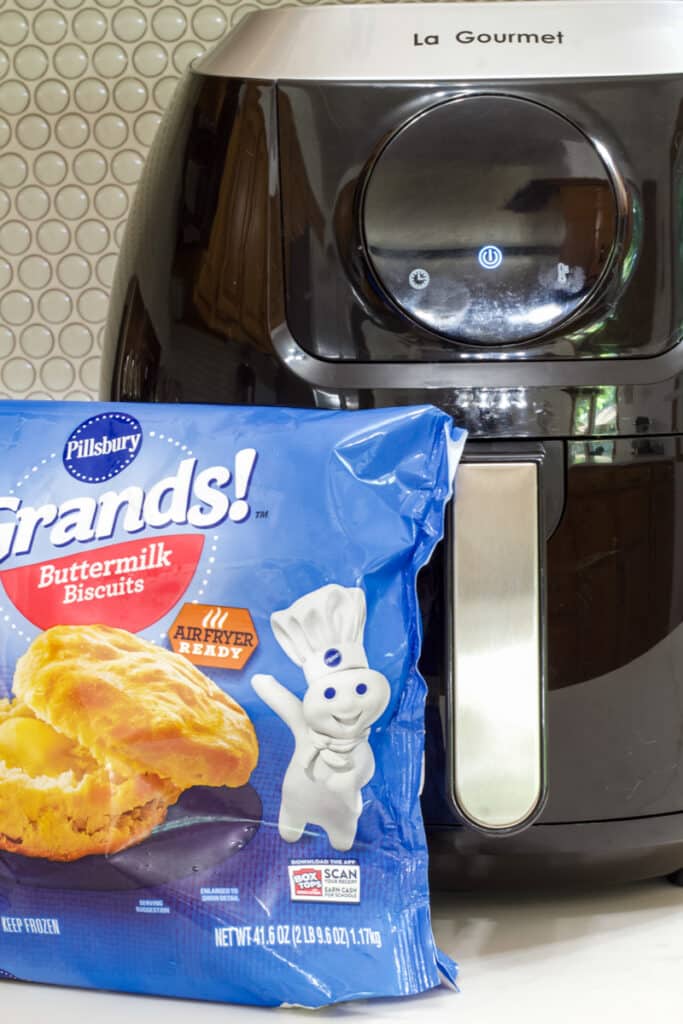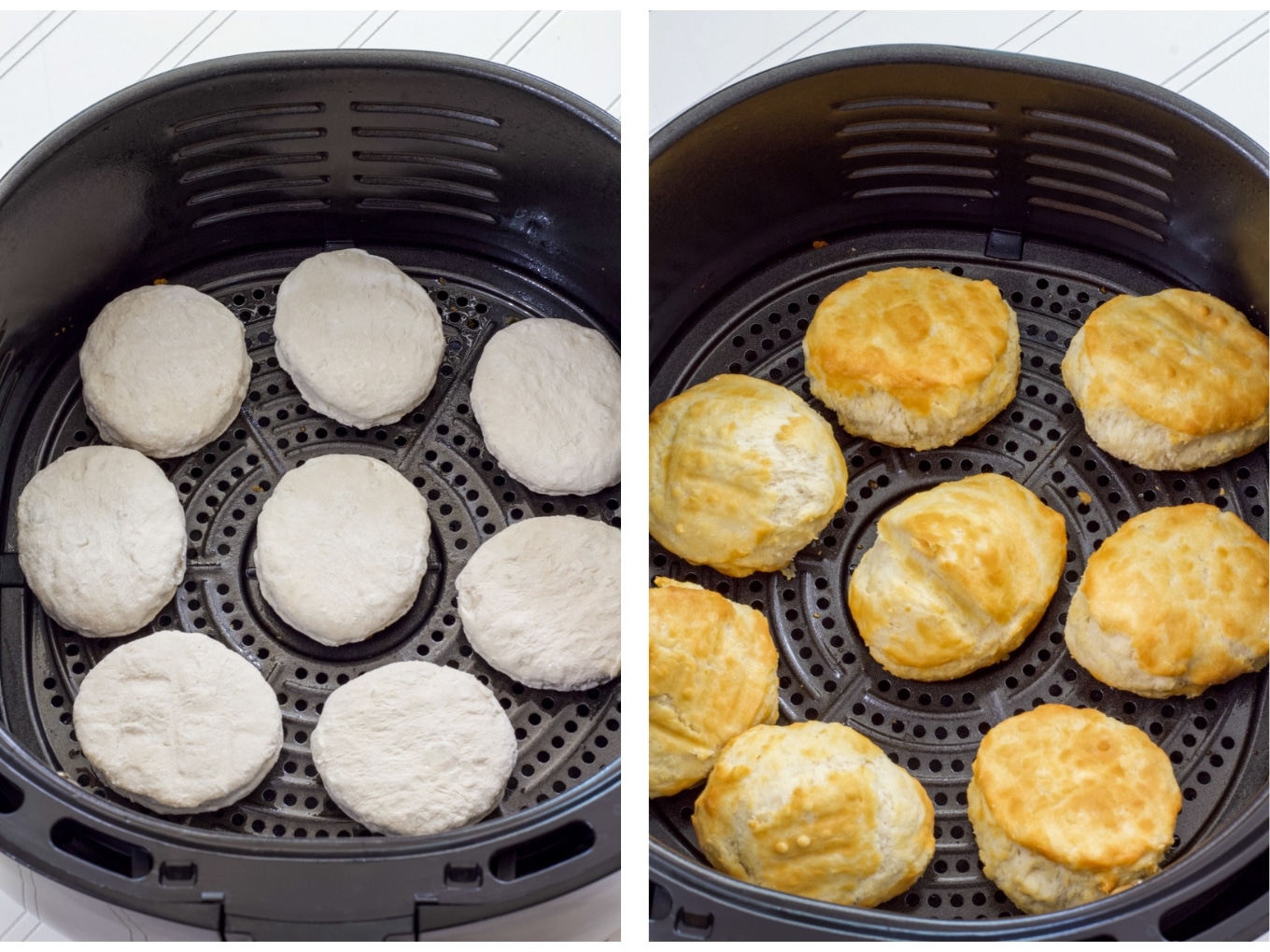 The most important tip
Since different brands of air fryers cook differently it is a good idea to start at the lowest recommended cooking time and check them a couple of minutes before the timer will go off. That way you don't overcook them. So check them the first time after 5-6 minutes on the first side. This will give you an idea of how fast they are cooking so you can figure out if they need to go the remaining 2-3 minutes. Then when you flip them over you might be able to tell if 6 minutes on the second time will work, or if you need to adjust the time up or down a minute or two. Once you have the exact time down for your air fryer model then you should be able to do them this way every time.
Other helpful tips
If your biscuits are too done on the outside and not done enough on the inside then you will need to lower the heat and potentially the cooking time.
There is no need to use parchment paper, you want the hot air to circulate all around the biscuits, even underneath. As you can see in the photo of the cooked biscuits in the air fryer basket some of the biscuits have the faint pattern of the bottom of the air fryer on them, this is okay with me.
For best results place the biscuits in the air fryer basket in a single layer. We can easily fit 8 biscuits in our basket style air fryer. Depending on the size of your air fryer you may need to do less than that. If you have one of the oven style air fryers then you may be able to do more than 8. You will need to rotate the oven racks in the oven style air fryer about halfway through the cooking process so that the biscuits will all cook evenly and the same.
You don't need to preheat the air fryer the first time, but subsequent batches of biscuits may cook a little faster since the air fryer will be warmed up already.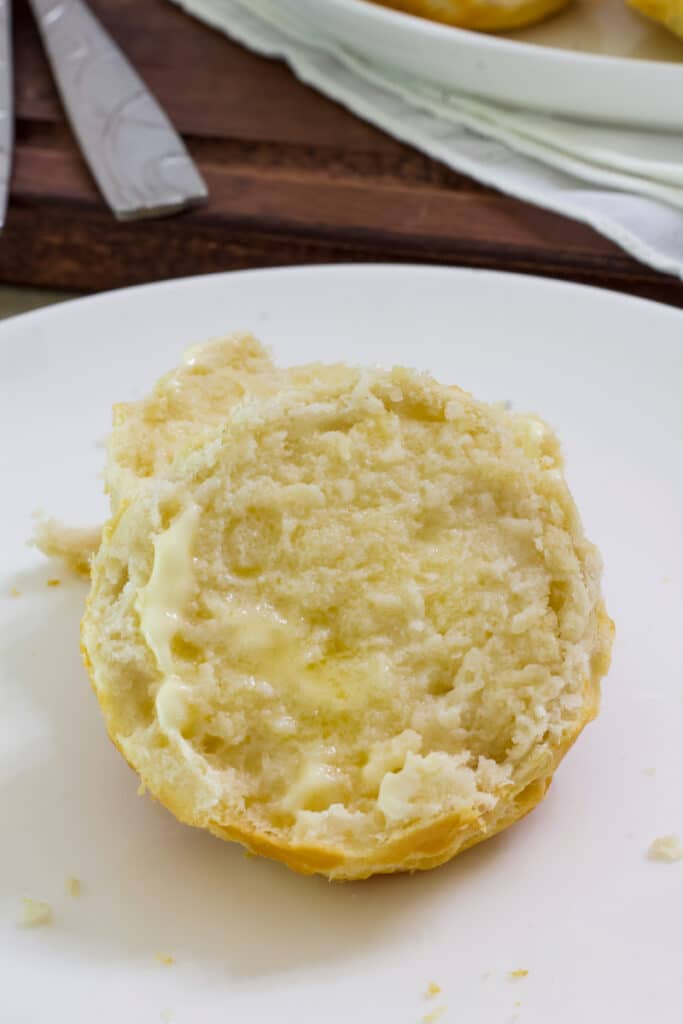 Serving suggestions
Serve warm with butter, jelly, or cream cheese.
Make a breakfast sandwich with eggs, cheese and meat.
Serve with soups or stews.
Biscuits make a great side dish for fried chicken, chicken fried chicken or other comforting dishes like that.
A breakfast favorite in our house is biscuits and gravy. It is such a simple breakfast that is so comforting.
Below are a few of our go-to gravy recipes. Making gravy is easier than you think, check out the Bacon Gravy post to see the how to video!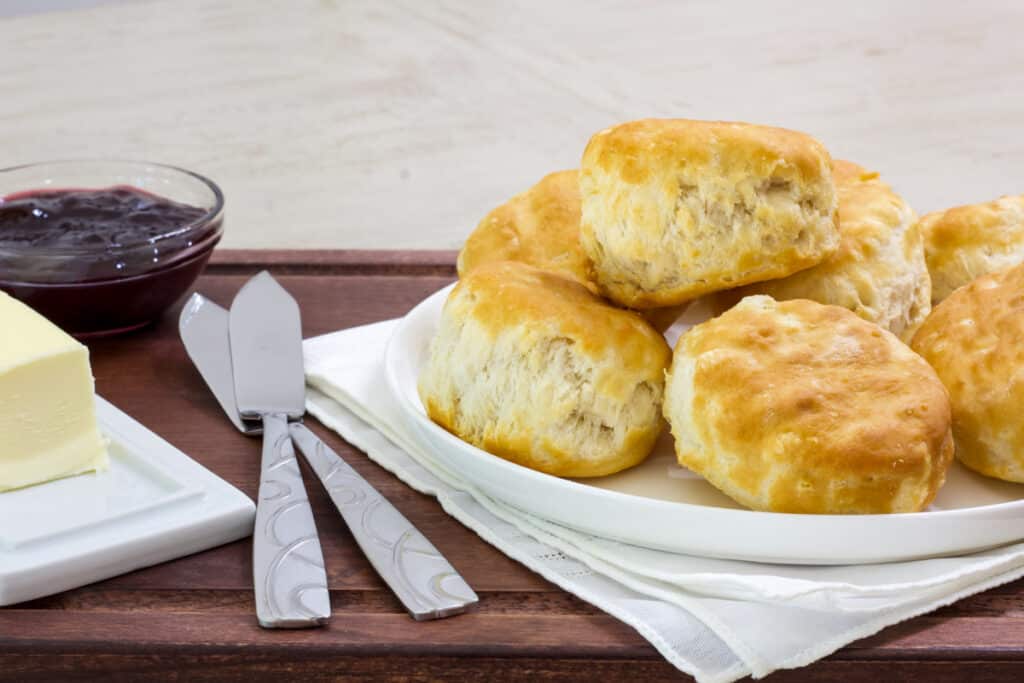 Storage & Reheating
Store leftover biscuits in an airtight container at room temperature for a couple of days. Reheat them in the microwave for 10-20 seconds, depending on your microwave and how many you are reheating.
Share your experience with me!
We use a LaGourmet 7.2 quart basket style air fryer. Let me know in the comments your air fryer brand and how many biscuits you can cook at once. Also let us know if this time was spot on or if you had to adjust the time.
Follow us on social media!
How to Make Easy Air Fryer Frozen Biscuits ↓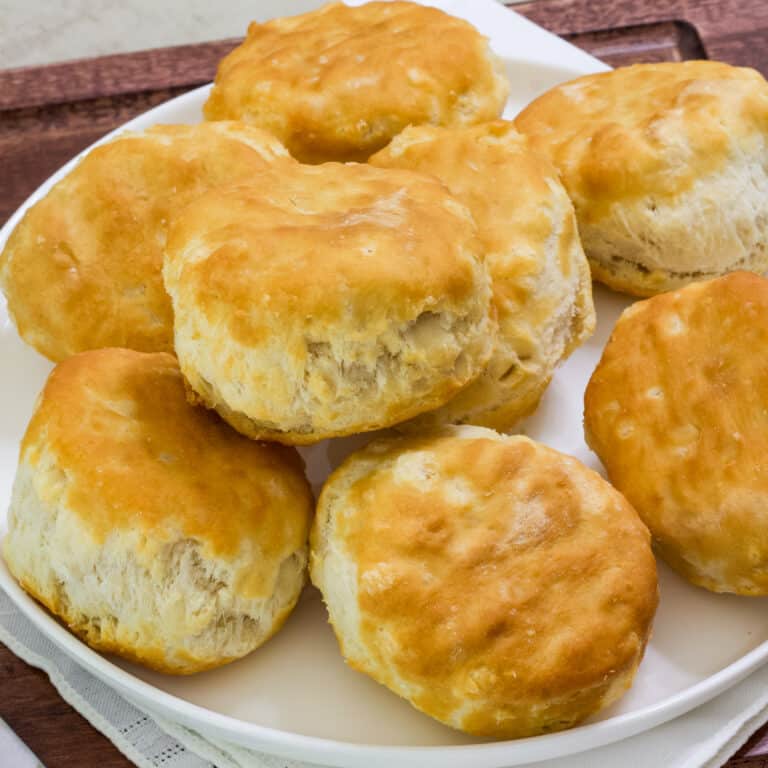 How to Make Easy Air Fryer Frozen Biscuits
Discover the quickest and tastiest way to enjoy fluffy, golden-brown Pillsbury Grands frozen biscuits with our step-by-step guide to air frying. Crispy on the outside, soft on the inside—perfect biscuits made effortlessly!
Ingredients
8

frozen biscuits

Nonstick cooking spray
I earn a small commission from Instacart for qualifying purchases.
Instructions
Spray the air fryer basket liberally with nonstick cooking spray.

Add biscuits in a single layer, cook at 330° for 8 minutes, flip biscuits over and cook another 6 minutes.

Be sure to see my tips above to help you make your frozen biscuits in the air fryer successfully.
Notes
Nutritional information is approximate.
See tips, notes, and suggestions in the post above.
Bookmark this page to find it quickly when you are ready to make this recipe!
Nutrition Facts
Calories:
180
kcal
|
Carbohydrates:
24
g
|
Protein:
3
g
|
Fat:
7
g
|
Saturated Fat:
4
g
|
Sodium:
570
mg
|
Fiber:
1
g
|
Sugar:
2
g
|
Calcium:
30
mg
|
Iron:
2
mg