Snoball Cake tastes just like a huge version of the popular snack cakes.
This Snoball Cake has layers of chocolate cake with a smooth cream filling, topped with vanilla frosting and sweet flaked coconut.
It is sure to be a hit with kids and adults alike. And, it looks very pretty! Make this for your next party or gathering.
You could certainly make the coconut any color you would like. Soft pastels would be great for Easter, green would be fitting for St. Patrick's Day and orange or black would be perfect for Halloween.
I must confess that I planned on making a marshmallow frosting for this cake, but it didn't turn out.
I tried to weigh the powdered sugar instead of measuring it in a measuring cup. Well, apparently I screwed it up somehow because the frosting tasted like powdered sugar and was way too sweet.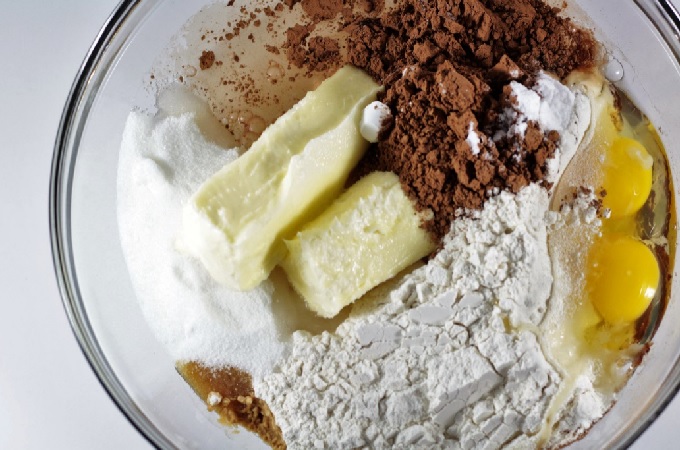 Luckily I had a container of vanilla frosting in the cupboard and I used it. This was one of the times when my mistake worked out for the best because I thought that it still tasted like a Hostess Snoball, but was a bit easier to make.
I also thought it might make the recipe for this cake more appealing to anyone that is intimidated by the thought of making their own frosting.
You could definitely use homemade frosting, if you prefer. I used Pillsbury Vanilla Frosting like this. You could also use a boxed cake mix instead of making it from scratch.
What really makes this Snoball Cake taste like the snack cake is the cream filling between the layers and the coconut topping.
Here's the cream filling! (This reminds me of the Lion King when Timon asks, "Where's the cream filling?")
I store my Snoball Cake in a tupperware type cake container and every time I take the lid off it smells just like Hostess Snoballs.
Some other cake recipes you might like is this Peachy Keen Cake with Cool Whip Frosting or this Twix Poke Cake.
Snoball Cake
Snoball Cake features a rich chocolate cake, decadent cream filling, vanilla frosting, coconut, and it tastes just like the popular snack cake.
Ingredients
For the cake:
2 1/4

cups

flour

1 2/3

cups

sugar

2/3

cup

cocoa

3/4

cup

butter or margarine,

softened

1 1/14

cups

water

1 1/4

teaspoons

baking soda

1/4

teaspoon

baking powder

1

teaspoon

salt

1

teaspoon

vanilla

2

eggs
For the cream filling:
1

teaspoon

hot water

1/4

teaspoon

salt

1

container

marshmallow fluff,

7 ounces

1/3

cup

powdered sugar

1/2

cup

shortening

1/2

teasoon

vanilla
For the frosting
1

container

vanilla frosting

2

cups

sweetened coconut

2-4 drops of red food coloring, or the color of choice (could also be used without coloring)
Instructions
Preheat oven to 350°. Grease and lightly flour two 8" or 9" round cake pans. I line them with waxed paper and grease and lightly flour.

Beat all cake ingredients in a large mixing bowl with an electric mixer until well combined. Divide batter between cake pans.

Bake for 30-40 minutes, or until a toothpick inserted into the center comes out clean. (The 8" cakes will take longer to cook than the 9" cakes). Let cool for 10 minutes. Separate the sides of the cake from the pan by running a knife around it. Turn out onto wire racks and cool completely.

While the cake is cooling dissolve salt in warm water in a small bowl ; set aside. In a large bowl beat marshmallow fluff, powdered sugar, shortening, and vanilla with an electric mixer until combined; beat in salt water. Refrigerate until ready to use.

In a large bowl, mix coconut and food coloring, starting with 2 drops of food coloring and add more, one drop at a time, until it is the desired color.

Spread cream filling on top of one cake and then top with the other cake. Frost with vanilla frosting and cover with coconut.
Follow us on social media!!
Pin this image for later!!