I really like that these Broccoli Cheddar Egg Cups are so easy. You just blanch the broccoli then mix all the ingredients together, divide the mixture into muffin cups, pop them into the oven and that's it!
I am so glad that I can finally eat eggs again! For some reason, when I was pregnant with my second daughter I could not eat eggs.
They would give me a knot in the middle of my stomach, and/or upset my stomach. This carried on for many years (she's 15 now!).
Eventually I just quit trying to eat them because I was tired of it causing me pain.
Over the last few months, I have slowly began to reintroduce them into my diet. The first few times they upset my stomach a little, but no pain.
Yippee! I have missed eating eggs sooo much! I can't wait to have some egg salad, deviled eggs, and a fried egg sandwich.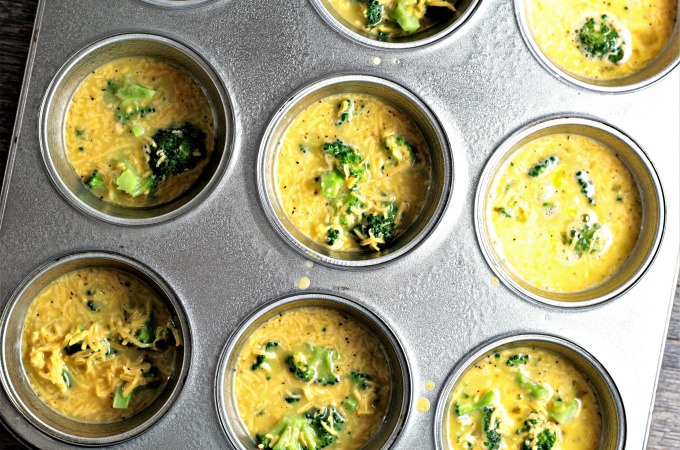 These Broccoli Cheddar Egg Cups are great for any time of the day, and can be made ahead for a grab-and-go munchie.
You could also mix them up and have them in the fridge all ready to pop into the oven when you wake up, for an effortless breakfast. Make some toast and you have a meal!
We ate these for dinner with some Fried Potatoes. Bacon or sausage, or this Refreshing Winter Fruit Salad would go great with these as well.
They really are suitable for any time of the day or night. They are also great for the kids because they are already portioned out, and they can eat them with their hands.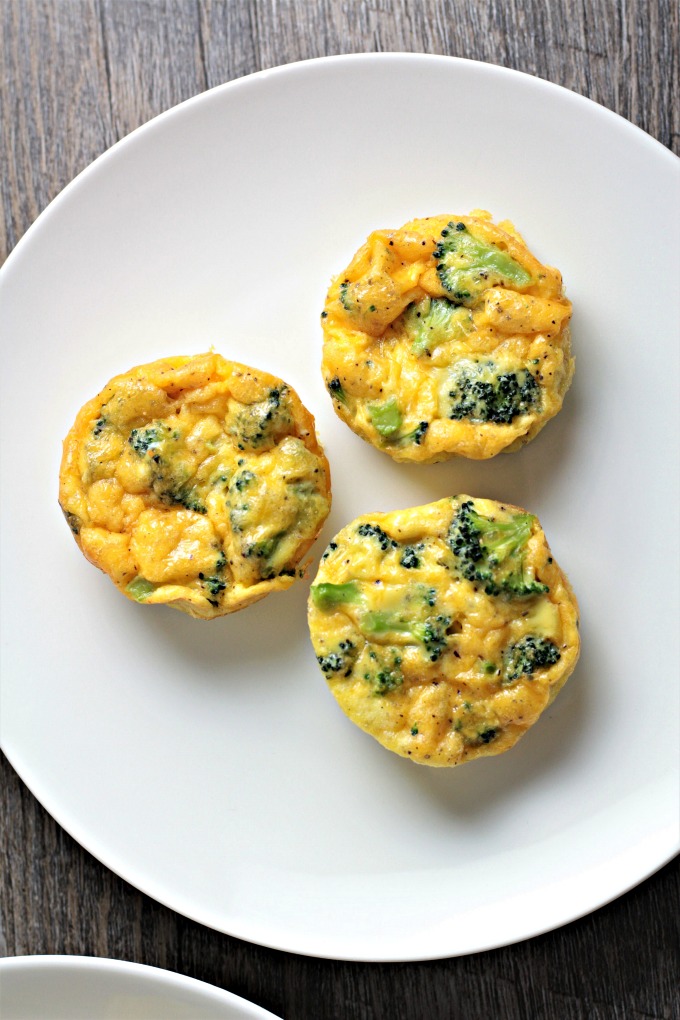 Egg Cups with broccoli and cheddar cheese. Get the recipe!
Click To Tweet
Broccoli Cheddar Egg Cups
Broccoli Cheddar Egg Cups combine broccoli, cheese, eggs, salt, pepper, and a splash of milk to make an easy breakfast, brunch, lunch, or even dinner!
Ingredients
1

cup

broccoli florets

6

eggs

3

tablespoons

milk

1

cup

grated cheddar cheese

1/4

teaspoon

salt

1/4

teaspoon

pepper
Instructions
Preheat oven to 350°. Coat 12 muffin cups with cooking spray.

Place broccoli in a small saucepan and blanch for 2 minutes. Rinse with cold water to stop the cooking process. Drain.

In a medium bowl beat egg and milk. Stir in cheese, broccoli, salt and pepper. Divide between muffin cups and bake for 18-20 minutes or until eggs are set.

Let cool 5 minutes, then loosen edges of each muffin with a knife, remove from muffin pan.
Notes
Do not overfill the muffin cups because the eggs puff up while cooking and then deflate after they come out of the oven. This is wikipedia's definition of blanch: Blanching is a cooking process wherein the food substance, usually a vegetable or fruit, is scalded in boiling water, removed after a brief, timed interval, and finally plunged into iced water or placed under cold running water (shocking or refreshing) to halt the cooking process.
Pin it for later!