Many years ago I ordered Chicken Parmesan at a restaurant and I loved it. I love the idea of eating a protein for the main course and having the pasta as a side dish.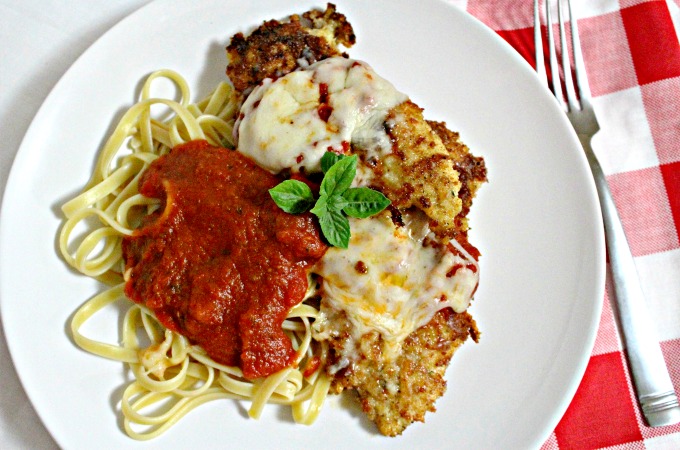 So when I got home I searched all of my resources for a recipe for something like Chicken Parmesan. Now this was before the internet was in every household in America, so I had to physically look through cookbooks, magazines and clippings of recipes. I even had some of those Recipe-Of-The-Month sample cards I had been sent in the mail to look through.
I managed to find one recipe, and I think it was in a magazine, for skillet Chicken Parmesan. Not quite what I was looking for, so I modified it. It called for browning the breaded chicken in the skillet and then adding the ingredients for the sauce right into the skillet.
I changed that to just browning the chicken in the skillet and then putting it into a casserole dish and finishing it off in the oven. I also changed it to a jar sauce.
Basically, the only thing I learned from that recipe was to use equal parts Italian style bread crumbs and equal parts grated Parmesan cheese for the breading. And to me, as a young cook, that was very valuable information.
I am happy to say that my kids will eat the chicken now. That is actually one of the things that I liked so much about this dish; my husband and I could eat the chicken and the pasta and the kids could just eat the pasta. It was a win-win. But the kids have learned the value of protein, and like I said, they will eat it now.
Chicken Parmesan
This is an easy recipe for Chicken Parmesan that uses your favorite jar sauce and is sure to please. This recipe could be doubled or tripled to feed crowd.
Ingredients
3/4

cup

grated Parmesan cheese

3/4

cup

Italian style bread crumbs

2

eggs

2

lb

(8 pieces) boneless, skinless chicken breast, thinly sliced

olive oil

cooking spray

1

jar pasta sauce, 24-26 ounces

8

oz

fettucine, or your favorite long pasta

3/4

cup

mozzarella cheese, shredded
Instructions
Mix the bread crumbs and grated Parmesan cheese on a plate or in a shallow dish. Beat the eggs in another shallow dish. Dredge the chicken pieces into the egg and then into the bread crumb mixture to coat.

Add enough olive oil to a nonstick frying pan to coat. Cook the chicken over medium high heat until browned, about 3-4 minutes per side. (My pan holds 3 pieces so I have to do it in 3 batches.) Add more olive oil if your pan becomes too dry. Place chicken in a 9' X 13' casserole dish sprayed with cooking spray.

Put a spoon of sauce down the center of each piece of chicken; cook in a 350° oven for 20 minutes or until chicken is cooked through. While the chicken is in the oven cook the fettucine and warm the remaining sauce in a medium saucepan.

After the chicken has cooked in the oven for 20 minutes spread mozzarella cheese over the part of the chicken that has the sauce and bake until melted. Serve with pasta covered with leftover sauce.
Follow us on social media!!
Pin this image for later!!