This Lemon Berry Puff Pastry recipe is impressive, yet easy!
These Lemon Berry Puff Pastry Flowers are flaky, cheesy, fruity , and so delicious! They actually don't take that long to make either.
I got the idea to make these when I saw the video on my facebook feed. I watched the video and learned how to make the flower shape. I will do the other shapes with different fillings and toppings at another time.
I did not use the filling recipe that was on the video because I wanted to make one with lemon because my husband, Lee, just loves stuff that is lemon.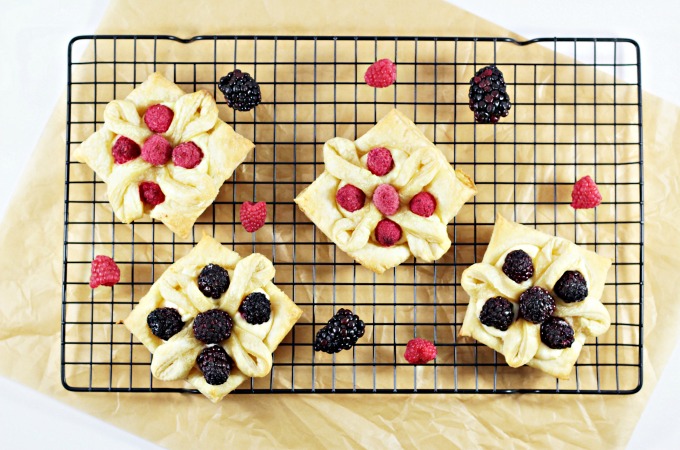 The instructions on the box of puff pastry said to let the pastry thaw on the counter for no more than 40 minutes. I am pretty sure mine was on the counter for about an hour.
When I went to cut the dough it was still frozen and was a little hard to work with. The more I worked with it, the faster it seemed to thaw. So by the time I was ready to fold the pastry to make the flowers, it was easy.
I would suggest moving the pastry from the surface you prepare it on to the sheet pan with a turner. I have small sheet pans so I only put 2 on each and baked them 2 at a time.
You could leave them in the oven until they are more brown. I like my food lightly browned in most cases.
*****The video that shows how to cut and shape the puff pastry can be found here.*****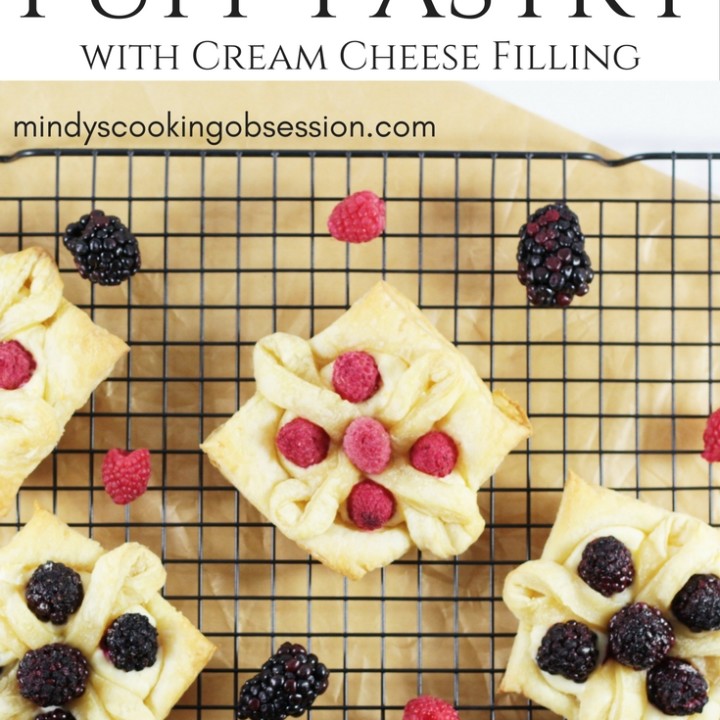 Lemon Berry Puff Pastry
These Lemon Berry Puff Pastry Flowers use store bought pastry, cream cheese, sugar, lemon, vanilla, and fresh berries. So impressive, yet so easy!
Ingredients
2

sheets

puff pastry,

17.3 ounce box

8

ounces

cream cheese,

softened

1/4

cup

sugar

1

teaspoon

vanilla

1

teaspoon

lemon juice

zest of 1 lemon

20

blackberries

20

raspberries
Instructions
Thaw puff pastry according to package directions.

Heat oven to 400°. Line sheet pans with parchment paper or spray with cooking spray.

Mix cream cheese, sugar, vanilla, lemon juice, and lemon zest in a medium bowl until smooth.

Cut pastry into flower shape. (See link above). Divide cream cheese mixture between pastries. Place 5 berries on each flower, bake for 15-20 minutes or until lightly golden.
Looking for other recipes using puff pastry? Try this Puff Pastry Apple Tart of these Dried Cranberry Brie Pinwheels!
Follow us on social media!!
Pin this image for later!!