Pumpkin Cream Cheese Pie features pumpkin and cream cheese baked in a graham cracker crust and then topped with a sweetened sour cream mixture.
My daughter, Kimberly, bought a collection of recipe cards that were made by McCall Publishing Co. and they are dated 1973! She bought it at the local Goodwill, I believe. That is where I got this recipe for Pumpkin Cream Cheese Pie. I included the recipe card in a couple of the images below.
The recipe collection came in a plastic box with a clear plastic lid. It is the complete set! There are 24 different categories such as; County Fairs, Children's Favorites, Saturday Night Parties, Holidays and New England.
I googled this recipe and found it on Vintage Recipe Cards.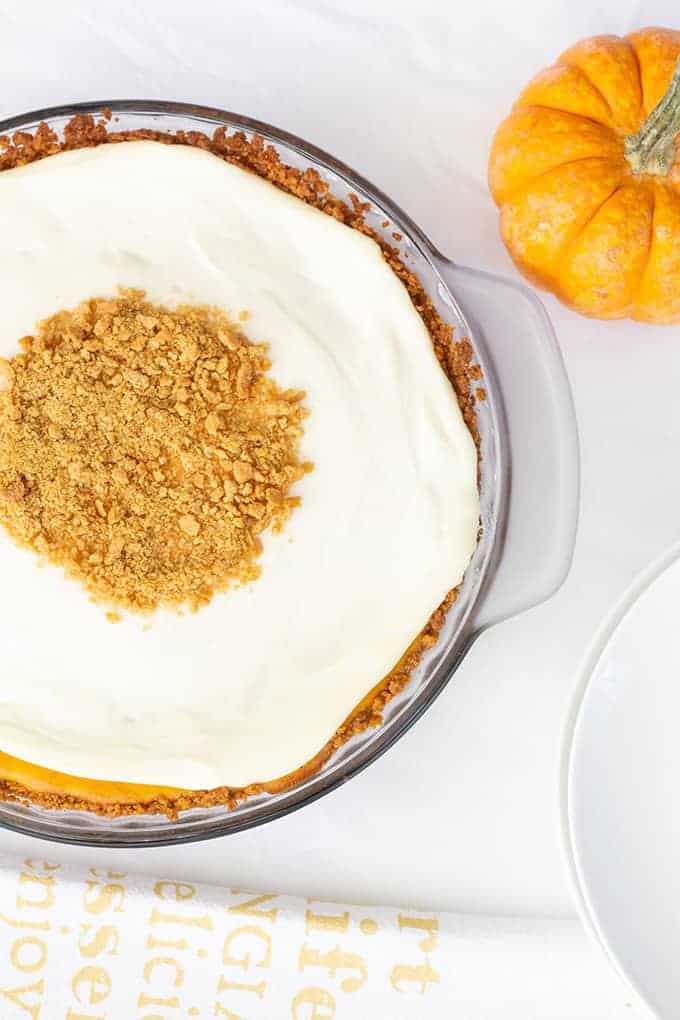 So, a little bit about this Pumpkin Cream Cheese Pie.
It is made with cream cheese, sugar, whole eggs as well as egg yolks, and the recipe calls for orange and lemon zest. I left the orange and lemon zest out because I didn't want to spend the extra money on the lemons and oranges. I really don't think it would have added a whole lot of flavor to the pie.
This is usually how I cook and bake. If I don't have, or want to spend money on, an ingredient then I can leave it out. I try to figure out if that specific ingredient adds to the recipe, or if it would drastically change the recipe.
Then I decide whether or not I want to include it. In this case I don't think it made enough of a difference to warrant spending the money on it. And, sometimes if it is an ingredient that I don't like then it gets left out or substituted.
Especially since I wasn't using the oranges or lemons in another dish. If I can use the ingredients in at least one other dish then I might go ahead and buy it.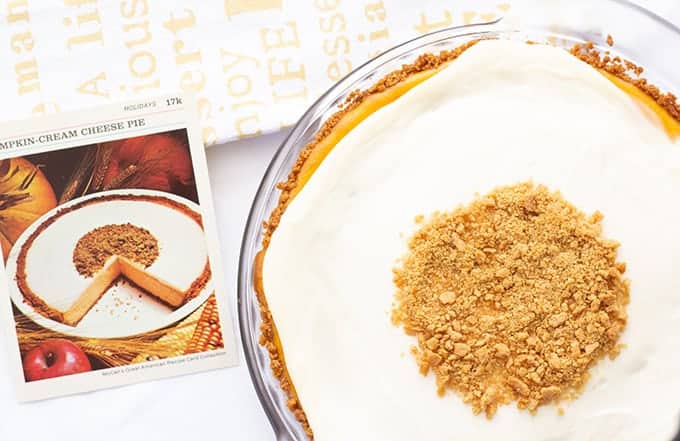 This Pumpkin Cream Cheese Pie also is topped with sour cream sweetened with a little sugar. This sounded really strange to me. As I was mixing the sugar and vanilla into the sour cream I was wondering if I was making a mistake.
I didn't want all of my hard work to be messed up with the topping. But I decided that I would make it just like the recipe directed. It actually works! Who would've thought?
A few important things to note when making this Pumpkin Cream Cheese Pie:
The recipe instructs you to "bake for 35-40 minutes or until the pie seems firm when pie is gently shaken". Not very specific, but I thought I could handle it.
Mine was not as firm as I wanted after 40 minutes so I let it bake 5 minutes longer. So a total of 45 minutes, before adding the topping. Luckily it was done. Phew!
Also, sometimes I can be a little impatient (it's a bad habit, I know) so I probably should have mixed the pumpkin-cream cheese mixture a little longer. You could actually see little specks of white cream cheese in the finished product.
That's okay though, it tasted great! My real concern when cooking and baking is taste.
Pumpkin Cream Cheese Pie
Pumpkin Cream Cheese Pie is an old fashioned recipe featuring canned pumpkin and cream cheese in a graham cracker crust topped with a sweetened sour cream.
Ingredients
Graham Cracker Crust
1

cup

graham cracker crumbs

1/4

cup

butter

melted
Pumpkin-Cheese Filling
4

pkg

soft cream cheese

3-oz size

3/4

cup

sugar

1 1/2

tablespoons

flour

3/4

teaspoon

grated lemon peel

3/4

teaspoon

grated orange peel

1/4

teaspoon

vanilla

2

whole eggs

2

egg yolks

1

cup

canned or cooked pumpkin
Sour Cream Topping
1 1/2

cups

sour cream

2

tablespoons

sugar

1/2

teaspoon

vanilla
I earn a small commission from Instacart for qualifying purchases.
Instructions
Make Graham Cracker Crust: In a medium bowl, with fork, lightly toss crumbs with butter, to mix well. With back of metal spoon, press to bottom and sides (not rim) of 9-inch pie plate. Refrigerate.

Preheat oven to 350°.

Make Pumpkin Cheese Filling: In a large bowl of electric mixer, combine cheese, 3/4 cup sugar, flour, peels, 1/4 teaspoon vanilla, eggs, egg yolks, and pumpkin; beat at medium speed until smooth.

Turn into crust. Bake 35-40 minutes, or until center of pie seems firm when pie is gently shaken.

Meanwhile, make Sour Cream Topping: In small bowl, combine sour cream with sugar and vanilla; mix well.

Spread topping evenly over pie. Bake 10 minutes longer.

Let pie cool completely on wire rack - about 1 hour.

Refrigerate, overnight.
Notes
The recipe above is written exactly as it is on the recipe card. I left out the orange and lemon zest and I baked it for an additional 5 minutes before putting the topping on. The recipe calls for 4-3 ounce packages of softened cream cheese and that is not how they come these days. I used one and a half 8 ounce packages.
Follow us on social media!!
Pin this image for later!!
More pumpkin recipes you might like: